Newly designed playground equipment going through the test at the Illinois Stale Fair.

National debut for McDonald Corporation's new McDonaldland playground

THE NEW MCDONALDLAND PLAYGROUND
THE 1972 ILLINOIS STATE Fair in Springfield marked the national debut of McDonald Corporation's new "McDonaldland" playground equipment.
In the 10-day State Fair Aug. 11-20, an estimated 350,000 youngsters and their parents played in the 4,800-square-foot playground park in the Children's World area of the fair.
The McDonaldland playground equipment is an extension of the company's highly effective national children's television advertising campaign. In this campaign the world of McDonaldland is created with Ronald McDonald as the undisputed clown prince of this mythical domain.
All the McDonaldland characters are representative of the products served at McDonald's restaurants. There is "Mayor McCheese," whose office is in McDonaldland City Hall, which has a Department of Clean, Department of Bright, Department of Quality and Department of Fast Service.
"Big Mac" is the domain's lovable policeman who is usually seen chasing the crafty "Hamburglar" through the hamburger patch. "Hamburglar" is "the little guy with the shifty eyes and flowing black cape," whose main preoccupation is stealing hamburgers.
There's also "Evil Grimace," the roly-poly purple monster who constantly craves McDonald's milkshakes. "Apple Pie Trees" are smiling, happy trees which share certain areas of McDonaldland with the hamburger patch and french fry thatch.
Finally, there is "Captain Crook," another of the "bad guys" in McDonaldland. His particular booty is filet-o'-fish sandwiches.
Surveys have shown that all these characters are immensely popular with children, even though the McDonaldland commercials last only 30 and 60 seconds at a time.
It was with this in mind that McDonald's Corporation created the playground concept. The restaurant chain wanted to provide an enjoyable play area where the children could identify with their favorite characters.
McDonaldland was designed by Don Ament, president of Setmakers, Inc. Ament is a well-known designer of Hollywood sets and restaurants across the country. Every item is a standard
Illinois Parks and Recreation 6 November/December, 1972
---
playground piece with a special McDonaldland adaptation. Manufacturer is Game Time, the nation's largest manufacturer of playground equipment.
Following is the equipment used in the McDonaldland playground at the Illinois State Fair:
• CAPTAIN CROOK'S SPIRAL SLIDE. Over-all height is 7'6" and it covers a ground space of 8' x 8'. This piece was easily the most popular in Springfield in that more children could use it at any one time than any of the other pieces of equipment.
• EVIL GRIMACE BOUNCE & BEND. Over-all height is 10 feet and it covers ground space of 5'6" x 5'6". The "bounce and bend" accommodates five to 10 children and the children hold onto the bars as the cage shakes back and forth.
• HAMBURGLAR SWING. Overall height is 10'3" and overall ground space is 10' x 10'. The arms of the hamburglar are outstretched and swings hangs from each arm. The swing can accommodate only two persons.
• MCDONALDLAND TEETER TOTTER. This piece covers a ground space of 12'. This is one of the pieces especially for the smaller children.
• MAYOR McCHEESE ROUND - A - BOUT. This circular piece has an over-all height of 3'9" and covers a ground space of 8' x 8'. This is another piece that is easier for the smaller children to use and was one of the most popular rides in Springfield.
• BIG MAC CLIMBER is the tallest piece of equipment with an over-all height of 11 feet. It covers an area of 6' x 6' in ground space. It is a climbing tower with ladders going right to the top and a rest area at the first plateau.
continued on page 28
Editor's Note: For persons wishing additional information about the new McDonald's McDonaldland Playground, contact: Bill Steele, Director of Merchandising, MacDonald Corporation, MacDonald Plaza Building, Oakbrook, Illinois 60181. Phone: (312) 986-1600.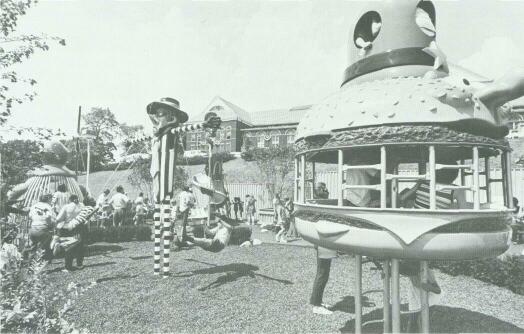 The "Hamburger Swing" and the "MacClimber" is put through the test with thousands of children playing on Ihe newly designed McDonalds play equipment during the 1972 Illinois State Fair.
Illinois Parks and Recreation 7 November/December, 1972
---
McDONALDLAND
continued from page 7
• GOBLIN, FILET - O'- FISH, CAPTAIN CROOK'S BOAT. These three pieces have heights of 1'8", 1' 9 1/2", and 1'7" and widths of 14 1/2", 13 1/2" and 1' respectively. Their respective lengths are 2'8", 2'6" and 2'9". These three pieces have spring bases and are designed for small children.
The actual playground rides are only one part of McDonaldland, which is created as a total children's environment.
There are three statues, full-size replicas of the characters:
• RONALD McDONALD stands 7' tall, including the 2' base, with a width of 3'9".
• MAYOR McCHEESE stands 5' with a width of 2'6" and a 2' base.
• BIG MAC is 5'3" with a width of 2'6" and a base of 2'.
APPLE PIE TREE, FILET-O'-FISH FOUNTAIN and McDONALDLAND HAMBURGER PATCH were placed in one section of the Illinois State Fair playground. APPLE PIE TREE comes with six mushroom tables and stools. It stands 7'3" with a 7' width and a depth of 6'. The mushroom tables have diameters of 24" and are 25" off the ground; the stools are 14" high. FILET-O'-FISH fountain is 48" in diameter and features three revolving McDonaldland filet-o'-fish sandwiches. The HAMBURGER PATCH contains 15 hamburgers of assorted sizes of 6", 9" and 12" in diameter and assorted small mushrooms.
The Springfield playground also contained two 36" McDonaldland tables with umbrellas and 4 14" leaf stools. The tables were 29" high and stool heights 18".
A special feature of McDonaldland playground were 12 SINGING WASTEBASKETS. These large bins feature a removable top and the McDonaldland "Don't Forget to Feed the Wastebaskets" slogan.
Those entering McDonaldland crossed over the Golden Arches bridge. Under the bridge was a landscaped rock garden. All walkways in the park were of artificial turf and numerous trees and plants were used generously in landscaping. The playground area was covered with a generous base of tanbark and wooden fences set apart various sections of the park.
McDonald's Corporation's participation in the Illinois State Fair was undertaken as a national test program. It was felt that the 10-day period would put the equipment through about three years of wear and tear. In addition, McDonald's wanted to see how the equipment would react to the heat. rain and wind that usually occurs during State Fair time.
The playground passed all tests.
A temporary playground, the Springfield equipment was sold to McDonald's licensee Jim Maros of Chicago Heights. He plans a permanent playground in his community.
The first permanent McDonaldland playground opened this fall in Chula Vista, California. The Chula Vista Park is almost double the size of the Springfield playground.
McDonald's Corporation is now in the process of making the equipment available to its licensees across the nation.
Illinois Parks and Recreation 28 November/December, 1972
---