By ROBERT McCLORY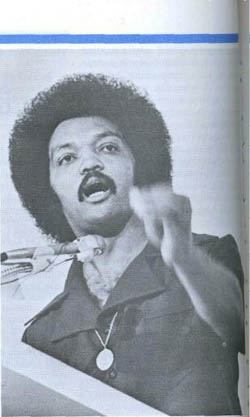 Rev. Jesse Jackson's
'push' to 'excel'
From
country preacher
to civil activist
to moral leader

THE REV. Jesse Louis Jackson has not yet reached the biblical mountaintop. But after 13 years of climbing, he has found a spot on a lofty plateau. After 13 years of planning and dreaming, defending and condemning, exhorting and consoling, he has at least reached a stable position from which, he fully believes, he will have a profound influence, not just on blacks, not just on the poor, but on the future of America.
That new position is directly related to Jackson's Push for Excellence (EXCEL) program, a campaign designed to overcome generation and cultural gaps by uniting parents, students and teachers in a common pursuit of educational excellence. The idea had been fermenting in Jackson's fertile brain and in the inner sanctums of his organization, Operation PUSH, for more than two years. In a sense, it had always been implicit in Jackson's recurring recommendation to youth to "get the dope out of your veins and hope in your brains." But the new concentrated self-discipline, self-confidence program took off with a vengeance about a year ago. A special PUSH for Excellence Corp. was established (with educator Kenneth dark and psychiatrist Alvin Poussaint on the board), and an 18-month, $200,000 grant was obtained from the Ford Foundation for pilot studies in Chicago, Kansas City and Los Angeles. The results were so encouraging in Los Angeles that the city's board of education allotted $400,000 for a full-blown program in its schools as a joint venture with PUSH.
Then last December, CBS-TV's 60 Minutes ran a major segment on Jackson and his gospel of self-help. The immediate results were spectacular, indicating that the Country Preacher, perhaps for the first time in his controversial career, had touched a sympathetic, responsive nerve in the whole of American society. There were more than 3,000 letters received at PUSH the first week after the show and virtually all were positive about what they had seen. Minnesota Sen. Hubert H. Humphrey, dying of cancer, was so moved by Jackson's exhortation that he called him to his bedside and lavishly praised both the man and the message. The Department of Health, Education and Welfare instantly began negotiations with Jackson for a proposed, four-year relationship in implementing the EXCEL program nationally. And, to date,some 500 public school districts in the country have invited Jackson to come and help them get started.
What is especially heartening to Jesse Jackson is the fact that the praise and the intense interest are not coming from one racial, ethnic or geographical sector. Apparently, suburban whites, no less than ghetto blacks, are so worried about their kids that they are not going to be snobbish or fussy if someone thinks he has an answer.
Jackson's message, as it was recorded for 60 Minutes, has been delivered to a black audience, and it was full of the easy, down-home banter for which he is justifiably famous. "You know, I look at a lot of these theories that many social workers come up with, like, now the reason the Negro can't learn is his daddy's gone, his momma is pitiful,
ROBERT McCLORY
On the staff of the Chicago Defender as a reporter, city editor and feature writer since 1971, he has written extensively for other publications and is the author of the book. The Man Who Beat Clout City, published in March.
8/May 1978/Illinois Issues
---
there's no food in the refrigerator, it's rats all in his house . . . and that's the reason he can't learn. Then we go to scool and the teacher — standing there reeling the guilties — says, 'These poor and pitiful Negroes got all these trials and tribulations. Now I have to stand up here and teach them how to read and write and count.' Well, if we can run faster, jump higher and shoot a basketball straighter off of inadequate diets, than we can read, write, count and think of those same diets. The challenge is mobility."
The message probably came as a shock to those who had grown accustomed to the sight of Jackson endlessly propounding black issues and defending black people. Here he was on the second most popular TV program in America suggesting that blacks better start producing. "We must struggle to excel because competition is keener, and, in my judgement, we need a massive revolution in our attitude." It was a sentiment with which racist and redneck could heartily concur. And it was a view the poorest public housing tenant had also been muttering privately for years.
But there was more to it than that. Jackson's message, as it developed, transcended racial problems and hang-ups. "By the millions our young people are graduating but reading at a 6th and 7th grade level," he continued. "And during period when technology and cybernetics are taking over, it becomes a kind of mental genocide because we are unable to cope or compete. That is why I say to our young that we must turn off that television for at least three hours a night. Mental development becomes a certain kind of pressure and discipline is the key.... And don't tell me you can't linage your child at 16 — because you're probably right. But you had the option to do it at age 6. You must raise the child while the child is a child."
Clearly, there was nothing revolutionary in what was said. The revolution was in who was saying it — Jesse Jackson, the anti-establishment, super-activist civil rights marcher, the advocate of social change. If even he is advocating old-fashioned, no-nonsense, nose-to-the-grindstone ethics, then may be the age of permissiveness is really over. Indeed, Jackson's message and his whole excellence program fit in very nicely with the swing in national opinion to the right, so well documented by the pollsters.
Jackson firmly insists there is nothing phoney or manipulative about this new thrust, and he just as vehemently denies that it represents any contradiction in what he has been striving for since 1965. "It's just the other side of the coin," he told me during an interview at the PUSH national office on Chicago's Southside. "The goal is equity for all Americans regardless of race. We do that by knocking down the barriers of discrimination, by electing responsible leaders, by affirmative action programs. But that ain't enough. If the opportunities are there, we've got to seize them. That's what this emphasis is all about."
Jackson above all wants to be a respected leader, to leave an unblemished and indelible mark on this world
The scope of EXCEL, even at this early date, indicates it will be the largest project in which PUSH has been involved. And it will, in all likelihood, provide Jesse Jackson with the potential to touch the lives of more people than he ever did in the old days.
This prospect pleases Jackson deeply because he wants above all to be a respected leader, to do something singularly useful, to leave an unblemished and indelible mark on this world. His extraordinary drive for legitimacy makes Jackson both charismatic and enigmatic, I believe, and it may explain why he has aroused both intense loyalty and fierce hatred in various segments of the public.
Jesse Jackson was illegitimate at birth, the son of a young Greenville, S.C., woman named Helen Burns and the married man who lived next door, Noah Robinson. He grew up in relatively comfortable surroundings, but he was keenly sensitive to the circumstances of his arrival and the disgrace it produced in the family. His high school teacher observed a few years ago, "When you hear him say, 'I am somebody,' to motivate others, you wouldn't believe how long he was saying that to himself."
Young Jackson later attended the University of Illinois for a year on a football scholarship but transferred to a North Carolina technical college after learning that blacks were not eligible for the quarterback position. In 1962, he became involved in North Carolina civil rights activities and, inspired by Dr. Martin Luther King, decided to study for the ministry. He enrolled at the Chicago Theological Seminary in 1966 and, while he was flunking preaching, he assisted Dr. King and the Southern Christian Leadership Conference (SCLC) staff in the Chicago open housing campaign.
Impressed with his enthusiasm and organizational ability; King made Jackson head of the SCLC's small but budding Chicago economic arm, Operation Breadbasket. Several close associates of King had doubts about this extremely ambitious young man, but King liked his dedication and vigor.
Only a few hours after King was slain in Memphis in 1968, young Jesse Jackson, wearing a bloodied shirt, was on national television, explaining that he was at King's side when he died and was the last human being with whom he spoke. The message was repeated in touching detail the next day before the Chicago City Council.
Several King aides protested that Jackson was lying through his teeth: he may have been in the Memphis motel at the time of the assassination, but he was nowhere near King at the last moment. However, with riots tearing many cities apart, these objections went virtually unnoticed. Whatever actually happened, the image Jackson conveyed held an important symbolic significance. For the impression had been seared into the public recollection that as the great father of the civil rights movement breathed forth his soul, there was Jesse Jackson beside him, cradling the bloody head, receiving the mantle, accepting the call. The incident, of course, created a rift that has never been healed between Jackson and SCLC figures like Ralph Abernathy and Coretta King.
Jackson returned to Chicago and, over the next three years, built Breadbasket into a powerful organization, largely by the force of his oratory and his ability to inspire sacrifice and dedication. Technically, it was a branch of SCLC, but SCLC, without King, was a dying enterprise on the national scene. And so on Christmas day, 1971, Jackson severed the cord, forming Operation PUSH (People United to Save Humanity)
May/1978 Illinois Issues/9
---
as a new national organization built around himself and the same basic principles that had vivified SCLC.
Yet the shadow that passed over him at the moment of King's death continued to hover near everything Jackson touched. And the shadow remains. The accomplishments of PUSH (and there are many) cannot be denied. But Jacksons's critics, black and white, always find a fly in the ointment, a hidden agenda, a double motive, a sinister implication. And often they're not hard to find. Jackson's ointment just seems to draw flies.
— In 1973 and 1974, for example, PUSH negotiated and signed a series of covenants with major corporations like Schlitz, General Foods, Quaker Oats and Avon. The pacts called for additional jobs and the upgrading of minorities. But PUSH has been regularly criticized ever since for demanding too little from these giants and for failing to follow up these publicized victories by pressuring other companies with far poorer minority hiring records.
— PUSH has organized yearly Expos which permit minority manufacturers and businesses to showcase their products before the public in a slick, professional setting, with big time entertainers adding luster. But Jackson has often been accused of failing to make an accounting of the proceeds and, on more than one occasion, of misusing Expo funds.
— PUSH promoted and supplied volunteers in the campaigns of political candidates, especially in Chicago and Illinois. But other black or liberal white candidates complained Jackson spurned them just when a push from PUSH might have made the difference, and some candidates who were supported the first time around by PUSH were left hanging at reelection time.
— Jackson and Aid. William S. Singer achieved an historic coup in 1972 when they succeeded in having the entire Chicago delegation of Mayor Richard J. Daley thrown out of the Democratic National Convention on legal grounds, Jackson proudly announced that the days of the machine were over, but the victory cheers gave way to hoots when nothing came of the Daley ouster. The mayor quietly retrieved the reins of power, while Jackson and Singer wound up fighting a contempt of court charge for their audacity.
— Jackson and his pronouncements on local and world affairs are frequently quoted in the press and carried on television. On the other hand, he is just as frequently tarred by columnists like the Chicago Tribune's Vernon Jarrett and other would-be civil rights spokesment for hogging the limelight and monopolizing the media.
Perhaps the most sweeping indictment of Jackson and his strange career comes from Tribune reporter Barbara Reynolds' 1975 book, Jesse Jackson — the Man, the Movement, the Myth. In it she declares that Jackson is "not an invention of the media, as is often charged. He invented himself, his own opportunity, his own moment of glory, and these were later patented by the media."
In fact, claimed Reynolds, Jackson is at base a puppet of the white-dominated business and political establishment. After King's death the establishment "needed a neutralizer for the ardent rhetoric of 'burn, baby, burn.' What they really needed was a Booker T. Washington in bell bottoms: someone who could out rap H. Rap Brown, but someone with more orderly oratory, who could lead the militants away from the onslaught on property. If Jackson wanted to boycott 400 A&P stores, so what.... Non-violent boycotting and demonstrating were palatable alternatives to burning and looting. Jackson offered an alternative that whites could live with."
Ms. Reynolds' stern assessment is not unique. Even the New York Times thought it saw through the rhetoric and tough talk when it stated editorially, "Jackson is militant but non-violent, good copy but safe copy; radical in style, not in action. The Jesse Jackson of today is not a threat to established institutions."
If Barbara Reynolds and the New York Times are correct, then Jackson's latest foray into the areas of self-discipline and shape-up-or-ship-out is consistent and logical. Somehow the word has filtered through to his programmed, feverish brain that the establishment wants to come down heavy on the kids. Hence, this latest "spontaneous" thrust by today's premier civil rights leader.
As a reporter and editor for the Chicago Defender, I have followed the career of this mystifying, complex man with more than casual interest for seven years. I have heard him blessed and more often cursed on an almost daily basis. But when the solid accomplishments of PUSH and the contributions of Jackson are weighed, I think it is clear that the man and the movement are not puppets of the establishment. Nor do I believe Jackson can be dismissed as an egomaniacal opportunist. This is not to say he has not sometimes been used by the politicians and the media for their own purposes. And it cannot be denied that Jackson is at times subject to his own personal demons of ambition and arrogance.
Despite the glaring flaws, Jackson has virtues that go beyond his incredible energy and magnetism. In his roots, he is
10/May 1978/Illinois Issues
---
not a cynical manipulator of men. He passionately and sincerely wants to make a better world. And the over-whelming response to his budding EXCE L program suggests that there are millions of concerned Americans who suspect that if there is anyone in the nation who can convince kids it's cool to study, that man is Jesse Jackson.
Still the Country Preacher is not at ease. He is fretting about his critics. He can't help it. "I spoke before the Republican National Committee in Washington last week," he says, "and do you know what some of them were asking? They were asking, 'By what authority does he speak to us?' Can you believe it? By what authority? I am a moral leader . I have proven that — not just a black leader or an ethnic leader. I am an ethical leader. I'm not just a black spokesman. They don't present Jimmy Carter as the white President, do they?" It is the old issue of legitimacy, and it still haunts him.
Life, of course, would be easier and happier if he could relax a little, look at the impact he has had on the local and national scene and take pride in what he has done. Today Operation PUSH has more than 100,000 dues-paying members, branches in 30 cities and a $1-million budget at the national office in chicago (which doesn't include funded programs in Los Angeles and other cities). Major suits and complaints filed by PUSH have had an impact on housing, education, welfare, health care and job programs. Minority businesses, banks, publications, politicians and entertainers owe huge debts to Jackson for giving them exposure and backing.
Tons of food and clothing have been gathered under PUSH auspices for international distribution. Thousands (voters have been registered, thanks to PUSH campaigns. The U.S. Congress and several state legislatures (including Illinois') are hearing regularly from poor people lobbies organized largely by PUSH. And every Saturday from 500 to 1,000 throng to the old synagogue on 50th St. in Chicago's Southside ghetto to be instructed by Jackson and his associates in the power of proud and positive thinking. They come and they cheer regardless of the weather or their own problems. Jesse can weave a spell, but he can communicate genuine hope as well.
Despite the glaring flaws, Jackson has virtues that go beyond his incredible energy and magnetism
Jackson serves another, often over-looked function in the larger community — that of commentator and interpreter of the events of the day. There was a time when his judgments were restricted to issues directly affecting black people, but that day is over. In keeping with his self-image as a national moral leader, Jackson speaks out on a wide range of issues. To the press he is consistently good copy not just because his comments are timely, but because the man does not go off half-cocked — at least, not often. The public may argue about the conclusions he draws, but it can rarely dispute the facts or statistics he cites. He does his homework, and when Jackson says Jimmy Carter's victory margin in Pennsylvania was 128,456 votes, you can check the record and you'll find he's right. In addition, he has a unique ability to reduce complex issues to the level of the common man and an instinctive talent for illustrating his point with pungent analogies or parables. Combine this with his skill at sticking in the knife at just the right moment, and you get speeches, press conferences and official statements with clarity and force. A few very recent examples show both his range of interest and earthy approach.
— On the proposed Panama treaty: "Sure, you will be junking a half-century plus treaty relationship with Panama. It was a grand treaty since we more or less gave it to ourselves .... For details about those kinds of treaties, check with any Indian."
— On major manufacturers moving overseas: "Just as the boss left the inner city to rot, he is now taking another trip from the suburbs to Mexico, Thailand and Taiwan."
— On popular music: "Our children, black and white, are literally put in a state of heat prematurely. There is an early development of their bosoms and bottoms, with little or no development of their brains."
— On the Bakke case: "To end [affirmative action] programs and to restore a world ruled by tests and scores will restore the circumstances that created a society in which only 1 per cent of the judges, engineers and lawyers are black and in which only 3 per cent of the electricians and social scientists are black."
— On blacks and politics: "The Democrats have no incentive to register us because we already comprise one-fourth of their total vote and they are afraid we will vote black. The Republicans have no incentive to register blacks because we tend to vote Democrat. Many of the same people who opposed our right to vote also oppose our being fully registered to vote."
The importance of Jesse Jackson as an interpreter of events ought not to be underestimated. There is no one else with clear links to the inner city masses who is reacting as quickly to news developments. The Urban League or the National Association for the Advancement of Colored People may choose to comment on occasion, but their words come six months or more after the event when the furor (and interest) has all but died.
Putting himself and PUSH into the role of instantaneous reactors to important issues is a risky undertaking, and Jackson has been known to put his foot in his mouth. But the general public and the decision makers listen because, like it or not, Jackson does represent a sizable constituency. In the long run, his function as a spokesman may be his most important contribution.
In her 1975 book, Barbara Reynolds suggested that the Country Preacher will be a genuinely effective force only when he learns a little humility, only when the overtones of haughtiness are silenced. I believe there are signs this is beginning to happen. Now 36, Jackson does not feel as constrained as he once did to reply to every insult, punish every enemy or react defiantly to every putdown. The regal bearing is still there, but the manner is a bit more relaxed."
"I'm older now," he said, when I commented on this. "A little more mature, a lot more secure."
Indeed, if the EXCEL program continues to grow and shows demonstrable results, Jackson will have reason to feel extremely secure. Eventually, he may even be satisfied that he has attained genuine legitimacy.
May/1978 Illinois Issues/11
---
Illinois Periodicals Online (IPO) is a digital imaging project at the Northern Illinois University Libraries funded by the Illinois State Library