By ROBERT KIECKHEFER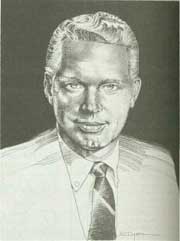 Doing justice
to
William J. Scott
WILLIAM J. SCOTT, the dapper silver-haired lawyer who is running for an unprecedented fourth term as attorney general of Illinois, has earned more respect — and caused more head-shaking — in political circles than anyone else currently on the Springfield scene. Despite his impressive record, Scott is presently languishing in the same kind of political limbo that Mike Hewlett, the Democratic secretary of state, found himself in two years ago during his unsuccessful race for governor against Jim Thompson. Like Hewlett, Scott has found himself facing charges, but lacking any legal forum to prove his innocence. Hewlett was later cleared of any wrongdoing, but not before he lost the election. And like Scott, Hewlett was one of Illinois' most popular vote-getters. The situations are not entirely parallel, since Scott is running for reelection and against a weak opponent. His record as attorney general is a strong one, and he pulled in votes as usual in the primary.
Consider: Scott has successfully challenged the top ranks of both organized crime and big business. He has forced industries to spend hundreds of millions of dollars on antipollution equipment, won precedent-setting cases against other states and the federal government and attracted the recognition — almost adulation — of national conservation groups. He keeps close tabs on the fly-by-night operators who bilk the old and helpless and has put many of them out of business. And he continues to push, unsuccessfully so far, for more prosecutorial powers which could be used to poke about among the skeletons of the Cook County Democratic organization.
But also consider: Without a shred of tangible evidence, Scott once accused Walker of dealing with organized crime for access to Scott's personal and office telephone conversations. He dubbed it "Walkergate" but never followed up. Scott once rashly signed a letter to a banker telling him state funds would be withdrawn from his bank because he had not shown the proper political gratitude for their deposit. And now Scott finds himself under scrutiny by a federal grand jury that wants to know how he got a $50,000 "political" campaign fund which he kept in cash in safe deposit boxes, what he did with it and whether he paid taxes on it. If U.S. Attorney Thomas Sullivan convinces the grand jury and the trial court that Scott failed to pay taxes when he should have done so, Scott could follow Kerner to a federal prison.
Sounds like two different men, doesn't it? Here are some details.
Political background
Scott, an attorney and former classmate of Gov. Richard B. Ogilvie, entered politics early and already had a stint as state treasurer under his belt by the time he turned 40. Even as he turned the treasurer's office over to Adlai Stevenson III, his name was bandied as a likely gubernatorial candidate for 1968. He chose instead to run for attorney general. This choice started a string of decisions which has consistently led him to renounce clear shots at top-of-the-ticket positions.
ROBERT KIECKHEFER
Illinois editor and Chicago Bureau manager for United Press International, he was DPI Springfield Bureau manager from 1971-1977.
4/October 1978/Illinois Issues
---
By mid-1969, only months after he was sworn in as the state's top legal officer, Scott was talking tough about pollution control and charitable fraud. He said he would have legislation introduced to give him more authority over polluters. And, in the meantime, he said he would go to court to close down industries that were poisoning the state's air and water.
Scott never has obtained all the legal power he sought, especially a statewide grand jury. But he has kept the courts busy with suits against steel firms, automakers, chemical companies and landfill operators. He has won far more cases than he has lost and brags that he has won all the big ones. The high point of his decade-long crusade may be last year's federal court ruling that Milwaukee must install hundreds of millions of dollars in sewage treatment facilities which will prevent further pollution of Lake Michigan. Now Scott is after landfills which accept nuclear waste, charging they are turning Illinois into the nuclear dumping ground of the nation, at the risk of harming the land, the water table and the health of future generations. He is also leading the fight against toxic chemical wastes buried in Illinois and in August won a circuit court decision to stop the landfill operation at Wilsonville.
Anti-pollution crusade
Scott's opponents charge his antipollution crusade — and the action he has taken against phony charities and rip-off artists — are little more than a complicated publicity campaign, funded with taxpayer dollars. It's true Scott's office is not exactly slow to toot the trumpet when his staff wins a popular case. But that is one of the things about Illinois politics that is decidedly not unusual. And the record Scott's office has compiled makes the criticism look a little like sour grapes. Scott also hooked a popular national consumer cause when he discovered General Motors had installed Chevrolet engines in some models of Buick autos without telling the folks who bought the resulting hybrids. Scott, joined by attorneys general from most other states, led the successful fight to get damage payments for the purchasers. There have been no major scandals in the operation of Scott's office to offset his string of victories. True, the attorney general wound up a bit red in the face when it was revealed a few years ago that one of his top courtroom lawyers had never bothered to gain admission to the bar. But that's the kind of thing that could happen to anyone, and people didn't seem to hold Scott responsible anyway.
Beyond a doubt, "Walkergate" is the most interesting and perplexing foray Scott has taken into the "twilight zone." Speaking at a news conference in the Capitol press room, Scott charged, essentially, that:
'. . . I will continue to take on the giant corporations and the Cook County machine and even the partisan U.S. Justice Department, if necessary . . .'
—The Mafia had bugged his Springfield offices and taped confidential phone conversations.
—The tapes had been traded, or offered in trade, to the Walker administration.
—The Walker administration, in return for the tapes, had offered, or been asked for, a pardon for the relative of a Mafia chief.
It was a great story. The only problem was, Scott couldn't back it up. Try as they might, reporters could not shake from the attorney general a shred of evidence supporting the allegation. In the end, the story was printed. But Walker's denial was played about as prominently as Scott's charge. The clear implication was that Scott had taken leave of his senses. Yet, he returned to the subject later and spun even more elaborate tales about it in a conversation with Bill Lambrecht of the Alton Telegraph's Springfield bureau.
Burnell Heinecke, then of the Chicago Sun-Times, really caught Scott with his political pants at half mast in 1966, when Scott was still treasurer. Heinecke obtained and printed a letter Scott wrote to the president of the Mid-City National Bank of Chicago, discussing his deposit of state money in the facility. He told the executive he had increased state deposits from $182,000 to $1 million "but judging from your critical remarks at the recent Young President's Dinner, this increase was not appreciated." He said the deposit would be reduced to the original $182.000.
There have been other gaffes in Scott's career which might be seen as the result of a tender ego, or of paranoia deeper than that which usually affects a politician whose image is threatened.
During the 1972 campaign, for instance, Scott was concerned that his Democratic opponent, state Sen. Tom Lyons (D., Chicago), would try to bring up Scott's then-recent divorce as a campaign issue. Lyons, a sacrificial lamb without a prayer of beating Scott, had made no effort to raise the divorce as an issue and probably couldn't have interested anyone if he had tried.
And, unimportant though it may be, Scott is the only statewide elected official other than University of Illinois trustees who has never attended the Springfield press corps' annual "Gridiron Dinner," where the press makes fun of the pols. Scott even ducked the affair the year he was slated for a humorous award and thus was pressured heavily to be there.
The basic facts of Scott's current difficulties are simple enough, though their interpretation has kept a grand jury occupied for quite some time. In summary, it was revealed last year that Scott for several years maintained a cash fund of about $50,000, gathered during campaigns prior to the time of campaign disclosure laws. The fund was revealed during a court fight between Scott and his ex-wife over child support payments.
Campaign cash fund
Immediately, questions arose. Among them were: Where did the money come from? Did Scott spend any of it for personal purposes? And, if so, did he pay income tax on it? If Scott spent the money for political purposes, what were they and why did he need to keep the fund in cash?
"It would take me 20 years to go back and itemize all the money spent before the 1974 campaign laws were passed," Scott says when asked about the money. He admits he kept the money — contributions from his supporters — in cash in safe deposit boxes. But he says he used it only for political purposes, though he
October 1978 /Illinois Issues/5
---

does not have documents to prove that.
"For instance," he said, "when I needed to run out and buy $1,000 worth of stamps to mail Christmas cards to precinct captains, which is certainly a political function, I would use that fund." He said the Internal Revenue Service would have a claim to taxes on the money "only if they could prove the funds were converted for personal use. And I never did that."
Nonetheless, Sullivan let it be known he was presenting evidence to a grand jury. Then Sullivan subpoenaed many of Scott's office records, touching off a long court battle which the attorney general eventually lost.
Later it was reported the grand jury also was looking into Scott's appointment of "special assistant" attorneys general, lawyers hired from cities around the state to work with the attorney general's office on a daily or hourly rate. The implication was that Sullivan's prosecutors are trying to find out whether Scott expected campaign contributions in return for the appointments — and whether such contributions might have wound up in the questionable safe deposit boxes.
The investigation left Scott in a touchy political situation. To make matters worse for Scott, the court fight over the subpoenas took place during the weeks immediately before the March primary. And his eventual Democratic opponent, Richard J. Troy, aired some slick animated television commercials just before the election, intimating broadly that Scott's hoard made Watergate look like a fourth-rate burglary.
Scott counterattacked, charging Sullivan and others were out to get him in a partisan vendetta. "The federal investigation is politically motivated, its innuendoes are untrue and unfounded .... I put everyone on notice that I will continue to take on the giant corporations and the Cook County machine and even the partisan U.S. Justice Department, if necessary. I'll continue the work of this office no matter how hard they try to stop me," Scott said.
The attorney general was unopposed in the primary, but his vote total didn't seem to dip much from previous years despite a slack turnout. Obviously, the general election will be a different story. Troy, a tough fighter who finagled his way onto the Democratic ticket through some adroit maneuvering, served notice with his commercials during the primary that he will use the issue to its maximum advantage.
Heavy favorite
Scott still is popular, well-known and well-financed. Most observers regard him as the heavy favorite, barring an unexpected pre-election indictment. And yet, he is in a box — unable to do anything to clear himself. It's an uncomfortable position, which makes Scott look bad to those who don't pay attention to the way the justice system works.
And Scott, as he has demonstrated throughout his career, doesn't like that kind of position.
October 1978/Illinois Issues/5
---
Illinois Periodicals Online (IPO) is a digital imaging project at the Northern Illinois University Libraries funded by the Illinois State Library