By ED McMANUS
Principal events in the Nazi-Skokie controversy
April 27, 1977: Skokie sues to enjoin Nazi demonstration scheduled for May 1.
April 28: Injunction granted by Cook County Circuit Court.
May 2: Village board enacts three ordinances aimed at outlawing Nazi demonstrations.
June 14: U.S. Supreme Court orders Illinois courts to hear injunction appeal expeditiously.
June 27: Anti-Defamation League (ADL), representing survivors of Nazi Germany, sues for a separate injunction.
July 13: State Appellate Court upholds injunction granted in April.
Aug. 12: American Civil Liberties Union files suit challenging the three ordinances.
Jan. 27, 1978: State Supreme Court lifts injunction.
Jan. 30: State Supreme Court dismisses ADL suit.
Feb. 23: U.S. District Court strikes down ordinances.
May 22: U.S. Court of Appeals affirms decision striking ordinances.
May 23: Nazi leader Frank Collin announces he will drop Skokie plans if allowed to demonstrate in Chicago's Marquette Park.
June 12: U.S. Supreme Court refuses to block Skokie demonstration scheduled for June 25.
June 20: U.S. District Court orders Chicago Park District to give Nazis a permit.
June 22: Collin calls off Skokie march.
June 24: Nazis demonstrate in Chicago Loop.
July 5: U.S. Court of Appeals refuses to block Marquette Park march.
July 7: U.S. Supreme Court refuses to block Marquette Park march.
July 9: Nazis demonstrate in Marquette Park.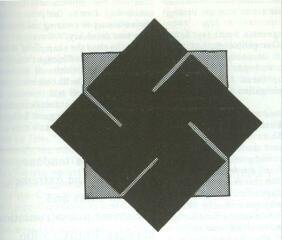 Nazi march
What's it all about?
HE HAS no press agent, but the news media cover his every move.
He has no money, but he enjoys excellent legal counsel.
He has no power, but thousands fear him.
His name is Frank Collin. He is a Nazi.
For more than a year he terrorized the citizens of Skokie by nothing more than his announced desire to march in front of their village hall. Three times in 13 months his rights were upheld by the United States Supreme Court. Along the way, he was vilified, ridiculed and threatened. The press had a field day. His defenders, the American Civil Liberties Union (ACLU), got hurt.
Finally the controversy ended, but a question lingers: How could a person like Frank Collin and his tiny band of followers manage to create such a stir? The answer is worth searching for.
The Nazi-Skokie story began early in 1977 when Collin, head of the National Socialist Party of America in Chicago, applied to the Skokie Park District for a permit to hold a rally in a Skokie park.
Skokie is a northern suburb of Chicago with a population of 66,000. About one-half of its people are Jewish; many are survivors of Nazi Germany or relatives of Hitler's victims.
The park district responded by informing Collin that he would be required to come up with a huge liability insurance policy to cover possible damages at the rally — a requirement the district knew he could not fulfill.
The Nazis want to march
Collin then announced his intent to march with his followers, in uniform, in front of the village hall on May 1. On April 27, the village's lawyer went to court, and the following day he obtained an injunction to block the demonstration. The village board also enacted three ordinances: Requiring insurance for demonstrations, banning persons
ED McMANUS
Urban affairs editor for the Chicago Tribune and Chicago columnist for Illinois Issues, McManus has been Springfield correspondent for the Trib and also for Chicago Today.
November 1978/Illinois Issues/11
---
from parading in "military-style" uniforms or displaying offensive symbols, and banning distribution of hate literature.
Collin obtained counsel from the Illinois Division of ACLU, and a lengthy series of court battles ensued. Ultimately, both the injunction and the ordinances were declared unconstitutional. Then, his victory won, Collin announced that he would drop his plan to go to Skokie if he won permission for a rally in Chicago's Marquette Park — something he had been seeking for two years. The U.S. District Court ordered Chicago to grant the permit, the Skokie march was called off, and Collin had his day, July 9, 1978, in Marquette Park.
A simple recital of the events from April 27, 1977, to July 9,1978, does not convey the mood that existed. Skokie's Jews were both terrified and infuriated at the prospect of Nazis marching in their midst. Some argued that the best way to deal with the Nazis was to ignore them, but most felt they must take a stand against Collin and his group. Jews throughout the Chicago area and across the country communicated their solidarity to Skokie. And the militant Jewish Defense League indicated it had every intent of engaging in a violent confrontation.
Jewish members of the ACLU in Illinois and elsewhere resigned by the thousands.
The press was there
And the controversy became big news. Every time a court held a hearing, the press was there. Every time Collin held a press conference, he had an eager audience of reporters. During one week this year — June 21-27 — there was a story about the Nazis on the front page of the Chicago Tribune every day. Chicago television stations and the national networks covered the story exhaustively.
What would have happened if Skokie had not fought the Nazi demonstration? If the ACLU had not represented Collin? If the press had not played up the story?
Initially, Mayor Albert J. Smith and other community leaders believed they could not and should not try to ban the demonstration, and they urged the citizens to remain calm. But the village was in turmoil. From the early stages, it was clear that Skokie's Jews would not stand by while Nazis marched in their midst, and the community demanded that its leaders act to stop the demonstration.
In reviewing events, Smith says he has no regrets. "Our people did not want these people in this town," he said in an interview, "so we began to do what we could to stop them. I feel we have fulfilled our obligation to the people of Skokie."
One might expect David M. Hamlin, the embattled executive director of the Illinois ACLU, to say that Smith and the village board should have stood by their principles and protected the Nazis' rights in spite of the feelings of their constituents. But that is not his attitude at all. "The village officials responded in exactly the way they should have," Hamlin said. "As elected officials, they had an obligation to respond to their constituency. They had no choice. I can't believe that Mayor Smith would still be mayor of Skokie today had he not responded that way. They always took the position, 'We'll let the courts decide.'
"To their credit, they quickly understood when they failed to prevail in court that their responsibilities were shifting. They continued to pursue the court fight but at the same time they prepared for the demonstration. I really respect the village officials. They acted in a thoroughly responsible manner throughout."
Hamlin is a realist. He knows that many politicians will sacrifice principle to save their own skins. The fact that he approves of it may come as a surprise to quite a few members of his organization.
Perhaps if the village leaders had tried harder, they might have been able to persuade the citizens to accept the demonstration — to ignore it or to stage a counter demonstration elsewhere in town. There inevitably would have been militants bent on violence against the Nazis, but they could have been controlled by the police.
If the ACLU had not agreed to represent Collin, he probably would have lost in court. "Skokie would have prevailed," said Hamlin. "There's no question about it. The Nazis couldn't afford to hire a lawyer, and even if they could have, I don't think there is a lawyer who would have taken the case."
Was the press guilty of overkill on the story? Hamlin thinks so. "The press created a sense of power around Frank Collin," he said. "The reality suggests that just the opposite was true. In a subtle way, I think the press probably played a part in creating more turmoil than was necessary."
Hamlin cited the example of WBBM-TV (Channel 2) in Chicago running film of 1938 Nazi atrocities in connection with a report on the Skokie controversy. "It's impossible to tell how that may have galvanized the Jewish community," he said, "but again I think it ultimately contributed to this air of power around Collin."
'There was a tendency to look at the extremes of both sides and it became a confrontation between Frank Collin and the Jewish Defense League'
Generally, Hamlin said, the news media's coverage of the controversy was dreadful. "There was a tendency to look at the extremes of both sides and it became a confrontation between Frank Collin and the Jewish Defense League," he said. "It wasn't well reported that the village was prepared to prevent violence and that only the Jewish Defense League and a handful of other people had any commitment to violence."
The press frequently referred to Collin marching through Skokie instead of in Skokie, Hamlin said. "There's a big difference," Hamlin said. "All he was going to do was march in a circle for half an hour in front of the village hall, but it somehow became Sherman's march through Georgia. It was just bad reporting."
The letters came in
Mayor Smith said he believed in the early stages of the controversy "perhaps it got more publicity than it should have." But "a tremendous good" has come out of that, he said. "We had a wonderful reaction — letters from all over the country," he said. "We were applauded for standing up and saying, 'This is murder and genocide and bigotry and hate and we don't want any part of it.'"
As the controversy heated up, Smith
12/November 1978/Illinois Issues
---
said the press had no choice but to report it. "The reporting was as objective as it could be," he said. "I feel the media was fair to the village of Skokie and to me personally. I have no complaints at all."
Collin isn't complaining either.
Most of the media treated us extremely unfairly," he said. "They slandered us every day. But the media did what I wanted them to do. They got our idea out to the public — the idea that Nazis were having their rights suppressed by Jews."
Obviously, the media did not do that is a favor to Collin. The fact is that the media's job is to report the news and this was one of the biggest news stories of the year in the Chicago area — a classic First Amendment confrontation between a whole town and a very controversial organization. Undoubtedly, there was sloppy reporting in some quarters. Maybe the press even stirred things up somewhat. But that is the price we pay for freedom of the press—just as putting up with obnoxious Nazis in our midst is the price we pay for freedom of speech.
It is ironic that when the Nazis finally won in court, they decided not to go to Skokie. Collin's announced reason was that his principal goal was to hold a rally in Marquette Park, and if that were permitted, he was willing to skip Skokie.
Hamlin suggests that the real reason was that Collin was scared. "The Marquette Park forum opened up, and it gave him an easy way to get out of going to Skokie and to save face," Hamlin said.
"That's ridiculous," said Collin. "We said all along that we would forego all attempts to agitate in Skokie the moment our rights were restored in Chicago."
Collin said he was happy with how things went at Marquette Park as well as at the federal building in the Loop, where his group demonstrated June 24. His only complaint was that the police required him to give his speech behind a grove of trees in Marquette Park, where it was difficult for him to be seen or heard by onlookers.
Hamlin said the policing of both demonstrations was superb, but he was unhappy that a group of counter demonstrators was kept away from the rally at Marquette Park. The ACLU has filed a damage suit against the Chicago Police Department on behalf of the counterdemonstrators (so the union is simultaneously defending the Nazis' right to demonstrate and their opponents' right to demonstrate against them).
Collin says his "Operation Skokie" is "on ice." As long as he is free to demonstrate elsewhere, he has no plans to go to Skokie, he said.
Looking back on Skokie, what are the ramifications?
The ACLU got hurt badly by the mass resignations, but members who remained loyal have come through with extra contributions to bail out the organization financially. Hamlin said the Illinois Division lost 25 per cent of its 9,000 members and the national ACLU lost at least 15 per cent of its 200,000 members. But the mailing of a special fund appeal to remaining members produced $500,000 in contributions — what Hamlin calls "a staggering response" — and the union was able to avert a drastic cutback in its activities.
Skokie, depending on one's point of view, is now known throughout the country, even the world, as (1) the town that stood up to the Nazis or (2) the town that tried to trample on First Amendment rights.
The Nazis were the big winners. In addition to prevailing in court, they got all that publicity.
Freedom of speech won
The most important result of the whole fiasco, though, was what it means for the concept of freedom of speech. "If we had lost," said Hamlin, "a brand new set of First Amendment law would have been created. Any community in the country would have had the legal power to pass laws like Skokie's that would stifle not just Nazis but anyone they didn't like."
Federal Judge Bernard M. Decker expressed the principle in striking down the Skokie ordinances on February 23:
"It is better to allow those who preach racial hatred to expend their venom in rhetoric rather than to be panicked into embarking on the dangerous course of permitting the government to decide what its citizens may say and hear .... The ability of American society to tolerate the advocacy of even hateful doctrines ... is perhaps the best protection we have against the establishment of any Nazi-type regime in this country."
November 1978/Illinois Issues/13
---
Illinois Periodicals Online (IPO) is a digital imaging project at the Northern Illinois University Libraries funded by the Illinois State Library