The vote power of Chicago Democrats from Cermak to Bilandic

The consolidation of clout
by Peter W. Colby and Paul Michael Green


"PROHIBITION

was the key to the eventual Democratic machine takeover of the city," according to one old Chicago political observer. "The Protestant Republicans moved out of the city to escape gang violence, booze and Catholics." Obviously one event cannot explain the complicated political and social process that turned Chicago into a Democratic stronghold. However, the 1920's are a convenient starting point to trace the evolution of the 20th Century's most powerful and long-lasting political organization.

In 1920, Chicago had a Republican mayor, strong GOP city council representation, several competing Republican organizations inside the city and a tradition of voting heavily for Republican national and state candidates. In fact, 1920 GOP presidential candidate Warren G. Harding swamped Democrat James A. Cox in Chicago 549,243 to 182,252. Cox could carry only two city wards. The Democratic gubernatorial candidate, J. Hamilton Lewis, won just seven wards, and the county Republican ticket crushed their Democratic foes inside the city.

Today, nearly 60 years later, the Chicago Republican party is a lifeless hulk unable to field viable candidates for major city office. In 1975 and 1977 its mayoral candidate was unable to carry one city ward. In 1976 its presidential candidate received less than one-third of the city vote. How has this come about and could the party's political demise have been avoided?

This article will analyze the themes and trends which have left the Republican party so devastated and the Democratic party so dominant inside Chicago. We will discuss demographic shifts inside the city and migration patterns in and out of Chicago; the building of the Democratic organization and the destruction of the Chicago GOP; the impact of independent and black political activity and, finally, the influence of certain individuals who have shaped Chicago politics as we know it today.
The 50-ward system
Prior to 1921 Chicago was divided into 35 wards. Each ward had two aldermen elected in alternate years to two-year terms. Aldermanic races were legally partisan contests requiring a party primary, and Chicagoans faced a constant barrage of ward elections.
Beginning in 1912, Chicago's reformers advocated a redistricting of the city's ward boundaries. They believed the faster growing peripheral areas (containing the largest number of reform and independent voters) should have greater representation in the city council. Reformers advocated four-year
terms and nonpartisan aldermen. They also wanted the wards to be single-member districts which would reduce council membership to a more manageable 50. According to the Municipal Voters League, a new 50-ward city council would give independent citizens acting in groups a rare opportunity to clean house. But as is often the case in such "reforms," the politicians (in this case, city Democrats and Republican Mayor William Hale "Big Bill" Thompson) manipulated the change to fit their own needs.
The outcome of the "reform" was a system, still in use in 1979, in which each of Chicago's 50 wards elects an alderman to serve on the city council for a four-year term. The nonpartisan elections are held in February; however, if no candidate gets over 50 per cent of the vote, a runoff is held in April between the two top vote-getters. The February elections coincide with the Republican and Democratic mayoral primary elections; the April runoffs are held simultaneously with the mayoral general election. Chicagoans will be at the polls on February 27 and on April 3 to elect a mayor and city council to serve for the next four years.
The 50 Chicago wards have been redistricted a number of times since 1921, and a ward-by-ward analysis of Chicago politics since then must consider these boundary changes. An examination of these changes reveals two crucial facts. First, except for wards 20, 21 and 34, which were moved to the south side to accommodate the growing black population, the boundaries of most city wards have not changed much since 1921. The major change has occurred to follow the population which has shifted outward towards the city's periphery; thus central city wards have grown geographically larger and peripheral wards have become territorially
February 1979/Illinois Issues/11
---
smaller. Second, because only parish loyalty outranks ward loyalty to many Chicagoans in locating and identifying one's neighborhood, socioeconomic status and political persuasion, Chicago politicians have not often tampered with the numbers placed on city wards.
Democratic Aldermen Anton J. Cermak and James B. Bowler were the architects of the 50-ward plan in 1921. Their plan eliminated some aldermen from public life, since the council was reduced from 70 to 50 members, but the "reform" plan did not significantly change Chicago politics. Cermak and Bowler (aided by Mayor Thompson's advisor Samuel A. Ettelson), on the basis of their council committee posts, were legally responsible for the remap. They paid lip service to civic groups and the city's independents and then proceeded to create a highly partisan political map. Bowler, a man who often campaigned with two pistols in his belt, infuriated the far southside residents of the dry neighborhoods of Beverly Hills and Morgan Park. He gave their newly carved ward the number 19, which for years was a ward number synonymous with bomb throwing, booze and machine politics.

Bowler completed his wryjoke by giving his own rough-and-tumble bailiwick the number 25, which outraged far north-side residents who had always identified reform with that ward number. There has been periodic redistricting of city wards since 1921, but the configuration of ward boundaries in Chicago as well as their number and location have never been left to chance nor to computer programmer.
The Pre-Daley years

The battlelines through most of Chicago's history have been drawn between the inner and outer wards. In the 19th Century and, especially, the early 20th Century, urban geography was the best predictor of urban politics.

In Chicago's center lived its newest residents - the Catholic and Jewish immigrants. These recently arrived citizens were generally not well educated, lived in poor housing, held nonskilled jobs and were open to the promises and threats of the politicians. Both political parties struggled to gain favor in ethnic neighborhoods, and from these communities arose nationality spokesmen, mainly Democrats, who eventually took over the city. By contrast, Chicago's periphery contained a high percentage of the city's Protestant population. These people were not newcomers to the city. They were also better educated, more informed, higher paid and less interested in organization politics. It was in these outer wards where governmental and political reform had its strongest supporters and where Republican vote power, outside of the black areas, was greatest.

City elections: 1923-1951

Between 1923 and 1951, the Republicans were a viable political party in city elections. There were eight mayoral and eight aldermanic elections in Chicago during this period for a total of 800 ward contests. Of these the Republican party carried 222 or 27.75 per cent of the wards. Except for the 1935 Emil C. Wetten fiasco, the Chicago GOP mayoral candidates ran respectable races. In the alleged nonpartisan aider-manic contests, Republican victories ranged from a low 12 per cent in 1939 to a significant 38 per cent in 1947. In 1951, at the end of the Pre-Daley Era, the GOP made up almost one-third of the city council.

The sole Republican mayoral victory in the 1923-1951 era occurred in 1927 when former Mayor "Big Bill" Thompson regained his city hall chair in a bitter campaign against incumbent Mayor William E. Dever. Thompson was not a traditional Republican candidate. In his two previous mayoral terms, 1915-1923 Thompson's outrageous personal conduct, his thinly veiled ties with the underworld and his questionable administrative practices hurt him in strong Republican peripheral wards. Only the two inner-city black wards remained strong and faithful to Thompson.

Herein lies a crucial factor in the demolition of the city Republican party and the subsequent construction of the Chicago Democratic organization. Republican mayoral and aldermanic candidates seldom did as well in local elections as national, state and county Republicans did in presidential-year
February 1979/Illinois Issues/12
---
elections in the city. Among the factors causing this were the personalities of various candidates, the incredible cross-party factional deals and the stronger local Democratic inner-city ward organizations.
The most crucial factor influencing this vote differentiation, however, was voter turnout in peripheral wards. In both local and national elections, central city ward voters turned out in relatively equal numbers, but the vote in the outer GOP wards was far heavier in national and state elections than it was in mayoral or aldermanic contests.
Breakdown of a pattern
This pattern broke down in 1931 when Cermak, the personification of an inner-city ethnic leader, crushed Thompson in traditional GOP peripheral wards.
Republicans demonstrated their anger with Thompson by turning out in record numbers for a mayoral election. One year later Franklin D. Roosevelt, aided by a strong peripheral ward showing, became the first modern Democratic presidential candidate to carry the city. These two elections broke political traditions. In subsequent years Republicans would regain some of their power base on the periphery, and their candidates would once again carry these outer wards, but never again would the margins be as great. The Democrats had broken the peripheral barrier; psychologically and geographically they were expanding out from the center.
Aiding the Democratic upsurge at this time was the nationwide Depression. Undoubtedly economic conditions spurred voter interest in the inner-city wards. FDR's candidacy encouraged a huge turnout in the heavily Democratic central ward region. But the Democratic trend locally had been set in motion prior to the Depression.
Another factor fostering a Democratic upswing during this crucial 1927-1932 period was the consolidation of the Democratic organization under Cermak. His political rise came just when Chicago Democrats were emerging from decades of intraparty factional fights. Contenders for party control had not divided along ethnic lines; rather, ward leaders sought alliance with those groups which gave them tangible benefits. Cermak moved from Cook County Board president to party chairman and mayor with the backing of the same Irish and non-Irish ward bosses who had supported previous Democratic leaders. Some Irish Democrats opposed Cermak's election because of their anger at being bypassed within the party hierarchy. Cermak's Bohemian ancestry and his close ties with the city's Polish and Jewish spokesmen did, of course, bring more non-Irish into leadership positions within the party. But to say it was a revolt against the Irish overlooks the fact that Cermak's two most important backers were Pat Nash and Joe McDonough, and denies the fact that after Cermak's death Edward J. Kelly was selected as his replacement by Cermak's strongest non-Irish supporters. This logic would suggest that in 1979, Chicago's Irish ward committeemen will support Mary Jane Byrne over Michael A. Bilandic for ethnic reasons. Cermak was the first Democratic mayor ever to have been a ward committeeman (Daley was the only other one). During his brief tenure as mayor and party chairman, Cermak intertwined political and governmental processes and made them almost inseparable. Under Cermak the loosely linked parts of the political organization were rearranged and then consolidated into a well-oiled machine.
Kelly and then Martin H. Kennelly followed Cermak into the mayor's office. The 1943 Kelly-George B. McKibbin race was a close contest. Mc-Kibbin, a prominent GOP lawyer, received 45 per cent of the vote and won 19 wards. The remaining Republican strength was still holding on the perimeter of Chicago. This fact did not escape the Chicago Tribune: "the wards carried by McKibbin fringe Chicago on the south side in Hyde Park, Englewood, and the Beverly Hills area. He carried wards in the northwest which are largely residential. On the north he carried six of nine wards. His strength was shown along the Lake Shore wards from Lincoln Park to Evanston. . . ."
A ward-by-ward recapitulation of mayoral and aldermanic races during this 1923-1952 period reveals the extent of the Democrats' inner-city strength: 25 or one-half of the city wards voted Democratic for mayor or alderman 75 per cent of the time. Twelve wards (1,13, 14, 15, 21, 22, 23, 24, 25, 29,32,42) were Democratically perfect; no Republican was able to carry them in any aidermanic or mayoral contest.
The best GOP ward was the 47th - a heavily German northside ward and the home base of the Hoellen family. John Hoellen, Sr., and his son John Hoellen, Jr. (Daley's 1975 opponent), occupied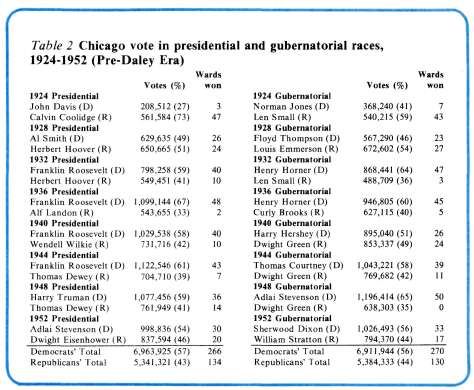 February 1979/Illinois Issues/13
---
the ward's aldermanic seat for most of the past five decades. The 47th supported Democratic candidates only one-third of the time, but politically it was a rather lonesome ward in the city. Only seven other wards (3, 4, 6, 8, 9, 41, 15) joined the 47th in not voting for Democrats at least 50 per cent of the time.
Presidential and gubernatorial elections: 1924-1952 Republicans fared slightly better in presidential and gubernatorial elections than they did in mayoral and aider-manic contests from 1924 to 1952. Still, GOP presidental and gubernatorial candidates won only 33 per cent of ward races, 233 of 800, and like their mayoral candidates were unable to carry the city following the critical 1927-1932 period. In 1940 Dwight H. Green, a Chicagoan and a recently defeated mayoral candidate, gave the GOP their best showing by coming within a few votes of carrying Chicago against Harry B. Hershey in the governor's contest.
As in local elections, Republicans did better in national and gubernatorial races in the city's peripheral wards. Here the higher income and more heavily Protestant Chicagoans supported GOP presidential and gubernatorial candidates in the 1920's, switched to FDR and Henry Horner in the 1930's, and came back somewhat to the GOP fold in the 1940's and in 1952. Of course, Republicans on the periphery, like the rest of their fellow Chicagoans, rallied to the banner of Democrat Adlai E. Stevenson II in 1948 to blitz incumbent Gov. Green, who was seeking his third term.
During the decade of the 1920's Chicago's population jumped from 2,701,525 to 3,373,573. The overwhelming bulk of this 672,048 increase occurred in 10 periphery wards (7, 8, 15, 19,37, 39,40,41,49,50) which saw their populations double during the decade. Irish, Poles, Jews and East Europeans who could afford to leave their old inner-city neighborhoods were moving to more desirable areas on the city's periphery.
Eleven wards, mainly on the periphery, voted for Republican presidential and gubernatorial candidates over 50 per cent of the time. For example, the 19th Ward (Beverly) on the city's far south side was the best GOP ward, supporting every Republican presidential candidate from 1924 to 1952. Only Horner in 1932 and Stevenson in 1948 were able to carry this ward for the Democrats.
Like many other peripheral wards, the 19th Ward, despite its strong Republican votes for president and governor, was in a state of flux. In terms of income, these areas remained middle to upper-middle class, but their ethnic and religious composition was undergoing a dramatic change. At the start of the 1920's the 19th Ward was a Protestant Republican stronghold. The Ku Klux Klan was prominent, Catholics had limited access to parks and recreation and according to one old-timer, "Irish kids could walk on only certain streets or else face getting beat up." By 1930 Tom Nash, an emigree from the 3rd Ward, was building a local Democratic organization; the churches of St. Barnabas, St. Cajetan and St. Christina were established, and the shuffling of ethnics (mainly Irish) and old-line Protestants had begun. The 19th Ward's support for GOP presidentialand gubernatorial candidates was not matched in local elections. The same period that saw this ward support every GOP presidential candidate and six of eight GOP gubernatorial candidates also saw it go Republican in only one aldermanic election.

This same process was occurring throughout the city. From 1920 to 1930 30 Catholic churches were erected in mainly peripheral ward areas. The push towards the periphery was more than a demographic shift; it was also political adrenalin for Chicago Democrats. The clash of new economic status with old ethnic loyalties gave the Democrats greater strength on the city's edges. In national and state elections they narrowed GOP pluralities, and in local elections they broke through into previously Republican territory. One could argue that income and issues prevailed in national and state elections but that ethnicity and tradition could counter both in local contests. This pattern began to spread into other peripheral wards, when Richard J. Daley burst onto the city scene in the early 1950's.
The Daley years
It was at the time of Daley's emergence as Democratic leader that the full impact of black Chicagoans hit the local political scene. As previously discussed black Chicagoans generally supported the Republican party and specifically backed "Big Bill" Thompson earlier in the century. They remained incredibly loyal to Thompson throughout his political life. But "Big Bill's" career ending mayoral defeat in 1931 plus the Depression gave the Democrats a chance to make inroads.
Throughout the 1930'sand 1940's Chicago received increasing numbers of black migrants. Most settled in the city's southside black belt which began to bulge beyond its 2nd and 3rd ward borders, where black aldermen had represented black people's interests for over 20 years. In 1947, a new southside 20th Ward was carved out to give the city's burgeoning black population a third alderman.
Democrats in national and state elections had already turned around the city's black wards by 1940, but in mayoral elections the two top-heavy black wards were battlegrounds. In 1940, William L. Dawson, anambitious black lawyer and former GOP 2nd Ward alderman, switched to the Democratic party and was elected 1st District congressman. By 1955 Bill Dawson was the city's undisputed "Black Boss," able to deliver five south side wards (2,3,4,6, 20).
When Dawson teamed with Daley's
February 1979/Illinois Issues/14
---
troops in 1955 he found the man and the vehicle to make the black vote a lifeline of the Democratic party. This alliance eliminated a vital part of the city Republican coalition and further diminished the GOP chances for a comeback, It also gave Daley a chance to demonstrate his political acumen by showing that it was possible to incorporate blacks into a multiracial, urban political organization.
Much has been written about Daley as a politician, but seldom is it pointed out that his black connection was a key to the Chicago political machine outlasting America's other big city machines. Daley worked with blacks the same way earlier bosses had dealt with other large ethnic groups entering the political process. He gave them status, local office, upward mobility, neighborhood autonomy and the economic rewards for loyalty. Though his white and black critics may scoff, Daley also helped blacks attain political power and sold this power sharing arrangement to his own own white ethnic allies, Only late in his extraordinary career did Daley have to cope with the race problems which had destroyed other Democratic organizations around the country. Chicago's ghetto riots, Dr. Martin Luther King's housing marches, the Black Panther shooting episode, former Cook County State's Atty. Edward Hanrahan, a growing black independent middle class, Congressman Ralph H. Metcalfe's break over police brutality, and voter apathy among poor blacks combined to challenge Daley's brand of white-black politics. Yet even now, after the deaths of Daley and Dawson, their successors are still taking on all comers in south and west side black neighborhoods, producing many more organization victories than setbacks.
City elections: 1955-1975
In his six mayoral races Daley virtually wiped out the Chicago Republican party. During his reign as party chairman the Democrats won 525 of 600 ward contests for mayor and alderman. Thus, the Republicans could only carry 75 or 12 1/2 per cent of the ward races. He expanded the party into the city's periphery, he kept the black-ethnic alliance together, and he made himself an indispensable ally to business and labor. In short, most of the people required to keep the Republican party respectable were either gone, converted or had given up.

Daley's rise to power has been documented in several recent books and articles. What is sometimes overlooked is that when Daley was elected party chairman in July 1953, he was perceived as a liberal, progressive New Deal Democrat. On July 7,1953, the Chicago Daily News likened Daley to Martin H. Kennelly, Paul H. Douglas and Adlai E. Stevenson II. Two weeks later the Chicago Tribune called Daley's chairmanship selection a victory for "the New Deal Democrats in Chicago over the conservatives." In 1955 Daley was prepared to move Chicago Democrats into new areas of political organization.

During his mayoral career Daley's toughest opponents were Democrats, not Republicans. In 1955 he won the hard-fought Democratic primary defeating incumbent mayor Kennelly and his former Democratic Springfield legislative partner Benjamin S. Adamowski. In the general mayoral election in 1955 his opponent was another Democrat-turned-Republican, Robert E. Merriam. In 1963 Daley again was matched against Adamowski, who by this time had become Republican. In 1975 independent Democrat William S. Singer gave Daley his last major political battle.

Daley's first mayoral primary in 1955 was somewhat similar to his last one in 1975. In each case he faced two major opponents Kennelly in 1955 and Singer in 1975, who were supported by reform and independent Democrats, and Adamowski in 1955 and Richard M. Newhouse in 1975, who were ethnic candidates appealing mainly to their own constituencies. Comparing the 23 wards Daley lost to Kennelly and Adamowski in the 1955 primary with the three wards he lost to Singer in the 1975 primary, the Democratic organization's push to the periphery can be seen.
Daley and the Democratic party's desire to expand their party to include Chicago's periphery did not come at the expense of their long-time power base, the inner city. A ward ranking of Daley's vote margins in his six elections shows them the undisputed backbone of the city's Democratic party. Only in the 41st Ward on the city's far northwest side did Daley lack an overall plus-vote margin. The 41st is also the only ward where Daley merely broke even in his six elections. In 11 other wards he was 4-2, in 16 others he lost only once, and in the remaining 22 wards Daley was undefeated.
The voting trends of Daley's six elections disclose some startling internal shifts within the Democratic organization. First, the 11th Ward's unmatched preeminence in Democratic politics is a relatively recent phenomenon. In Daley's first three mayoral races the 24th Ward easily outstripped the 11 th in support of the mayor. Moreover, several other west side wards were about even with the 11th Ward in producing Daley vote margins. In 1967 the 11th took off,