Bill Summaries for Roll Call Votes

House
H.B. 13, by Rep. Richard F. Kelly Jr. (D., Hazel Crest), would provide for a statewide referendum on the proposed U.S. Equal Rights Amendment to test popular support. Two amendments adopted in the House would have added questions on the District of Columbia being treated as a state, and of continuing state financial support for the Regional Transportation Authority. Most legislators who favor ERA oppose this bill as dilatory. Failed 54-101 in the House May 17, (54 yes, 79 no, 5 present, 17 absent; Democrats voted 21-58-3-7; Republicans voted 33-43-2-10).

H.B. 15, by Rep. Lee A. Daniels(R., Elmhurst), would attempt to overturn the 1977 "Illinois Brick" decision of the U.S. Supreme Court, which vastly reduced the ability of consumers to win antitrust damages since it limited recovery for price-fixing suits only to the "overcharged direct purchaser." This bill would allow wider enforcement of anti-trust laws; it is opposed by the Illinois State Chamber of Commerce and backed by the attorney general and consumer groups. Passed the House May 14 (97 yes, 42 no, 11 present, 27 absent). Liberal Democrats and conservative Republicans voted together to clamp down on large corporations that form monopolies and trusts (Democrats voted 21-58-3-7; Republicans split 33-43-2-10).

H.B. 672, by Rep. Doug Kane (D., Springfield), would set up a nine-member State Fair Authority appointed by the governor to operate the state fair, and make it self supporting after July 1, 1983. Since the issue was gubernatorial control and fiscal belt-tightening, along with implied criticism of the governor, a strange cross-party coalition voted for the bill. Passed the House April 20 (122 yes, 23 no, 32 absent; Democrats voted 65-5-0-19; Republicans voted 57-18-0-13).

H.B. 853, by Rep. Larry R. Stuffle (D., Charleston), would allow school boards to enter into collective bargaining agreements for a period of up to three years. Specifically a labor issue, supported on a party-line vote by Democrats. Passed the House May 17 (125 yes, 28 no, 5 present, 19 absent; Democrats voted 84-0-0-5; Republicans split philosophically 41-28-5-14).

H.B. 1225, a "sunset" bill, by Rep. Donald L. Totten (R., Schaumburg), would provide for the General Assembly to review all state agencies and programs at six-year intervals and scrap or revise such agencies on the basis of the review. It seems to be one answer for those legislators who fear the uncontrolled growth of government bureaus and spending. Passed the House May 25 (130 yes, 27 no, 3 present, 17 absent; Democrats voted 65-12-2-10; Republicans voted 65-15-1-7).

H.B. 2231, by Rep. Richard H. Brummer(D., Effingham), would provide that where mining rights are sold after December 31, 1979, the landowner is entitled to receive continual royalties from the coal company equal to at least 5 percent of the minehead price of coal extracted. A confusing bill for Republicans, apparently, since it protects the landholder at the expense of coal interests. Passed the House May 24 (100 yes, 26 no, 12 present, 39 absent; Republicans split 39-21-9-19; Democrats voted 61-5-3-20).

H.B. 2569, by Rep. Jim McPike (D., Alton), is the Democrats' plan for replacement of the corporate personal property tax (see "Legislative Action"). A party-line vote, with one Republican voting with Democrats. Passed the House May23 (90 yes, 73 no, 10 present, 4 absent; Democrats voted a straight 89 yeses; Republicans voted 1-73-1-4).

Senate
S.B. 519, by Sen. Earlean Collins (D., Cicero), would allow conviction of a man for raping his wife under limited circumstances when an action for legal separation or divorce has been filed. Would make spousal rape a Class 2 felony, not Class X. It's a controversial liberal social issue. Passed the Senate May 25 (32 yes, 12 no, 1 present, 14 absent; Democrats voted 22-3-1-6; Republicans voted 10-9-0-8).

S.B. 659, by Sen. Vince Demuzio (D., Carlinville), would prohibit dumping of hazardous wastes within a mile and a half of a town or city, near a drinking water supply or above an abandoned coal mine. It is opposed by the Illinois State Chamber of Commerce and business leaders as a "back door approach" to banning of necessary industrial facilities. Sen. Demuzio has been active in attempting to shut down a highly controversial hazardous waste dump site in Wilsonville, which is in his district. It passed the Senate May 25 (40 yes, 9 no, 6 present, 4 absent) and is the first time a waste disposal control bill has passed the Senate since the debate began in earnest two years ago. Democrats lined up solidly behind Sen. Demuzio 28-0-0-4; and Republicans split 12-9-6-0 in a conflict between local control of public hazards and laissez faire advocacy.

S.B. 688, by Sen. Robert W. Mitchler (R., Oswego), would authorize the Illinois Department of Conservation to convey the Rock River Dam in Ogle County to Commonwealth Edison, which gave the dam to the state in the 1950's. The department decided to give it back last year after the utility had paid $283,000 for cost of repairs needed in 1978. Passed the Senate May 17 (35 yes, 11 no, 2 present, 11 absent), despite charges from Ogle County-area Sen. James Gitz(D., Freeport) that "there [seemed] to be a purposeful attempt to circumvent the elected representative." Democrats voted 11 -10-2-9; Republicans voted 24-1-0-2.

S.B. 859, by Sen. Roger A. Keats (R., Kenilworth), would prohibit public employees from striking. Violation would mean a $25 per day civil penalty and a Class B misdemeanor, and the union could be fined $25 per day per striking employee. This bill is aimed at preventing disruption of public services by striking public employees and is attractive to social conservatives. Twenty-three Republicans and 8 Chicago Democrats teamed up to pass the bill in the Senate May 25 (34 yes, 16 no, 1 present, 8 absent; Democrats voted 11-14-1-6; Republicans voted 23-2-0-2).

S.B. 962, branch banking bill, by Sen. Prescott E. Bloom (R., Peoria) would permit banks to expand banking services geographically, through

July 1979 / Illinois Issues / 24
---
computer terminals at store checkout counters and automatic teller machines. The machines are a point of contention between the very largest banks in Illinois -- including the First National Bank of Chicago and Continental Illinois National Bank and Trust Company -- and the state's nearly 1,400 other banks. The very largest banks supported the bill, while other banks say it could lead to monopolistic control of the banking industry in Illinois. Failed in the Senate May 25 (30 yes, 20 no, 4 present, 5 absent; Democrats voted 13-12-2-5; Republicans voted 17-8-2-0). Under Senate rules, 36 votes are needed on branch banking.
S.B. 906, to allow the machines, but with switching network ownership to be shared by at least 200 banks, passed the Senate.
S.B. 1084, by Rep. Adeline J. Geo-Karis (R., Zion), would require that the nuclear industry bear costs of preparing and implementing emergency plans to deal with a nuclear accident, and also provide for costs of an early warning system to detect nuclear accidents. Passed the Senate May 25 (46 yes, 4 present, 9 absent).
Motion 0 would have changed the Senate rules to reduce the three-fifths vote the Senate requires in order to adopt proposed amendments to the U.S. Constitution, Such a change would have made Senate adoption of the proposed Equal Rights Amendment (ERA) much easier. Defeatof the motion means it will still take 36 votes to pass ERA, instead of 30, and it is thought unlikely that the support needed will be available. The motion was defeated February 14 (24 yes, 31 no, 1 present, 3 absent; Democrats voted 22-7-1-2; Republicans voted 2-24-0-1). A simple majority of 30 votes was needed to pass the motion.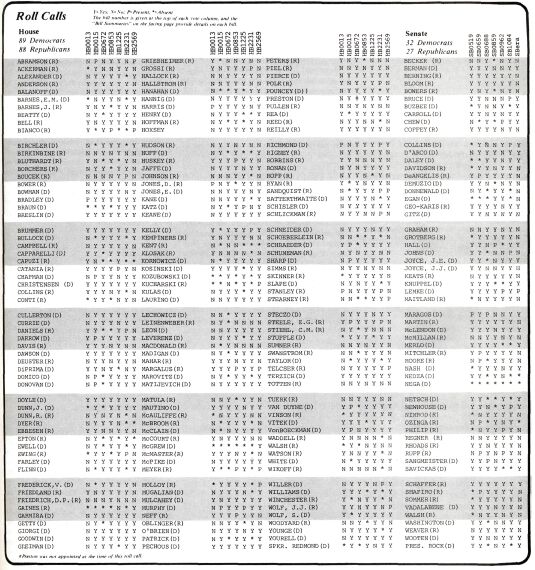 July 1979 / Illinois Issues / 25
---
Illinois Periodicals Online (IPO) is a digital imaging project at the Northern Illinois University Libraries funded by the Illinois State Library