By SHELLEY DAVIS
Senate
President
Phil Rock
A 'little less
than even-handed'
and a desire
to be governor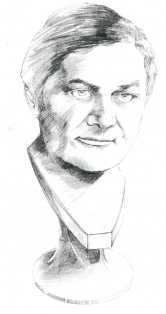 SINCE last fall Senate President Philip J. Rock has been speaking publicly of his desire to challenge Gov. James R. Thompson in 1982. If he did and if he won, Rock would become the first member of the General Assembly to be elected governor since Len Small in 1921.
But after 10 years experience as a "Chicago Democrat" residing in Oak Park, Rock would not challenge Thompson without the blessing of the Democratic organization. For Rock epitomizes the ambitious politician of the old school of Cook County Democrats; party unity and hard work are not only his watchwords, but his staff and lantern, his meat and potatoes.
Though Rock hinted last December that the possibility of former U.S. Sen. Adlai E. Stevenson III running for governor casts a shadow on his plans, he says now that his potential candidacy is "well received and perceived" by statewide slatemakers.
As a 10-year legislative veteran, Rock feels he can avoid the amateuristic mistakes which in the past he has accused Gov. Thompson of making. But even with his legislative training Rock admits being governor would be a hard job. The message of the decade has been reiterated: that times will probably get worse before they get better. Gubernatorial candidate Rock's rallying cries would be "cut back," "tighten up," "deregulate." Hardly a new message, but one taken up by many in recent years, including Gov. Thompson.
"We are confronted with not an unlimited supply of money," Rock said in an interview in mid-May, "so we're going to have to tailor the services and programs to fit the existing revenue." But, he added, "I think the [people] are now coming to realize we just can't afford to do everything, so we better find out where our priorities are and stick with those programs and let some of the others be either assumed by the private sector or just go out of existence."
Rock acknowledges that some hard choices will have to be made. "Public transportation is a perfect example. [It] is provided for ... in the constitution of Illinois. The people of the state voted on it. It ... states very flatly that it is a purpose for which public funds can be expended. Yet we in the state afford no operating subsidy for public transportation. . . . And so you have to make a hard choice and . . . this time [it] appears to be the only one: that is the imposition of a new tax or the increase in existing taxes. . . ."
Philip J. Rock got his start in politics in 1970. After five years as an assistant attorney general, he was named in 1970 to succeed Thomas "Art" McGloon, a former Senate Democratic leader, as head of the Oak Park Democratic township committee. Not bad for a 33-year-old Chicagoan whose Irish Catholic family voted but never became involved in Chicago-style "organization" politics. "[McGloon] had other members of his organization who were probably as well qualified," Rock says now, "but maybe not as overwhelmingly interested as I was."
After graduating from Loyola University law school Rock felt public service was an "obligation" for an attorney and made the decision to work for then-Attorney General William Clark. The same year he was selected to replace the retiring McGloon, Rock was also elected to the Illinois Senate. His rise there has been swift. Considered one of the best in the legislative class of 1970, Rock became the first to enter the leadership circle after serving only one term, becoming assistant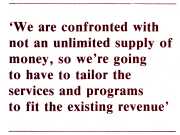 minority leader in 1972. When the Democrats gained control of the the chamber in 1974, Rock served four years as assistant majority leader before he ascended the rostrum in 1978.

It is his hard work and "overwhelming interest" that Rock credits for his relatively quick rise through the local, and then state political ranks. He says that his "capacity for work and my understanding of the issues" has helped to make him what many consider to be an able leader. Hard work is a term Rock sprinkles throughout his explanation of how all four current legislative leaders — Madigan, Ryan, Shapiro and himself — got to where they are. He again uses it when discussing the qualities a freshman legislator should have if he hopes to advance, and alludes to it when speaking of how the "troops" view his leadership capacity.

Although the "troops," Rock's fellow senators, generally view their president as an competent leader, others feel his presidency is insular and autocratic. They say he tends to listen to only a small group of senators while neglecting the needs and wishes of the rest of the legislative body. These criticisms almost cost Rock his presidency in January's leadership battle. Rock could only garner 19 votes in caucus the night before the election, thus allowing the Republicans to execute their history-making sneak attack that won them the chair for 32 days.

6/July 1981/Illinois Issues
---
Rock feels he is viewed as "even-handed and fair." Qualifying that description somewhat, one senator added that when the president is not fair, he is equally unfair to everyone. While Rock also agrees with his critics that he has a tendency to be abrupt and "a little less than even-handed," he also says these traits have certainly not hindered and may have helped his leadership abilities. They are the qualities, he says, that are sometimes necessary in "keeping the process moving and keeping things on the right track."
Rock maintains that his concerns as a leader have centered more on what is good for the party and the people of the state than on what is good for him. He is credited with breaking the five-week, 187-ballot stalemate in the Senate president election of 1977. In contrast to this year's fight over the Senate presidency, in 1977 the Democrats had a larger majority and three candidates: Sens. Terry Bruce of Olney, Thomas Hynes of Chicago (now Cook County assessor) and Rock. But Rock withdrew from the race and acted as a negotiator to bring an end to the deadlock, and Hynes was eventually elected. Rock was quoted at the time as saying, "It's a hell of a deal. I got to engineer my own demise."
Rock feels the rerun of the 1977 Senate fight that began the 82nd General Assembly has not damaged his relationship with the other leaders. It has not hampered the workings of the upper chamber, either. (In fact, there appears to be more turmoil in the House, which had no contests for leadership.)
Rock is considered something of a negotiator between downstate and Chicago area interests as Senate president. "I really have attempted to bridge that breach between downstate and upstate," he says. He adds that he has worked toward an understanding of the downstate position ever since his election to the Senate. When he speaks of the downstate group, however, he suggests that there is a qualitative difference between it and the Chicago bloc. They are not as "attuned" to discipline, he explained. But he takes a generally positive view of downstaters, saying they "have not and do not go out of their way to make life legislatively difficult for the Chicago-Cook group."
As for what life-after-Daley is really like for Chicago Democrats, Rock says he does not see a deeper split in the party now. Chicago Mayor Daley had the ability, he says, to "combine the various factions, which, in fact, did exist in those days, and come out with a real sense of unity." Today, it is a more collegial atmosphere, Rock feels, with the power being more evenly distributed among the often younger and more outspoken members. Rock thinks the "Democratic organization of Cook County still functions pretty well. . . . The group is not monolithic by any stretch of the imagination, but I think ... we will and do present a unified front." It is a subtle message to downstaters that the Chicago Democrats still have the numbers — and the votes — in the Senate.
When Rock talks of the Democratic position — "if there is one," — one cannot help but think he is referring to the Chicago position. "[Regular Chicago organization Democrats] wait and find out what our view is and what view is expected of us," Rock says, in explaining why Chicago Democrats often vote as a bloc. "Some of the downstate members, however, have a tendency to commit a little early. . . . Then it is a question of persuading them off or persuading them into a different direction."
But the president is not a tyrant. Rock's party caucuses are not binding, he says, because "it just doesn't work that way. . . . Once we walk out of [a caucus] the only thing that binds us is the [position each senator has] indicated. We never take a vote, majority [of caucus] wins, that kind of thing."
Chicago Mayor Jane Byrne's public silence on issues this session contrasts with the splash of headlines in 1979 concerning sales tax relief and transportation. Rock feels the mayor has matured in working through the legislative process and may finally be remembering the lesson learned from her political mentor, Daley, that fighting should be done behind closed doors, not in the newspapers. Yet, Rock admits, the viewpoint of the mayor of Chicago does not hold the same sway that it once did, especially in light of the Republican majority in the House.
Overall, Rock feels that legislation has been "surprisingly" good during his Senate tenure. "When you get a representative form of government, with 236 people from all walks of life and all areas, I think anytime a majority of them agree on an individual piece of legislation, it is a tribute to the professional work of the Reference Bureau, of the staff and, in great part, of the expertise of the members."
It is the possible loss of this diverse representation and expertise in the chambers that worries Rock most. He calls the legislature the "last bastion of representative democracy in government." The greatest threats to that bastion, he believes, are the professional, full-time legislators who have descended upon the Statehouse in the last 10 years. Rock feels the professional legislator, who views government and politics as his full-time job and career, will end the diversity that results from the meshing of varied backgrounds, interests and regions in the legislature. Rock is an attorney with a LaSalle Street firm.
"The people send us as representatives of their interests," Rock says. "They don't send us as professional legislators. I think the more full-time and allegedly professional we become, the less representative we become."
On the other hand, Rock regrets seeing the time pass when the legislative process regularly turned out 20- and 30-year veterans. Rock feels that with annual sessions and the resulting increase in time and workload, legislators "simply will not take the pace for that long a period of time anymore." When legislators like former Speaker of the House William Redmond (D., Bensenville) retire, no one will follow in their footsteps.




July 1981 /Illinois Issues/7
---
Rock believes that for "those who enjoy or have been endowed with certain talents, there is an obligation to give something back." That sense of obligation is what spurred him into public service in the first place, and he says he tries to instill the same sense of purpose into his three daughters and son, Kathleen, Meghan, Colleen and John Joseph. With two of his children still in diapers when he first traveled to Springfield, Rock says they understand their father's absences and the chaos that sometimes invades their lives when he is home. Two of his high-school aged daughters, Rock says, have already run for school government offices. Although he did not run their campaigns, he admits to offering advice. "I have encouraged [my children] and I will continue to encourage them to devote part of their life to public service."
Rock now laughs when reminded that in the midst of the Senate leadership fight in January he considered tossing in his political towel. Not anymore. Now he is very much in the ring, both as Senate president and as gubernatorial contender. While he admits that sometimes "enough is enough," he also says that "on calmer reflection I truly enjoy what I'm doing and I think I'm good at what I'm doing. I think I will continue to do it the best I can."
Shelley Davis, Illinois Issues' legislative intern this session, interviewed Senate President Philip Rock on May 15 and House Speaker George Ryan on May 22. Davis is a native of Blue Island and holds a B.A. in journalism from Southern Illinois University at Carbondale; she will complete the Sangamon State University Public Affairs Reporting Master's Degree Program this summer.
8/July 1981 /Illinois Issues
---
Illinois Periodicals Online (IPO) is a digital imaging project at the Northern Illinois University Libraries funded by the Illinois State Library