News Briefs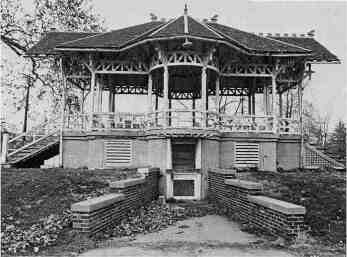 JACKSONVILLE BANDSTAND
Bandstand To Go To Smithsonian
A bandstand from the Jacksonville Community Park — graffiti and all — will be put on display at the Smithsonian Institution in Washington, D.C. Representatives of Smithsonian visited Jacksonville recently where they conferred with local officials and then made the announcement. The bandstand, believed to have been built between 1870 and 1885, is located in a 44-acre park, now leased to Jacksonville by the state. The park was part of the Jacksonville Mental Health and Developmental Center until earlier this year.
Carl Scheele, curator of Smithsonian's division of community life, said the bandstand will be dismantled and moved to Washington next spring. "We will not be depriving Jacksonville of any architectural treasure,"he said, "because the bandstand directly west of the one we have selected is an almost exact duplicate." A third bandstand is located north of the one selected.
The bandstands were used between the time they were built to about the end of World War II for Sunday afternoon concerts for mental patients, visitors and townspeople. The bandstand will take its place among 60 other structures and buildings already on display at Smithsonian.
Hickory Lodge Dedicated In Carbondale District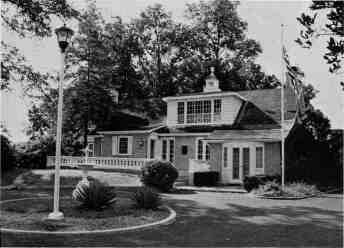 HICKORY LODGE
"Hickory Lodge", the former home of the late Thomas and Elizabeth Martin, was formally dedicated and recognition was given to its donor, Mrs. LaDeane Kirby, by the Carbondale Park District Board of Park Commissioners. During a dedication service November 6, the Board presented Mrs. Kirby, daughter of the Martins, with a water color reproduction of Hickory Lodge that had been painted by Celine Chew of Carbondale and with a replica of the bronze dedication plaque as a token of the District's appreciation of her contribution which has been appraised at $275,000.00
The Board also recognized Mrs. Kirby's sisters, Mrs. Pat Gamble and Mrs. Jean Gladders, for their cooperation in donating three additional parcels of land that adjoin the three acre grounds of Hickory Lodge, bringing the total acreage conveyed to almost ten acres with a value in excess of $350,000.00
Hickory Lodge presently serves as the administrative offices of the District, as a gallery for the display of art produced by local artists and as a site for outdoor weddings and receptions.
The grounds of Hickory Lodge also accommodate a solar design greenhouse and serve as one of the locations for the District's community gardening program.
Tax Advantages In Donating To Department of Conservation
The Department of Conservation has issued information regarding the
Illinois Parks and Recreation 33 January/February 1983
---
tax advantages associated with a charitable contribution to the DOC. Contributions may consist of the following:
1. Donations of land
2. Donations of material and equipment
3. Donations of cash
"In addition to the tax advantages associated with an individual's charitable contribution, contributors will assist the Illinois Department of Conservation in meeting goals of preserving, conserving, and enhancing Illinois' natural and cultural resources," Charles L. Tamminga, Associate Director of the Bureau of Land and Historic Sites, stated.
Fort Massac Encampment
For Massac, the historic Illinois bastion overlooking the Ohio River at Metropolis, came alive with the sights and sounds of 18th century military activities at the annual encampment held there this past fall. Fort Massac Encampment was one of eight Heritage Days events sponsored by the Department of Conservation to call attention to and interpret the state's cultural heritage. Authentically dressed soldiers attached to units representing the French, British and Americans took part in various ceremonies. Shown in the photo are the Militia of St. Anne's Parish, a collection of French peasants in sympathy with the Americans, who fire a salute during the posting of colors at the fort. Using muskets loaded with black gunpowder, the guns emitted a cloud of smoke as they were fired. Among other activities were tomahawk throwing, canoe races, tug-o-war, and traditional dances. A variety of crafts also were demonstrated.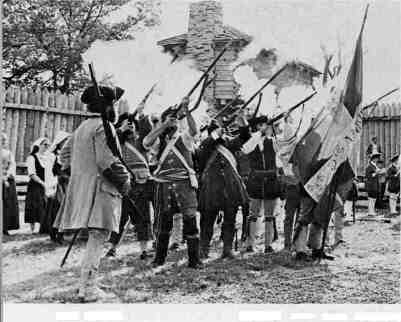 Christmas In The Park
Brian Hall, an employee at the Henson-Robinson Zoo at Lake Springfield, waves at a street-side crowd as he rides on a Christmas parade float in downtown Springfield. (See photo below.) The float, sponsored by the Springfield Park District, promoted such activities as making a snowman, ice skating and sledding. Other young adults and youngsters also rode on the float. In the background is the Old Capitol building.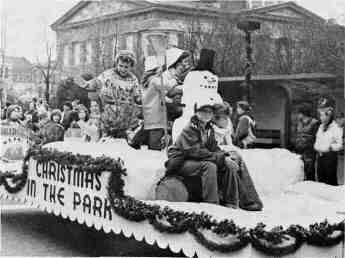 Illinois Parks and Recreation 34 January/February 1983
---
News Briefs
(Continued)
DOC Rent-A-Camp A Successful Program
"Rent-A-Camp," an experimental program begun July 1 at four sites, has been "very popular and may be expanded next year," reports Ray Norbut, Superintendent of Public Lands, Illinois Department of Conservation.
The program is ideal for the beginning camper or infrequent camper who does not wish to invest in the purchase of camping equipment. Each rental site is equipped with all the basics: a 10-by-13 foot wall tent, four cots, charcoal grill, battery-powered camp light, fire extinguisher, picnic table and trash barrel. Campers pay the regular camping fee, plus a $7 per night equipment rental fee.
Participation was excellent for a first year program, Norbut said. Up to October 4, the site at Eagle Creek State Park near Shelbyville was occupied 56 percent of the time; Kickapoo State Park, 61 percent: Apple River State Canyon State Park near Galena, 77 percent: and Pere Marquette State Park near Grafton, 92 percent. The program ended Oct. 31.
For further information contact the participating site or write: Department of Conservation. Rent-A-Camp Program. 524 S. Second St., Springfield, IL 62706, or phone (217) 782-6752.
"Life. Be In It" Stickers Available To Park Agencies
"Life. Be In It" bumper stickers are now available exclusively to local recreation and park agencies under license granted by the National Recreation and Park Association. Charges are 30 cents each for an order of 250, 25 cents each for 500, 22 cents each for 1,000, 19 cents each for 2,500, and 18 cents each for 5,000. Send orders to: Waldoroth Corp., 321 Manley St., West Bridgewater, MA 02379.
Illinois Parks and Recreation 37 January/February 1983
---