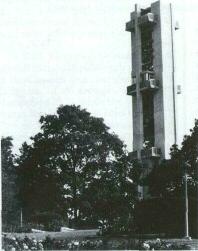 THOMAS REES MEMORIAL CARILLON
ON THE COVER —
The cover photo features the Thomas Rees Memorial Carillon and adjoining rose garden in Springfield's Washington Park. The Springfield Park District, in conjunction with the Illinois Arts Council, the Rees Carillon Society, the Carillon Belles and the Springfield Area Arts Council, presented the 23rd Annual International Carillon Festival June 9-16.
The Rees Carillon is one of the largest and finest of the world's carillons. The 132-foot reinforced white concrete, brick and steel tower stands on the highest point of elevation in Springfield in Washington Park. Within the open tower hang 66 bronze bells covering a range of five and one-half chromatic octaves.
The carillon was cast by the 300-year-old bellfoundry of Petit & Fritsen Ltd. in Aarle-Rixtel, the Netherlands. The total weight of the bells is 73,953 pounds. The largest (bourdon) bell, a deep G-flat, weighs 71/2 tons; the smallest weighs a mere 22 pounds. All of the bells are played manually by means of the clavier (keyboard) located in the carillonneur's cabin.
Cover photo by Carla Fisher
Illinois Parks and Recreation 05 July/August 1984
---