---
Politics
---
GOP targets Senate takeover, but LaRouche factor nil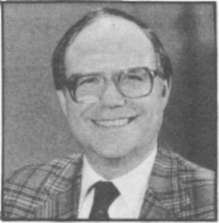 By CHARLES N. WHEELER III
WHEN two disciples of political extremist Lyndon H. LaRouche Jr. won Democratic nominations in the March primary, some early estimates of party damage went so far as to warn of losing the party's majorities in the Illinois General Assembly.
Now that the shock waves have settled and the fall campaign season is at hand, however, the LaRouche factor could prove to be the political equivalent of the great swine flu epidemic that never happened a decade or so ago.
The March madness may well turn out to be fatal to Adlai E. Stevenson Ill's goal of depriving Gov. James R. Thompson of a fourth term. The former senator renounced the Democratic nomination and is running as a third-party hopeful, rather than remain yoked to his LaRouchie running mate. Still, Stevenson managed to lose on his own merits four years ago.
Also, Stevenson's third-party slate of designated losers is bound to shave a few votes from other statewide Democratic candidates, a prospect that would be more threatening were their Republican opponents more formidable.
Elsewhere on the ballot, particularly in the battle for legislative control, there are solid reasons for concluding that the LaRouche infection may not be as virulent as Democrats originally feared for anyone but Adlai.
For example, past voting history demonstrates that Illinoisans are adept ticket splitters. Two years ago, they chose Ronald Reagan for president and Paul Simon for U.S. senator; four years earlier they plumped for Reagan and Alan J. Dixon for U.S. senator. In the most recent elections for state offices, in 1982, they chose Thompson over Stevenson by just 5,074 votes, while overwhelmingly picking Democrats for attorney general, comptroller and treasurer and a Republican for secretary of state.
Thus, the mere presence of two LaRouchies under the Democratic banner should not be expected to cause voters to eschew all Democratic candidates.
A greater danger, perhaps, is a decline in the number of straight party votes, if some party faithful decide to draw the line at the LaRouchies. But it seems plausible that dyed-in-the-wool Democrats concerned about the fringe interlopers should be smart enough to pick out real Democrats elsewhere on the ballot, especially if party leaders do a better job of educating voters than they did for the primary. The easiest way, of course, is to instruct the faithful to "punch three," hitting the straight Democratic number, Stevenson's number and the number for Jane N. Spirgel, Adlai's secretary of state candidate.
Another comforting fact for Democrats is the tendency of Republican voters to sit out nonpresidential years. Although voter turnout is always higher for a presidential election, both parties don't benefit equally from the larger electorate. One traditional way to gauge relative partisan strength uses the results for University of Illinois trustee. Comparing the average vote totals for each party's three candidates in the last two elections shows that the increased turnout in 1984 favored the GOP ticket by almost a 5-to-1 margin. In 1982 the Democratic trustee candidate averaged about 1.8 million votes each, compared to the Republicans' average of just under 1.3 million. Four years later, however, the GOP hopefuls averaged well over 2 million, while the Democratic average just hit 2 million. The Republican's relative strength swelled by about 748,000 votes, or 57 percent, while the Democrats went up about 210,000 votes, or just under 12 percent. (Also see "Illinois Election Almanac: Traditional party strength," p.27.)
In 1986, of course, Reagan will not be on the ballot. Instead, the contest that voters will encounter first will be for the U.S. Senate, where Dixon is much better known than his Republican opponent, state Rep. Judy Keller of Henry.
In the case of the General Assembly there's another factor at work to immunize the party from the LaRouche impact —the legislative map — and it's the most potent of them all. The Democratic technicians who drew the current district boundaries had no way of foreseeing the LaRouche victories five years later. But their cartographic efforts were aimed at producing a map that would elect Democratic majorities no matter what, and so far it's served its purpose. (Of course, had the Republicans won the right to draw the lines, they would have tried just as hard, and probably with even greater success, given the state's demographics, to gaurantee GOP majorities for a decade in the General Assembly.)
Underscoring the map's political stability is the fact that in the two elections held under its lines, in only 35 House races, out of 236, has the winner emerged with less than 60 percent of the vote, which is, by anyone's standards, a landslide. Indeed, in only 64 of the 118 districts have both major parties offered candidates in both 1982 and in 1984.
The record is not much better for the Senate. In 1982, when all 59 seats were up, only 16 were decided by less than a 3-to-1 margin, and in 11 districts only one major party candidate was on the ballot. Two years later, when 21 seats were up, five Democratic senators ran without GOP opposition, and only six races were tighter than a landslide.
2/August & September 1986/Illinois Issues
---
Leadership campaign help
Both Senate President Philip J. Rock (D-8, Oak Park) and House Speaker Michael J. Madigan (D-30, Chicago) have assembled well-organized political operations to protect Democratic incumbents. Besides hefty campaign contributions in targeted districts, services available include campaign staff, media production assistance, direct mail, telephone banks, computerized voter lists complete with key demographic data, and fundraising help — in short, state-of-the-art campaign expertise. Similar services are provided Republican hopefuls by the campaign operations headed by Senate Minority Leader James "Pate" Philip (R-Wood Dale) and House Leader Lee A. Daniels (R-46, Elmhurst). With those resources, strategists attempt to tailor each campaign to the needs of a particular district or a specific candidate because legislative contests tend to be unique.
---
...there's another factor at work to immunize
the party from the LaRouche impact — the legislative map — and
it's the most potent of them all
---
In the aggregate, of course, those local affairs determine which parts will control the General Asembly, though in 1986 there seems little doubt about the House future. Given the Democrats' existing 67 -to-51 bulge, it's hardly daring to predict the GOP will remain in the minority. In the Senate, however, only a two-seat shift would be needed to turn the Democrats' 31-to-28 margin into a Republican majority. And of the 39 seats up this year, 22 are controlled by Democrats. At the traditional Labor Day campaign kickoff point, Senate strategists for both parties are watching nine districts, two-thirds of them Democratic, expected to have the most competitive races.
Target districts
In the early analysis, the Republicans' best opportunity looks to be in the 42nd District, where Joliet Mayor John Bourg faces Joliet attorney Thomas A. Dunn, a veteran Democratic party official. Even before the LaRouche factor surfaced, gubernatorial politics had a heavy impact on Democratic hopes in this Will County contest as Stevenson chose the popular incumbent. Sen. George W. Sangmeister of Mokena, as his running mate. Four years ago, Sangmeister racked up more than 70 percent of the vote in the marginally Democratic district, while two Democratic House candidates garnered just under 53 percent. His departure for an ill-fated lieutenant governor bid turned the Senate race from a "gimme" for the Democrats to a possible loss of a seat. Indeed, underscoring the former state's attorney's voter appeal, Sangmeister has a high-profile role in Dunn's campaign.
Besides the 42nd, political handicappers rate the Republicans' chances best in the 24th District, on Chicago's southwest side and suburbs, and in the northern Illinois 38th District.
The battle in the 24th pits Sen. LeRoy W. Lemke, a bombastic Chicagoan, against Robert M. Raica, a paramedic officer with the Chicago Fire Department. Republican hopes here are fanned by several factors. Four years ago, Lemke posted a relatively narrow victory, pulling just over 52 percent of the vote for the second narrowest margin of any winner. And Republicans believe Raica, a third-generation Polish-American making his first bid for office, will appeal to ethnic voters now more receptive to GOP candidates because of Reagan's popularity.
In the 38th, the GOP target is Sen. Patrick D. Welch of Peru, who won the closest Senate race of 1982 in a district the original mapmakers rated strongly Republican. Democratic strategists are hoping that four years of close attention to district needs will enable Welch to withstand a challenge from LaSalle County Auditor Thomas C. Setchell of Ottawa.
Republican strategists also are looking closely at two other downstate Democratic incumbents, Sens. William L. O'Daniel of Mount Vernon and Glenn Poshard of Carterville, and the Quad Cities district spot that Sen. Clarence A. Darrow of Rock Island is giving up for a judicial run.
Senate Democrats, meanwhile, have set their sights on three GOP-controlled seats, including those held by Sens. Laura Kent Donahue of Quincy and James H. Rupp of Decatur. The most intriguing Democratic target, though, is the 47th District in west central Illinois, where partisan leanings clash with provincial feelings. The district is dominated by Peoria, which for decades has been represented in the Senate by a hometown Republican. Following the tragic death of Sen. Prescott E. Bloom in a home fire last January, local GOP leaders chose David Leitch to fill the rest of Bloom's term. But state Rep. Carl W. Hawkinson of Galesburg bested Peorian Leitch in a write-in battle for the GOP nomination for the general election. Democrats, meanwhile, tapped Jack Cassidy, a Peoria lawyer and former state representative. So Peoria voters must choose between their long-time GOP sympathies and their hometown tradition. Democrats hope the choice will be the local Democrat, rather than Peoria's first-ever out-of-town senator.
While the Senate's close division increases the stakes riding on the races in the relatively few competitive districts, the Democratic majority in the House is so great that Republicans realistically can hope only to shave the margin.
Perhaps the best chance for a GOP gain is in the 8th District in northern Illinois, where age and ill health could hamper Rep. Ray A. Christensen (D-Morris) against Republican Gerald C. Weller of Morris. Other potential Republican targets include Reps. John J. McNamara of Oak Lawn, Calvin R. Sutker of Skokie, Grace Mary Stern of Highland Park, Charles A. Hartke of Teutopolis and David D. Phelps of Eldorado. However, all but Sutker and Hartke, named to fill vacancies, won in 1984, a good GOP year.
Democrats, meanwhile, believe their best shot is in the east central Illinois 105th District, where former Rep. Larry R. Stuffle of Ridgefarm hopes to unseat Rep. William B. Black (R-Danville), appointed when Stuffle's 1984 conqueror moved to the Senate. Other possibilities include the west suburban 52nd, where House Democratic staffer Geoffrey S. Obrzut of Northlake is challenging freshman Rep. Linda Williamson (R-Northlake), and the 94th in western Illinois, where former Rep. Samuel M. McGrew (D-Galesburg) hopes to beat Monmouth Republican David Hultgren to recapture the seat he narrowly lost to Hawkinson in 1982.
Adding it all up, it seems reasonable to assume that if Ronald Reagan couldn't produce Republican majorities in the Illinois legislature, neither can Lyndon LaRouche.
August & September 1986/IIlinois Issues/3
---