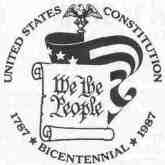 CELEBRATING THE BICENTENNIAL OF THE U.S. CONSTITUTION

With the Bicentennial of the U.S. Constitution gathering momentum, now is the time for community involvement — and that means the active support of municipal officials everywhere.
Illinois has already established a state commission to participate in the 200th anniversary of this historic document, working with the federal Commission in Washington, D.C., to involve as many citizens as possible.
Municipal officials are in a unique position to contribute to the success of the commemoration.
Warren E. Burger, Chief Justice of the United States and Commission Chairman, has said that "we can best honor our Constitution by giving ourselves a civics and history lesson on its origin and meaning."
For such lessons, we invariably return to America's roots, the town hall meetings and school houses as building blocks for civic pride and involvement. That means the community.
The U.S. Constitution is the oldest written instrument of national government in the world. Only 14 of the world's 160 written constitutions predate World War II, and none compares with ours in longevity. For this reason alone we should celebrate the 200th anniversary of our Constitution. And we should not forget the key role these now-faded four pages of parchment have played, not only in American history, but in world history as well.
How can one take part in this birthday celebration? Simply put, by getting involved. Like most parties, the more participants, the better the party. And this is a birthday party for a document that too few Americans know much about, yet a document that touches our lives every day.
Local schools and libraries can play a major part in the Bicentennial. During the years of the celebration, many activities can be centered around a library or school. These could include such events as poster contests, debates, essay contests, plays about the writing of the Constitution, colonial fairs or picnics.
Community involvement is the key to the successful celebration of this historic event. Events such as Constitutional tree plantings, the establishment or renewal of city parks and gardens. Constitution Day festivals, all lead to a sense of pride — in the Constitution and in the way your community honors the anniversary. Some cities might want to rename streets after the patriots responsible for this remarkable document.
Mayors are urged to join the celebration by having their communities become Designated Bicentennial Communities. This means forming local commissions to educate residents about the meaning and significance of the Constitution, and forwarding a request for recognition to the state commission.
A special awards program exists to honor the first 200 communities that become Designated Bicentennial Communities.
For further information, contact the State and Local Affairs Department, Commission on the Bicentennial of the U.S. Constitution, 734 Jackson Place, N.W., Washington, D.C. 20503, or phone (202) 653-9808.
For information on events planned in Illinois, contact the Committee to Commemorate United States Constitution in Illinois, 75 East Wacker Drive, Suite 2100, Chicago, Illinois 60601 or phone (312) 726. 4853. •
September 1986 / Illinois Municipal Review / Page 9
---
Illinois Periodicals Online (IPO) is a digital imaging project at the Northern Illinois University Libraries funded by the Illinois State Library