---
By MICHAEL D. KLEMENS
Ed Duffy and welfare reform
---
Welfare reform looms large on federal and state legislative agendas. In Illinois a new director of the Department of Public Aid, Edward T. Duffy, will spearhead the issue. Lawmakers, his own staff and advocates for the poor are watching to see how the former Chicago cop tackles the assignment.
Duffy is an unknown quantity to Douglas Dobmeyer, executive director of the Public Welfare Coalition, who describes Duffy as "untested."
Duffy is a known quantity to Janis Gomien, director of the Illinois Alcohol Counselor Certification Board, who watched him move from the Dangerous Drugs Commission to the new Department of Alcoholism and Substance Abuse. "He made a point of openly admitting there were limitations to his knowledge," she says. He learned well and Gomien was sorry to see him leave.
One of Duffy's first challenges in his new post came on April 30 when the Senate appropriations committee took up the Public Aid budget for next year. Sen. Kenneth Hall's (D-57, East St. Louis) Appropriations II Committee had many bills to consider that day but moved Public Aid up in the order because Duffy had a plane to catch. Duffy, flanked by his staff members and supported by charts and graphs, made his pitch for a $286 million budget increase. He pushed welfare reform, saying Illinois had "a window of opportunity, if you will, to reform the welfare system and make it more like the world of work."
But Sen. Howard W. Carroll (D-l, Chicago) had questions. He did not like the way $269 million in cuts had been made in an alternative no-tax-increase spending plan. Under Carroll's questions Duffy acknowledged that there were no cuts to operations in the alternative budget. Carroll disliked proposals in the reduced budget to trim home health care, a less expensive alternative to hospitalization. He disapproved of steep reductions in lines that pay for glasses, dentures, canes, crutches and hearing aids for the indigent. "Somebody played games. And I'm not accusing you director. We've played games before," Carroll charged. But there was no verbal battle. Instead Duffy said he wanted no budget cuts. "I don't have an answer for you on how to cut that budget, but we'll work with you," he pledged.
There were other questions. Sen. Richard Kelly (D-39, Hazel Crest) said he gets complaints about rude treatment given clients by department workers. Duffy did not argue. He responded that front line workers burn out and said the department is working with the employees' union on solutions.
Sen. Patrick Welch (D-38, Peru) wanted to know why the department has failed to meet its projected levels of child support collections. Duffy said the effort requires cooperation of courts and state's attorneys, criticized neither and said that effort was going forth.
Duffy sensed afterwards that the session had gone well. He congratulated his entourage in the corridor outside the hearing room, and as he hurried to catch his plane he reflected on the hearing. Duffy had been before appropriations committees when he ran the Department of Alcoholism and Substance Abuse. ''The last time I walked in and asked for an appropriation it was $60 million," Duffy joked. And he found the committee's concerns significant. "They were all good questions," he said.
Chairman Hall said later he thought Duffy did a good job and had avoided antagonizing committee members. "He answered questions. He seemed to be knowledgeable. He had done some homework." The style differed from his predecessor, Gregory Coler, whom Hall described as "Mister Public Aid," and who, Hall said, had close ties with legislative leaders in both parties. Hall on Duffy: "All in all he's not a bad guy. He's soft spoken. He handles people well. I personally like Duffy, I think he's going to be all right."
Antagonist Carroll was also impressed. "He took criticism well. He basically said the buck stops here, which is more than I honestly expected." When Duffy was Gov. James R. Thompson's deputy chief of staff Carroll dealt with him over problems with air conditioning at the State of Illinois Center. "I always thought I got an honest answer from him," Carroll said.
Duffy was tapped for the Public Aid job in part because of his ability to bring people together on issues, as he had in a year of negotiations which led to last fall's bill to boost the horse racing industry, said Deputy Gov. James Reilly. When Cole left the Department of Public Aid, Reilly said that interviews with out-of-state candidates turned up none more qualified than Duffy. And Reilly discounted speculation that Duffy was selected because he would not compete with Thompson for attention. "Sometimes you like having a director who takes the initiative. That was not particularly a concern," Reilly said.
Duffy will get plenty of chances to show initiative in tackling welfare reform. His definition is simple — moving people from welfare to payrolls. "Welfare reform is an effort on behalf of both those that depend on the welfare system as well as those that support the welfare system in changing the system so that people that depend on it don't have to depend on it their entire lives, but only as a bridge between good situations." Unlike many issues, he says, it is of interest to nearly everyone: "How many bills that go in the General Assembly have an impact on every one of the citizens in the state. I don't recall many."
10/June 1987/Illinois Issues
---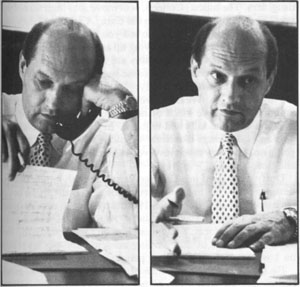 Photos by Jay Barnard
Duffy says he will run his department and push welfare reform in cooperation with legislative leaders. ''I don't think welfare reform can be categorized as an Ed Duffy issue. If I were to say that it's my issue, I would be awfully self-centered."
Running a large state agency calls for administrative, policy and political talents. Duffy says he likes all three areas. "I think my style as an administrator lends itself to people." The approach encourages input from others, he says, making for better policy. And he says he likes the hands-on politics, too: "In terms of the politics of it, politics is such an exciting unpredictable yet predictable arena, how could you not enjoy it?" Duffy says he will work with his staff and with his boss, Gov. Thompson. "Frankly I'm bound by my own philosophy to represent the ideas of the staff and governor. But I think, given that we have a governor as willing as he is to listen and work through issues, my responsibility is to pick that type of philosophy up and work with it. And that suits my style," he says.
Duffy, plucked from the governor's office to oversee one of the state's largest operations, is an unabashed Thompson loyalist. "Last year when I served in his office as deputy chief of staff it was one of the most incredible experiences I've ever had," Duffy says. He apologizes for sounding like a political commercial, then continues in the same vein,"Typically one would think that a governor, especially one who's sat in office as long as Jim Thompson has, makes decisions based solely on what's good politically. I was amazed to find out Jim Thompson continually made decisions on what he thought was right and fair."
As an example Duffy cites the horse racing bill approved by the General Assembly in the fall veto session. That measure cut the state tax on parimutuel bets and gave more money to track operators and the industry. Duffy, who carried the ball for the governor's office, calls it ''reform and tax relief.'' Duffy says horse racing is a billion dollar industry in Illinois, and one that was in trouble. "If horse racing would have continued in Illinois the way it was under its archaic system, the loss would have been much greater than what we gave up right now. I think what he [Thompson] did, he proved he was willing to take the heat now to invest in the future."
Welfare reform requires the same type of investment today for future benefits, Duffy says. Initial spending is offset by savings and leaves the situation a wash, he says. The real savings comes down the road, as the population ages and fewer workers support more on public programs from social security to welfare. "Many, many people talk about how we've saddled our kids with the national debt. This is part of the national debt, although the money isn't tallied up yet. We have an opportunity to change that. We have the obligation to do it." He adds, "That's like the old good news/bad news joke. The good news is we're going to save you some money this year. The bad news is we're going to spend it to save you more next year."
Duffy says defects in the welfare system reflect imperfections in society: "Welfare is not the ugly animal that it is unto itself. It is the product of several areas that have failed us in society. Education, the strong family, the notion that kids ought to remain in school until they have completed school." He sees education as a key to change: "On that welfare reform task force [State Supt. of Education] Ted Sanders played a very key role. Ted Sanders is one of the brightest people I ever met in my life. ... He makes it very simple. Kids need the education. If they don't have the education, they can't get jobs and end up on welfare. That's the bottom line and that's how it works.'' The solution Duffy sees is to get parents working and to ensure that children remain in school.
Duffy and Thompson favor federal reform that gives states more flexibility to experiment with their own programs, a notion supported by congressional Republicans. Duffy traveled to Washington in April to press his case before the Illinois congressional delegation and a presidential assistant. He advocated cash payments to replace food stamps, Medicaid and income support, mandatory inclusion of mothers with younger children in Project Chance and federal tax credits for businesses that hire welfare recipients. "If I had to give one message, I would suggest it [control of welfare programs] has to go back to the states," Duffy says. Regulations from Washington fail to recognize differences between individual states, he says. "We've got rules in Illinois that may be good for Chicago, but are completely contrary to what happens downstate. . . . Illinois recognizes that [disparity] in many of its statutes. The federal government doesn't. We need the flexibility to give us the ability to change the system," Duffy says.
When he is not asking lawmakers for appropriations, pushing federal law changes or promoting Gov. Thompson's tax hikes, Duffy likes to spend time at home with his family. He and his wife Nancy have five daughters. The oldest, Colleen, will move into high school this year. The youngest is 15-month old Cara. A family of girls suits Duffy fine, he says. "I have to tell you girls are awfully good to their dads. Sons end up growing up and leaving and you never really see them, but daughters are never really gone, they just live outside the home and come back often." Duffy relishes time at home with his family. "My home is truly the place I enjoy being. . . . We have over the years acquired things like a pool and all those kinds of neat things so I can spend time at home with the kids and enjoy it. In the winter months the kids and I do things like libraries and whatever happens to be going on. I'm very much involved in their lives when I'm home and not working."
June 1987/Illinois Issues/11
---
Project Chance client flow, March 1987

Step or category

Number of clients

New registrants:

mandatory 19,731

voluntary 3,198

Step 1. All clients attend organizational session where rules and requirements are explained.
Orientation notice sent:
In orientation:

27,848

10,235

Step 2. Client looks for work for eight weeks, with periodic meetings and classes on how to find a job.

25,301

Step 3. Assessment and employment planning for those who didn't find a job in Step 2.
One-on-one session with client to plan and decide where to place client.

Step 4. Assigned to one of six categories.
1. Intensive job search (continuation of Step 2):
2. Work experience (unpaid "Workfare" with nonprofit agency to gain experience; hours limited to grant plus food stamps divided by minimum wage):
3. Job club (intense motivational sessions run for recipients):
4. Pre-employment education and training (GED, literacy, vocational and English as a second language):
5. Modified job search (category for persons waiting for jobs or school to start, working part time):
6. Special projects (high visibility programs like those training recipients to be cooks, nurses' aides and retail clerks):

Clients included in Step 2 figures

8,375

890

20,517

46,513

3,066

Step 5.
Employed during March

3,467

Sanctioned (loss of benefits for two to six months lor noncooperation after Step 3 of the program)
3,159

Total March Project Chance caseload

173,654*

*Numbers do not add because of people between steps.

Source: Illinois Department of Public Aid
Duffy was raised in a Chicago west side Irish family that believed security lay in a civil service job. Accordingly he began his career in public service in 1966 as a Chicago cop, assigned to a district near Chicago stadium. "At the time I was 21 years old. I had a uniform, a badge and a gun, and frankly the first day I walked out of that training academy and put a uniform on I was one of the proudest people in the world."
He says his years as a police officer taught him compassion and claims the stereotype of policemen as inflexible follow-the-rules type people is wrong. "A great many law enforcement personnel spend most of their time negotiating out people's problems. Stop to think of that average beat copper. You end up in a family disturbance. If you locked everybody up in that disturbance, you would never solve the situation. A lot of times you end up helping people rather than just locking people up."
Duffy says he believed he had more abilities and wanted to get into administration, although he thought that he would remain in law enforcement. After eight years as a city cop, he became chief of compliance and enforcement for the Illinois Dangerous Drugs Commission, and in 1980 was named administrator of the commission's field operations division. The break with law enforcement, Duffy says, was the first real change he made in his life. He moved from there to the fledgling Department of Alcoholism and Substance Abuse, first as deputy director and then as director.
In a year as its director Duffy says his biggest accomplishment was ending bitter battles between providers of services for alcoholism and of services for drug abusers.'' They get along now," he says. How did he accomplish that? "By a willingness to listen to both and then bring them both together and sit and listen together and work out problems and work out differences." Lt. Gov. George H. Ryan had been instrumental in getting the Department of Alcoholism and Substance Abuse created and watched Duffy "finesse" turf battles between alcohol and drug programs. Ryan calls Duffy a workaholic: "He works long hours and gets along with everybody."
Duffy says he is unsure what the future holds. "The idea of being in the private world is enticing, I suppose, because there's a lot of money to be made out there." But he says he would miss the public policy role. "I think if I had to make the draw right now it would be in some area where I still had an impact on public policy and the well-being of people, as long as I could make a reasonable living and my kids could go to school — a good school."
12/June 1987/Illinois Issues
---
And the idea of elective office is appealing, too. At age 42 he says he has time to choose. "As long as you don't get saddled with the title of being a bureaucrat, which I never have been saddled with . . . then the notion of elective office is always going to be exciting." But Duffy was a loser in his most recent electoral effort. By a couple of dozen votes in an election with 16 percent turnout, he was turned out of his Arlington Heights village trustee seat. The defeat shocked Mayor James T. Ryan, who calls Duffy the best trustee he ever served with. Observers attribute the loss to Duffy's inability to campaign and voter questions about whether he had the time to fulfill his duties. Ryan called Duffy "smooth, issue-oriented, solution-oriented with tremendous people skills." He credited Duffy with successful negotiation of an agreement with neighboring Prospect Heights for joint funding of a flood control project in Arlington Heights that will benefit both and save money for each.
As welfare reform wends its way through the legislature, participants will assess and reassess Duffy. Jerry Stermer, president of the newly formed Voices for Illinois Children, talked briefly with Duffy about pre-natal care for uninsured working women. He found the new director familiar with the question. "My other impression was that he's not afraid of the job. He liked the challenge. He seems to have a sense of what the big issues are." By summer those who now wonder will have a better sense of who Ed Duffy is.
Advocates for the poor v. welfare as work
Gov. James R. Thompson wants to make welfare more like work. He has proclaimed welfare "immoral" because the system creates dependency. But those who stick up for the poor, people like Richard R. Wood, director of church-based Illinois Impact, argue that poverty not welfare is the problem and that changes must be economic.
The clash of philosophies goes to fundamental issues, like whether employment and training programs should require mandatory or allow voluntary participation. The Thompson administration believes the mandatory approach is needed, to "break the cycle." The advocates for the poor say a voluntary program has worked in Massachusetts and could work here.
Thompson named a Welfare Reform Task Force to address the welfare issue. Its March 24 report cited self-sufficiency as a goal and recommended that:
• Changes be sought in federal regulations to require participation in employment and training programs by women with children between ages three and six. Currently mothers with children under the age of six are exempt.
• Medical insurance and day care services be extended to those who go off the welfare rolls.
• Grant levels be increased 3.2 percent on January 1.
• Grant levels be tied to the minimum wage so that the move from welfare rolls to a job always means increased income.
• Payment levels be capped at a maximum family size for new recipients to "remove an apparent incentive to increase welfare income by increasing family size."
• Pre-school services be provided to 115,000 three- and four-year-olds judged at risk of failure and that school attendance be made compulsory until age 18 or graduation.
• Improvements in collections of child support through an amnesty followed by more severe penalties, by procedural changes and by requiring birth certificates to identify both parents.
Some of the proposals will be debated by the General Assembly this fall. Others will require federal action. Advocates for the poor agree with the education initiatives. They agree that grant levels must be increased, but say 3.2 percent is far too small a hike.
But they oppose other changes. Groups like Illinois Impact, the Public Welfare Coalition, the Legal Assistance Foundation and lawmakers like Rep. Woody Bowman (D-4, Evanston) oppose portions of the program. They argue that:
• Mothers of children between three and six should not be forced to participate in work programs.
• Illinois' high unemployment rates and shortage of jobs must be recognized in trying to place welfare clients.
• New subsidized day care slots must be created to insure that persons coming off the welfare rolls don't push other children of the working poor out of programs.
Advocates for welfare recipients are keeping a wary eye on welfare reform, worried that it may mean new regulations that end up throwing more recipients off the rolls. Although there is plenty of attention given to putting welfare recipients to work under the state's Project Chance initiative, in its first two years the welfare-to-work program will remove more recipients from the rolls for noncooperation than it will put on payrolls. Removal from the rolls is called sanctioning and lasts from two to six months. In the year that ended June 30, 1986, there were 43,470 Project Chance sanctions, while there were 36,787 job placements. The number of participants sanctioned monthly has been declining, however, from a high of 4,176 in August 1985 to 3,159 in March 1987.
Both sanctions and employment save the state money. "We're saving money both ways," says Dan Pittman, spokesman for the Department of Public Aid. He stresses that Project Chance began as an employment program and says the department prefers to see clients find jobs. "We will never sanction people because they can't do something. We will sanction them because they won't do something," says department director Edward T. Duffy.
John Bouman, a lawyer with the Legal Assistance Foundation in Chicago, represents clients fighting sanctions. He dislikes what he calls "the whole punitive focus of the mandatory program.'' He says voluntary participants could easily assume all the available jobs. "We're just sort of creating a whole, large size bureaucracy," Bouman says. Michael D. Klemens
June 1987/IIlinois Issues/13
---
Illinois Periodicals Online (IPO) is a digital imaging project at the Northern Illinois University Libraries funded by the Illinois State Library