---
Names
---
Judicial merit selection under study by new task force
Richard L. Thies of Urbana, president of the Illinois State Bar Association, was appointed chairman of the Governor's Task Force on Judicial Merit Selection in March. The task force was charged with developing a proposal for a constitutional amendment to modify the manner in which lawyers are elevated to the bench. Thies had hoped to complete the proposal in May with the help of a seven-member steering committee, also chaired by Thies.
Steering committee members selected by Gov. Thompson include: Jeffery M. Arnold of Niles, administrative director of the Cook County Circuit Court; John E. Cribbett of Champaign, former chancellor of the University of Illinois at Urbana-Champaign and former dean of the university's law school; George Leighton of Chicago, senior district judge in the U.S. District Court for the Northern District of Illinois; Frederick J. Sperling of Glencoe, attorney with Schiff, Hardin & Waite and president of the Chicago Council of Lawyers; Justin A. Stanley of Wilmette, attorney with Mayer, Brown & Piatt and former president of both the Chicago Bar Association and the American Bar Association; Joseph L. Stone of Evanston, president of the Chicago Bar Association; and Dan K. Webb of Chicago, attorney with Winston & Strawn and former U.S. attorney for the Northern District of Illinois.
Court of Claims expanded; three appointed
Three new judges have been named to the Illinois Court of Claims. Gov. James R. Thompson appointed Kirk Dillard of Springfield, his former director of legislative affairs, and former Republican state Sen. Roger A. Sommer (45th District, 1972-1986) of Morton, both effective in February. In March Thompson appointed Anne Burke of Chicago, wife of Chicago Ald. Edward Burke.
Sommer, who replaced S.J. Holderman, will serve until January 1993. Dillard and Burke filled vacancies created when the court of claims was expanded from five to seven members in January. Their terms expire in January 1989 and January 1991 respectively. All three positions are part-time, with an annual salary of $30,000.
Thompson announces flood of board, commission appointments
In March and April Gov. James R. Thompson made a spate of appointments and reappointments to a variety of state boards and commissions.
• Reappointed to the five-member board of trustees for the Historic Preservation Agency was Richard Roddewig, an attorney from Riverside, and Marc S. Schulman of Chicago, president of Eli's Chicago's Finest Cheesecake Inc. Roddewig and Schulman will serve until 1989 and receive expenses only; Senate confirmation is required. The board of trustees is responsible for appointing the director of the Historic Preservation Agency and for determining agency policy.
• Reappointed to the three-member Civil Service Commission was Peter Zelkoff of Lombard, assistant to the secretary-treasurer of the International Brotherhood of Electrical Workers. He will serve a six-year term and receive an annual salary of $9,405; Senate confirmation is required. The commission holds hearings on employee problems under the state civil service code — both complaints from employees and against employees.
• Appointed to four-year terms on the Human Rights Commission were Mervin N. Bachman of Chicago and Manuel Barbosa of Elgin, both attorneys; Wallace Heil of Taylorville, a retired retail manager; Saul Morse of Springfield and Debra Nesselson of Glencoe, both attorneys; and Oscar S. Williams, a Chicago businessman. All are reappointments with the exception of Bachman, who replaced Rebecca Sive. The positions pay $23,512 annually; Barbosa, who was reappointed chairman, will earn $26,125 annually. The 13-member commission adjudicates complaints concerning state employees on violations of human rights. Complaints are filed with the Department of Human Rights, and the commission, which has subpoena powers, holds hearings on complaints and determines whether or not there has been a violation.
The 10-member Prisoner Review Board is the state's paroling authority. Newly appointed to serve on the board was Joanne Shea of Chicago, replacing Earl K. Dryden who died in December; reappointed was former House Speaker William A. Redmond of Bensenville and Tommy L. Wells of Chicago. The appointments, which must receive Senate approval, expire in 1993. Members receive $43,000 annually.
Claire Manning of Williamsville was reappointed to the three-member State Labor Relations Board. Senate approval is required for the four-year term, and the annual salary is $47,025. The board has jurisdiction over collective bargaining matters between employee organizations and the state, local government and school districts with populations less than one million and the Regional Transporation Authority.
Four of Illinois' bonding authorities saw new and returning faces this spring:
• Reappointed to the 15-member Development Finance Authority, which administers funds for industrial, commercial and manufacturing development in the state, were G. Allen Andreas of Decatur, treasurer of Archer Daniels Midland Company; Edward W. Czadowski of Chicago, attorney with Winston & Strawn; Courtney J. Munson of Monmouth, president of Munson Transportation; and Terrence M. O'Brien of Northfield, a real estate appraiser, broker and consultant. The new member is Michael Zavis of Highland Park, attorney with Katten, Muchin, Zavis, Pearl, Greenberger & Galler. He replaces Robert Podesta. Appointments to the four-year terms were effective immediately, pending Senate confirmation, and expire in 1991. Members are paid expenses only.
• Three reappointments were made to the Export Development Authority. Irwin H. Diamond of Riverwoods, president of SIMA Products Corp.; Norman M. Gold of Chicago, partner with Altheimer & Gray; and Richard W. Shealey of Chicago, president of Independence Bank of Chicago will serve three-year terms. Under the leadership of the lieutenant governor, this eight-member group works to promote export trade in Illinois, to provide financial counsel to potential and existing exporters and to fund export development projects. Members receive expenses only and their appointments must be confirmed by the Senate.
• On the Farm Development Authority Timothy Donovan, a farmer from Decatur, replaces Patrick R. Scates Jr. Reappointed to the seven-member authority was Robert Nickel of Concord, a farmer and owner of Robert Nickel Agri Service. Donovan and Nickel will serve until 1991 and will receive expenses only. Senate confirmation is required.
• Reappointments to the Housing Development Authority included Eugene P. Moats of Chicago, president of Service Employees International Union Local 25; Louis D. Troglia of Oak Brook, president of LDT Engineering & Sales Inc.; and John J. Viera of Des Plaines, vice president of Commonwealth Edison Company. This nine-member board develops and promotes the construction and rehabilitation of housing in Illinois for people with low and moderate incomes. Members serve four-year terms and receive expenses only. Appointments require Senate confirmation.
June 1987/Illinois Issues/29
---
The Board of Regents of State Universities governs Illinois State University-Normal, Northern Illinois University-DeKalb and Sangamon State University-Springfield. Reappointed to six-year terms were L. Milton McClure of Beardstown, an attorney with McClure, Brannan & Hardwick; Sylvia Ruth Nichols of Lawrenceville, a homemaker; and Hal Riss of Shirley, owner of Hal Riss Real Estate. Appointments to the nine-member board require Senate confirmation and pay expenses only.
Among boards and commissions advisory to other executive agencies were the following appointments.
• Appointed to fill an existing vacancy on the eight-member Fiduciary Advisory Committee was Patrick Heitzig of Alton, vice president and trust officer at Alton Banking Company. Members serve four-year terms and advise William C. Harris, the state's commissioner of banks and trusts, on financial and banking policy in Illinois. Heitzig, whose appointment must be confirmed by the Senate, receives expenses only.
• Filling a vacancy on the Rehabilitation Services Advisory Council is Jeanne Blackmail of Taylorville, consumer advocate for the Department on Aging. Her appointment, subject to Senate confirmation, is to a six-year term on the 13-member council that advises the Department of Rehabilitation Services about disabled persons and the services to be provided to them. Council members receive expenses only.
Finally, appointments to public administrator, guardian and conservator positions included, by county: Franklin County — David Daisy of Benton; Jefferson County — Emmit Wilson of Mount Vernon; Mason County — Charles L. McNeil of Mason City; and Massac County — Edward J. Hinners of Metropolis. Daisy replaced Samuel Dittmer, Hinners filled a vacancy and the other two are reappointments. With the exception of Hinner, who will serve until 1991, the appointees will serve until 1989 and get fees of the office. The appointments must be approved by the Senate.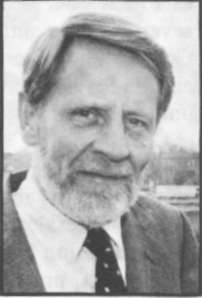 Brown named director of Beckman Institute
Theodore L. Brown, long-time researcher and administrator at the University of Illinois, was appointed director of the new Arnold O. and Mabel M. Beckman Institute for Advanced Science and Technology in March. He had been the institute's interim director since August 1986.
The Beckman Institute — created with a $40 million gift from scientist-inventor-industrialist Arnold O. Beckman and his wife Mabel, and supplemented by $10 million in state support — is to be operational in early 1989. The massive new facility is now under construction in Urbana. The institute will take a new approach to interdisciplinary research, linking the biological and physical sciences in quest of such goals as a better understanding of both human and artificial intelligence. The research will attempt to bridge the physical, behavioral and life sciences as well as engineering disciplines.
Brown has been a chemistry professor at UI-UC since 1958 and has been involved with the Beckman project since its inception in October 1984. From 1980-86, he served as vice chancellor for research and dean of the Graduate College. He left that administrative post so that he could devote full-time attention to his responsibilities with the Beckman Institute. During his years at the university, he has been an Alfred P. Sloan Fellow, a Guggenheim Fellow and a National Science Foundation Senior Postdoctoral Fellow. In 1972, Brown received the American Chemical Society Award for Research in Inorganic Chemistry. A member of the board of governors of Argonne National Laboratory and chairman of its scientific and technical advisory committee, he has written or co-written more than 200 scientific publications and two textbooks.
New senior managers at Alcoholism and Substance Abuse
William T. Atkins, director, Illinois Department of Alcoholism and Substance Abuse (DASA), announced three appointments to his senior management team in April.
Linda Hargnett, executive director of the Addictions Research Institute in Chicago, was named deputy director of DASA's bureau of planning, research and policy development. The bureau includes the Addictions Research Institute as well as DASA's policy and planning development division and the program development and technical assistance units. Hargnett previously was special assistant to former DASA director Edward Duffy (now public aid director) and the agency's chief of budget planning and development. She came to the agency from a precursor agency, the Dangerous Drugs Commission, where she was chief of planning and policy analysis and administrator of planning and program development. Before that she was with the National Institute on Drug Abuse and the Office of Economic Opportunity, both in Washington, D.C.
Robert Stachura, formerly support services administrator and acting administrator of prevention and education, was named deputy director of the bureau of program services. The bureau oversees DASA's statewide field services and prevention and education efforts. Since 1984, Stachura has administered support services, which include licensure of drug treatment programs, DUI (driving under the influence) assessment and remedial education programs and the state's triplicate prescription program. Stachura also was with the Dangerous Drugs Commission, where he managed the data management system and served as licensure and compliance chief. Prior to joining the commission, he worked with the Law Enforcement Assistance Administration of the U.S. Department of Justice.
Alvera Stern was named administrator of prevention and education. An educator who has been involved in drug prevention efforts for many years, Stern came to DASA from Iowa, where she was the state representative to the National Prevention Network as well as Iowa's prevention manager. Previously she was drug education consultant to Pennsylvania State University. Stern has also served as a consultant to schools in the Bahamas and has taught in Zimbabwe, Africa.
The new officers are all based in Chicago. Deputy director Daniel Behnke, also based in Chicago, now manages the agency's support services, information services and management and budget divisions.
Atkins said the new appointments strengthen DASA's strategic planning and development capabilities and reinforce the agency's ability to maintain close service relationships with providers. He noted that the size and scope of DASA's operations have increased and changed rapidly since creation of the agency in 1984 Atkins gave two examples: DASA's assumption of all DUI assessment and remedial education program responsibilities and the management and development of the statewide, school-based initiative, InTouch.
Illinois School for the Deaf gets new superintendent
Larry G. Stewart, a nationally renowned psychologist specializing in deafness rehabilitation returned after 30 years to Jacksonville's Illinois School for the Deaf (ISD). This time he is the school's superintendent, effective June 1.
Stewart began his career as a teacher of deaf children in 1957 at ISD. He taught grades 5-12 and served as the school's football coach until his departure in 1962. After leaving Illinois, Stewart held various administrative, academic and other rehabilitation leadership positions in seven states.
A successful and longstanding private practitioner in Arizona and California, Stewart was chairman of the California Task Force on Services for the Deaf and Hard of Hearing Clients at the time he accepted the ISD post. He has given national and international lectures and workshops and has provided program development assistance both in this country and abroad. A former president and board member of the American Deafness and Rehabilitation Association, he has written extensively on rehabilitation and hearing impairments. He replaces William Johnson, who headed Jacksonville school for 11 years and is leaving to take a similar post at the Iowa School for the Deaf effective August 1.
30/June 1987/Illinois Issues
---
Woods heads DCCA's international business division
Department of Commerce and Community Affairs (DCCA) director Jay R. Hedges announced in March the appointment of Hendrik R. Woods of Chicago as manager of the department's international business division. Woods, who served on the program staff of the Peace Corps in its early years, more recently was a divisional manager in the U.S. Department of State. A former teacher, program administrator and academic dean, Woods was an administrator for Northwestern University's Kellogg Graduate School of Management from 1981 to 1983. In addition, he has provided political risk analysis and international marketing counsel to a number of multinational corporations headquartered in the Midwest and has held executive positions with the Mid-American Committee for International Business and Government Cooperation in Chicago and the Chicago Council on Foreign Relations.
Other appointments
Jim LaBelle of Zion, a member of the Chicago Area Transportation Study Committee, became the governor's assistant for local government and transportation in April. A member too of the Lake County Board since 1980, LaBelle has been the board's chairman since 1984. He was executive director of the DuPage Mayors and Managers Conference from 1975-1979 and administrative assistant for the Village of Carol Stream from 1973-75.
Kathy Breidert of Park Ridge was appointed assistant director of the Illinois Department of Public Aid in March by Gov. Thompson. She will receive an annual salary of $57,475. A former assistant from 1983-86 to Illinois House Minority Leader Lee A. Daniels (R-46, Elmhurst) and executive assistant from 1980-82 to U.S. Rep. John E. Porter (R-10, Winnetka), Breidert most recently was Lt. Gov. George H. Ryan's campaign manager She also held the elected position of city clerk of Park Ridge from 1977 to 1981.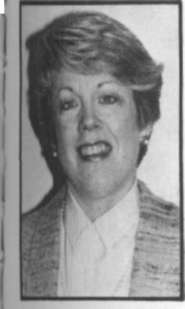 She is a member of the Chicago Area Public Affairs Group and Chicago Women in Government Relations.
Delegates to the 50th anniversary convention of the Illinois Federation of Teachers (IFT) in March elected Robert M. Healey of Homewood to his ninth consecutive two-year term as president. He has served as a vice president of the American Federation of Teachers since 1974 and was president of the Chicago Teachers Union for more than a decade. From 1956 to 1968 he was an English teacher at several Chicago high schools.
Agnew and Amft place first and second in salmon stamp competition
Al Agnew, a Missouri artist who placed second last year in the Illinois Department of Conservation salmon stamp art competition, won all the marbles in this year's competition with his acrylic depiction of a coho salmon feeding on smelt. He captured the $1,000 first place cash prize over 100 other entrants from 29 states in the March competition. Second place in the contest, with a $100 prize, went to Robert Amft of Chicago. Agnew's artwork will appear on the 1988 state salmon stamp and he will receive 50 limited edition artist prints of his painting, which he may sell.
Second time for the SIU-C debate squad
Southern Illinois University-Carbondale's (SIU-C) debate squad retained its top national ranking for the second year in a row. The SIU-C debaters, coached by Jeffrey T. Bile, a lecturer in speech communication at the university, amassed a season total of 156 points during 1986-87 competition, enough to keep the school's No. 1 ranking by the national Cross Examination Debate Association (CEDA), the largest university-level debate organization in the country. SIU-C had topped CEDA's list of about 250 colleges and universities throughout the year.
SIU-C teammembers making it to Baton Rouge, La., for the elimination rounds of the CEDA national tournament held in April were BiBi L. Christoff of Granite City and M. Scott Parsons of Wadsworth, Ohio, and the duo of Nathan E. Dick also of Wadsworth, Ohio, and Mary F. Keehner of Akron, Ohio. Keehner and Dick, who have finished in the top 10 in individual speaking in the majority of SIU-C's spring tournaments, gave impressive encores during the national competition. Of 448 individual speakers, Keehner was ranked No. 3 and Dick No. 14. SIU-C has finished in the top five in the nation for the last seven years and has won two championships since CEDA was formed in 1971.
June 1987/Illinois Issues/31
---