---
---
By BRETT D. JOHNSON
---
Legislative primaries: Incumbency prevails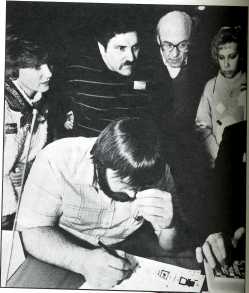 Ken McMillan and supporters look on as campaign worker Steve Hess checks a precinct tally sheet. Photo courtesy Macomb Daily Journal
Barbara Bush was the main attraction at a March 13 Lincoln Day Dinner at Western Illinois University's student union, in a grand ballroom festooned with GOP paraphernalia. The vice president's wife used a slide presentation to bring her husband's message to about 350 Republicans who paid $20 each for the dinner. Although the crowd's attention was focused on the possible future first lady, three Republican candidates for the 95th House District seat used the event to seek votes just two days before the primary election.
With incumbent Republican Kent Slater of Macomb not running, former state Sen. Kenneth G. McMillan of Bushnell assumed the role of pseudo incumbent. He encouraged voters to look at his record as state senator from 1977 to 1982: "I cast more than 9,000 votes, making that choice, serving you and serving western Illinois. None of them was secret. I have nothing to hide." But McMillan's chief opponent, Macomb Mayor Robert Anstine, criticized that record. Anstine claimed those votes did not represent the needs of the district, noting that McMillan had voted against education appropriations and had not attended hearings on new road projects for the region. A third candidate, David C. Leffler of Warsaw, lacked the political organization to become a force in the campaign.
McMillan's use of his record and pseudo incumbency was predictable. In Illinois, and elsewhere, real incumbents usually win. Although 10 incumbents were seriously threatened, only one, Rep. Douglas Huff Jr. (D-19, Chicago), lost in the primary, a defeat he attributed to his indictment on charges of extortion and conspiracy to avoid income tax payments.
The outlook is the same for the general election, when most incumbents face no electoral challenge, although write-in candidates or party appointees may be on the ballot by November. Of the 31 Democratic senators, 10 are not up for reelection and another 10 faced no opponent after the primary. Of the 28 Republican senators, 10 are not up for reelection while another 10 faced no challenge after the primary. That leaves 19 incumbent senators facing November competition — 11 Democrats and eight Republicans. In three districts that could swing to either party, Republicans have pinned victory hopes on John A. Terranova of Rockford over Sen. Joyce Holmberg (D-34, Rockford), on Donald Randich of Crest Hill against Sen. Thomas A. Dunn (D-42, Joliet) and on Jim O. Edgcomb of Decatur versus first-term Sen. Penny L. Severns (D-51 Decatur). Two Chicago Democrats will attempt to oust a pair of Republicans holding office in Chicago: William F. Krystyniak takes on Sen. Robert Raica (R-24, Chicago) and Richard Valentino will face Sen. Walter Dudycz (R-7, Chicago). The GOP needs to gain two seats to take control of the Senate.
On the House side only three of the 67 Democrats and two of the 51 Republicans did not seek reelection, and only Huff lost in the primary. After the primary 30 Democrats and 17 Republicans faced no challenge in November. Although 31 Democrats and 34 Republicans face some partisan challenge in the general election, many of those districts are considered safe. Because the Democratic majority is so large, it is virtually impossible
May 1988 | Illinois Issues | 20
---
for the GOP to win control of the House this year. But Republicans hope to gain five to seven seats including three rematches where their challengers almost beat incumbents in 1986. Anne Zickus of Palos Hill will again challenge Rep. John T. O'Connell (D-47, Western Springs); Sheldon Marcus of Morton Grove again faces Rep. Calvin R. Sutker (D-56, Skokie) and Joseph M. Jenco will again try to unseat Rep. Leroy Van Duyne (D-83, Joliet). House Democrats hoping to gain 10 Republican seats, are pinning hopes on 10 challengers, including: Geoffrey S. Obrzut of Northlake against Rep. Linda Williamson (R-52, Northlake); John A. Ostenburg of Park Forest against Rep. Robert P. Regan (R-80, Crete); Bruce N. Friefeld of Mokena against Rep. Larry Wennlund (R-84, New Lenox); Ed Teefey of Mount Sterling against Jeff Mays (R-96, Quincy); Jon K. Ellis of Pawnee against Rep. Karen Hasara (R-100, Springfield) and Jay C. Hoffman of Collinsville against Rep. Ron Stephens (R-110, Troy).
---
---
Even those in tight races
might not be doomed by
voting for a tax hike,
to judge from the
election following
the 1983 tax increases
---
---
An additional target is Democrat-turned-Republican Rep. Samuel Panayotovich of Chicago, who easily won his GOP contest in the 35th District and will face Democrat Clement Balanoff of Chicago in November. In the 1986 primary fewer than 500 Republican ballots were taken by voters in the 35th House District, but this year more than 7,000 voters chose Republican ballots. Although nearly 15,000 Democratic ballots were marked in the district that includes the home of Cook County Democrat-turned-Republican Edward R. Vrdolyak, GOP party leaders believe Panayotovich is safe. "It's hard for life-long Democrats to ask for a Republican ballot," said Rick Larison, chief of staff for House Minority Leader Lee A. Daniels (R-46, Elmhurst). Larison said some voters may have taken Democratic ballots only because they hold city jobs, but in the general election, when party identification is not necessary to vote, Panayotovich should easily beat Balanoff. But Gary LaPaille, chief of staff for House Speaker Michael J. Madigan (D-30, Chicago), said voters have always chosen a Democrat in that district and will choose Balanoff this time. He said Panayotovich was not elected a Republican, but made one by Vrdolyak and Gov. James R. Thompson.
In the 85th House District two candidates will square off in November for the seat of retiring Rep. Ray A. Christensen (D-85. Morris). Gerald C. "Jerry" Weller of Morris is again the GOP nominee. Weller was originally proclaimed the winner in the 1986 general election after the tally showed him four votes ahead of Christensen. After a recount and months of hearings, House Democrats voted to seat Christensen. With Christensen stepping down, the Democratic nominee is Grundy County Clerk Lana Phillips of Morris, who played a role in the 1986 controversy. Phillips, along with county clerks from Kankakee, LaSalle and Will counties, testified at the recount hearings that Weller had actually won the 1986 race.
Some political analysts blame the overall lack of competition on the 1980 Cutback Amendment, although Senate elections were not affected and many remain uncontested. The amendment reduced the size of the House and forced election from single member districts, eliminating cumulative voting for three House members from each senatorial district. "Not only did you have more interparty competition, but you had more intraparty competition," said Paul M. Green, director of the Institute for Public Policy and Administration at Governors State University. Green said that now most incumbents need only to file for reelection if they want to keep their seats in the legislature, allowing for little voter input. "There are more people served when electoral politics is more than administrative procedure," he said.
But Patrick Quinn, the self-styled reformer who pushed for the cutback, said voters have more input now. "There are more true competitive races now where people have to run on their records," Quinn said. He said under cumulative voting there were several uncontested primaries and general elections, and suggested the current lack of competition is the fault of the political parties. He claims GOP candidates do not run in Chicago because "Republicans don't care about urban issues."
Other supporters of the cutback do not agree. "We had hoped for more competition," said Mary Ellen Barry, president of the League of Woman Voters of Illinois. But Barry maintained the end of cumulative voting was necessary since the system was not understood by many voters. She also said the lack of strongly contested races in the general election enables legislators to vote for an income tax increase, which the league supports. "They're not going to be able to use the election year as an excuse," she said.
Even those in tight races might not be doomed by voting for a tax hike, to judge from the election following the 1983 tax increases. Of the 93 legislators who voted for the increases, 66 stood for reelection in 1984. Two of the 66 lost in the primary and three lost in the general election, mainly due to local politics and not their votes on taxes. Larison said legislators face little threat in voting for a tax hike. "There will always be an anti-tax vote out there," he said. But when asked if voting for a tax hike would be fatal to a political campaign, Larison said no. Considering the number of interest groups lobbying for a tax hike and the governor's planned trips aimed at educating the public, Larison said the people would understand such a vote. "It negates that anti-tax talk," he said.
Although taxes will likely be an issue in the general election campaigns, it may not matter. Just as psuedo incumbent Kenneth G. McMillan easily won the 95th House District GOP nomination, most real incumbents are relatively safe. Except for a handful of swing districts with spirited challenges, the makeup of the General Assembly should remain unchanged. □
May 1988 | Illinois Issues | 21

---