---
Legislative Action
---
Senator Sam: a credit to his district
---
By BRETT D. JOHNSON
---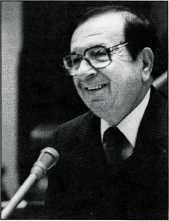 Sen. Sam Vadalabene
During the 1981 redistricting battle, during heated debate on the floor of the Illinois Senate, Republican Sen. Mark Rhodes of Western Springs decided to take on the chamber's president. Upset with the way the debate was being handled, Rhodes started for the podium to have it out with Sen. Philip J. Rock (D-8, Oak Park). Before Rhodes even got close to the podium he was stopped by Sen. Sam M. Vadalabene (D-56, Edwardsville). The result was one of the more memorable days of redistricting, and one of four fistfights Vadalabene has fought on the Senate floor. Hitting Rhodes was the only way Vadalabene could think of to prevent a confrontation at the podium. "I saved his life," Vadalabene recalls. "If he got to the podium, Sen. Rock would have cremated him."
Although fistfights are not new to the 74-year-old lawmaker, affectionately called Senator Sam, they are not the norm. Vadalabene is respected by his Senate colleagues. "Sam is like Sara Lee," Rock says. "Nobody doesn't like him." Vadalabene's seatmate, Sen. Glenn Poshard (D-59, Carterville), says before a bill is debated Vadalabene's desk is filled with staff analyses, lists of groups for and against the bill and his own notes.
Vadalabene says he considers each bill independently, looking at how the law would benefit Illinoisans rather than his party: "I don't believe I should delay a good piece of legislation because it's introduced by a Republican." He praises James R. Thompson, the fifth governor he has served under, calling him an honest man who is easy to work with. "Normally it takes me 10 seconds to get adjusted to a new administration, and it took less than that with Thompson," he says.
Vadalabene supported the creation of the income tax in 1969 under Republican Gov. Richard B. Ogilvie and the 1983 increase under Republican Gov. Thompson. "I think the two votes I gave in the past were necessary," he says. "I'll be taking a good look at the next one." He is waiting to see a proposal before making a final decision. "I'm not at this time opposing a tax increase," he says while weighing the interests of various groups, noting those in favor of a tax hike are directly affected by the state budget while those opposed to an increase do not rely on state money.
Despite his nonpartisan nature, Vadalabene is loyal to his party. "He's a Democrat through and through," Rock says. "But he does what's in the best interest of the people in his district."
Vadalabene is quick to brag about state dollars returned to his district, saying Madison County has sunk a few feet because of state projects. "I'd like to see it sink a few more feet before I leave," he says. He does not call it pork barrel, but does not mind if other people do: "As long as I'm getting the projects in my district, terminology doesn't bother me."
Vadalabene's efforts in attracting projects to the district have not gone unnoticed. J. Thomas Long, chairman of the Madison County Republican party, calls his work "excellent." Unless Vadalabene does not run in 1990, Long says it is unlikely the GOP will try to win the seat. "I think, as a whole, we believe Sam Vadalabene is a hell of a man," Long says.
May 1988 | Illinois Issues | 31
---
---
---
Although he says moving from
the House to the Senate was
his only ambition, he
tried and failed in 1972
to get party slating
for lieutenant governor
---
---
The largest project Vadalabene has brought to his district is the $12.5 million multipurpose building at Southern Illinois University in Edwardsville, which is called The Sam M. Vadalabene Center. The center is used for special events at the university, and regularly as a gymnasium. It is only one of 11 namesakes Vadalabene has accumulated. Others include bike trails, two streets, a stretch of highway, a recreation field, a towboat, a waterline and two thoroughbred racehorses. He has also accumulated nearly 150 awards from interest groups, agencies and fellow legislators. On several occasions he has been named an outstanding legislator by groups ranging from the Illinois Library Association to the Bi-State Development Agency. Aside from the awards, Vadalabene has thousands of letters in his file, all thanking him or showing appreciation for his work. "The bad letters we don't keep," he says.
Vadalabene is majority caucus chairman and serves on the Executive Appointments, Higher Education and Appropriations II committees. A veteran of World War II, he is vice chairman of the Veteran's Affairs and Administration Committee. "If there's anyone who really carries the water for the veterans' organizations in this state, it's Sam," Poshard says. Vadalabene has supported a constitutional amendment that would exempt veterans' organizations from paying property tax. Although voters have never approved the amendment, Vadalabene has been able to get it on the ballot three times.
Vadalabene has witnessed the growth of the General Assembly into a professional legislature. He says the improvements have included the addition of full-time staffs, individual secretaries and office space. When he began as a representative, members did all their work at their desks in the House chamber. He also says the governor's amendatory veto has been helpful since several bills are saved by amendments and not totally vetoed. He is also pleased that proxy voting was eliminated in committee hearings. Legislators must now attend hearings and record their votes in person. "I like to see them eye-to-eye when they vote yes or no," he says.
His slogan for nearly 20 years has been "Senator Sam stands for service." He was first elected to the House in 1966, and in 1970 he was elected to the Senate with 56 percent of the vote. Although he says moving from the House to the Senate was his only ambition, he tried and failed in 1972 to get party slating for lieutenant governor. About 10 years ago he briefly considered running for Congress, but says he would have had to move to another congressional district: "How could I say I wanted to run for Congress with Mel Price as my congressman?" He decided to wait until Price retired before contemplating a run. But Price is just retiring this year, and Vadalabene says he is to old to enter Congress now.
Vadalabene runs his district business out of his Edwardsville home. When people in his district need to talk with him they either stop by his house or he makes a "house call." His house is also the center of his avocation: gardening. He is proud of his vegetables and his 21 fruit trees that he hopes will bear fruit for the first time this summer. He does most of his work out of his Capitol office, occasionally stepping outside to hand-feed a squirrel he has named Sam.
His present Senate term expires in 1990, but he has not yet decided if he will seek a seventh term. For now he says he is happy being a full-time legislator. "It's a great honor to be a state senator," he says.□
May 1988 | Illinois Issues | 32

---