War on drugs in the suburbs: coordinating 236 police departments
By DAVE URBANEK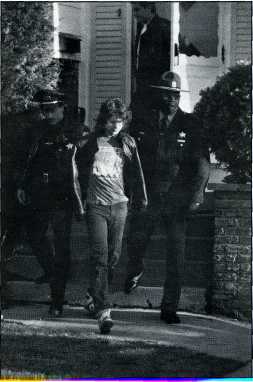 This is one of the 34 arrests made by Illinois State Police and suburban police following a seven-month drug investigation called Operation Glitter centered around northwest suburban bars. Photo by The Daily Herald, Arlington Heights
On weekends, the hundreds of yuppie bars and taverns throughout the suburbs teem with nightlife. Thousands of fun-seekers fill every inch of space in places with names like Thumper's Bar and Cafe, The Safari Club and Doc Weeds. As multi-colored lights flash, dancers crowd the open floors, pulsating to the beat of loud music. The air is thick with smoke. Beer, wine and liquor flow in abundance.
Police officials throughout the suburbs suspected for years that these so-called "glitter palaces" also harbored middle-level drug dealers who sold marijuana, cocaine and other illegal drugs under the cover of the loud music and the crush of moving bodies. But police had trouble infiltrating these bars and clubs and cracking these drug deals. In many cases the officers' faces were well known to bartenders, tavern owners and, more importantly, the drug dealers.
About a year ago, police departments in the Cook County suburbs, the State Police and the Cook County State's Attorney's Office found a way to beat the drug dealers in these local night spots. They dubbed it "Operation Glitter." Rather than run the risk of sending local police into a potentially dangerous situation, officers from other forces were used. Their faces unknown, the imported police were able to mix with regular bar patrons and the drug dealers. "Primarily, since our local officers were familiar in these places, and to most of the faces inside, the utilization of Cook County and state's attorney's officers was suggested and most successful," said Kenneth Alley, police chief in Schaumburg, one of the largest suburbs around Chicago and located in the Cook County panhandle between Lake and DuPage counties.
Undercover officers from Schaumburg, the State's Attorney's Office and the State Police worked bars in towns where they were unknown. They bought nearly $40,000 worth of cocaine. "Some of these arrests were the result of painstaking work,'' State Police Director Jeremy Margolis said at the time. "But in some instances, it was so open and notorious it would make you sick." Agents and police officers bought cocaine in washrooms, in parking lots; sometimes standing near a dance floor. Police even observed that some dealers had regular territories staked out in particular bars that they set up like a roadside vegetable stand.
Last April 7th, after a seven-month investigation, Alley, Margolis and Cook County State's Atty. Richard M. Daley took the lid off Operation Glitter and announced the indictment of 34 bar employees and customers for allegedly selling cocaine at 10 suburban bars. "It was a combination effort on the part of several law enforcement agencies that identified various target areas that needed to be looked into," Alley said of Operation Glitter.
More and more, the 236 police departments in Chicago's collar counties are banding together in efforts like Operation Glitter to fight the war on drugs. Realizing that drug runners do not recognize police jurisdictions, law enforcement agencies in the suburbs are becoming regional forces. What's more, the concept seems to be catching on among state's attorneys
January 1989 | Illinois Issues | 13
---
in the suburbs. Prosecutors in each of the collar counties —DuPage, Kane, McHenry, Lake, Will and the suburban part of Cook —have not yet been fully integrated into these regional forces.
Gone are the images of crooks waving at police who must stop before crossing the county line.
Gone also is most of the competition between neighboring police forces chasing the same suspects. Indeed, since the early 1970s, municipalities have banded together formally to fight the spread of drugs. These range from cooperation between individual police departments to the formation of the Metropolitan Enforcement Groups called MEGs.
One of the leaders in the fight to bring police departments closer together and increase cooperation with prosecutors is Lake County State's Atty. Fred L. Foreman. "In the past, too many times, the law enforcement people — the police — were in charge of these busts, and it was a turf battle all the time. There was no one to referee it," Foreman said. "The sheriffs wanted the busts as opposed to the police, who also wanted the busts. No one was telling anyone where anyone else was coming from."
Past turf battles were caused by a variety of reasons, even simple jealousy, according to law enforcement officials working the suburbs. "It had been a part of police work that people
---
. . . you're many times
talking about gangs
and interstate traffic'
---
were jealous of another's work," said Frank J. Gomilla, director of the Northeastern Metropolitan Enforcement Group —a pioneer inter-agency drug crime unit. "If you go back 15 years ago, you didn't find the kind of cooperation you do today. Sheriffs, police, everybody realized that they weren't getting anywhere by not talking," said Gomilla. Foreman added that several years ago, miscommunication and no communication led to a duplication of effort. "The Drug Enforcement Agency would be working on a case at the same time the MEG people would be working on it; or the sheriffs' office," he said. "Everyone was setting up their own busts. It has been a problem."

As Operation Glitter demonstrates, past differences have been set aside and lines of communication established that have made inter-agency cooperation an everyday strategy in the fight to clean the streets of drugs. Officials added that an ever-growing public clamor to stop the illegal drug trade has helped them beef up their efforts against narcotics.

Statistics appear to show results of this police cooperation. In 1987, 31,710 drug related arrests were made in Cook, DuPage, Kane, Lake, McHenry and Will counties, an increase of 30 percent over the 1977 total of 22,157, according to state statistics. Officials said the real surge in drug arrests, though, has been since 1985, when the war on drugs became a national concern.

Inter-agency cooperation among various suburban police forces is not new, but it is now more formal and coordinated. Alley, who used to coordinate all criminal investigations in Schaumburg before being named chief, explained, "In the past, where you might have had an individual relationship with different officers, you now find more of a consolidation of effort."

There are several reasons why suburban police must now work together. For one, the crazy-quilt boundaries that define Chicago's suburbs make it difficult to pinpoint drug crimes in one particular community. In some areas, a drug pusher driving along one road may pass through as many as five different towns in a 15-minute span. The police must follow the criminals across these village and county lines.

Also, the police have found that cooperation means not only a pooling of manpower during arrests, but a pooling of financial resources, experience and, perhaps most importantly, intelligence about crimes and various investigations. Under a typical scenario, one police department may have a line on a cocaine dealer in its village, but the suspect's range of operations is limited. By taking his name and the names of his associates to neighboring departments, police can run them past other investigators and establish common relationships with other suspects who are being watched by other agencies. "With all of that together, you get a truer picture of the violation," Alley said. "Instead of identifying just one person, you might identify four, five or more by making that first person a target and then gradually investigating his circle."

For Foreman and other local prosecutors working on a case after an investigation is complete, shared intelligence can also give a truer picture of how deeply into drugs a suspect might be. "It is important for us to have an exchange of information because we may have a defendant arrested here in Lake County for possession of cocaine, and he'll lie at his bond hearing," he said. "He'll tell us, 'I've never been arrested before.' For all we know he could be the major coke trafficker in Cook County. It's important to have that [information].

Shared information can also prevent snafus. Many officials said that because drug pushers have an extensive inter-county network, a suspect many times is picked up in the southern suburbs of Cook County and only later will police and the prosecutor find out that he is working as an informant for another agency in another county. "That's particularly important for our office because in Lake and McHenry counties, you're many times talking about gangs and interstate traffic. Everybody's got to come through Lake County to get to Cook County from say, Milwaukee," Foreman said. "It puts us right in the middle."

The cooperation between police departments can be both formal and informal. Sometimes it takes only a telephone call or a whisper at a police social function. At other times, investigators and chiefs of police gather at organized "summit meetings" to swap information or to ask for help. For instance, the chiefs or the investigating commanders meet once a month to discuss crimes of all sorts or to put together joint task forces for an investigation. "We've worked extensively with Arlington




14 | January 1989 | Illinois Issues
---
Heights, Palatine, Glenview and Cook County in breaking burglary rings — armed robbery rings. It's not just narcotics," Alley said.
Police have found, though, that the most sophisticated crime rings are those that control the drug trade. For that reason, officials in the collar counties have matched these multi-county crime rings with cooperative forces that cross jurisdictions; those forces are the 16 Metropolitan Enforcement Groups or MEG units throughout the state. Since 1971 municipalities have been banding together to form the MEGs. The Northeastern MEG has 30 municipal members in Cook County that assign one officer to the unit for a tour of duty. There are similar MEG units in DuPage, Lake and McHenry counties. Unlike local sheriffs offices or police in the collar counties, the Northeastern MEG, for instance, can devote its entire $1.7 million allocation from the state to fight drugs. Gomilla said the MEG concept has done much to bring suburban police departments closer together. "Probably, on the average, about 85 percent of our investigations will be cooperative efforts," he added.
---
---
Local prosecutors in the
suburbs have yet to be fully
integrated into the system
---
---
Over time, the effectiveness of the Northeastern MEG has increased, according to Gomilla. As recently as 1984, Gomilla's outfit was responsible for removing roughly 30 pounds of cocaine from the streets. In three of the last four years, that total has topped 100 pounds, and in 1988 will exceed 170 pounds. "That's indicative of the success of our operation," he added.
While cooperation continues to increase among individual police departments, local prosecutors in the suburbs have yet to be fully integrated in the system. Foreman, president of the National District Attorneys' Association, wants state's attorneys to coordinate the drug war on the county wide level. "Every case that comes in has to go through the D. A.'s office," he added. "I think the prosecutors are the logical coordinators.'' Foreman believes it would be easy for state's attorneys in the collar counties or other areas to coordinate a regional war on drugs.
Foreman has proposed the state's attorneys to head the war on drugs because he said the state lacks a strong, coordinated effort against narcotics. The State Police would be the logical choice to head a coordinated war on drugs in the state, Foreman explained, but they have not been given the manpower or wouldn't say that we don't have a statewide effort against drugs,'' State Police Director Margolis said. "But our resources are put into the local MEG units. Funding has been cut, as it has in other parts of the state government, but we're concentrating our efforts in that area."
This summer, the first steps were taken toward linking prosecutors in the various counties around the city of Chicago. With the help of a $1.2 million grant from the federal drug law enforcement money allocated to Illinois, prosecutors in Cook, DuPage, Kane, Lake, McHenry and Will counties took the first steps toward bringing their offices closer together. The grant came from the Illinois Criminal Justice Information Authority, a statewide crime information clearinghouse through which Illinois' share of federal law enforcement grants is passed out to local agencies throughout the state.
With the federal funds, Foreman and Daley set up a program that ensures prosecutors will not only meet regularly to coordinate their efforts but enables them to hire additional staff to handle drug prosecutions and to utilize a state law that requires convicted drug dealers to forfeit any assets garnered through crime. "Although prosecutors in this region have always cooperated on investigations which cross county lines, these new funds will enable us to make a more concerted effort against the larger and more complex drug rings," Daley said.
Participating prosecutors held their first meeting this August in Gurnee in Lake County. J. David Coldren, executive director of the Criminal Justice Information Authority, said the Illinois state's attorneys invited prosecutors from Lake County, Ind. (directly southeast of Chicago) and from the Wisconsin border counties of Kenosha, Racine, Walworth and Milwaukee.
At the meeting, the prosecutors made a commitment to share historical data about drug dealers, as well as information about ongoing investigations in their jurisdictions. Coldren said there was talk about "touching base" with their colleagues before initiating major investigations that could cross county lines. Foreman said that since that initial meeting, the prosecutors have held seminars for judges to explain the state's forfeiture laws. He hopes to continue the efforts started last summer.
In December, the Criminal Justice Information Authority held hearings on what to do with $4.8 million in federal drug enforcement money that the state will receive next year, part of $2.6 billion allocated by Congress for anti-drug work across the country. "For criminal justice to effectively interrupt and ultimately dismantle these distribution networks, we too have to adopt enforcement and prosecution strategies that are at least as broad-based and well-coordinated as are the traffickers," Coldren said. "Limiting our efforts to just northeastern Illinois isn't going to carry out a truly broad-based, coordinated attack on drugs in the region."
As discussions continue at the national level on the best ways to attack the foreign sources of dangerous narcotics, Illinois' suburban police are focusing their efforts on the streets. Working together, they have bridged gaps that used to frustrate and hamper their efforts. Working together, they are becoming a match for the large, sophisticated drug rings that reach all areas of society. With the aid of the federal and state governments, initiatives like Operation Glitter are becoming more common-place. "I think this type of thing is a movement in the right direction," Foreman said.
Dave Urbanek is bureau chief in Springfield for Paddock Publications with newspapers in the northwest suburbs of Chicago.
January 1989 | Illinois Issues | 15
---