---
---
By MICHAEL D. KLEMENS
---
Pate Philip: leader of Senate minority and DuPage's GOP machine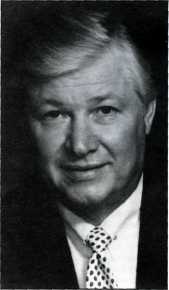 James 'Pate' Philip
Early on election night things did not look good for vice-president and Republican presidential candidate George Bush. The initial Illinois returns showed Bush trailing Michael Dukakis in Illinois. The CBS television network projected from its exit polling in key precincts that Dukakis would carry the state. Already Comptroller Roland W. Burris and Atty. Gen. Neil F. Hartigan had declared the results a personal defeat for Bush's Illinois campaign manager, Gov. James R. Thompson.
Thompson recalls: "When [Dan] Rather comes on and gives Illinois to Dukakis, I said 'Baloney. Get me Pate.'" James "Pate" Philip, the chairman of the DuPage County Republican Central Committee, had pledged an 80 percent turnout, with 70 percent of those voting for Bush from his Republican bastion. "I talked to the governor four times that night, and I said, 'Would you relax. The reason our returns are coming in slow is that we had a lot of referundums for school districts. The goddam turnout is unbelieveable, and it takes longer to count them. I'm going to be late, but I'm going to be there.' "
When all votes were counted CBS was wrong. Those who danced on Thompson's political grave were premature. And Pate Philip's Republican machine had turned out 82.89 percent of the vote, 71 percent for Bush and 29 percent for Dukakis. George Bush carried DuPage County by 123,622 votes. He carried the state by 94,999.
A week later Thompson and Philip were collaborating again. This time the governor was running the state not the Bush campaign; Philip was performing as Senate minority leader, not the head of the state's largest Republican organization. The issue was not an election, but the form of reform of the Chicago public schools.
Last spring Philip and his members had formulated a Chicago school reform plan that would have broken the district up to 20 separate districts, each with its own elected school board. They passed it out of the Senate with Democratic support, but it died in the House. Philip had held his 28 votes together to kill — with two Democratic absences — the Democratic school reform package that came over from the House. When Democrats rejected a compromise hammered out by the four legislative leaders and the governor, Philip protested. With Democrats poised to pass their own plan, Philip summoned Thompson to a caucus and told him what should be rewritten with the amendatory veto.
"He was one of the people responsible for what I did on the amendatory veto," Thompson says. Negotiations resumed when lawmakers returned for the veto session, and the bill that finally emerged contained two elements that Philip insisted on: members of the oversight authority were jointly appointed by the mayor and governor, and teachers who lost their jobs because of declining enrollment were not guaranteed new teaching positions.
Two weeks later Thompson and Philip joined forces on another legislative issue. Atty. Gen. Hartigan and Democrats were pushing to override the veto of $10 million for the Comprehensive Health Insurance Program (CHIP) that would offer state subsidized health insurance to the uninsurable. Thompson said that Illinois was embarking upon a program without the money to cover it. The disabled converged upon the Capitol to plead their case, and the veto was overridden in the House. Thompson asked Philip and Senate Republicans not to embarrass him. They did not. On what Philip calls a "sculptured" roll call the CHIP bill got 35 votes, one short of the 36 needed for an override. "He did that for his governor, first and foremost. And he did that even though it cost some of his members some pain," Thompson says. He adds that Philip is one of the few lawmakers who understands the state must pay for what it promises.
Thompson and Philip may be the oddest couple in state government. Thompson and Philip are both conservative on law and order issues, but Thompson is far more moderate on spending issues. Still Thompson and Philip are friends. "We enjoy
March 1989 | Illinois Issues | 13
---
each other's company. We're genuinely good friends," Thompson says. The governor says that Philip has taught him what is achieveable in the legislative process. Thompson also says he may be more conservative than when first elected. Has Philip changed? "He was elected pledging never to raise taxes. One year he sponsored five tax increases," Thompson says. Thompson and Philip are allies. The governor has the amendatory veto; Philip has the votes to block an override.
Philip is the most conservative and has the lowest profile of the four legislative leaders. He hails from DuPage County where most citizens have little use for state government and even less for state taxes that redistribute wealth. He is blunt and talks like the former Marine he is, but is not coarse. Philip comes to Springfield without a personal agenda, reads his members and stays in the middle of his caucus.
Philip fills two roles in the Illinois Senate. As a senator he represents the 194,000 residents of the 23rd Senate District. As Senate minority leader he looks out for fellow senators who represent cities like East Dubuque, Anna and Danville. Top priority for Philip is representing his district. "You've got to reflect your district or quite frankly you're not going to get reelected." And, Philip's district is not all that different from others in the suburbs where Republicans have their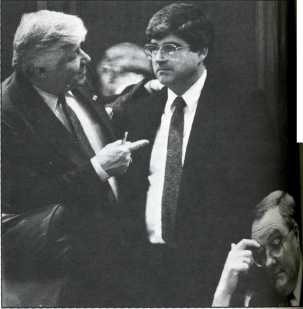 At left is Senate Minority Leader James "Pate" Philip in the middle of making a point with House Minority Leader Lee A. Daniels in the Senate chamber on the day last fall when Gov. James R. Thompson (at right) got his way. The Senate failed to override the veto of $10 million for the Comprehensive Health Insurance Program.
Photo by Jay Barnard

power base.

Philip fills another role as the chairman of the DuPage County Republicans. He says there is more prestige to being the Senate Republican leader, because people look down on county chairmen, but he is proud of what he has accomplished. No Democrat holds county or township office in DuPage County. When Philip was first elected county chairman in 1970 there were Democrats on the county board. "We do it the old-fashioned way," Philip says. "We knock on doors. Nothing is more effective than your neighbor knocking on your door saying, 'Hey, I'm Pate Philip, I live across the street, and I want you to vote for Bush for this reason.'"

The efficiency of the DuPage County Republican machine gave Bush his winning margin. The victory gave Philip one of the highlights he has taken from politics. Philip came home on November 9 to a message that Bush had called. He returned the call to the White House and was to be patched through to Air Force II. "You've got to call him Timberwolf," the White House operator told Philip. "I laughed. I said to him, 'you're shitting me.' " The operator explained the code name was for security reasons but could not get the call through. Bush did call a few days later, the first time that Philip heard from a presidential candidate after an election: "I was there when Eisenhower was there. I was there with Ford, Nixon, Regan. Once they get elected, good bye."

Philip provided the help that Bush needed. He similarly sees his role as state senator as one of helping people. "I try to cut red tape. I try to help people. You know, somebody has a bad intersection and wants a light there. Hopefully I have the clout to put the counters there and hopefully help them with the traffic light. People haven't got their income tax refund or somebody's auditing them. Hopefully I am the red tape cutter, able to help those people who sometimes aren't able to help themselves."

Among those that Philip has helped are the commuters in his district who ride the trains run by the Regional Transportation Authority (RTA). In 1983 Philip sponsored the bill that reorganized the RTA. DuPage County Republicans work the train stations the day before the election handing out coffee and literature. "The commuters in my district are very positive on the reorganization of the RTA," Philip says. He also takes credit for removing the sales tax from food and drugs and a condition of passing the 1983 temporary income tax increase, allowing property taxes to be deducted on state income taxes. "The biggest tax break suburbanites ever got, you're sitting next to the guy who did it for them. . . . The next year was the first year I ever got money back on my state income tax."




March 1989 | Illinois Issues | 14
---
State government has done well in creating the tollway system, Philip says. "It's well run. It's well kept up. It's a safe place." Philip also thinks that under Thompson criminal justice matters have been handled well. "We've been tougher on them with much longer sentences. It's cost us money, but in the long run we've kept some bad people off the streets." An area where the state has not done as well, Philip says, is with the school aid formula, which puts money in schools that can raise the least with property taxes. "Why should the city of Chicago get 57 percent and I get 14.3 percent? Where's the equity, particularly when they've got the worst school system in the United States and the highest paid teachers in the state?" As one would expect, Philip would emphasize the basics. And he would demand more of educators. "I tell you what, we ought to have tougher tests for teachers. We ought to come in and review them more often. I mean somebody ought to come sit in their classroom and see if they're doing their job."
Philip offers the conservative views of a conservative lawmaker. But he also worked to pass legislation allowing DuPage and other counties to increase both sales and gasoline taxes. Philip says DuPage County needs a four cent per gasoline tax because it does not get a fair return of state taxes. "We're much better off to do it locally. We get more bang out of the dollar than when the state does it," he says. The problem, Philip says, is that roads are congested. "We're gridlocked a.m. and p.m.," he says. And it would still be up to the county board to decide whether it wanted to impose the tax, he says.
The quarter percent sales tax, Philip says, would pay for a civic center, sports stadium or facility for the University of Illinois. The university is interested in offering master's and doctoral degree programs to serve the high technology businesses along Interstate 88. The facility would be rented by DuPage County to the university. "That's good for the community," Philip says.
Looking after DuPage County has been one of Philip's chargees. It's also the turf of House Minority Leader Lee A. Daniels (R-46, Elmhurst) and DuPage County Board Chairman Jack Knuepfer. "I believe you've had a much stronger Dupage County presence since you've had Pate, Lee and Jack Knuepfer working as a troika." says Douglas L. Whitley, president of the Taxpayers' Federation of Illinois. Some of that is reflected in Build Illinois and highway programs, Whitley says. Knuepfer says Philip, who inherited Knuepfer's Senate seat, has been effective in getting needed state authority for his county, which is not a home-rule county, to raise taxes or implement new programs. Knuepfer says Philip has leant a sympathetic ear to a couple of dozen causes from getting water from Chicago to imposing a quarter percent sales tax to pay for courts.
Philip is a citizen legislator who has no allusion that the sun rises or sets on the General Assembly. Philip works as district sales manager for Pepperidge Farm and has been known to call himself a "bread salesman." In 1963 he was named the outstanding young Republican in Illinois. He was elected York Township auditor in 1965. Two years later he won election to the Illinois House. In 1975 he was elected to the Senate, becoming an assistant minority leader in 1979 and minority leader in 1981. He is not a lawyer and has pointedly and colorfully told judges and lawyers they are out of touch with voters. He served for three years in the Marine Corps, where he was a "jockstrap," playing on the basketball team.
He has a reputation as a chauvinist or an anti-feminist. Sen. Adeline Jay Geo-Karis (R-31, Zion) disputes that label. She contends that Philip should be judged by his actions, not his talk. Two years ago he appointed her caucus chair, the first Senate leadership post ever filled by a woman. And when Beverly Fawell was first elected and missed her swearing in ceremony because of a gall bladder attack, Philip rounded up a judge and took him to the hospital to administer the oath, so she would have her insurance, Geo-Karis recalls.
Philip also has a reputation as a bigot. Not true, says Sen. Emil Jones Jr. (D-17, Chicago), who served with Philip in the House and Senate, and chairs the insurance committee. Jones says that he is able to work with Philip on issues that are not strictly partisan. Some, Jones suggests, take offense at Philip's comments that Chicago schools are a cesspool. "I don't consider those the comments of a bigot," Jones says.
Philip takes care of business outside the glare of the camera lights. Far from being a headline grabber, more often than not he leaves summit meetings by the back door and avoids the press. Arthur Gottschalk, president of the Illinois Manufacturers' Association and a former state senator, says Philip does not seek publicity or make pointless speeches to look good. And Philip need not seek influence because anything of significance will come to him anyway, Gottschalk says.
Although his profile may be low in Springfield, that does not mean he's not well known in the suburbs. Charles Schrader, a lobbyist from Kane County who represents the home builders and other groups, says his clients know Philip well. "In the area where I live, his name recognition is as high or higher than any of the leaders," Schrader says. "People from this area can talk to him because he's right next door."
Part of the reason that Philip can keep a low profile is that he does not come to Springfield with a big personal agenda. That allows him to represent the views of his caucus, an unextreme group of lawmakers who tend to be conservative to moderate conservative. Sen. Bob Kustra (R-28, DesPlaines) characterizes Philip's leadership style as one of collegiality. "It's a very successful form of leadership, a very accommodating form of leadership," Kustra says. And it has allowed Senate Republicans to hang together on some tough issues. Kustra was one of Philip's point men on the Chicago school reform issue and credits Philip with hanging tough. "Pate's the kind of a leader, if he appoints someone to carry the water on that issue, he then follows the advice of that person."
But Pate's leadership has not gone unquestioned. In 1986 a group of conservatives talked of revolt, claiming that Philip was representing Thompson not his members. The half dozen conservatives claimed that the Senate Republicans needed their own identity. Philip listened and restored unity, and the would-be mutineers are satisfied today.
One of the ways Philip has kept his more conservative members happy is by promoting Senate GOP solutions that one senator calls aggressive conservatism. When Carter Hendren came
March 1989 | Illinois Issues | 15
---
Straight talk from 'Pate'
Sen. James "Pate" Philip (R-23, Wood Dale) says he is a straight shooter and sometimes blunt. Here are his straight shots on an assortment of topics.
On the public perception of politicians: "Most people look down on politicians. I would say if you ask them the professions they distrust they'd say used car salesmen, bartenders, pimps and politicians. I would hope people in my district have a better opinion of me."
On lawyer-lawmakers: "I'm not a lawyer. The lawyers all have their law firms to worry about. I don't have a law firm to worry about. They represent the law firm, I represent the people. There's a difference."
On the media: "I have an inherent distrust of the media. I always have had. I don't stroke them like a lot of people. I don't have parties for them. I don't have press conferences normally. I've had a few. I'm always courteous to them. I try to return their calls, but I don't go out of my way to stroke them, like some people."
On farmers: "We've done more for farmers than we have for blacks, probably, if anybody looked at all the programs the state does and the federal government does. And we have a special real estate thing, no sales tax on gasoline, no sales tax on tractors, on parts. I can't believe what we do for them."
On the Marine Corps: "I feel every young man ought to go in the Marine Corps. It separates the men from the boys. I went in weighing 239 pounds, in 10 weeks I weighed 185. I got off the plane and my mother didn't know me."
On bilingual education: "This bilingual stuff is a thing we shouldn't be in at all. . . . Now my mother came over to this country from Germany when she was nine years old. Do you think they had bilingual? They had to learn English."
On interest in statewide office: "I'm too damn old. I tell you what cooled me off on that. I ran George Lindberg's first campaign for comptroller. You find out how long and wide this state is. I mean 18 months of hell. You might as well tell your wife and family, forget it, because you're not going to be there. And after you get comptroller what the hell have you got? Comptroller or treasurer. I wouldn't even waste my time."
On House Speaker Michael J. Madigan: "He's a different cup of tea; he's kind of a loner and different guy. But I tell you one thing, he's never stiffed me. When he told me he was going to do something, he always did it."
On what he does to relax: "I've got a place on the Upper Peninsula of Michigan, just bought it, only had it for a year. I love to fish and hunt. I'm the world's greatest hunter and fisherman. Just ask me."
On the school aid formula: "In my county the average we spend on school from the state of Illinois is 14.3 percent. The rest of it comes from real estate taxes. The city of Chicago gets 57 percent from the state. Their real estate taxes are low; mine are high. Their school systems are zero; mine are the best in the state. If they don't change the school aid formula, I may never vote for it again."
On the new Chicago school reform law: "I think it's a gigantic step in the right direction for school reform. The problem is this, it's only going to reform the areas that are going to have competent, good people on the school boards. In those areas that aren't going to attract that type of person it's going to be disaster just like it is."
aboard as chief of staff in 1987, Philip charged him with coming up with some positive programs. In 1987 Senate Republicans offered their "502 Plan" as an alternative to a tax increase. The Senate GOP plan would have cut $502 million from state spending, mostly general assistance in the city of Chicago, to be reallocated to schools, prisons and mental health. It got no support. In 1988 Senate Republicans proposed Flex-Ex (Flexibility-Excellence) that would have given local districts options over what courses to offer and rewarded those high percentages of students scoring well on standardized tests. As proposed, the bill would have cost Chicago schools $45 million, although a later hold harmless provision would have eliminated that loss.
As an assistant minority leader Philip had a reputation as a Chicago basher and a superconservative. When David (Doc) Shapiro died and Philip became minority leader many insiders expected to see the Senate Republicans veer to the right, and the working relationship with Democrats come to a halt. That did not happen. Instead Philip and Senate President Philip J. Rock (D-8, Oak Park) work well. "He's honest, straightforward, a hell of a partisan," Rock says, "There's no duplicity." Rock believes the friendship between two leaders of different political stripes is based on respect: "I think he views me the same way as I view him, a true honest Injun partisan."
"I've never found a Republican and Democratic leader who could work together so well," says the manufacturers' association's Gottschalk. He attributes the relationship to Philip's ability to put aside differences after an election or a tough vote. Philip says that is one of his strengths: "I like people. I get along with people. I like to help people. I feel good about helping people." Philip also credits his longevity as DuPage County Republican chairman — he has not been opposed since he was first elected in 1970 — to his ability to sit down and resolve differences.
Philip and his Republican minority are within striking distance of taking control of the Senate. In the last two elections Philip has paid for aggressive campaigns against Democrats but has been unable to shrink the Democrats' margin. Most insiders credit the Democratic Senate majority to House Speaker Michael J. Madigan and the maps he drew in 1982 instead of criicizing Philip. "I think Pate has done everything possible to wage good campaigns against the opposition. We've had all the money we need. He's not afraid to pick up the phone and ask for money," says Sen. Kustra. "I think Pate's worked very hard and done as well as he can when the Democrats drew the map," says Lt. Gov. George H. Ryan.
Philip once thought he would like to run statewide but not any longer. And he points out that he will be 59 in May and has 22 years in the General Assembly. He would like to be Senate president. "It all depends on what happens next election. Reapportionment is coming up, and were certainly going to give it hell to pick up two seats. That would be a very nice way to go out, being president of the Senate."
Picking up two seats in 1990 will be a long shot. It will be a far better bet that Philip will continue to talk blunt and that he will espouse the conservative line. It might even be a better bet that if his friend Thompson asks again, Philip could end up sponsoring a tax increase.□
March 1989 | Illinois Issues | 16
---
Illinois Periodicals Online (IPO) is a digital imaging project at the Northern Illinois University Libraries funded by the Illinois State Library