---
---
By DANIEL L. GUILLORY
---
The Japanese connection: Diamond-Star on the prairie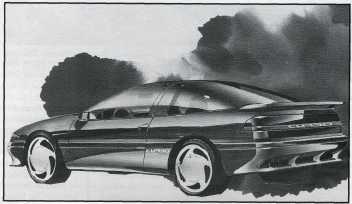 This is the Diamond-Star Motors sports specialty vehicle being constructed at the Normal assembly plant. The concept sketch shows its contemporary styling, featuring aerodynamic front end, unique roof and window design and full-width tail lamp.
Photo courtesy Diamond-Star Motors Corporation
Growing up in the late 1950s and early 1960s, as I did, does not exactly create an impartial frame of reference for all things Japanese. These were the years of paper fans, paper parasols and little toy cars stamped Made in Japan. My favorite uncle had fought the Japanese at Iwo Jima, and I grew up with his pervasive photographic image. In my mother's cherished enlargement, hand-tinted in slightly garish colors, my uncle is an eternally youthful GI standing under a palm tree, carbine at the ready. According to family legend, the palm tree contained a Japanese sniper, and my uncle shot him dead shortly after the photograph was taken. On a small scale, this family photograph, and its attendant mythology, simply echoed the widespread cultural mythos of the cruel and barbaric Japanese military establishment, as reinforced by the documentary footage of Pearl Harbor and by newsreels of the internecine warfare on Iwo Jima and Okinawa – and by such popular films as They Were Expendable (starring John Wayne) and Bridge on the River Kwai (with its unforgettably sadistic Japanese officers).
These images began to fade for me at about the same time that Sputnik was launched (1957), largely because national attention was focused on the Russians and because Japanese ascendancy commenced in the form of transistor radios, cameras, motorbikes and tape recorders, consumer goods which were only the precursors of a full-scale economic assault that gained momentum when Nissan (then called Datsun) began producing high-quality sports sedans in the late 1970s and when Japanese electronics giants like N.E.C. began producing computer chips, printed circuits, software and personal computers in the early 1980s. During this same decade, I saw every classic Japanese film, began working on a book about the Japanese haiku master Basho, and suddenly found myself with a Japanese sister-in-law, who had grown up in Kyoto and who now runs a small but highly successful sushi restaurant in New Orleans. Those little toy cars and cheap transistor radios of the 1950s had grown up with a frightening rapidity, and the rest, as they say, is history.
This Japanese-American connection has become the central fact of contemporary American life, and it is neatly symbolized for residents of central Illinois by the appearance of Diamond-Star Motors (a sprawling complex of two million square feet situated on 636 acres of land on the western edge of Normal, the twin city to Bloomington, in McLean County). Japanese investors now control 14 of the 15 largest banks in the United States, as well as many of the landmark buildings in New York City and prime vineyards in California. Since 1985 the value of the Japanese yen has doubled against the American dollar (the Japanese call these endaka or "high yen"). Meanwhile, the average industrial wages in Japan have become virtually equal to those in the United States, effectively silencing American businessmen who long claimed that Japanese business superiority was based upon unfair and unrealistically low wages. Finally, the Japanese trade surplus has mushroomed to the level
July 1989 | Illinois Issues | 11
---
Diamond-Star Motors Corporation is located on a 636-acre site on the western edge of Normal. This view is to the southeast. In the foreground is the westward facing front of the two million square foot facility.
Photo courtesy Diamond-Star Motors Corporation
of 80-plus billion dollars per annum.
Thus, the scale and — more importantly — the accelerated pace of Japanese investment in the United States represent an unprecedented and unique chapter in global economic history. And for this reason alone, it behooves us to study and comprehend the meaning of a major Japanese investment in our own backyard. Our future is inextricably linked to such developments as Diamond-Star, and in an ironic way the quiet old Illinois prairie is being transformed into a learning laboratory for the kind of multinational enterprise that will typify life in the 21st century.
Diamond-Star Motors was incorporated on October 7, 1985, and the ground-breaking took place on April 18, 1986. That ground-breaking ceremony was unique in that it included the ministrations of a Shinto priest and the spreading of Japanese soil on the original prairies. As someone who has studied and written about the rise and fall of the automobile culture in the Midwest, I could not help but be struck by this juxtaposition of Oriental and Occidental cultures in the American heartland, a place which, after all, created the assembly line, mass-merchandising and outsourcing — all concepts without which Diamond-Star itself would be unthinkable. And I could not avoid the inevitable questions: Is this new company better than its American predecessors? What could American manufacturers learn from this enterprise? Does the much-vaunted Japanese-style "team" or "circle" method of production really work? And what would happen if all automobile production in the continental United States fell under the aegis of Japan Inc.? Finally, will the active role played by the state of Illinois in attracting such ventures (and "sweetening" the deal with various tax and educational incentives) redound to our ultimate credit or shame?
All the Diamond-Star Motors promotional literature and spokespersons stress the fact that Diamond-Star Motors is a "50/50 joint venture" — and in some respects, it is. The Diamond-Star logo, for example, represents a graphic fusion of the Mitsubishi diamond and the Chrysler pentastar, and three of the top six management positions are held by Amercians (G. Glen Gardner, chairman of the board; Donald R. Schoene, executive vice president — finance and treasurer; and George H. Hohendorf, executive vice president —senior manufacturing adviser). But the fundamental design of the car is Japanese (even though there was some cooperation, undoubtedly, in conceptualizing the vehicle).
The special machinery for stamping and shaping the components is all made in Japan. The engines and drive trains are made in Japan. And the remaining three managers — the people who really oversee the day-to-day operations, are all Japanese: Yoichi Nakane, president and chief executive officer; Katsuhiko Kawasoe, executive vice president — administration and human resources secretary; and Takahisa Komoto, executive vice president —manufacturing, procurement, and supply and quality control. There are, in addition, about 45 other Japanese managers (who will work at Diamond-Star for periods of three to five years) and about 150 "rotating technicians" (who will serve for three to six months in Normal before returning to Japan). The Americans are essentially the laborers; at present there are 1,900 Americans employed by Diamond-Star, although that number will rise to 2,900 by this month.
An analogy might be useful at this point. Let us say that a Swiss watch manufacturer went into partnership with an Italian leather maker and that the Swiss ran the new plant, which would be situated in Italy, using components already pre-assembled in Switzerland. In this scenario the Italian workers assembled only the final stages of the product. Note that the Italians have no real say in the sophisticated (engineering) aspects of the products; their role is essentially to provide manpower. Would anyone really be deceived into thinking that the resulting watch was truly an Italo-Swiss product, or would one more realistically conclude that the final product was a Swiss watch which happened to be made in Italy?
These questions are worth raising because the Diamond-Star plant in Normal and similar plants owned by Toyota in California and Honda in Tennessee do not advance the long-term autonomy of the American workforce. A true joint venture would involve American engineers and designers in a much more substantial way, and it would involve, perhaps, engines made in Kenosha or air-conditioning compressors made in Decatur or transmissions made in Rockford. The most optimistic reading of the present state of affairs is one that applauds the
July 1989 | Illinois Issues | 12
---
considerable infusion of captial that Diamond-Star represents in the Bloomington-Normal area, a projected peak annual payroll of some $80 million. But let us hope that Chrysler, under the leadership of a strong individual like Lee Iaccoca, will press for a much more significant American share in future cars that will be produced in Normal. The current controversy surrounding the FSX (essentially a Japanese version of the American F-16 fighter plane) indicates that genuine joint ventures between the Japanese and the Americans are not so easy to achieve. In a hotly contested agreement, which was renegotiated by President Bush, the Japanese finally agreed to use 40 percent American components in the plane (although it remains unclear how that 40 percent will be defined). Furthermore, Bush had
---
---
. . . they positively
luxuriated in the great
amount of space available
here in Illinois, a fact easily
appreciated because the
executive offices command a
broad, panoramic westward
view of the prairie . . .
---
---
to insist that the U. S. government would not turn over the "source codes" (secret software programs which already run the complex computerized workings of this state-of-the-art aircraft).

The Japanese traditionally drive hard bargains, even with themselves, largely because they live in what Chalmers Johnson (in MITI [the Japanese trade ministry] and the Japanese Miracle) calls a "capitalist development state," where everything, including the welfare of the Japanese consumer, is subordinated to the gaining of ever greater international "market-shares." Hence, the Japanese are deprived of the high standard of living they have worked so hard to achieve, as described in Karel van Wolferen's insightful new book, The Enigma of Japanese Power: People and Politics in a Stateless Nation. Not surprisingly, most of the Japanese managers at Diamond-Star enjoyed the relatively cheap prices of beef, liquor and housing in America, but they positively luxuriated in the great amount of space available here in Illinois, a fact easily appreciated because the executive offices command a broad, panoramic westward view of the prairie, which does indeed grow vast, especially at sunset on a snowy day like the one on which I first visited Diamond-Star.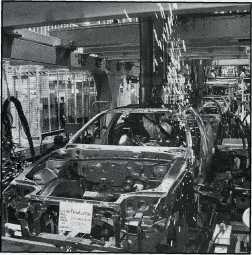 Ninety percent of the welding operations in the Body Shop of Diamond-Star Motors automobile assembly facility are performed by welding robots like these in the main body setting line.
Photo courtesy Diamond-Star Motors Corporation
The place has a neat, tidy and efficient ambience — workers ("team members" or "associates" in Diamond-Star parlance) are all attired in gray and maroon outfits. On my first visit, I watched a Japanese and American (each attired in identical outfits and hardhats) trying to communicate with one another. The American held some sort of widget in his hand, and he kept asking his Oriental peer, "Do you understand? Do you understand?" I stood behind a tall, young executive who was holding a phone to his ear, listening to some protracted explanation. I executed a classic double-take when he began to speak, shooting out a burst of rapid-fire Japanese. I walked around to confirm that he was, indeed, Japanese.
This little jolt was by no means the only culture shock I experienced during my visits to the plant. The assembly line itself was literally clean enough to dine upon, and each "team" of workers had a little screened-off room where individual workers could stow belongings and eat their lunch. The assembly line is ultramodern, consisting in reality of two lines (a second one carrying doors) which are computer-delivered at precisely the right moment. Each car begins as a series of motions in the Press Shop, where sheet steel is stamped. Next, the Plastics Shop creates the many moldings, fasteners and interior parts. The steel parts then travel to the Body Shop where robots weld the pieces together (over 400 robots are used on the assembly line) so the "shell" can go to the Paint Shop for a 13-stage dip treatment. The last stop is the Trim and Final Assembly Shop where everything comes together; in the end the car (in various stages of its evolution) will have traveled a total of eight miles.
Diamond-Star produces two versions of esentially the same car: the Plymouth Laser and the Mitsubishi Eclipse (in the future, Diamond-Star will make a four-door sedan to be sold as the Mitsubishi Mirage and Eagle Summit and four-wheel drive cars to be marketed as the Eagle Talon and Mitsubishi Eclipse). The Laser/Eclipse presently under production is a peppy and classy little car that is already selling phenomenally well. In its simplest form, it can be had for about $10,300, but in its glitziest version (5-speed transmission, 2-litre, 16-valve engine)
July 1989 | Illinois Issues | 13
---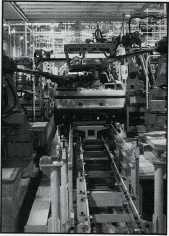 More than 100 robots, including these installing tail lamps, assist employees in the Trim and Final Assembly Shop at the Diamond-Star Motors auto assembly operation in Normal.
Photo courtesy Diamond-Star Motors Corporation
it can cost as much as $16,400. That top-of-the-line model accelerates from 0 to 60 miles per hour in 6.6 seconds, which is enough "umph" to push any driver into the seat cushions. With the "pedal to the metal," the car will achieve a top speed of 143 miles per hour. Car and Driver rated the Eclipse/Laser as one of the "Ten Best performers of 1988." It is clearly meant to compete with such cars as the Ford Probe, Nissan 240SX, Camaro IROC-Z, Mazda MX6, and Pontiac Trans-Am (the Turbo GTA model of which is the fastest U.S.-produced showroom car,
---
---
With the 'pedal to the
metal,' the car will achieve
a top speed of 143 miles
per hour. Car and Driver
rated the Eclipse/Laser
performers of 1988'
---
---
achieving 0-60 in a sizzling 4.6 seconds).

Some of the "associates" I contacted off the premises (and off the record) expressed lukewarm feelings about the team method. Yes, it works and roots out inefficiency while giving the workers some say in production. But the team method is also very limiting. Team members are expected to follow the "company line" and not question fundamental values or procedures. A worker might be encouraged to tell an engineer about a problem with a widget, but he or she would not be encouraged to ask a manager, "How do I become a manager?" The team method works precisely because it creates the illusion of enfranchisement and because it narrowly defines the scope of worker "involvement." The team method, however, still represents a drastic improvement over the old American system where workers were ignored or even abused. But the team method is no Utopia. It does not fundamentally improve the autonomy of the workers; in fact, it undermines certain aspects of self-confidence by making the worker overly dependent upon the company. What would Ralph Waldo Emerson say about the team method? Better still, how would his uppity student, Henry David Thoreau, react? Finally, the team method really originated with Volvo in Sweden (not Japan), and it is now being used even by that old leviathan, General Motors.

That last point is significant because GM had refused to modernize until the implacable Japanese began to systematically gobble up market shares. Now GM produces a number of competitive cars (like the new Chevrolet Lumina, the Pontiac Grand-Am and the Oldsmobile Cutlass). Similar examples from Ford (Taurus) and Chrysler (LeBaron) easily come to mind. We, Japanese and Americans, are involved in a mutual learning experience, even if our trade is emphatically lopsided. Certainly, I felt great sympathy for the Japanese executives working here on the prairie. How strange and wonderful and terrifying American culture must seem to them. Will they return to Japan untouched by American notions of fair play and individual creativity? What kind of a future are we making for ourselves? For example, will our Japanese friends more deeply appreciate ecological and racial issues after spending some years with us?

Apparently Japanese and American workers are already trading one another's slang — and little slivers of one another's cultures. I learned new words, too: wa (harmony and teamwork), kaizen (technological improvement) and nemawashi (discuss/analyze). While I was working on this article, two Japanese students without a word of English between them were admitted to the parochial school my daughter attends in Decatur (their father having recently been assigned to Diesel-Kiki, the company that bought out the old Borg-Warner plant in Decatur only shortly before Bridgestone Tire of Japan bought Staley's, once the flagship industry of Decatur). A new Japanese restaurant (Tokyo Garden) also began to go up.

I suddenly realized I had no word for all of this change on the unchanging prairie. The Japanese-American connection is the present, and in that connection lies the grand possibility that an essentially feudal country (Japan) can co-exist with a postmodernist nation (the USA) without the need for exploitation or greed from either party. Our cultures are already mutually dependent; without its American market, Japan Inc. would wither. Our arrangement is stronger than any marriage or treaty. We are, in fact, bound together by a force larger than ourselves, incomprehensible and perhaps unnamable. But for lack of a better term, I shall call it simply our Future. □

Daniel Guillory has published articles on automobiles in the Michigan Quarterly Review, Illinois Times, Illinois Issues and in The Automobile and American Culture. His article in Illinois Issues covers the early history of automobile manufacturing in Illinois: "The rise and fall of the Decatur Comet" (August & September 1986). He is a professor of English at Millikin University in Decatur and is the author of Living With Lincoln: Life and Art in the Heartland (Urbana, Illinois: Stormline Press, 1989). In September he will be the Fulbright Senior Lecturer in American Literature at the national university in Gabon, West Africa.




July 1989 | Illinois Issues | 14

---
Illinois Periodicals Online (IPO) is a digital imaging project at the Northern Illinois University Libraries funded by the Illinois State Library