---
---
By CHRISTOPHER ROBERT REED
---
'Bedrock democracy': community organizations and Washington's civic legacy
This is the final article in our series on community organizing in Illinois, made possible by a grant from the Woods Charitable Fund, Inc. For details on the other eight articles, please turn to page 42.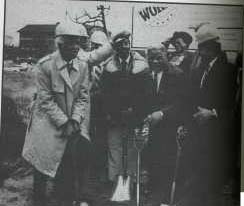 At the groundbreaking ceremony for 70 townhouses of the Kenwood-Oakland Community Organization (KOCO) on November 25, 1987, was Mayor Harold Washington (center), Robert L. Lucas of KOCO (left) and Ald. Timothy C. Evans (right). It was the mayor's last official action; he died later that day.
Photo courtesy KOCO
With his characteristic broad and winning smile, Harold Washington performed one of his truly enjoyable duties as chief executive of the nation's third largest city. On this brisk, sunny Tuesday morning in late November 1987, the mayor broke ground for a desperately needed housing development located in the barren landscape of North Kenwood, one of the city's — and the nation's — poorest neighborhoods. It was expected that Washington would return to this site within a year or so to cut the ribbon, signaling the availability of new housing and a fresh start in life for 70 low- and moderate-income families. Illinoisans know this was not to be, for this was the mayor's last public act before he succumbed to a massive heart attack several hours later.
Not lost in this event was the symbolism. It was more than fitting that Harold Washington's final governmental duty involved a community development dream reaching fruition. Washington was not the first to call attention to the city's inadequate housing, nor was he the only proponent of affordable housing. But he was the first to involve community organizations in decisionmaking and building, and that reserves him a place in the history of Chicago.
Washington's policies on federal funding, low- and moderate-income housing and protected manufacturing districts empowered community organizations all over the city. Particularly effective was his empowerment of Chicago's black neighborhoods — neighborhoods that had consistently been denied access to civic necessities: development and employment. They are among the many communities that benefitted from Washington's approach to economic development — an approach that was attacked as "'redistributionist' and economically counterproductive by the city's business establishment and daily media," according to Mark Hornung in the May 1-7 Crain's Chicago Business. In considering the many facets of the weighty problem of exclusion, Washington saw that housing development, an urgent need in the neighborhoods, could also generate employment.
The Washington legacy to Chicago extends beyond his political and governmental style. In the civic realm he made a major impact also. His election in 1983 reversed three decades of black civic subservience to joint black and white political domination (see Christopher Reed, "A century of civics and politics: the Afro-Americans of Chicago," Illinois Issues, July 1987). Responsive to the forces that produced his victory, Washington used his power as mayor to magnify the importance of community groups and their constituents. He did this by making them partners in the process of economic development, a role previously denied to Chicago's neighborhoods, especially its black neighborhoods. By doing this he guaranteed that participation in city government would result in true empowerment. This is the core of Harold Washington's civic legacy, 1983-1987.
The nature of this empowerment is most obvious in the neighborhood-downtown relationship. During Mayor Richard J. Daley's years, the tendency to respond to market signals had
July 1989 | Illinois Issues | 18
---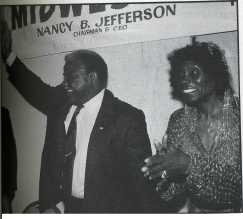 At the annual fundraising dinner for the Midwest Community Council in 1985 are Mayor Harold Washington and the council's president, Nancy B. Jefferson.
Photo courtesy Midwest Community Council
resulted in a downtown-first ideology that remained in force after his death. Economic development was a sancrosanct bastion open only to corporate leaders in banking, real estate and construction along with Democratic party stalwarts, as Gregory D. Squires et al. point out in Race, Class and the Response to Urban Decline. Those neighborhood organizations that enjoyed access to federal Community Development Block Grant (CDBG) funds had to be content with what was left after the funds had been used for other purposes. School budget deficits were erased. Big developers benefitted. All this violated federal guidelines mandating that the funds be used to help economically deprived neighborhoods.
Reversing that trend, Washington pushed for democracy in the political economy. "Bedrock democracy" was the term he used for it in a 1984 address in which he announced that for the first time in the history of Chicago over 600 neighborhood organizations had taken part in planning the city budget. In the same speech he said that his attention to the neighborhoods was "as fundamental a reform in city government" as his success in passing the freedom of information act.
As mayor, Washington fostered a shared economic linkage between the neighborhoods and downtown that redistributed the city's resources. He saw to it that the all-important CDBG funds were spent in conformance with federal guidelines in the city's neediest neighborhoods. Some of those neighborhoods had never before had access to government funds, notes Hornung in the May 1-7 issue of Crain's.
With federal housing money drying up during his administration, Washington also encouraged a public/private partnership in financing low-and moderate-income housing. The Chicago Housing Partnership, established in 1984, enabled city tanks and corporate funders to work with the Chicago Housing Department and nonprofit developers. The partnership leveraged the resources of the private sector to the city's neighborhoods (see "Low-income housing without fed's largess," Illinois Issues, October 1987). Currently, it has generated 1,800 units of affordable housing, according to Hornung in the May 15-21 Crain's Chicago Business.
Indeed, housing was a major theme of Washington's speeches throughout his tenure as mayor. In his first State of the City address to the civic-minded League of Women Voters in 1984 he presented the problem: "If you could ride with me one of these days while I drive through the neighborhoods, you'd be shocked at the shape our housing is in. There are more than a million houses and apartments in Chicago, and 149,000 of them are substandard. We have been losing 6,000 places to live a year, year in and year out for two decades.'' Washington came back to the subject again and again, giving the number of units built or rehabbed — 12,000 by October 1984, 18,000 by April 1986.
The Washington dream of bedrock democracy was implemented through the city's network of community groups. Over years of struggle these groups had developed an indigenous leadership and an involved constituency. They provided services such as day care, parenting classes, health maintenance and tutoring, and they had also spun off nonprofit corporations for economic development. Thus Washington did not have to create new leaders or a new infrastructure to bring the city's resources to its neighborhoods. Both were already in place. "We all know the strength of the grass-roots leadership because our election was based on it," Washington said in his inaugural speech. ' 'We want this powerful infrastructure to grow because the success of tomorrow's city depends on it."
That infrastructure is made up of hundreds of community organizations. Some of the oldest and most active are in the neighborhoods on the city's predominantly black south and west sides. These are a few of their stories.
On the city's south side, just south of the University of Chicago and separated from the lake by Jackson Park, is the community of East Woodland. It is served by The Woodlawn Organization (TWO), founded in 1960. TWO was anchored in the commitment of its founding organiier Saul Alinsky to community involvement and in a dream of empowerment of the kind that Harold Washington's ascension to power brought. TWO is currently headed by Lauren E. Allen, who serves as president and executive director. Young, energetic, intelligent and battle-scarred after a decade and a half of service within TWO's hierarchy, she notes how consistently TWO has kept to its original goal of citizen involvement. TWO's basic unit of organization still remains the block club. Allen says, ' 'We are mainly an advocacy group which represents the low-and moderate-income people of Woodlawn." Regular meetings of TWO's various committees deal with problems that the neighborhood residents think are important. They cover matters ranging from crime prevention to education, from alcohol dependency to parenting, from housing to employment.
The Washington years brought a substantive change in the relationship that TWO had experienced with successive city governments since 1960. Confrontation during Mayor Richard J.
July 1989 | Illinois Issues | 19
---
Daley's administration was followed by a promise of increased community input by Mayor Jane Byrne. But because of political pressures she was either unable or unwilling to carry her commitment to fruition. Allen describes the change after Washington took office as one in which cooperation and active partnership replaced confrontation. She recalls that "partnership had real meaning under Harold Washington. Just by picking up the telephone you felt that your voice was going to be heard on important economic matters." She adds, "We were able to sit at the negotiating table as equals."
---
---
. . . TWO can boast of having
developed over 1,400
housing units in the last
20 years, representing
over $40 million
in capital investment
---
---
Washington could also be relied on to keep City Hall commitments pre-dating his administration, such as the removal of the station terminus of the Jackson Park elevated line at 63rd Street and Jackson Park. A remnant of the Columbian Exposition of 1893, it had become an obsolete eyesore by the 1980s. Allen feels that in spite of tremendous opposition from powerful downtown interests, Washington kept the pledge to remove the structure — much to the neighborhood's and TWO'S delight. The Washington administration also strengthened the downtown-neighborhood linkage by instituting a Neighborhood Land Use Task Force during the winter of 1984-1985. The task force brought together affluent opponents of lakefront overcrowding, community groups that wanted houses to be built on the thousands of vacant lots dotting the city, and beautification advocates of Chicago's splendid boulevard system.
TWO's successes in economic development are best seen in its Woodlawn Garden and Jackson Park Terrace apartments. It opened the former in the 1970s with 500 housing units for low-income families and administered them until several years ago. By 1975, TWO had secured a combination of private and public funding and was able to develop the Jackson Park Terrace Apartments, its most ambitious housing endeavor. An eyecatching architectural blend of townhouses and a high rise, the apartments face spacious and verdant Jackson Park along the south shore of the lake. Residents were drawn from East Wood-lawn as well as adjacent communities and represented a mix of moderate- and low-income families. During the Washington years TWO built additional units adjoining the Jackson Park Terrace development. These include a mix of housing for the elderly and for low-, moderate- and middle-income residents. Presently, TWO can boast of having developed over 1,400 housing units in the last 20 years, representing over $40 million in capital investment.
Along the lake to the north of East Woodlawn but separated from it by well-to-do Hyde Park, lie the impoverished North Kenwood and Oakland communities, home to the Kenwood Oakland Community Organization (KOCO). With 43 percent of its land base vacant, 68 percent of its families headed by single parents, and a median income level of $7,000, KOCO struggles against immeasurable odds. Founded in 1965 during the period of civil rights confrontation and self-help planning, it has struggled to improve the quality of life for community residents — usually without needed local governmental support. KOCO's president and executive director is Robert L. Lucas, a civil rights activist who joined the organization in 1969 and assumed his current position in 1975.
KOCO seeks to involve residents of North Kenwood-Oakland in the many aspects of housing revitalization. These include housing rehabilitation and summer inspections of heating systems to prevent unheated apartments in winter, as well as organizing tenant councils and locating financial resources for new housing units, such as the Woodlawn Village Townhouses. TM staff and members of KOCO can also be found promoting economic development among local businesspeople, generating job-training programs and working to prevent juvenile delinquency.
As a World War II veteran who fought for democracy and empowerment abroad while he served in Europe, Lucas envisioned a better future for African Americans after the war, Instead, difficulties with the city government, then under the control of Mayor Richard J. Daley's Democratic machine, became the norm. For example, during the 1960s and 1970s Daley refused to allow federally mandated community development advisory committees to be established. As a result, the needed mechanism for funding housing was crippled. Under succeeding mayors Michael A. Bilandic and Jane Bryne, participatory democracy appeared to be served with the establishment of advisory committees on the spending of federal funds. This was done, however, without any semblance of meaningful participation leading to control over actual spending.
Lucas recalled earlier this year that the Washington era brought in a new standard for the government-community organization relationship. He said that "when Mayor Washington turned over the first spade of dirt to break ground last November [1987] for KOCO's 70 townhouses, he launched the first private housing construction that our community had seen in decades. I think that it is significant that Harold gave this new life to our community on the same day that his life tragically ended."
Even after Washington's election, the struggle against exclusion continued. Lucas remembers how in 1984 KOCO threatened to sit-in at the office of the City Council's Finance Committee, headed by Ald. Edward Burke, to protest Burke's deliberate interference with the distribution of federally mandated Community Development Block Grant funds to underprivileged neighborhoods. This was a manifestation of Council Wars at its worst.
But Washington, another war veteran, won the day. Lucas says that "government under Harold Washington was very open. I remember going down to City Hall on Saturdays and getting involved in governance. Harold did more than make you
July 1989 | Illinois Issues | 20
---
feel as though you were just part of the process. You were, in feet, a part."
The recently completed townhouses shine as beacons in Kenwood-Oakland's bleak landscape, showing what can be done to improve the community. KOCO is now planning to build a commercial shopping strip on its southern perimeter along 47th Street to revitalize the neighborhood. Perhaps KOCO's proudest accomplishment is its having produced 350 completed housing units over the last 14 years, 70 of which are new townhouses and the remainder rehabilitations.
Due west of the Loop is one of the city's oldest communities, Near West, and adjacent to it, East Garfield Park. This is the area in which the Midwest Community Council has been active for several decades. Midwest was originally formed in 1946 by white businessmen when the area was the scene of several thriving commercial strips, especially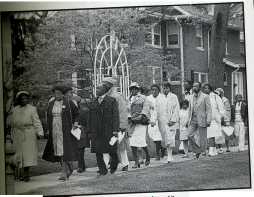 Members of the Interfaith Organizing Project from Chicago's Near West community, picket the Winnetka residence of Chicago Bears' president Michael McCaskey. They were protesting development plans for the proposed controversial Chicago Bears Stadium in their neighborhood. Photo courtesy Interfaith Organizing Project

along the two miles on west Madison Street from the Chicago Stadium (home to the Bulls and the Blackhawks) to spacious Garfield Park. The two decades following Midwest's founding brought a retreat of heavy and light manufacturing from the area and subsequent unemployment, racial change, political dependency and all the ills of urban blight that adversely affect human beings and neighborhoods.

Since the rioting in 1968, the Midwest Community Council has been led by community activist and former staff member Nancy B. Jefferson. She now serves as chief executive officer and president of the organization. As with TWO, the heart of the Midwest Community Council is its network of block clubs that crisscrosses the greater west side, even beyond the council's service area. Jefferson, whose compassion and matronly bearing have earned her the sobriquet of the area's "Mother Theresa," envisions Midwest's task as "Making the Westside the Bestside." This also serves as the group's slogan and battle cry when confronting widespread crime, environmental problems, unwholesome conditions in the city's park system, education issues or citizens' lethargy. Adding to Jefferson's magnetism is her active participation on the city's police board and other agencies. She has developed a reputation among the people of Chicago as a person who gets things done, even at the sacrifice of her own health.

Realizing that solving housing needs would also impact positively on the area's crushing unemployment problem, Midwest has sought to combine housing and jobs whenever possible. Sometimes this has required direct action, such as was taken in the mid-1980s. Executive director Joseph L. Banks, who has been working with Jefferson since 1976, recalls that "unfortunately, it had become a historical fact that blacks usually found themselves looking through the fences of construction projects, seeing other people from outside their community working and earning a living while they remained unemployed." In response to this situation, scores of able-bodied, ambitious men gathered under the Midwest banner to seek work at various construction sites throughout the community. The men arrived at one site at 4 a.m., laden with tools and ready to work. Banks says that the construction company's managers called the police, but what they ecountered were not troublemakers but citizens ' 'ready to work, not armed to fight.'' Negotiations ensued on the spot, and part of the group was employed.

Beyond direct action such as the construction site picketing by its Thursday Night Men's Task Force, Midwest has completed projects to improve housing owned or rented by senior citizens. It is now making plans for new housing construction for low- and moderate-income families in the western end of Near West within a half mile of the proposed controversial Chicago Bears stadium site. Banks explains with a profound sense of gratitude that "Washington empowered us. Who would imagine before Washington's administration that the owner of the Chicago Stadium would call Midwest's president Nancy B. Jefferson directly regarding development of the area surrounding the stadium?"

While the Midwest Community Council supported stadium development as an overall benefit that would revitalize the area, a group of west side clergy in the area surrounding the Chicago Stadium arrived at a different assessment. These clergy, black and white, Protestant and Catholic, formed the Interfaith Organizing Project (IOP) in 1985. Their purpose was to challenge uncontrolled, exploitative real estate development in several square miles immediately surrounding the medical complex that encompasses Cook County, University of Illinois Research and Rush-Presbyterian hospitals. The medical complex is adjacent to the Chicago Stadium. Once the owners of the Chicago Bears showed an interest in some of the same land, IOP sprang into action.

Where Midwest and Mayor Washington saw development with neighborhood benefit in the area next to the stadium, IOP, according to group spokesman Ed Shurna, saw "displacement after years of deliberate neglect." At this point, he says, IOP committed itself to fight against "deconcentration of the poor for the benefit of the rich'' and even took its displeasure to the doors of the Bears' owner. Despite a reputation of being anti-development, IOP was never anti-development, only anti-




July 1989 | Illinois Issues | 21
---
The work done, the deed was conferred in 1987 to the Guyon Hotel, restored with 114 housing units and eight storefronts through the efforts of the Bethel New Life Community Development Organization. At the celebration are Mayor Harold Washington (center) and Mary L. Nelson of Bethel New Life (at far right). Photo courtesy Bethel New Life
exploitation, according to Shurna. It is now looking over its own plans for developing the area around the Chicago stadium but is having difficulty in securing funding from either private or public sources.
Serving the West Garfield Park and East Austin communities directly west of East Garfield Park is Bethel New Life, Inc. and the Bethel New Life Community Development Organization under the directorship of Mary L. Nelson. Bethel was founded in April 1979 by Nelson, a former civil rights activist and the daughter of Lutheran missionaries. This white, middle-aged woman has infused religious energy and strength into economically depressed, physically blighted, all-black West Garfield. A quote from Scriptures (Matthew 19:26) displayed in a Bethel publication shows where the group believes it finds its source of strength and confidence: "He looked straight at them and answered, 'This is impossible to man, but for God, everything is
---
---
Very similar in the scope
of its myriad activities to
TWO, Bethel can be
credited with completing
400 housing units since its
formation in April 1979
---
---
possible.' "

Bethel's programs for recycling, holistic health care, family and group counseling, adult day care, infant mortality reduction, and employment and training complement its comprehensive housing program. Jimmy and Rosalind Carter were hosted by Bethel in the summer of 1986. The former president and first lady lived on the city's west side and worked in a group of 120 volunteers. Their job was to build four houses in one week from scratch. Another project completed in 1985-1986 had Bethel renovating a former public school building on west Madison Street and converting it into an apartment-education complex.

Political change at City Hall in 1983 made a difference in Bethel's activities. Nelson says that once Washington came into office, "he opened the doors to the corporate world [for financing] and we didn't have to go begging anymore." She adds, "He brought us to the bargaining table where before there had just been corporate and political types." Quoted in the neighborhood-oriented publication, One City, in 1988, Nelson assessed the Washington years: "... here was a public servant who was indeed committed to neighborhoods, who instructed the departments of government [to include us in] decision making. . . . Those of us who in the 1960s had to struggle, to protest and to reject so many things now had to change gears."

Through Bethel's commitment to man and God, new town-houses were built, apartments rehabbed in previously abandoned "three flats" and affordable modules constructed as community showpieces. Even a former luxury hotel, the Guyon, has been restored with its 114 housing units and eight storefronts. The mix in several of these units, interestingly enough, is not only low- and moderate-income but includes some middle-income residents also.

Very similar in the scope of its myriad activities to TWO, Bethel can be credited with completing 400 housing units since its formation in April 1979. Impressively, an additional 350 are on the drawing boards. To date, Bethel has completed work with a value of $37 million, proving that the organization's motto, "Development without Displacement," is possible.

The Washington legacy of civic empowerment is in danger at present for several reasons. In the area of economic development, the funds that Washington distributed so fairly to neighborhoods are drying up as the federal government continues its budgetary retrenchment. Funding from the private sector is of great importance in sustaining the civic housing thrust, but the private sector alone will never solve the city's or the nation's housing problem. In the area of politics, after the recent election of Richard M. Daley as Chicago's mayor, many neighborhood groups fear that the downtown economic focus of Daley the Elder will be instituted again, much to the detriment of Harold Washington's legacy of "bedrock democracy." Chicago's neighborhoods are waiting to see what he does.

Associate professor of history at Roosevelt University, Christopher Robert Reed writes extensively on African-American organizations and ideas.




July 1989 | Illinois Issues | 22

---
Illinois Periodicals Online (IPO) is a digital imaging project at the Northern Illinois University Libraries funded by the Illinois State Library