---
---
By RAY LONG and PEGGY BOYER
---
Chicago to Kansas City toll way: One privatization possibility in U.S. transportation?
In 1836, Gov. Joseph Duncan called for private enterprise to bear most of the cost of a massive transportation program to build canals and railroads throughout Illinois. Despite Duncan's position, Abraham Lincoln and a band of lawmakers shoved through a $10 million proposal — an enormous sum in those days — to fund these "internal improvements" with public bond money. Although their funding ideas differed, Duncan and Lincoln, both Whigs, saw the transportation improvement program as a key to invigorating economic development. When Duncan vetoed the public-financed plan, Lincoln and his fellow legislators in the Vandalia statehouse overrode the governor's action. By ignoring Duncan, these frontier lawmakers plunged the state into a crippling debt that was not repaid until 1882 — 17 years after Lincoln's assassination.
Even by 1842, the Illinois legislature had decided to let private enterprise intervene in transportation matters — sustaining Duncan's foresight if not his earlier veto. Within a decade, the state began granting railroad charters to investor-owned railroads, spurring widespread investment in the 1850s.
In the 1990s, the same laws may be a model for building a private tollway between Chicago and Kansas City. Indeed, Duncan would be smiling today. With state and federal highway dollars at a premium, central Illinois' state and local officials now are looking to the private sector to spur economic development by building a 400-mile tollway between Chicago and Kansas City, Mo. The price tag could be more than $4 billion, but the dollars would come mostly from private investors. Pending in the Illinois General Assembly is legislation, sponsored by Pekin Sen. Richard Luft, (D-46th), that is ready if needed, to help pave the way for a road that some believe could become the Mid-American version of Germany's high-speed Autobahn.
Proponents hope a $400,000 federal study secured by U.S. House Minority Leader Robert Michel of Peoria will show that such a privately financed roadway could succeed. As in Lincoln's days, proponents argue that improving transportation could bring with it private investments in cities along the route. The long-term economic vitality of west central Illinois, including the region known as "Forgottonia" because of its stunted road growth, may depend on the eventual outcome of this push.
Indeed, it could be an integral part of a whole new era in building roads throughout the nation. The International Bridge, Tunnel and Turnpike Association reports 16 states are considering whether to build 882 miles of tollways at a price of $8.5 billion. The lion's share is in urban areas such as Chicago, Dallas, Houston, Denver and Washington, D.C. But the eyes of the nation could be looking at the proposed 400-mile stretch between Chicago and Kansas City, Mo. The Reason Foundation of Santa Monica, Calif., called the Chicago-Kansas City proposal the "most ambitious" project to date. Eugene McCormick, deputy administrator of the Federal Highway Administration, said the study of the proposed tollway could become a blueprint for other projects throughout the country even if it isn't used in Illinois. McCormick formerly was the deputy secretary of the Illinois Department of Transportation. "If it doesn't happen here, it's because it's impossible to do it," Luft said. "If we explore this, and the conclusion comes out for it, then we will effectively put more people to work and create a potential for our area that has not been seen for years and years."
McCormick's boss, U.S. Transportation Secy. Samuel K. Skinner, formerly was chairman of Illinois' Regional Transportation Authority. He could have been talking about the Chicago to Kansas City proposal when he said recently in a speech in Washington: "You may see more tollroads and creation of financing mechanisms not yet imagined. All these developments reflect the need for a new public-private partnership in U.S. I transportation."
No specific route has been chosen. In general, however, the tollway would start near interstates south of Chicago, swing to or near Peoria and sweep close to Canton, Macomb and Quincy and on through northern Missouri.
Luft became involved after the Greater Peoria Airport Authority spent several months in 1987 researching the tollway concept. The authority, according to former chairman Gerald Shaheen, wanted to spur business activity in the region, which had been almost ripped apart by recession earlier this decade. Furthermore, Shaheen said, such a tollway also could help the airport grow into a major hub for air freight business. Customers, for example, could fly freight into the Peoria airport, transfer it to other planes or shuttle it by truck to Chicago, St. Louis and Kansas City.
Although the idea of building a major roadway between Chicago and Kansas City has risen and fallen in the past, current advocates question why. Ron Burling, director of airports at Peoria, said he was amazed that the idea never became a reality. It has been kicked around for decades. In 1956, Congress
December 1989 | Illinois Issues | 16
---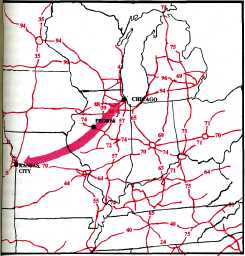 passed legislation to establish the interstate highway system, a creation of President Dwight Eisenhower designed for national defense. The state's north-south route between Chicago and St. Louis skipped Peoria and went 40 miles east to Bloomington instead. In 1967, the state of Illinois unveiled a freeway system that had a similar Kansas City to Chicago circuit via Peoria. A year later, Kansas City consultant Frank Gilmore said a four-lane corridor "would fill an important gap" in the interstate highway system.
But costs, as well as farmers' concerns that fertile soil would be covered by concrete, eventually killed the proposal. That is why Burling is now seeking financing outside the public sector. "We cannot grow as a regional trading center without a strong network of roads," Burling said. "This gives us a place on Main Street America."
A. James Heins, a University of Illinois economics professor who worked on the study, said the toll way would boost the economies of a dozen west-central Illinois counties. "That area could experience a boom, or at least a mini-boom, if the toll-way were built," Heins said. Had the tollway been built two decades ago, Heins estimated, the counties studied would have had 82,000 more jobs, $540 million in additional personal income, $1 billion more in retail sales and another 126,000 in population over what they had in the early 1980s. "We are going to be headed toward more direct pricing of transportation, and that area would have a leg up," Heins said. "This is the way the country is going to go, and central Illinois could reap a national advantage."
During the last two years, Luft, airport officials and mayors from several cities have romped up and down the potential route to drum up support. One of the first meetings was with Chicago Mayor Harold Washington. "One wondered why it hadn't been done before," Washington said at the time. "But suffice it to say it's being thought of strongly now. It's a challenge, a real challenge. With federal largess being minimal as it is, one has to look for the funding sources." Advocates are now trying to set up a meeting with current Chicago Mayor Richard M. Daley.
The financial and engineering study — conducted in part by Price Waterhouse of Washington, D.C., and by Howard Needles Tammen and Bergendoff of Kansas City — was to be released late in November. Central Illinoisans have been looking for a go-ahead sign — one that may reflect what Kentucky legislators have concluded: "We must continue to pursue our toll road program and actively and diligently develop industry and manufacturing opportunities by building toll roads to access rural Kentucky."
The current study is aimed at finding innovative financing and engineering techniques to make the tollway a reality rather than to determine whether it is simply feasible under current highway building methods. Dan Dees, deputy director of planning and programs of the Illinois Department of Transportation, has challenged the consultants to use their imaginations in trying to find a way for this project to work. "I've used it as an idea to expand people's minds," Dees said. "Maybe this is the forerunner of a new generation. It's the new music, the new wave. What we're saying is: Don't be limited by the present. If it can work in Germany, don't ignore it."
With the challenge to be creative, officials have explored whether an Autobahn-like tollway allowing speeds as high as 100 mph could be part of the solution. With such driving, the nine-and-one-half- to 10-hour trip between Chicago and Kansas City via St. Louis or the Quad Cities could be sliced nearly in half — to five hours. Even a more direct route without higher speeds could lop off up to two and one-half hours.
Consultants have already discounted some ideas bandied about during the initial stages. For example, running high-speed trains in the same corridor would not pay off, and putting oil or gas lines along the same stretch would pose too great of a danger. But building stronger roads to allow heavier trucks to travel across the tollway is a thought under consideration.
The final price tag would be determined by how the road would be used — or if it could be connected with any existing highways. If linked to current roads, for instance, the tollway would save about $800 million but still cost $1.5 billion. If an entirely separate toll road were built to accommodate high speeds and heavy truck loads, then the overall cost could be more than $4 billion.
Besides tolls, a variety of money-making techniques are being explored. They include gaining profits from renting land next to the exit ramps and using sales taxes generated by new businesses along the way. "Land values for maybe 20 or 30 miles around the interchanges would go up significantly," said Peoria Mayor Jim Maloof, a realtor and enthusiastic backer of the tollway. "Its potential is unlimited."
Perhaps the most intriguing concept that has been explored is to sell stocks. Two European transportation projects targeted as possible models for funding the Chicago to Kansas City tollway have sold shares of stock to the public. And both ventures have watched the value of those stocks rise. Heathrow Airport Ltd. at
December 1989 | Illinois Issues | 17
---
London and six other airports in England were sold two years ago by the British government to individual investors, including employees. About the same time, shares were sold in the 31-mile underwater tunnel between England and France.
In England, the idea of putting the publicly owned airports into the hands of the private sector was part of a push by politicians to increase privatization, said Mike Bates, spokesman for Prime Minister Margaret Thatcher. "It's very much in line with giving industry back to the private sector — increase efficiency and all that." Edward Townsend of BAA, the airports' private-sector owner and operator, called it the only major privatized airport group in the world. "For years, the major airports around here were government-owned. Shares were floated to the public and put on the British stock exchange. Now, it's a purely private sector company. There is no public sector interest, in monetary terms." Almost one million individuals invested, many of whom were airport workers, and several institutions invested pension funds, Townsend said. They have realized modest gains.
Even grander in scope is the Eurotunnel below the English Channel. In all, three tunnels will be built: two for trains traveling in opposite directions and the third for maintenance, said John Weaver, Eurotunnel spokesman. Cars, trucks, freight and passengers would be loaded onto these trains. Governments of both countries have agreed to supply half of the total traffic and agreed with Eurotunnel that no other entity will be allowed to build a tunnel between the two countries for 55 years. Also a long-term investment, the Eurotunnel stocks were issued in November 1987 at 3 pounds and 50 pence (One British pound is roughly equivalent to $1.70, and 100 pence equals one pound.), and dividends are not expected until 1993.
Besides selling stocks, consultants have looked at whether the Chicago to Kansas City tollway could be extended west through Arizona and linked eastward to major routes connecting Illinois with Indiana and Michigan. Under such a theory, the toll-way potentially could be a "truck bridge" for big rigs that carry loads heavier than the 40-ton limit in Illinois. Massachusetts, New York, Ohio and Indiana to the east, and Kansas and many western states allow the heavier loads on their roads, said Dees of the Illinois Department of Transportation. Hooking the road up to other major interstates or toll roads near Chicago could provide an Illinois link to truckers traveling across the country with huge loads, Dees said.
Major roadblocks to the tollway include opposition from St. Louis and the Quad Cities officials, who believe such a tollway would cut down on the number of travelers to their areas. Former St. Louis County executive Gene McNary labeled a tollway's potential impact on the economy there as devastating because it could pull traffic away from Interstate 55. Missouri's legislators failed to muster support for getting the toll road through the Show Me state this year, but it is likely to be introduced again in 1990. Robert McGregor, the head of the Chamber of Commerce of Greater Kansas City, has concluded the road should have been built a "long time ago." So quoted the Kansas City Times of former Kansas City, Mo., Mayor Ilus W. Davis: "It's the missing link. We have enormous commercial connections to Chicago. We're hurt every day by not having this road."
"This is a very complex mix of new things that have never been tried before," said Wayne Muri, chief engineer of the Missouri Highway and Transportation Department. "Each one of those is going to be somewhat controversial. In Missouri, on some of those we won't have full agreement. The door is open to anything and everything. Even if we have to change the law to make it happen, we're open to that. Major projects of this nature can no longer be funded in this country without looking at tolls and privatization. The public money isn't there anymore."
Iowa Gov. Terry Branstad, a Republican, issued an outright condemnation of the proposed tollway, saying Interstate 80 would lose traffic going through Iowa and that the potentially high speeds would be dangerous. "I don't think it's very well thought out," said Branstad, who chairs the National Governors' Association (NGA). "An interstate highway system has been put in place in this country. There may be need for additional improvement and expansion of that system. But I think it would be inappropriate to start building private tollways – a private tollway that wouldn't be subject to the speed limit laws."
When asked about the Chicago to Kansas City proposal two years ago, Gov. James R. Thompson seemed luke-warm, doubting the traffic on the road would justify its cost and construction. He still is wary. Last summer Thompson headed an NGA task force that concluded states should forge partnerships with local governments and the private sector when upgrading their roadway and transportation needs. But Thompson stopped short of suggesting such methods could work for a project as huge as the Chicago to Kansas City proposal. "You have to draw the line — for now — in terms of scale," Thompson said. "What we were trying to do in the report was to get people to talk about the concept of privatization as an alternative to simply letting the needed public infrastructure go for lack of current public financing."
Years ago, Gov. James R. Thompson seemed lukewarm, doubting the traffic on the road would justify its cost and construction. President of the Midwest Truckers Association in Springfield: "That's been a dream for years." If truckers would have to pay tolls, Jasmon said, he would be opposed because truckers already pay high fuel and license fees to support the roads.
Indeed, whether personal and commercial time savings in the 1990s will be worth the estimated $10 or more to travelers may ultimately determine the fate of the project. Like their early 19th century counterparts, some contemporary central Illinoisans hope they can promote economic development with better transportation. The conclusion of the Peoria airport group's two-year-old preliminary report could well have been the thoughts of either Duncan or Lincoln: "If we failed to acknowledge our parochialism and continue practicing political isolation, we will continue to whither, while our neighbors to the east, north and south profit from our folly. What better time than now to do what has to be done?"
Ray Long is a Statehouse correspondent for the Peoria Journal Star. Peggy Boyer is Statehouse bureau chief for Sangamon State University's WSSU-FM, the anchor station of the Illinois Public Radio Network.
December 1989 | Illinois Issues | 18

---