---
Names
---
Carey named Teacher of the Year, Distinguished Educator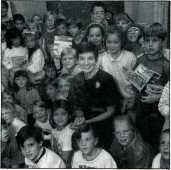 September and October were pretty stellar months for an elementary teacher in Glen Ellyn School District 41. Joyce Carey was selected as Illinois' 1989-90 Teacher of the Year in late September and then, in early October, was one of a dozen individuals recognized as Distinguished Educators. (See more about these awards below.)
Selected for the honor by the State Board of Education, Carey will now represent Illinois in the National Teacher of the Year program sponsored by Good Housekeeping, the Council of Chief State School Officers and Encyclopaedia Britannica.
Carey, who teaches 52 second and third graders at Benjamin Franklin School, will receive a $10,000 stipend and a tuition waiver to pursue graduate work at a state university. She will spend the 1990 spring semester speaking to education and civic groups and conducting workshops.
Carey has spent the past 19 years, including several at a British school in Belgium, in front of a class of students. She has been in District 41 since 1985.
Carey believes teachers have a responsibility to nurture the natural love of learning that children bring with them to school. She also emphasizes cooperation among her students in an effort to encourage greater appreciation of the talents of others.
Carey's cooperative spirit includes a strong partnership with parents. They are kept abreast of their children's progress and behavior — both good and bad. Parents are also encouraged to take an active part in the education process both at home and at school.
A graduate of Northeastern University in Chicago, Carey has a bachelor's degree in kindergarten/primary education and a master's in special education/learning disabilities.
Top educators honored
Eight teachers and four principals were named Distinguished Educators by State Supt. of Education Robert Leininger in early October. Each winner will receive $25,000 to spend as he or she wishes.
The winners, who were selected by a committee of educators and parents, include: Deborah Anderson, a learning disability teacher at Christopher School in Chicago; Joyce Carey; Phyllis Cheaney, a principal at Lincoln School in Springfield; Elizabeth Clemons, a fourth grade teacher at St. Augustine of Canterbury in Belleville; Louise Coleman, a principal at Taft Elementary School in Joliet; Robert Cross, a principal at Century elementary and high schools in Ullin; Patricia Grimmer, a social studies teacher at Carbondale High School; Mark Jordan, a music teacher at Gompers Fine Arts Option School on Chicago's South Side; Craig Lindvahl, an instrumental music teacher at Teutopolis grade and high schools; Arthur Reisman, an English teacher at East Leyden High School in Franklin Park; Gayle Richter, an English and gifted education teacher at Zion-Benton High School in Zion; and Rodolfo Serna, a former principal at Kelvyn Park High School in Chicago and currently assistant superintendent for language and cultural education for the Chicago public school system.
The awards program is sponsored by the State Board of Education and the Milken Family Foundation of Encino, Calif. The foundation finances awards programs for top educators in Illinois, California, Nevada and Connecticut. It also gives grants for human welfare, health care and medical research programs.
Ryan to step down from state's high court
Illinois Supreme Court Justice Howard Ryan will step down from the high court in December 1990, six years before his present term expires. Ryan's departure means that the Supreme Court will seat two newly elected justices in 1991. Justice John Stamos announced earlier that he would not seek election in 1990.
Ryan, a 73-year-old Republican from Tonica in LaSalle County, reportedly is announcing his retirement now so that candidates for the balance of his term can participate in the March primary and the 1990 general election in November. He has no specific retirement plans but expects to continue his involvement with the legal system.
Ryan began his judicial career in 1954 after being elected a LaSalle County judge. In 1957 Ryan was elected a judge of the 13th Judicial Circuit, serving as chief judge from 1964 to 1968 when he was elected to the 3rd District Appellate Court. Two years later, Ryan was elected to the Illinois Supreme Court.
During his tenure on the high court, Ryan has worked to reduce delays in criminal case appeals and has been a vocal advocate of mandatory arbitration in civil suits involving $15,000 or less in damages.
Boards and commissions
Gov. James R. Thompson announced a series of appointments and reappointments to various Illinois boards and commissions in September. Unless otherwise noted, the appointments were effective immediately, require Senate confirmation and pay expenses only.
Illinois Community College Board: Re-appointed was Harry L. Crisp II of Marion, board chairman of the Marion Pepsi-Cola Bottling Company. Crisp serves as the community college board chairman too. The 12-member board determines standards for establishing community colleges, provides statewide planning for Illinois' community college network and has final approval over new units of instruction at these colleges. Members serve six-year terms.
Judicial Inquiry Board: Patrick F. Mudron of Joliet, a broker with John Manner Insurance Agency, was reappointed to the board. He will serve until May 30, 1993. The board has nine members, seven appointed by the governor and two appointed by the Supreme Court. It has the authority to conduct investigations, receive or initiate complaints concerning a judicial officer and file complaints with the Illinois Courts Commission. Board members who are not judges receive expenses plus $100 per diem; judges receive expenses only. Appointments to the board do not require Senate confirmation.
Illinois Math and Science Academy Board of Trustees: Appointed to the board was George Rink of Murphysboro, a research geneticist with the U.S. Department of Agriculture's Forest Service in Carbondale. He replaced Walter Massey. The appointment, which expires October 1, 1995, does not require Senate confirmation.
Edgar taps Hendren for campaign manager
H. Carter Hendren, a long-time associate and nationally respected political strategist, is again managing an election campaign for Secy. of State Jim Edgar. The Republican candidate for governor made the announcement in mid-August. Hendren, who was chief of staff for the GOP leadership in the Illinois Senate when the appointment was made, managed Edgar's first campaign for secretary of state in 1982.
Hendren was a student at Eastern Illinois University-Charleston when he became involved in Edgar's first campaign for public office —
Continued on page 28
December 1989 | Illinois Issues | 26
---
Continued from page 26
an unsuccessful 1974 bid to represent eastern Illinois' 53rd District. The Albion native then joined state government as an intern in the Illinois Senate, later serving as chief of staff for the Senate GOP (1978-81). When Edgar was appointed by Gov. Thompson to complete Alan Dixon's term as secretary of state, Hendren became one of his senior staff members.
In addition to campaigning for Edgar, Hendren served as campaign manager for the unsuccessful reelection effort of U.S. Sen Charles H. Percy in 1984. He left Illinois in 1985 to direct the operations of GOPAC, a Washington, D.C.-based organization that focused on electing Republicans to state legislatures from predominantly Democratic districts. In 1987, Hendren returned to Illinois and the chief of staff position in the Senate.
Sony funds UI professorship
Sony Corp. has given the University of Illinois $3 million to fund a professorship chair to honor two-time Nobel Prize winner John Bardeen, inventor of the transistor. It is the single largest gift Sony has made to a U.S. university. The gift will be paid in six annual installments of $500,000, according to Stephen Burke, a spokesman for Sony.
The UI College of Engineering, which asked Sony to make the endowment, has formed a committee to search for the scientist who will become the John Bardeen Professor of electrical and computer engineering and physics. Bardeen, who joined the UI physics and engineering faculty in 1951 and who still conducts research as a professor emeritus, would prefer that the new professor also be a physicist and an electrical engineer.
Bardeen won the 1956 Nobel Prize in physics for inventing the transistor which revolutionized electronics. He won again in 1972 for developing the theory of superconductivity at low temperatures.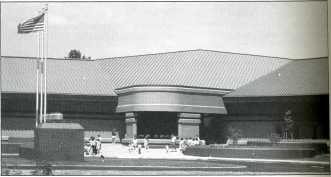 While Evelyn Voelker of the American Indian Center in St. Louis chanted a traditional Indian cedar blessing over the building, Gov. James R. Thompson unveiled a bronze dedication plaque opening the new $8.2 million Interpretive Center at Cahokia Mounds State Historic and World Heritage Site near Collinsville in October. The 33,000-square-foot center features an array of innovative exhibits and audiovisual presentations. In order to orient visitors, they are first shown "City of the Sun," a wide-screen, multi-media production that transports the viewer back to the city as it appeared in 1100 A.D. Highlighting the exhibit gallery is the "Mirrored Urban Tableau," a full-scale walk-through diorama of a Cahokian urban neighborhood, complete with life-sized huts, Indian figures and realistic environment.

Cahokia Mounds is a 2,200-acre state-owned historic site and is administered by the Illinois Historic Preservation Agency. The remains of the central section of the largest prehistoric Indian city north of Mexico are preserved at the site. In 1982, the United Nations designated Cahokia Mounds a World Heritage Site, an honor given to only 14 other sites in the U.S.
New group to study aging in the '90s
A recently appointed steering committee will lead a group of 90 individuals that will help the Department of Aging assess the effects of an aging society and make plans for the next decade. Called "Ninety for the '90s," the group includes representatives from the fields of business and labor, education, communications, health and religion. Advocates for women and minorities, children and the elderly are also included.
"The demographics of aging result in challenges that the aging network cannot begin to address single-handedly. We need to reach out to other networks that also have a stake in the future of the family and the future of the workplace," said department director Janet Otwell, who is also serving as chairperson of the steering committee.
Besides Otwell, steering committee members include Mary Ellen Barry, past president of the League of Women Voters of Illinois; Joseph Cardinal Bernardin of the Archdiocese of Chicago; Lester Brann, president of the Illinois State Chamber of Commerce; Dr. Jacob Brody, dean of the University of Illinois' School of Public Health; Dan Cosgrove, community services director for the Illinois AFL/CIO; Janet B. Ellis, vice president of the Illinois Association of Area Agencies on Aging; Caroline Gherardini, editor of Illinois Issues; Rev. Donald Hallberg, president of Lutheran Social Services of Illinois; Brian Hofland, vice president of the Retirement Research Foundation; Tom Jones, president of the Chicago metropolitan chapter of the National Caucus and Center on Black Aged; Diana Nelson, vice president of Harris Trust and Savings Bank; James O'Connor, chairman and chief executive officer of Commonwealth Edison; Harold Richman, director of the University of Chicago's Chapin Hall Center for Children; Dr. William Westberg, state director of the American Association of Retired Persons; Barbara Wheeler, president of the Illinois Association of School Boards; and Frank Zimmerman, chief executive officer of Illinois Bell.
The steering committee's first meeting was held in late September. It plans to conduct a series of roundtables tentatively scheduled for Carbondale, Chicago, Rock Island, Rockford and Springfield. Other downstate locations will be added at a later date.
Committee members have been given three responsibilities. First, they will react to specific demographic information and provide input on how their particular environment is affected by these demographics. Second, they will examine how the perceptions of today's elderly might influence future resource allocations for social programs. Finally, they will formulate action ideas on how various entities — such as corporations, schools, community groups and churches — can play an active role in promoting activities that benefit older people and their families. Findings will be published in early 1990.
Groundbreaking for new education center at Fermilab
U.S. Secy. of Energy James D. Watkins broke ground October 7 for a new science education center at the Fermi National Accelerator Laboratory in Batavia. In his speech, Watkins underscored his department's commitment to improving math and science education in the U.S. "The Science Education Center at Fermilab will provide a new centralized home for the innovative elementary and secondary education programs which have developed here at Fermilab over the past 10 years," Watkins said.
The center, which will cost $1.2 million, will have 11,300 square feet of classroom, exhibit, office and lecture hall space. It will house
December 1989 | Illinois Issues | 28
---
Fermilab's pre-college community education programs, including activity-based investigations related to such current research topics as the search for the top quark, superconductivity and the Big Bang theory. Although such programs already exist, the center will provide Fermilab with a dedicated area for these educational activities. Such focusing of resources is expected to improve the programs' effectiveness and make them more accessible to students and the public.
Robert R. Wilson, Fermilab's founding director, assisted in the design of the center.
IASB names new executive director
Wayne Sampson of Morton was named executive director of the Illinois Association of School Boards (IASB) by the group's board of directors on September 17. He fills the post vacated in August by Harold P. Seamon who accepted a position with the National School Boards Association. Sampson, who was a member of the Morton Community Unit District 709 board of education for nearly 12 years, had served as IASB assistant executive director for government relations since April 1988. He had been the association's president in 1986 and 1987. Sampson is also a past president of the Illinois Vocational Association, has taught high school and is a former professor of agriculture at Illinois College.
Gerald R. Glaub had served as interim executive director after Seamon's departure. Glaub, who has been with the association since 1969, is the assistant director for communications.
Joining the IASB staff as assistant director of governmental relations, was Peter S. Weber. Previously director of governmental relations for the Federation of Independent Illinois Colleges and Universities, Weber will work out of the IASB's Springfield office. He formerly worked as a staff policy analyst for the Illinois House Republicans and as a precinct coordinator in the 94th legislative district.
Daniels assumes NCSL presidency
Illinois House Minority Leader Lee Daniels (R-46, Addison) assumes leadership of the National Conference of State Legislatures (NCSL) this month. He was elected by the group's membership at the annual NCSL convention in August. Daniels had been serving as president-elect. He has been a member of the organization since 1975, his first year in the Illinois House. From 1985-86 Daniels served as chairman of the NCSL's State-Federal Assembly and he has served five terms as a member of the organization's executive committee. He has been minority leader since 1983.
Continued on page 31
December 1989 | Illinois Issues | 29
---
Continued from page 29
The NCSL is the national lobbying organization for the 50 state legislatures. It has more than 7,500 members and maintains a full-time staff. Dedicated to promoting the interests of state legislatures in the nation's capital, the NCSL has in recent years supported raising the speed limit to 65 m.p.h. and minimizing cuts in federal revenue sharing.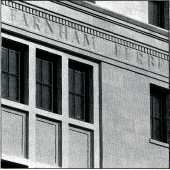 Quickly now, what do Black Hawk, Ernest Hemingway, Abraham Lincoln and Studs Terkel have in common? At first glance, it may seem that they share very little, but a close examination of the new Illinois State Library reveals a common thread uniting these individuals. They are among the 34 Illinois authors whose names have been inscribed in the stone facing around the top of the new library.

The library, which may open as early as next spring, had two criteria for inclusion of someone as an Illinois author. First, the person must have been born in Illinois or have considered themselves a resident of the state at some point. Second, his or her works must have been published (no simple editors, compilers or illustrators here). Poets, journalists, novelists, screen writers, lyricists, essayists and textbook writers are all included within the library's definition.

Nominations of authors were gathered from a large panel of experts and were winnowed down to the final 34. Six of the authors are still living.
SIU professor to head International Council of Ethologists
Lee C. Drickamer, professor and chairperson of the Department of Zoology at Southern Illinois University-Carbondale, was elected secretary-general of the International Council of Ethologists in September. When he begins his four-year term in 1991, he will become the first North American-trained scientist to lead the organization of 42 ethologists — or animal behaviorists — from 24 nations or regions.
Early ethologists generalized their findings from animals to mankind, but modern scientists generally do not. "What I learn can't be applied to humans," according to Drickamer, whose research examines rodent behavior, "but it might serve to spark questions I could ask about humans."
During his tenure as the council's sixth secretary-general, Drickamer would like to increase the number of representatives from Africa, Eastern Europe, Latin America and Southeast Asia and to create a directory of organizations that deal with animal behavior.
Drickamer has been with SIUC since 1987. He edits "Animal Behaviour," ethology's premier monthly journal, published by the Animal Behaviour Society in London, England. He also serves on the executive committees of North America's Animal Behavior Society and the American Society of Zoologists.
Other appointments
Anthony Giardini is the new chief of the arson investigation division of the Office of the State Fire Marshal. Giardini has spent most of his adult life in some phase of fire service. For 28 years he was a fire investigator for the Rockford Fire Department. He joined the fire marshal's office in 1976.
Former Deputy Gov. James L. Fletcher is the new lobbyist in Springfield for the Chicago Convention and Visitors Bureau. The bureau hopes that Fletcher can convince legislators to increase the Windy City's allocation from the hotel/motel tax. A portion of these funds go to the convention bureau. A partner at Winston & Strawn when selected for his new post, Fletcher served as deputy governor between 1977 and 1979. He is also a past statewide campaign manager for Citizens for Thompson.
Winners of Governor's Arts Awards announced
Gov. Thompson announced that a nationally recognized dancer and choreographer, a statewide arts education advocacy organization, a major telecommunications corporation, a suburban community and the distinguished director of a world-class music festival are the recipients of the 1989 Governor's Awards for the Arts. The winners were honored at a special awards ceremony at the State of Illinois Center in Chicago in October.
Chosen for their dedication to excellence, growth and support of the arts and for making the arts available to the people of Illinois, the winners include:
Individual artist: Gus Giordano, a Chicago dancer, choreographer and teacher, is considered a master of jazz dance. His company, Gus Giordano Jazz Dance Chicago, has been an ambassador of dance in Brazil, France, the Soviet Union and Switzerland. In 1986, Giordano's dance company was one of four Illinois groups chosen by former Chicago Mayor Harold Washington to represent the city as part of the United Airlines Pacific Cultural Exchange in Japan.
Concluded on page 33
December 1989 | Illinois Issues | 31
---
Continued from page 31
Arts organization: The Illinois Alliance for Arts Education, a nonprofit statewide organization, is a coalition of educators, administrators, arts education agencies and service organizations that work toward the common goal of achieving high quality arts education in the schools through advocacy, networking and program efforts.
Corporation: Ameritech and its family of companies contributed $3.5 million to arts and cultural organizations during the past year. The corporation has underwritten a concert series featuring Illinois artists at the Kennedy Center in Washington, D.C. and it has recently become the major sponsor of the upcoming International Theatre Festival in Chicago.
Community: The city of Evanston can boast both city support and civic involvement in the arts. Evanston's thriving arts industries include 38 galleries and visual arts institutions, 20 professional music performance organizations, 10 dance companies, nine theater companies, two literary magazines, an organization of more than 50 professional writers and various arts service groups. The city's extraordinary dedication to the arts is enhanced by its emphasis on ethnic, social and cultural diversity.
Special recognition: Edward Gordon, executive director and chief operating officer of the Ravinia Festival in Highland Park, has had a distinguished career in the arts, including 32 years in arts management and a career as a concert pianist. For the past 22 years, he has guided the Ravinia Festival on a new course of artistic, financial and physical stability. Gordon is retiring this year.
Award winners were presented with a sculpture commissioned by the Illinois Arts Council and executed by Richard Hunt, an Illinois artist and former member of the Illinois Arts Council and the National Council for the Arts.
Neighborhood leaders receive $1,000 awards
Three unknown neighborhood leaders were recognized for their community efforts by the MidAmerica Leadership Foundation in October. The awards program is an expression of the foundation's aim to nurture religiously motivated but unrecognized community leadership.
The winners, who each received $1,000, were:
Charles "Bo" Delaney has lost three brothers to gang warfare in Austin, on Chicago's west side. For the past eight years, Delaney has spent thousands of hours working with teenagers at Austin High School after leaving his day job with Commonwealth Edison. A baseball and basketball organizer and coach, Delaney offers these teenagers sports as an alternative to drugs and gang violence. At his own expense, he takes his team members to professional games in Chicago and once a year to spring training in Arizona.
Biologist Reggie Jones is the principal investigator for the National Cancer Institute's smoking research intervention study. This South Side health professional has spent 30 years doing volunteer work with black youth. He strongly encourages these youth to enter professional health careers and carefully follows the individual progress of those who do through college and medical school. He initiated and directs the Annual Health Fair held at the Illinois Institute of Technology. Jones also runs young scientist programs for black youth from all over the U.S.
Denise Sims was one of eight children reared in a single-parent home in Chicago's Cabrini Green. A National Honor Society member while at Lincoln High School, Sims spent many hours each week tutoring junior high school students. She is currently a freshman at the University of Illinois at Urbana-Champaign.
Peoria woman, Sen. Vadalabene win national recreation awards
Bonnie J. Noble of Peoria and state Sen. Sam Vadalabene (D-56, Edwardsville) received 1989 Citation Awards from the National Association of State Outdoor Recreation Liaison Officers (NASORLO). Noble's award was announced in September, Vadalabene's in October. Both were nominated for the awards by the Department of Conservation.
Noble is the executive director of the Heartland Water Resources Council. The council addresses the quality and recreational development of the Illinois River and Peoria Lakes system. Noble is also a member and newly elected chairman of the Department of Conservation's advisory board and a trustee of the National Recreation and Park Association.
Known as the "father of bikeways," Vadalabene helped create the State Interagency Bikeways Council in 1973 and, during last spring's legislative session, sponsored the Illinois Bicycle Trails Act which won legislative approval in June. Vadalabene also chairs the Mississippi River Parkway Advisory Council which encourages promotion and preservation efforts along the Great River Road. Currently the council is seeking federal designation of a Mississippi River National Heritage Corridor.
The Citation Award is a certificate of recognition awarded annually by the NASORLO — a national organization of state ahd territorial officials — to acknowledge significant accomplishments of individuals who assist in providing park and recreation opportunities to the public. □
December 1989 | Illinois Issues | 33

---