By TOM ANDREOLI
Will County executive: New office takes hold under Adelman
On paper, Charles Adelman looks like the most powerful county politician in Illinois — aside from the Cook County Board president. In an upset victory 18 months ago, Adelman became the first chief executive officer of Will County, the first Illinois county to adopt the "county executive" form of government. Under the new regime, Adelman holds the executive powers and the county board holds the legislative authority, in theory mimicking the separation of powers at the state and federal levels. As a popularly elected leader, the county executive also should function as a political lightening rod on divisive countywide issues. At least, that's the paradigm, evolved over the past 20 years in fast-growing, urban counties on the East Coast.
Heavily Republican Will County, however, was never supposed to elect Democrat Adelman, a 55-year-old garage owner from Lockport, as its first chief executive. Indeed, Adelman initially had voted against the referendum on the new form of government in the March 1988 primary election, worrying that a Republican county executive could preclude any hope for governmental checks and balances in Will County. As defined in the Illinois County Executive Act of 1970, the county executive's authority far outstrips that of the traditional county board chairman. The county executive's primary powers are to propose the budget, to implement most county ordinances, to direct all administrative functions of county government except for those of other elected county officers and — most significantly — to exercise the veto, which the county board can override only by a three-fifths majority.
After the referendum passed, Adelman, as the Will County Democratic party chairman, was the only local Democrat willing to run. The Republicans faced a different set of problems. Personality conflicts had split the party. As a result, two slates of Republican candidates vied for nearly every countywide office — although only one candidate, then Will County Board Chairman John Annerino, ran against Adelman for county executive. The appearance of corruption within the Republican-dominated county apparatus also had alienated once-loyal voters. The eventual Republican defeat for the county executive represented an upset on the scale of a Democratic party defeat for the Cook County Board presidency.
For Adelman, the victory was sweet but the honeymoon short-lived. Since taking office, Adelman has been hamstrung by an opposition-led county board intent on keeping Will County government firmly under Republican control. As in Chicago's "Council Wars," the bitterest conflicts so far have arisen over Adelman's authority to hire and fire staff, make appointments and control the budget. Unfortunately for Adelman, the Illinois County Executive Act (originally written by state legislator and later DuPage County Board Chairman Jack Knuepfer), has proved chock full of legal vagaries that Will County Republicans have sought to exploit. Adelman is mindful of his vulnerability. "If I didn't have people watching after my butt, I'd be in a heap of crap," he concedes.
First day on the job: Following his swearing-in ceremony in December 1988, Adelman issued seven executive orders countermanding four resolutions hastily passed after the general election by the Republican's 19-8 majority on the county board. The resolutions would have tied Adelman's hands on matters from hiring, to preparing the budget, to presiding over meetings of the board. Eventually, Will County's state's attorney, Republican Edward Burmila Jr., prevailed on the combatants to throw out both sets of ultimatums. But that was just for starters. The Republicans subsequently discovered a legal glitch that undermines Adelman's authority to control the internal affairs of his own office. There is a discrepancy between the language contained in the County Executive Act and that in the Illinois statutes describing the powers of all other county officers. Specifically, all other county officers by state law are given the authority to control the internal operations of their own agencies — set salaries, hire staff, purchase supplies — once the county board has approved their annual budgets. But there is no such language anywhere, even in the County Executive Act, that gives that authority to the county executive. Again, the state's attorney intervened and convinced the board to pass a local ordinance granting the county executive the powers in question, or face four years of governmental gridlock.
Most recently, Adelman and the Republicans have locked horns over the county executive's authority to make appointments to the board governing the Will County Private Industry Council (PIC). The county board members contend that Adelman requires their advice and consent to appoint any new PIC directors. It's a hot issue because the PIC administers nearly $5 million annually in federal job-training funds. In any county, control of PIC staffing and contracts represents a ripe political
44/August & September 1990/Illinois Issues
---
Photo by Richard Foertsch/Photoprose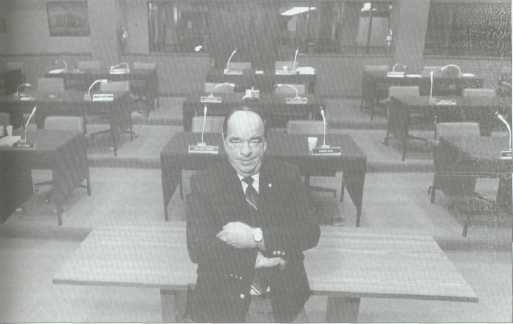 Charles Adelman, Will County's first chief executive and a Democrat, in the room where he presides over Will County's Republican-controlled board.
plum. Ironically, the Will County PIC's new executive director, hired in April, is John Annerino, whom Adelman defeated for the county executive post.
As yet, this latest intragovernmental tiff remains unresolved. As usual, State's Atty. Burmila has stepped in. And again, Burmila has sided with the county executive, interpreting federal regulations as giving Adelman sole authority over PIC appointments. Meanwhile, the county board has overridden Adelman's veto of its ordinance demanding advice-and-consent powers. The Illinois Department of Commerce and Community Affairs, which disperses job-training funds to local governments, so far has stayed on the sidelines. However, should the issue come to a head, Burmila says he is prepared to defend his legal interpretation in court.
To his credit, Burmila apparently refuses to play ball with local Republican politicos as Will County's new form of government takes hold. "The biggest problem that we've had to overcome is the understanding that [the county board] now is a legislative body and nothing more," Burmila says. "They do not have executive control and they are not a watchdog. Their specific functions are to raise money and establish a budget. It's been very difficult for them to come to grips with that, because before [the county executive form of government went into effect] the county board chairman was a member of the legislature and essentially an executive, too."
As for the political reverberations, Burmila seems resigned. "I suppose it's been hard in that sense," he reflects. "But I'm state's attorney first and a Republican officeholder second. I suppose some people thought it was just going to be business as ususal. That couldn't be the case."
In truth, Adelman's tenure hasn't been marked entirely by fractiousness and legal finagling. In June, Adelman hired a new supervisor of assessments to implement a reform of Will County's system for property-tax assessment. The reform measures, which include a housecleaning of personnel in the assessor's office, were laid out in a blue-ribbon report commissioned by Adelman last year. The report's unanimous finding: "The taxpayers in Will County are justified in their 'Lack of Confidence' in the assessment process and Assessment Administrative personnel to bring about equitable and uniform assessments at the county level." The translation: Traditionally, property-tax assessment in Will County has been marred by inefficiency and political favoritism.
"Our taxing system has always been a laughingstock," Adelman says. "Out of 102 counties in Illinois. Will County has always been the worst." Adelman's blue-ribbon committee spent little energy determining whether the county's taxing
August & September 1990/Illinois Issues/45
---
system has suffered more from inefficiency or political hanky-panky. But, discreetly, Adelman sold his reform as a cure for the former.
Last year, Adelman also was able to convince Joliet city officials to participate in a countywide "911" emergency telephone system. He did so despite the fact that Joliet could have set up its own 911 system for about half the cost. "We needed Joliet, " Adelman recalls. "So I went in there and told them, 'What you're saying basically is true. But as the leader of this county I'm telling you that we built a $25 million county jail, and there's really not anybody from the rural areas of the county in that jail. And that's $25 million versus a $900,000 deal we're looking at here.' " Adelman pauses. "I think that line of reasoning helped Joliet to come in with the county," he says.
Despite the often rough treatment, Adelman comes across as darn well pleased with his job. He says he hasn't touched a transmission since taking the oath of office. Admittedly, the county executive form still needs fine-tuning. There's plenty of confusion over his role in running county government's day-to-day operations, Adelman says. Most citizens, and bureaucrats, continue looking to the county board members to get things done. But that's coming around, Adeiman insists.
"I'm a very firm believer that time heals all wounds," he adds. "And it takes time to implement your ideas. When we hit the two-year mark [in December], we're going to really start showing that this form of government is different and is going to work."
Adelman sought, but did not get, the line-item veto power from the General Assembly this spring. Following a bare-bones budget the county board saddled him with in 1988, Adelman last year asked for a 38 percent tax hike to meet his $79 million spending plan. Most of the increase went to cover unexpectedly high operating costs at the new county jail. Adelman says that despite contract renegotiations with county workers' two largest unions, he plans to enforce a hold-the-line budget for next year. A line-item veto would have given him greater flexibility in cutting spending approved by the board.
Adelman also would like to cut the position of county administrator by year's end, thus eliminating the perception of a two-headed executive branch. He plans to ask the current county administrator to become his director of finance. Should Adelman prove successful here, the county executive form would pass a figurative point-of-no-return in Will County.
Right now, only Champaign County is in the midst of a petition drive for a referendum this November on the county executive form of government. Since Will County voters faced the question, the County Executive Act has been amended to place the referendum in the general election, rather than the spring primary. Champaign County voters twice before in 1986 and 1988 have rejected the county executive, which also has been rebuffed in Lake and Winnebago counties. Champaign County Auditor Laurel Lunt Prussing, who is pushing the county executive as a good government mechanism, points to increasing support over the past two referenda as evidence the new form finally might win approval this year. "I believe we're creeping up on it," she says. Meanwhile, in the Chicago area Lake and Kane counties this fall likely will consider referenda on electing their county board chairman countywide, as already is the case in Cook and DuPage counties.
Will County Republicans are biding their time until 1992, when no one expects them to repeat the mistakes of 1988. If the Republicans can remain united, Adelman will be a one-term county executive. In 1988 Adelman beat Annerino by 3,600 votes out of 118,000 cast. In contrast, George Bush defeated Michael Dukakis by 23,000 votes out of 123,000 cast in Will County. Lyndon B. Johnson in 1964 was the last Democratic presidential candidate to carry Will County. And the Democrats can't make official corruption an issue next time with one of their own as the incumbent.
For Will County Republicans, the county executive form holds a lot of appeal. "You're not going to get a professional in that office,'' says county board President Pro Tern Brent Hassert of Mokena, a leading contender for his party's 1992 candidacy. "You're going to get a politican. But if you can get someone who's politically savvy, who can mediate disputes, and someone who's smart enough to shore himself up where he's weak, like any good manager, then you're cooking."
Regarding Adelman, Republican leaders publicly take a pass. "He's in the difficult position of being first, and he's taking his lumps and bumps," Hassert demurs. "I can sympathize with that. And I really don't want to rap him or praise him." But the Republicans have tried to hurt Adelman politically over last year's tax increase. And Hassert does complain that Adelman hired two of his Democratic campaign workers as aides, while limiting all 27 county board members to one legislative assistant. "My only other problem would be with the lack of a quick decision process," Hassert adds.
It's arguable, though, that Adelman's inchworm approach has helped keep Will County goverment from grinding to a halt over the past two years. If Adelman is likely a one-term officeholder, he at least has established one important precedent, argues James Banovetz, professor of public administration at Northern Illinois University. "It would have been very easy for the first county executive to turn this into a Cook County style patronage office — to the victors go the spoils,'' Banovetz says. "This didn't happen."
That alone shows some concern for exercising the right public policy, rather than indulging the wrong private impulses, Banovetz continues. "The problem with Illinois government is it tends to produce people more interested in the power game than the policy output," he says. "Look at Springfield, Chicago and Cook County. The policy outputs there are incidental to playing the power game." Simply by not abusing the office of county executive — even if he had very little chance — Adelman has contributed mightily to good government in Will County. Says Banovetz: "I think what you've got going in Will County right now is a county walking on the tightrope."
Back in Joliet, on the third Thursday of every month. Charles Adelman presides over a familiar if antagonistic county board. He's friendly with all of the members, or at least pleasant. Does Adelman feel like a powerful politician? "No, I really don't know if I am or not," he sighs.
Tom Andreoli is a Chicago writer.
46/August & September 1990/Illinois Issues
---