A Leisure Education Model for Addicted Persons
By Pat O'Dea-Evans, SCAC/CTRA
Leisure education, physical fitness and other therapeutic recreation services are needed by the newly recovering person. Activity services will also be expected by the Illinois Department of Alcoholism and Substance Abuse (DASA) by July 1, 1990, as part of the regulations for residential treatment settings.
Addressing patient's leisure issues and deficits is not routinely performed in all treatment settings and is a missing component in traditional addiction treatment. The following leisure education model is designed to give a structured approach to this area of the addict's life.
Persons who have the disease of alcoholism or addiction have significant issues with their leisure. Studies have shown that alcoholics are less satisfied with leisure than their non-dependent peers (Smolensky, Martin, Lorimor, 1980). They are also more likely to be "work addicted" and passive in their leisure pursuits (Simpson, Crandall, Savage, Pavia-Krueger, 1981; Sessoms and Oakley, 1969; Sheridan, 1976). Leisure itself is problematic for addicted persons, due to the barriers their disease progression creates.
Research has also discovered a high incidence of relapse and recidivism after alcohol or addiction treatment (Gorski and Miller, 1986). Although researchers support the use of therapeutic recreation, treatment programs have done little to actually provide the groundwork for a well rounded entry into a sober leisure lifestyle. Even though leisure is a major life area, the treatment community has not addressed it consistently.
Treatment programs with physical fitness components can cite studies that boast of a significantly higher abstinence rate for their patients (Gary and Guthrie, 1972; Sinyor, Brown, Rostant and Seraganian, 1982). One would think with this supportive evidence, all alcohol and addiction treatment programs would utilize physical fitness as one of their treatment modalities, but this is far from the case. Although more in use today than ever, physical fitness and leisure education programs are not yet a part of the traditional treatment modality.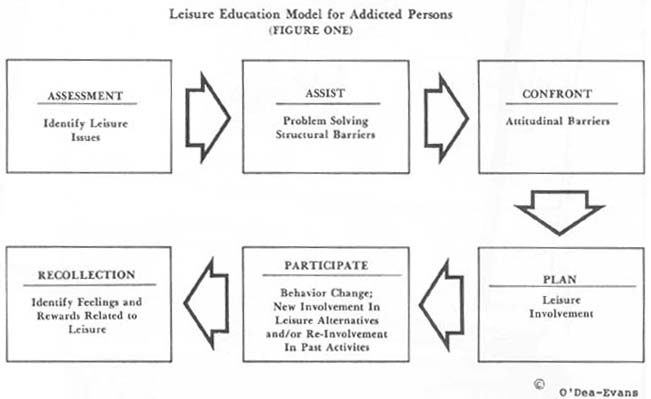 In order to provide addicted persons with an opportunity to develop a healthy and sober leisure lifestyle, the Leisure Education Model for Addicted Persons was developed (see figure one). A study was also conducted using a pre-test and post-test survey tool to evaluate the effectiveness of the leisure counseling model. This study was limited in scope to an in-patient alcohol and addiction adult treatment program. The study showed significant improvement in patient scores on their perceived level of freedom in leisure (O'Dea-Evans, 1989).
Leisure Education Model Program Components
Assessment: Identify Leisure Issues
Two tools have been utilized for assessment of patient leisure issues. One is a patient's self-reporting data collection form on various leisure topics and lifestyle questions. This form is collected from patients in their first week of treatment. The data is reviewed and evaluated by the therapeutic recreation specialist. After evaluating this data and patient observations in initial sessions, the therapeutic recreation staff develops specific treatment planning goals. The treatment goals, delineated by the therapeutic recreation specialist, are then presented in a multi-disciplinary staffing
| | | |
| --- | --- | --- |
| Illinois Parks and Recreation | 16 | January/February 1990 |
---
and are agreed upon by the treatment team. The patient is informed of the treatment plan and asked to follow the treatment plan by his/her primary therapist in an individual session.
The Leisure Diagnostic Battery (which was developed by Ellis and Witt 1982) has been utilized as the evaluation instrument for this study. It has not been incorporated into the assessment data, but used as a tool to evaluate the study outcome.
Assist: Problem Solving Structural and Environmental Barriers
The next step is carried out in workshops led by the therapeutic recreation staff with the patients. The T.R. staff assists them by identifying their leisure barriers (see figure two). At this point, the patient is encouraged to generate problem solving alternatives. The patient is also given information on leisure as their own responsibility and how leisure issue resolution can benefit their recovery from addiction.
Confront: Attitudinal Barriers
The addicted person has an "irrational belief system" intact. This belief system, unless uncovered and dismantled in treatment, will remain intact and may prevent sober leisure satisfaction.
Note the structural and attitudinal barriers that occur most frequently with addicted persons (see figure two). In addition to the barriers the general population faces, addicted persons also encounter barriers of guilt, fear, lack of resources, passive leisure pattern, social network of addicted associates, limited practice of sober social interactions, poor activity skills, embarrassment, intact defenses of past limited leisure involvement, work addiction, undeveloped planning skills and depression.
Before any person can assist or confront an addicted individual, it is necessary to understand the addicted process and how individual defense
---
The addicted person has an "irrational belief system" intact. By increasing the awareness and acceptance of their own attitudinal barriers, the addicted person can begin to realize the need for a lifestyle change.
---
systems operate. Confrontation is not meant to be harsh; in fact, confrontation will only work if the person feels supported and trusts the therapeutic recreation staff.
By increasing the awareness and acceptance of their own attitudinal barriers, the addicted person can begin to realize the need for a lifestyle change. The excuses have become "real" to the addicted person and have erected a barrier to that person's enjoyment of leisure participation.
FIGURE TWO

Leisure Barriers,
Within the General Population

Addicted Persons'
Leisure Barriers

• social skill barriers
• communication barriers
• poor decisions
• lack of motivation
• time
• money
• lack of opportunity
• lack of ability
• poor health
• accessibility

• guilt
• fear
• lack of resources
• passive leisure pattern
• social network of using associates
• limited practice of sober, social interactions
• poor activity skills
• embarassment
• intact defenses of past limited leisure use
• work addiction
• undeveloped planning skills
• depression

Developed by: Costilow, Ellis, Witt
and Forsyth in 1982

Developed by: Pat O'Dea-Evans 1986
Plan: Leisure Involvement
Through the course of their illness progression, addicted persons learn not to plan. This is as dysfunctional as the disease progression itself.
Addicted persons have trouble with the planning process at many turns. First, they may desire social contact, but at this first stage they are different. Many of them are isolated from others, often depressed, and at times (depending on their drug of choice) may be paranoid to make social contact. They are less likely to initiate contact or plan activities. Often they won't follow through with an agreed upon time and place because they could "use" (drugs and/or alcohol), thus causing them to re-prioritize their needs or forget their commitment.
After this happens a few times, the non-dependent friend becomes angry and frustrated. The desire for the non-dependent friend to stay in contact wanes. The addicted party becomes embarrassed and determines making contacts and plans with others is not worth
(Continued on page 18)
| | | |
| --- | --- | --- |
| Illinois Parks and Recreation | 17 | January/February 1990 |
---
Leisure Education Model
(continued from page 17)
the trouble. A pattern is set that continues into sobriety. If planning is not practiced in recovery, the pattern will not change.
The therapeutic recreation specialist needs to assist the addicted person with leisure planning. It is important that the patient can practice leisure planning within the treatment program itself. Patients need to plan some of their own recreational activities while in treatment. This includes planning structured activites, planning free time and planning leisure within continuing care.
Prior to discharge from the inpatient program, each patient completes a continuing leisure plan and meets with the therapeutic recreation staff on a one-to-one basis to review and discuss their leisure plan. Goals are set with the patient for continuing leisure involvement. This plan is forwarded to the continuing care therapist for follow up. The addicted person, given the opportunities and the direction to plan leisure, will benefit from the realization that they can take on that responsibility.
Participate: Behavior Change—New Involvement in Leisure Alternatives and/or Re-involvement in Past Leisure Activities.
We have found nothing can replace actual participation in "real" activities while sober. The therapist's goal is to expose addicted persons to a variety of activities and experiences. By exposing patients to as many leisure alternatives as possible, they are more likely to discover for themselves what they truly enjoy.
In addition to traditional counseling and self-help meetings, patients participate in a variety of therapeutic recreation groups. During the course of treatment, patients participate in a physical fitness program, leisure education program, team-building activities, including a teams course, recreation planning groups, relaxation, community outings, some family activities, and recreational activities which are planned and carried out by the patients. They have free time within the treatment program where they have a variety of leisure resources available to them. This program also offers nutritional assessment along with individual nutritional counseling, individual counseling, group therapy, a week long family program and educational lectures on topics related to recovery.
---
Persons who have the disease of alcoholism or addiction have significant issues with their leisure. Leisure itself becomes problematic for addicted persons, due to the barriers their disease progression creates.
---
Participation can be rewarding and bring out many reinforcing emotions. It can bring out feelings of inadequacy and embarrassment as well. Since most addicted persons have not participated frequenlty in leisure activities, skill levels are often underdeveloped.
Recollection: Identify Feelings and Rewards Related to Leisure
Recollection needs to be reinforced with recovering persons. One of their most significant problems is the lack of sober leisure experiences that they may draw upon.
All of us have a wide variety of leisure experiences that we can recollect. The addicted person suffers from a lack of these experiences. The events that make up their self-image and attitude about leisure in their life is troubled with the desperate day to day life of addiction.
Addicted persons need direction and cues from the therapeutic recreation staff on how to recollect each new leisure experience they gain in sobriety, such as processing leisure participation in leisure counseling groups or in group therapy. The addicted person needs to develop an awareness of leisure as a part of their recovery program and assistance in developing recollection skills.
Conclusions
This program has many implications for treatment of addicted persons. They presently have a high relapse rate. Even though studies show a significant improvement in abstinence rates when physical fitness and therapeutic recreation programs are in place, not all addiction treatment programs provide those services.
The leisure education model can be utilized to assist addicted persons to learn what sober leisure alternatives are available to them. By increasing the addicts' perceived level of freedom, the therapeutic recreation staff can open up a new world of sober leisure choices. Due to their well established defenses and irrational belief system, leisure counseling intervention is needed to break their dysfunctional leisure pattern.
ABOUT THE AUTHOR:
Pat O'Dea-Evans, SCAC/CTRA, is the Recreational Therapy Coordinator for Addiction Recovery of Chicago. She has a degree in Therapeutic Recreation from Norwalk College in Connecticut. Pat is currently completing a degree program in behavioral sciences at the National College of Education in Evanston, IL. She is certified by the National Council for Therapeutic Recreation Certification and is also certified as a Senior Addictions counselor. Pat has worked in the chemical dependency field for the last eight years and has done numerous trainings and presentations on the application of therapeutic recreation for addicted populations. She is founder and president of "Therapeutic Recreators for Recovery", a not-for-profit professional association of T.R. professionals in the addictions field. T.R.R. is sponsor of the Sober-lympics and other community activities that promote a recovering lifestyle.
A list of references used for this article is available from the author by calling 708/882-0070.
| | | |
| --- | --- | --- |
| Illinois Parks and Recreation | 18 | January/February 1990 |
---