By DAVID FREMON
Chicago's city council:
Wolves or sheep?
An august body? Tell that to the thousands of viewers who witnessed a three-ring circus on December 1,1987, when council members had to choose one of their own to replace the late Mayor Harold Washington: Richard Mell standing on his desk and shouting for attention, Sheneather Butler waving dollar bills at hecklers who claimed she was selling her vote and Eugene Sawyer at center stage, his knees buckling, wondering if he should accept the mayoral job that was his for the taking.
A "great deliberative body," as former Mayor Michael Bilandic (now Illinois Supreme Court justice) once called it? Explain that to former Alderman (now Cook County Clerk) David Orr. He remembers when fellow Alderman Bernard Stone, irritated that foe Luis Gutierrez was reading his property tax statement to the public, shouted, "You little pipsqueak!" and worked up a choleric fit. Orr, trying to calm Stone, was shoved into his seat.
Thoughtful? Remember Eloise Barden, a Richard J. Daley era alderman, who once commented on a proposed city budget, "I don't understand this now, and I wouldn't if I read it for the next year. Let's face it, some things you just have to take on faith."
Law-abiding? Consider that five of the 50 aldermen elected in 1983 were either imprisoned or indicted four years later—a crime rate unsurpassed by practically any other occupation. And when reformers wanted to establish an inspector general to watch over the body, Alderman Robert Shaw complained that he and his comrades "are not the only crooks in town."
Yes, this is the Chicago City Council, arguably the most famous local legislative body in the country and certainly the most notorious. It's one that the Chicago Tribune described in 1982 as "the least effective group meeting on a regular basis anywhere in the world." Dick Simpson, assistant professor of political science at the University of Illinois at Chicago and himself a former alderman, called the council "a rubber stamp under strong mayors and a pack of grey wolves ready to attack a weak one."
Technically, Chicago has a strong council-weak mayor system. Any issue introduced in the City Council passes with a majority vote. Even if the mayor vetoes the measure, the council can override that veto with a two-thirds vote. But technicality has seldom stood in the way of reality when it comes to Chicago government.
Today, the council is much more the rubber stamp than the grey wolves. According to the Citizens Information Service, a Chicago watchdog group, no fewer than 28 of Chicago's 50 aldermen voted with Mayor Richard M. Daley on 90 percent or more of contested votes during his first 20 months in office. Seven more —including black aldermen representing areas of Daley's strongest opposition—went with the mayor at least 60 percent of the time.
Party labels have nothing to do with City Council blocs. Even though aldermen are chosen in nonpartisan elections (with a runoff held if no one receives 50 percent of the ward vote), virtually every alderman in the last generation has clung to the Democratic party label (Brian Doherty, recently elected in the 41st Ward, was the first alderman elected as a Republican in 20 years). But within the Democratic label, there are more tribal divisions than in the Balkan peninsula, with factors such as race, geographic location within the city, and political philosophy separating the aldermen into a number of niches.
---
Dick Simpson . . . called the council 'a rubber stamp under strong mayors and a pack of grey wolves ready to attack a weak one'
---
Politically speaking, there are generally two main groups of aldermen. There are the so-called "machine" Democrats, members of the regular Democratic organization which has ruled the city formost of the last half-century. There are also independents, a term loosely defined to describe anyone opposed to the regular organization, be they squeaky clean liberals from the affluent lakefront or hacks of whatever hue who figure to cut a better deal for themselves with someone other than a regular Democratic organization mayor. White ethnic politicians (those of Irish, eastern or southern European ancestry who live outside the lakefront) form most of the council's power bloc now. African Americans form the major opposition, although some of them have made peace with Daley. Hispanics, relative newcomers to the Chicago political scene, can be found in both machine and independent camps.
Historically, the City Council has not been as much a partner as a mirror of the mayor. Ed Kelly, the mayoral powerhouse,
28/August & September 1991/Illinois Issues
---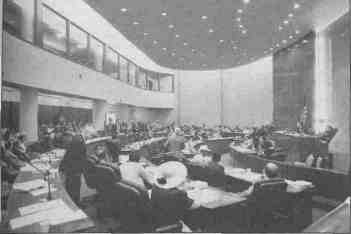 Photo by Jon Randolph
This is the Chicago City Council in session with Mayor Richard M. Daley in the chair (at far right) and the aldermen from the city's 50 wards seated in semi-circle fashion.
controlled the council during his terms from 1933 to 1947. His attitude was, "Either you run the machine, or the machine runs you." For most of his tenure he did the running. But Kelly, controversial both for the city corruption that took place during his administration and for his desegregation efforts, became a danger to the overall strength of the Democratic organization. When his administration threatened the power of the Democratic hierarchy, they found someone else.
Democratic powerhouses got the perfect front man in businessman Martin Kennelly, who served as mayor from 1947-1955. He had a solid reputation both among the city's business interests and the public at large. At the same time, he was not an independent candidate. He was slated, endorsed, funded by the machine and was utterly beholden to it.
Kennelly didn't delegate authority; he abdicated it. City Council bigwigs like Tom Keane, John Duffy and Clarence Wagner never let him forget who was in charge. Duffy told Kennelly what "we" are going to do. The mayor, more interested in cutting ceremonial ribbons than managing government, went along. John Hoellen, a reform-minded Republican alderman, lamented, "[Kennelly] didn't control the council. He didn't control anything."
During the Kennelly years, "The City Council was almost like a Wild West saloon," Hoellen recalls. "[Aldermen] were taking bribes left and right. Aldermen deliberately kept their salaries low, to keep other people from running. But they made up for their low pay in other ways. There was always a gin rummy game going on upstairs, where lobbyists were hired to lose to the aldermen. The Finance Committee had oversight on every contract. They held back 10 percent of the money, with half going to a small group of Finance Committee leadership and the other half to the contractor."
Hoellen led a special crime committee to investigate City Council corruption. The reaction from fellow aldermen was not the one he wanted. "I prepared an ordinance to investigate the ties between politicians and corrupt police. Then Wagner came up to me and said, 'If you quit [fooling around], you're in.' He meant if I stopped the investigation, I would join the inner circle of aldermen that gathered most of the spoils." Hoellen refused the offer; his committee's work led to reforms in the issuance of zoning and driveway permits.
The man who ousted Kennelly, Richard J. Daley, was the absolute opposite of his predecessor when it came to relations with the council. "Under Daley, the aldermen acted like a bunch of trained seals," Hoellen commented.
"Daley was an authoritarian type, almost totalitarian," adds Leon Despres, the 5th Ward alderman who was Daley's most constant critic. "He seldom if ever gave aldermen a pass to vote their conscience or their constituency. He never gave in on an issue. Control was total; it was impossible to have freedom of action."
The source of Richard J. Daley's power was no secret. He held total control of the patronage that was the life blood of the Democratic machine. An inner circle of Democratic bosses controlled patronage power during Kennelly's time. But Daley quietly assumed power as Democratic party chairman and took control of patronage jobs. Since virtually all city employees were "temporary" workers who could be hired or fired at any time, thousands of workers (and their political warlords) owed their livelihoods to the mayor.
The conduits of political patronage were the ward committeemen. (As a matter of custom, not statute, Daley sometimes transferred ward power to a person other than the ward' s committeeman on rare occasions when the committeeman irritated him.) These committeemen were either aldermen or anointed nonthreatening allies of aldermen in an era when competitive aldermanic elections were as rare as Cubs first-division finishes. Thus the office of alderman, for the most part, was little more than a high-level patronage job.
There were anti-Daley aldermen, to be sure. But they were a group that had a hard time agreeing on lunch, much less anything other than their opposition to Daley. The non-Daley aldermen of the early 1970s included the likes of lake front liberals Despres, Bill Singer and Dick Simpson, conservative priest Francis Lawler, Republicans Hoellen and Jack Sperling and black independents Bill Cousins and Anna Langford—strange bedfellows indeed.
The independents rarely scored victories over Daley. A "reform" group led by Singer and young minister Jesse Jackson succeeded in ousting the Daley-picked Illinois delegation from the 1972 Democratic National Convention. But this much-publicized national triumph did little if anything to change the political structure back home.
Daley never entirely ignored council independents, although
August & September 1991/Illinois Issues/29
---
he never directly acknowledged their good ideas. A bill proposed by a Singer, Despres or Simpson would be either voted down in the council or referred to a committee, which assured its oblivion. The same ordinance, give or take a couple of words, would reappear a few days later, sponsored by Daley floor leader Keane. It would pass unanimously. This way, Daley could claim credit for the measure. The independent aldermen, having to settle for the inner glow provided by a job well done, voted for the Daley-supported measure that they favored all along.
---
Dissatisfaction of blacks with the Byrne administration led to her downfall
---
Civil rights proved a thorny issue for Daley. He wanted to keep blacks, the most unquestioning machine followers, in the fold. Most black aldermen (known as the "Silent Six") were unquestioning allies; there were no Hispanic council members then. Yet he realized that his political base lay with whites who were opposed to any civil rights legislation. When in doubt, he went with the latter group. A 1963 vote showed why. Daley proposed a token but meaningless fair housing ordinance. Seventeen aldermen, the most ever to oppose him, voted against it.
Even though all the Daley bloc aldermen owed loyalty to "Da Mare," that didn't mean they had great love for each other. Tom Keane, longtime Finance Committee chairman, acted in a manner no less dictatorial than that of Daley. Since his committee controlled the budgets of all the others, the remaining machine bloc aldermen were forever in his debt. In the later years of Daley's rule, a group of Young Turk aldermen carried out the "coffee rebellion." They weren't after good government, an end of spoils or any of the changes sought by traditional reformers. Instead, they wanted some of the aldermanic spoils being hogged by Keane. A few years later, Ed Vrdolyak, Ed Burke and others would get some of that power.
Not immediately, though. When the elder Daley died in late 1976, the politicians from Daley's Bridgeport community who ruled the city for 40 years retained control. Mike Bilandic, the colorless alderman of Bridgeport's 11th Ward, won election by the aldermen in late 1976 to succeed Daley (despite the protests from allies of black Alderman Wilson Frost, who argued that Frost, as president pro tem of the council, should have been given the mayoral job). Bilandic also won the June 1977 special election to fill out Daley's term. Bilandic drew opposition from a variety of candidates, mainly Alderman Roman Pucinski (who attracted Polish and, surprisingly, lakefront voters) and then-state Sen. Harold Washington (who attracted middle-class black votes). These blocs—Poles, liberals and blacks —if they acted together, had the punch to defeat Bilandic and the old-line Irish pols. But they never did act together. Bilandic, like Daley, never lost a City Council vote.
Bilandic "never overcame the notion that he was a caretaker and not the man in charge," wrote Paul M. Green in The Mayors: A Chicago Political Tradition. But he never lost control to the aldermen. "I don't know who was really running [the council] during the Bilandic years," comments veteran political observer Don Rose, "but there was no objection to him except for the usual suspects."
Those same groups that threatened the Bilandic administration ousted him in 1979, nominating Jane Byrne, a maverick who emphasized her ties to the late Mayor Daley while she campaigned against the "Evil Cabal" of the machine: Burke, Vrdolyak and 1st Ward Alderman Fred Roti. After her surprise election, the Evil Cabal organized the council, selecting its committee chairmen. Independent aldermen such as Martin Oberman and Larry Bloom, who helped elect Byrne, found themselves (as they had with Daley and Bilandic) out in the cold. Eventually Byrne abandoned any pretense of opposition to the Evil Cabal and worked with, not against, them.
Blacks were the chief dissenters, notes Rose, who managed Byrne's successful campaign but soon after parted company from her. "In the beginning, blacks were loyal," he comments. "The movement away from her was gradual. [Black Alderman] Tim Evans moved about two years before Eugene Sawyer did. But even Sawyer moved away from Byrne from time to time."
Dissatisfaction of blacks with the Byrne administration led to her downfall. Harold Washington, by then an independent congressman, edged her for the 1983 nomination. For many white voters the word "black" was the most dangerous word in the Washington description. But for the aldermen who worked closely with Byrne, the scary word was "independent."
The result, as Chicagoans remember, was "Council Wars," a political three-ring circus that lasted for the first three years of Washington's administration. Immediately after Washington's inauguration, 29 anti-Washington aldermen (28 whites and one Hispanic led by Vrdolyak) took over the council. Recalls Patrick O'Connor, a 1983 rookie alderman, "When I first got elected, the roles and customs of the council got thrown away. First-term aldermen got committee chairs." O'Connor got the chairmanship of the Education Committee, a position he has since lost and regained.
Rivalries even extended to the trivial level. One day the members of the Vrdolyak or anti-Washington bloc wore "29" buttons. The next day Washington's allies wore buttons showing "29" with a red slash mark (the sign of rejection) through it, Vrdolyak aldermen then sported buttons declaring "old guard." Washington supporters donned buttons saying, "If no Frost, then no Burke," a sign of preference for (black) Wilson Frost instead of (white) Ed Burke for Finance Committee chairman. "Anybody who had $50 and a cause could get a bunch of buttons printed up and get the aldermen to wear them," remembers former City Hall reporter Marj Halperin. "Aldermen, by wearing those buttons, could make a statement. And those statements were as coherent as anything many of them could make."
Under Richard J. Daley, the council meetings started promptly at 10 o'clock, and woe to any alderman who wasn't seated and
30/Augnst & September 1991/Illinois Issues
---
ready to cast "aye" votes (wakefulness, except when votes came along, was not mandatory). During Council Wars years, spectators were lucky if the meetings started at noon. Once they began, anything could happen, including a spectrum of verbal fireworks. The low point came during one meeting in which Vrdolyak made not-so-vague innuendos about the mayor's sexuality, and Washington responded with a not-so-vague threat to punch Vrdolyak in the mouth. At one point Alderman Burton Natarus suggested that protective glass be placed between the council and the gallery. Fellow pro-Washington alderman, Cliff
Chicago aldermen: class of '91
Here is the aldermanic Class of 1991, by ward, with year of initial election or appointment, their race (B=black, H=Hispanic, W=white) and probable political stance during the Richard M. Daley administration:
1. Ted Mazzoia (W), 1991. Probably a general, although not necessarily an unswerving, Daley ally.
2. Bobby Rush (B), 1983. One of Daley's strongest opponents; may assume the leadership role among independent black aldermen.
3. Dorothy Tillman (B), 1985. Another alderman expected to oppose Daley on most important issues.
4. Toni Preckwinkel (B), 1991. Not certain. Her base of support comes from the Independent Voters of Illinois-Independent Precinct Organization, a liberal political alliance which never had much use for the Daley family; yet she voted with the administration on the City Council committee structure.
5. Larry Bloom (W), 1979. Always a leader of the council's independent bloc. Bloom will likely continue as a Daley critic.
6. John Steele (B), 1989. An independent alderman not afraid to criticize or vote against the administration.
7. William Beavers (B), 1983. Can be counted on as a pro-administration vote except on racial issues.
8. Lorraine Dixon (B), 1990. Likely to follow the lead other mentor, Daley ally and Cook County Commissioner John Stroger; a virtually certain Daley vote.
9. Robert Shaw (B), 1987. Daley's most consistent critic during the administration's first two years, although he did not vote against the 1991 council reorganization.
10. John Buchannan (W), 1991. Most likely he will be as faithful to Richard M. Daley as he was in his earlier tenure in office (1963-1971) to Richard J. Daley.
11. Patrick Huels (W), 1977. He's the alderman from Mayor Daley's ward. Loyalty to Daley is unquestioned.
12. John Fary (W), 1987. A virtually certain pro-administration vote.
13. John Madrzyk (W), 1983. See John Fary comment.
14. Edward Burke (W), 1968. The City Council Finance Committee chairman and Daley floor leader; his vote is the bellwether council-watchers use to determine the Daley stance on an issue.
15. Virgil Jones (B), 1991. Too early to determine.
16. Shirley Coleman (B), 1991. Too early to determine.
17. Allan Streeter (B), 1982. Not a certain vote for either pro- or anti-administration forces; is often counted as "present, not voting" on important issues.
18. Tom Murphy (W), 1991. Even though Daley backed his opponent in the 1991 aldermanic elections. Murphy is a pro-Daley vote.
19. Virginia "Ginger" Rugai (W), 1991. A reliable pro-Daley vote.
20. Arenda Troutman (B), 1990. Generally votes with pro-administration forces.
21. Jesse Evans (B), 1987. Most likely will vote against the Daley bloc on most important issues.
22. Jesus Garcia (H), 1986. The only independent Hispanic alderman. Not an automatic vote against Daley, but probably will vote against the administration on important issues.
23. James Laski (W), 1991. Daley can count on his vote.
24. Jesse Miller (B), 1991. Too early to tell.
25. Ambrosio Medrano (H), 1991. Most likely an unblinking Daley vote except on some Hispanic issues.
26. Luis Gutierrez (H), 1986. Daley's leader among Hispanic aldermen.
27. Ricky Hendon (B), 1991. Too early to tell
28. Ed Smith (B), 1983. An alderman eagerly sought by both factions, and an uncertain vote for either one.
29. Sam Burrell (B), 1991. Too early to tell.
30. Carole Bialczak (W), 1990. A predictable Daley vote.
31. Regner "Ray" Suarez (H), 1991. Appears to be a safe pro-administration vote.
32. Theris "Terry" Gabinski (W), 1969. The vice-mayor, a certain Daley vote.
33. Richard Mell (W), 1975. Another certain pro-Daley vote.
34. Lemuel Austin (B), 1987. Daley's staunchest ally among black aldermen.
35. Michael Wojcik (W), 1991. Appears to be a certain Daley ally.
36. William J.P. Banks (W), 1983. A reliable pro-administration vote.
37. Percy Giles (W), 1986. Won't vote against Daley just for the sake of opposition, but is likely to oppose the administration on key votes.
38. Thomas Cullerton (W), 1973. A sure Daley vote.
39. Anthony Laurino (W), 1965. The council dean is nearly as reliable for Daley fils as he was for Daley pere
40. Patrick O'Connor (W), 1983. A solid Daley vote.
41. Brian Doherty (W), 1991. Although elected with the support of Republican state representative Roger McAuliffe, Doherty is expected to be a pro-Daley vote.
42. Burton Natarus (W), 1971. A pro-administration vote.
43. Edward Eisendrath (W), 1983. A general, though not certain, Daley ally.
44. Bernard Hansen (W), 1983. Can be counted upon to side with the administration on important issues.
45. Patrick Levar (W), 1987. His next major anti-Daley vote will be his first.
46. Helen Schiller (W), 1987. An anti-Daley vote on any substantial issue.
47. Eugene Schulter (W), 1975. A virtually certain Daley vote.
48. Mary Ann Smith (W). 1989. Votes with the administration almost all the time.
49. Joe Moore (W), 1991. Most likely will follow the footsteps of his liberal predecessor, David Orr, although he claims he will not be a lockstep anti-administration vote.
50. Bernard Stone (W), 1973. Even during his brief tenure as a Republican, he remained a pro-Daley vote and can be counted on to continue to do so.
David Fremon
August & September 1991/Illinois Issues/31
---
Kelley, agreed, joking, "That's a good idea. It might protect them from us."
Council Wars votes were utterly predictable. Vrdolyak forces would win the vote, 29-21. If the issue was originated by the anti-Washington forces, the mayor would veto it. Since Washington foes lacked the votes to override the veto, Chicago had a City Council stalemate.
"Ironically, Council Wars was actually good for the city," Simpson comments. "Both sides during that time tried to outdo each other in legislation." Such legislation included a ban on the sale of leaded gasoline—unique because it was co-sponsored by members of both pro- and anti-Washington blocs.
Special aldermanic elections in 1986, mandated when it was determined that a previous ward map discriminated against blacks and Hispanics, changed the balance, carrying enough Washington allies to the council to provide a 25-25 tie. Since the mayor casts the tiebreaking vote, Washington gained control, but it was fragile at times. Nominations to various city boards had been held captive by the anti-Washington aldermen refusing to confirm them. Once Washington got his majority, he worked immediately to approve nominations to various city boards, but approval was stalled when one of his bloc, Alderman Perry Hutchinson, left the meeting early. Perhaps Hutchinson thought he could show the importance of his vote by showing up the mayor. Instead, he caught hell from his constituents. In order to atone, he came to the next council meeting in a wheelchair, straight from a hospital after suffering an alleged illness. The message was clear: Hutchinson was risking his very life to support Harold Washington.
After Washington won reelection in 1987, council opposition all but evaporated. Only a handful of hardline foes from all-white wards cast "no" votes. He lost only one major council vote after the 1986 special elections: a human rights ordinance vote (foes always referred to it as a "gay rights" vote) in which several black aldermen, fearing church-led opposition, abandoned the mayor.
When Washington died in late 1987, his coalition died with him. It splintered when it could not agree on one black alderman to become mayor. After weeks of turmoil and a chaotic special council meeting (viewed by the nation over cable television), Eugene Sawyer got a majority vote of the council to become acting mayor. A coalition of white ethnic aldermen and six blacks gave him the votes he needed. "I wasn't crazy when I came into the office," Sawyer says. "I knew a lot of these [white] guys wouldn't support me. I had to galvanize my base."
Mayor Sawyer never did get unwavering support of black aldermen, many of whom remained loyal to Sawyer opponent Tim Evans (Alderman Danny Davis, another black mayoral hopeful, skipped back and forth between both camps). But Sawyer never lost the support of all black and white aldermen, either. The result was an unpredictable council in which blocs and alliances varied from day to day. "Sawyer had a very fluid situation. His majorities were not marked," Rose says. "He could pull together the Harold Washington vote, or he could form other coalitions. He had most black aldermen, whatever white progressives remained and some of the less ideological regular Democrats—a Richard Mell or a Burt Natarus, for example."
These ad hoc coalitions were enough for Sawyer to get some things done. "He passed a human rights ordinance and lights at Wrigley Field, things which Washington couldn't get through," O'Connor remarks, In truth, the human rights bill got passed only because aldermen allied to then-State's Attorney Richard M. Daley switched their votes. Daley, the all-but-announced candidate for the 1989 special election to fill the remainder of Washington's term, was courting the gay vote, and there was no better way to influence this bloc than to pass the bill.
Daley, as expected, won the 1989 special election and the 1991 election for a full four-year term. He runs the council much as his father did, although his influence rests with his personal popularity rather than the patronage power his father wielded. Since his election a huge majority of aldermen has backed him on every vote. "Now the main interest is control—making sure there's no surprise at a council meeting." says O'Connor. "The council has gone full circle since 1983. It discourages independent thought. Conflicting issues get discussed and resolved before, not during, the meeting."
The aldermen may not have legislative independence. But then, legislation is not the foremost issue on many aldermen's minds. Despres comments, "Aldermen run law firms, real estate and insurance agencies, newspapers. Bill Henry a few years ago even introduced a soda pop known as 'Soul Cola.' Often their business success is directly tied to their status as alderman. Joe Kotlarz [who retired this year after two terms as 35th Ward alderman] became a rich man very soon after being elected to office."
Despite the possibilities of wealth through legitimate channels, more than a dozen aldermen over the years were indicted and/or convicted for relatively minor graft. Lou Farina, convicted on a bribery case in the early 1950s, explains the temptations aldermen face. "Every day contributors and contractors are willing to give you money," says Farina, who now helps rehabilitate ex-convicts with the SAFER Foundation. "And expenses were always there. I had 86 precinct captains. There'd always be a baptism, a son's graduation, a wedding. Every time, I had to drop $20 or so. If temptations were there, so were costs. I tell people nowadays, 'If you take a dime from anyone, you're in trouble. Those FBI agents would go after their own mothers,'" Farina claims.
Aldermen recently received a pay raise from $40,000 to $55,000. It came with a reduction in aldermanic expense accounts. Council members once received $1,500 to spend as they pleased. Disclosure rulings instituted in 1989 revealed that several aldermen spent money intended for ward expenses on such "necessities" as Cubs playoff tickets and meals in inexpensive restaurants. Now, the aldermanic expense account has been cut. Many expenses are prepaid by vouchers, thus keeping some money from the aldermen's wallets.
Few tears should be shed for Chicago aldermen, however. Most council members don't leave office except by death, ill health or conviction. "For most aldermen, politics is a business," Despres says. And apparently, a successful one.
David Fremon is a Chicago writer and author of the book, Chicago Politics: Ward by Ward.
32/ August & September 1991/Illinois Issues
---