Names
Rep. Myron Olson dies
"He was a true gentleman who could be counted upon to help in solving problems instead of playing partisan politics," said Gov. Jim Edgar of state Rep. Myron J. Olson (R-70) of Dixon. Olson, 63, died January 25.
A member of the Illinois House since 1981, Olson was minority conference chairman and served on the Agriculture, Consumer Protection, Election Law, Reapportionment, Registration and Regulation, and Rules committees as well as the Special Committee on Conflicts of Interest.
Born in Wausau, Wis., Olson served in Japan as a sergeant in U.S. Army Signal Intelligence from 1946 to 1947. Before becoming a state legislator he was circuit clerk of Lee County. He is survived by his wife Rosemary.
Bradshaw heads Human Rights Commission
Gail M. Bradshaw, 43, of Chicago, was appointed executive director of the Illinois Human Rights Commission by Gov. Edgar, effective January 21. She replaced David Strauss.
Head of the human resource division of the Department of Employment Security since 1986, she helped establish a program to increase the employment of Hispanics by executive agencies and was a member of the Governor's Task Force on Minority and Female Business Enterprises. Her state government career began in 1973 with the Department of Mental Health and Developmental Disabilities. For six months in 1989 she served as chief administrative officer for the Chicago Housing Authority.
Moreland heads State of Illinois Office
Terri Moreland, 43, of Washington, D.C., is the new director of the State of Illinois Office in Washington, D.C. Previously the governor's liaison for energy and science in the state's Washington office, she was appointed director by Gov. Edgar, effective December 31. As director, she works to advance Illinois' priorities in the nation's capital, including federal funding.
Top posts at DCCA
Sandra Michelau and Sanford Morganstein were named to top management positions by Department of Commerce and Community Affairs (DCCA) Director Jan M. Grayson,
Continued on page 28
March 1992/Illinois Issues/27
---
Names
Continued from page 27
effective December 16. Michelau of Chicago, previously a vice president of Harris Trust and Savings Bank, was named manager of DCCA's Office of Regional Marketing/Building and Sites. Morganstein of West Dundee, the founder and president of Dytel Corporation, was named manager of the Office of Business Technology. Michelau has also worked at Deutsche Bank, First Interstate Bank of California and the American National Bank. Morganstein's prior experience includes Rockwell Communications, ITT Communications and RCA Computer Systems.
National Guard's Whitfield nominated for general
Col. Walter Whitfield, 43, of Naperville was appointed commander of the Illinois National Guard's 33rd Separate Infantry Brigade in Chicago by Major Gen. Donald Lynn, Illinois' adjutant general. Lynn also nominated Whitfield for brigadier general. Whitfield's nomination to the rank of general in the Illinois National Guard is the first for an African American. Lynn said it would not be his only effort "to strengthen the Guard by diversifying its upper ranks." When confirmed by the U.S. Senate, Whitfield will succeed Brig. Gen. Philip Becker, who is being reassigned as deputy commander, State Area Command, Springfield.
Whitfield is a senior sales engineer for Furnas Electric Company in Oak Brook. He enlisted in the U.S. Army in March 1967, trained in the Artillery and Missile Officer Candidate School and was on active duty until January 1971. In 1973 he joined the Illinois Army National Guard's 2nd Battalion, 122nd Field Artillery, in Chicago. Since then he has held various leadership posts, including deputy commander of the 33rd Brigade.
President of EIU announces resignation
Eastern Illinois University President Stan Rives, 61, announced December 30 that he intends to step down as president July 31 and to retire from the university in September 1993. He said that he was not pressured by the Board of Governors and that his decision was a personal one.
EIU president since 1983, Rives counts among his accomplishments the selection of EIU in 1990 as one of the top 100 public universities in the nation featured in Money magazine's "America's Best College Buys." During his administration EIU completed five major campus expansion projects; increased the assets of the University Foundation and its endowment; developed a new, integrated, core general education program; and worked with business and government to foster economic development.
Critics faulted Rives' handling of allegations of nepotism in the office of vice president for business affairs and of sexual harrassment in the College of Business. They also said that the building program overextended the university to the detriment of teachers and students. Last spring staff and faculty gave his administration a vote of no confidence.
Rives came to EIU in January 1981 as provost and vice president for academic affairs. He was named acting president and then president in 1983. Previously he was at Illinois State University in Normal where he served for 22 years as faculty member and dean.
The Board of Governors approved a search process for a new president on January 21 and announced that a search committee made up of 20 EIU employees, students and alumni would be in place by April. The board will make the selection in September from a list of candidates submitted by the board's chancellor, Thomas D. Layzell, with the advice of the committee.
New Solovy Commission
In response to the federal investigation in Cook County of organized crime and political and judicial corruption known as Operation Gambat, the Illinois Supreme Court appointed a Special Commission on the Administration of Justice on January 8. Appointed to chair the study, due December 31, 1993, was Jerold S. Solovy, senior partner in Chicago's Jenner & Block law firm. Solovy headed a similar commission that studied Cook County courts from 1984 to 1988 in the aftermath of the federal Operation Greylord of the early 1980s. That commission was appointed by Cook County Chief Judge Harry G. Comerford and was commonly called the "Solovy Commission."
The new Solovy commission has the authority of the state's highest court behind it and will take in the entire state judicial system. Since 41 of the 50 commissioners come from the Cook County area, Solovy expects this study to focus there, but the rest of the state will also be examined. The first meeting was scheduled for February 6. In January Solovy said in a telephone interview that he had no preconceived plan of attack but thought task forces might be in order. He saw the report of the earlier Cook County commission as a starting point, especially since some of its recommendations still remained unadopted.
The membership includes representatives of
Continued on page 31
28/March 1992/Illinois Issues
---
Names
Continued from page 28
various branches of the legal profession as well as members from the business, financial and educational areas. Judicial members include four presiding judges of the Cook County Circuit: Richard L. Curry (chancery division), Thomas R. Fitzgerald (criminal division), Sophia H. Hall (juvenile division) and Donald P. O'Connell (law division), all of Chicago. Among others on the commission are Anne M. Burke of Chicago, Illinois Court of Claims; retired Circuit Judge John C. Layng of Rockford (16th Circuit); Howard T. Markey, dean of John Marshall Law School, Chicago, and former chief judge of the Circuit Court of Appeals for the Federal Circuit; retired Circuit Judge Rex F. Meilinger of Somerset (16th Circuit); and retired Appellate Judge Lawrence X. Pusateri of Chicago (1st District).
Illinois Judiciary
The Illinois Supreme Court announced the following appointments and resignations.
The Conference of Chief Circuit Judges has reappointed its chairman, 15th Circuit Chief Judge John W. Rapp Jr. of Mount Carroll, and its vice chairman, 4th Circuit Chief Judge Michael R. Weber of Hillsboro. Their new two-year terms began January 1.
Appellate Court
Presiding judges selected for the Illinois Appellate Court include in the 1st District (Cook County) Francis S. Lorenz as chairman of the district executive committee and Robert C. Buckley to preside over the 1st division; Allen Hartman, 2nd division; Alan J. Greiman, 3rd division; Mel R. Jiganti, 4th division; Jill K. McNulty, 5th division; and Edward J. Egan, 6th division. All are residents of Chicago.
Other presiding appellate judges are Philip G. Reinhard of Bedford in the 2nd District; Tobias Barry of Ladd, 3rd District; Frederick S. Green of Urbana, 4th District; and Richard P. Goldenhersh of Belleville, 5th District.
Cook County Circuit
Chief Judge Harry G. Comerford appointed Associate Judge Norman Sands of Chicago as acting supervising judge of the chancery division's mechanics' lien section.
Circuit Judge James E. Murphy of Palos Heights died December 16. A judge for 28 years, he received the highest rating among 25 judges up for retention in 1978 by a Chicago Bar Association survey. Most recently he served in the law division's pretrial section.
2nd Circuit
Wabash County State's Atty. Stephen G. Sawyer of Mount Carmel was named associate judge.
Edward Benecki of Lawrenceville, an attorney in private practice, was appointed circuit judge, effective January 1 until December 6, to fill the vacancy created by the resignation of Philip Benefiel.
11th Circuit
Circuit Judge Wayne C. Townley Jr. of Bloomington will resign, effective December 6. A judge since 1962, he has been very active in the Illinois Judicial Conference.
19th Circuit
The circuit judges appointed Helen S. Rozenberg of Highland Park as associate judge. She had been assistant state's attorney of Lake County.
Governor's appointments to boards, commissions, etc.
Gov. Edgar has made the following appointments and reappointments to boards, commissions and councils.
Board of Aeronautical Advisors
New members are Kenneth Fischer, 60, of Belleville, owner of A.C. Fischer Inc. restaurant in Belleville, and Ralph Hurwitz, 67, of Springfield, a partner with Hurwitz Enterprises. Reappointed were J. Paul Beitler, 45, of Winnetka, president and chief executive officer of Miglin-Beitler Inc., Chicago; John Goldrick, 62, of Bloomington, publisher of the Bloomington Pantograph; and Charles Wenk, 66, of Highland Park, president of Wenk Aviation Insurance Agency. The appointments, which require Senate confirmation, were effective September 18, 1991, for terms expiring January 18, 1993. Members receive neither salary nor expenses.
The board studies the aeronautics field, investigates the work of the division of aeronautics in the Department of Transportation and advises the department.
Illinois Arts Council
New appointments were Charles B. Archer, 36, of Decatur, assistant treasurer of Archer Daniels Midland Co., Decatur, replacing G. William Madden; Henry L. Chapman, 54, of Dunlap, vice president with Kemper Securities Group in Peoria and president of the Peoria Symphony Board, replacing Sarah Page; Martin Janis, 65, of Chicago, chief executive officer of Martin E. Janis and Co. in Chicago, replacing Sandra Volid; Carol Lohman, 68, of Springfield, a member of the Springfield Symphony Association Board and the Springfield Area Arts Council, replacing Bernadette Nolan; Millicent Simons McElheny, 38, of Carbondale, manager of Nundley House Ltd. in Carbondale and past president of Southern Illinois University Museum and Art Gallery Association, replacing Carl Schweinfurth; Ramon Price, 61, of Chicago, museum curator at the DuSable Museum of African-American History in Chicago, replacing Herbert Nipson; Terry Scrogum, 39, of Astoria, deputy director of development for the Hope School in Springfield and past president of the Vachel Lindsay Association, replacing Herbert Molner; Helen Valdez, 41, of Chicago, arts administrator at the Mexican Fine Arts Center Museum in Chicago, replacing
Continued on page 33
March 1992/Illinois Issues/31
---
Names
Continued from page 31
Oscar Martinez; Jan Wong, 37, of Chicago, president of Lekel Company in Chicago and member of the auxiliary board of the Art Institute, replacing Phyllis Hamilton.
Reappointed were Irene Antoniou, 60, of Oak Brook, board member of the Illinois Opera Guild and president of the American Opera Society; Alice B. Fox, 64, of Champaign, a member of the Krannert Art Museum Board and the Krannert Association; Martin Gecht, 71, of Chicago, a banker with the Albany Bank and Trust Company, a physician with Allport Medical Group in Chicago and a former member of the Board of Trustees of the Museum of Contemporary Art in Chicago; Catherine Healy, 54, of Homewood, retired teacher and member of the Illinois Alliance for Arts Education; Judith Ikenberry, 55, of Urbana, member of the Women's Board of the Field Museum and of the National Museum of Women in the Arts' Illinois Steering Committee; Richard Love, 52, of Chicago, president of Love Galleries Inc. in Chicago; Elena Marcheschi, 41, of Chicago, an attorney with Cornfield and Feldman in Chicago, former business agent and financial secretary for the United Scenic Artists, Brotherhood of Painters, and member of the Illinois Arts Alliance; Elaine Muchin, 53, of Chicago, human resources consultant with Elaine C. Muchin Consulting in Chicago; and Abram (Andy) Van Meter, 33, of Springfield, president of Design Ideas of Springfield.
All were named to four-year terms, effective November 26, 1991, through June 30, 1995. Senate confirmation is not required, and members receive expenses only.
The council promotes public exposure to the arts and supports local development of the arts through grants to individuals, artists and associations.
Court of Claims
Anne Burke, 47, of Chicago, an attorney in private practice, reappointed as judge, effective September 18, 1991, for a six-year term. The appointment requires Senate confirmation; her annual salary is $32,886. The Court of Claims, which is part of the Secretary of State's Office, hears claims against the state of Illinois.
State Board of Education
Rick Catt, 39, of Oblong, president and chief executive officer of First Robinson Savings and Loan in Robinson, appointed effective October 11 for a term ending January 18, 1993. He replaced Thomas Burroughs. Senate confirmation is required. Members recieve expenses plus per diem.
The State Board of Education sets state educational guidelines and policies for public and private schools, preschool through grade 12, and for adult and vocational education.
Human Rights Commission
Dolly Hallstrom, 66, of Evanston, a legislative resource coordinator with Protection and Advocacy Inc. in Chicago, replaced Saul Morse. Stephen Morrill, 32, of Chicago, an associate with Winston and Strawn, replaced Lee Marks. Both Morrill and Hallstrom were appointed September 18 for terms expiring January 16, 1995. Senate confirmation is required, and commissioners receive an annual salary of $25,774 plus expenses.
The commission decides discrimination cases presented to it by the Human Rights Department.
Illinois Humanities Council
New members are Barbara Gates Gerdes, 55, of Quincy, member of the boards of the Quincy Society of Fine Arts, Woodland Home Children's Association and Quincy Symphony; Souheir El Masry Othman, 56, of Long Grove, president of Semtal Inc., a pharmaceutical consulting firm in Long Grove, and a member of the Schools Advisory Board of the Islamic Cultural Center of Greater Chicago where she developed a program to teach Arabic by computer; Bobette Takiff, 49, of Glencoe, director of the Park National Bank of Chicago and former board member of the New Trier Fine Arts Association. Gerdes and Othman's appointments were effective November 6; Takiff's was effective November 26. All were for four-year terms expiring January 1, 1995. The positions pay expenses only, and appointments do not
Continued on page 34
March 1992/Illinois Issues/33
---
Names
Continued from page 33
require Senate confirmation.
The council is an independent not-for-profit educational foundation and a state program of the National Endowment for the Humanities. It awards grants to citizens and citizen groups promoting the educational and cultural life of the state.
Lottery Control Board
David Zaransky, 62, of Northbrook, chairman of the board for Airways Rent A Car, reappointed October 11 to a term expiring July 1, 1994. The position pays expenses plus per diem, and the appointment requires Senate confirmation.
The board hears complaints of violations of the State Lottery Act and appeals of decisions by hearing officers on assessments by the state against lottery sales.
Board of Regents
New members appointed to six-year terms effective November 6 are James Myles, 54, of Chicago, treasurer of General Service Employees Union, replacing James Wright; Barbara Scheibling, 54, of Springfield, graphic designer with Corporate Image Design, replacing Clara Fitzpatrick; Niranjan Shah, 46, of Chicago, chief executive officer for Globetrotters Engineering Corporation, replacing Jerome Bender. The appointments require Senate confirmation; members are paid expenses only.
The Board of Regents is the governing board for Illinois State University, Northern Illinois University and Sangamon State University.
Illinois Student Assistance Commission
Reappointed were current commission chairman, Robert Barr, 55, of Evanston, a lawyer with Sidley and Austin in Chicago and past chairman of the Board of Regents, and Allen Baker, 70, of Pinckneyville, an optometrist and past president of the Illinois Community College Trustee Association. New member appointed was Kay Tokunaga, 52, of Skokie, administrative assistant at Steinmetz High School in Chicago and board member of the American Federation of Teachers, Asian American Educators Association. She replaced Celeste Stiehl. Their six-year terms were effective November 26 and expire June 30, 1997. Senate confirmation is required. Members are paid only for expenses.
The commission awards higher education scholarships and grants, guarantees loans and regulates submission of applicants for financial assistance.
Bower to U.S. Administrative Conference
Former GOP state Rep. Glen L. Bower, 43, of Effingham was named a liaison member of the Administrative Conference of the United States by the conference chairman at the recommendation of its executive council, effective in December. Bower is chairman of the Railroad Retirement Board in Chicago. He served two terms in the Illinois House, 1979-1983, where he was a member of the Joint Committee on Administrative Rules.
The Administrative Conference of the United States is a small, independent federal agency that develops recommendations to improve the administration of federal programs. The chairman is appointed by the president and a has a small full-time staff. The 100 voting members of the conference serve for two-year terms; 60 represent federal agencies; 40, including experts in administrative law, represent the public. Liaison members represent public and private agencies and organizations affected by federal regulations. They serve on committees, but do not have a set term and do not vote on recommendations. Bower is on the Adjudication Committee, which this year will consider a report on enforcement issues under recent amendments to the federal Fair Housing Act.
Appointments at Chicago's Federal Reserve Bank
Richard G. Cline, chairman, president and chief executive officer of NICOR Inc., is chairman of the board of directors of the Federal Reserve Bank of Chicago. He was appointed to a one-year term by the bank's Board of Governors, effective January 1. Also appointed to a one-year term as deputy chairman was Robert M. Healey, president of the Chicago Federation of Labor and Industrial Union Council,
Cline of Glen Ellyn has been a member of the Federal Reserve Board since 1990 and was deputy chairman in 1991. Healey of Chicago joined the board last year. They both serve as Class C nonbanker directors charged with representing the public's interests.
The nine-member board of directors oversees the management of the Chicago Fed's operations and acts on the bank's discount rate. The directors also contribute to the formulation of U.S. monetary policy by advising the Federal Reserve on regional economic conditions. One of 12 federal reserve banks across the country, the Chicago Fed serves Illinois, Indiana, Iowa Wisconsin and Michigan.
Peterson new IMA board chairman
New officers and board members elected by the Illinois Manufacturers' Association (IMA) effective December 12, include new board chairman James A. Peterson of Morris, president of Bimet Corp, Morris, succeeding Barry L. MacLean. New vice chairman is Calvin A. Campbell Jr. of Chicago, president, Goodman Equipment Corp. Bedford Park, and new treasurer is John R. Moore of Lincolnshire, president and chief executive officer of Midas International Corp., Chicago. They will serve
Concluded on back cover
34/March 1992/Illinois Issues
---
Names
Continued from page 34
two-year terms.
New IMA directors include: for a three-year term, Burnham Casterline of Barrington, corporate vice president of General Systems and director of Quality and Manufacturing Technologies, Motorola Inc., Schaumburg; for two-year terms, John R. Power of Jacksonville, publisher and general manager of the Jacksonville Journal Courier, and David P. Riley of Schaumburg, president, Middleby Corporation, Rosemont; and for a one-year term, Paul J. Darling II of Wilmette, president of Corey Steel, Chicago.
IASB elects officers
New president of the Illinois Association of School Boards (IASB) is Robert D. Reich of Bourbonnais. He and other officers were elected at the annual joint conference of the IASB, the Illinois Association of School Business Officials and the Illinois Association of School Administrators held November 22-24 in Chicago. Dawn E. Miller of Mundelein was elected IASB vice president, and June Sorrick of Evergreen Park was reelected treasurer. Elected as directors-at-large were David R. Barr of Park Forest, Geraldine P. Long of Lombard, Jeanelle Norman of Decatur and Carole M. Ringer of Bloomington. All serve one-year terms with the exception of two years for the treasurer.
Lt. Gov. Kustra's volunteer conference
A statewide conference on volunteerism will be held May 7-8 at the Oak Brook Hyatt in Oak Brook. Sponsored by Lt. Gov. Bob Kustra's Office of Volunteer and Senior Action, "The Magic of Volunteerism" is for anyone who manages volunteers as well as corporations, not-for-profit groups and individuals. Conference cosponsors are the Association of Volunteer Administrators of Metropolitan Chicago and the Illinois Community Education Association.
Seminars will be offered on such topics as "How to Manage Other Volunteers" and "How to Balance Work, Family and Volunteerism." A luncheon the second day will recognize the Volunteer of the Year. Volunteer Administrator of the Year, Senior Volunteer of the Year and Corporate Volunteer Program of the Year. Nominations forms are available from Gladys Acevedo, Office of the Lieutenant Governor, 100 West Randolph, Room 15-200, Chicago 60601.
The fee for the two-day conference is $75. Registration materials can be obtained by calling (312) 814-5220.
Whitley to board of Federation of Tax Administrators
Department of Revenue Director Douglas L. Whitley, 41, of Springfield, was named to the Board of Trustees of the Federation of Tax Administrators (FTA) effective December 12. Prior to his appointment as revenue director by Gov. Edgar in January 1991, Whitley was president of the Taxpayers' Federation of Illinois. The FTA, made up of revenue administrators from throughout the nation, seeks to develop federal and state tax policies.
Dubious distinction to Springfield, Bloomington and Rockford
A recent discovery has brought national attention to three Illinois cities. Is it a new Lincoln historical site in Springfield? Could it be a Japanese motorcycle plant deal in Bloomington? Maybe Rockford is the compromise site for Chicago's third airport? It's nothing that exciting; it's rather ordinary. In fact, Springfield is the fourth most ordinary city in the United States, falling behind Tulsa, Okla., Charleston. W. Va., and Midland, Tex., according to a study published in the January 1992 American Demographics magazine. Also in the top 10 were Bloomington as seventh "most ordinary" and Rockford as tenth. The rankings were established by using 1990 census data on age, race and property values for 555 U.S. cities with populations over 50,000.
With three of its cities in the top 10, Illinois may claim the dubious distinction of "most ordinary state."
Second Harvest wins national award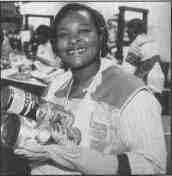 A volunteer at a Second Harvest food bank
operation sorts donated food products for
distribution to local agencies.
Second Harvest Food Bank Network, based in Chicago, was honored in December with a Presidential End Hunger Award. The 11 award winners were institutions or individuals selected by President Bush and the U.S. Agency for International Development. Second Harvest solicits donated food and grocery products from the U.S. food industry and other sources and distributes them to a nationwide network of food banks. Founded in 1979, Second Harvest distributed two million pounds of food that year. In 1990 it distributed over 476.4 million pounds of food worth over $1 billion (based on the established rate of $2.10 per pound).
Food banking is a growth industry fueled by poverty. In 1990 two million Americans joined the poverty ranks, pushing the official rate to 13.5 percent of the population, according to the U.S. Census Bureau. The 33.6 million Americans subsisting on incomes below the poverty level include the working poor, senior citizens, the homeless, the disabled, victims of natural disasters, the mentally ill and the newly unemployed.
Food collected by Second Harvest is channeled through 181 food banks throughout the nation to 42,000 charitable organizations serving all 50 states. In Illinois, Second Harvest foodbanks are located in Carol Stream, Chicago, Moline, Peoria, Springfield and Urbana. Member food banks must meet industry record keeping and storage standards and must also raise funds and food donations. The food is distributed to local charitable agencies that serve the hungry, such as soup kitchens, church pantries, senior and day care centers, drug and alcohol treament centers and homeless shelters.
Second Harvest and its network members are private, nonprofit organizations. Although Second Harvest received government funding as a pilot project, it has relied on private funds from the food industry, foundations and individuals since 1984. Second Harvest is managed by a board of directors with representatives from the food industry, network food banks and the public at large.
Second Harvest is ranked as the nation's fourth largest charity among nonprofits other than churches by the Chronicle of Philanthropy in its November 19 issue. The top 10 for 1990 are, in ranked order, the Salvation Army, American Red Cross, United Jewish Appeal, Second Harvest, American Cancer Society, American Heart Association, United Jewish Appeal-Federation of Jewish Philanthropies of New York City, Catholic Charities USA, YMCA of the USA and Harvard University. According to the Chronicle, the nation's top 400 nonchurch, charitable organizations received more than $17 billion in 1990.
Staff Contributors include
Margaret S. Knoepfle, F. Mark Siebert,
Dawn Siefman and Jennifer Smith.
---