Names



New state senator:
George Shadid replaces
Luft in 46th District

Longtime Peoria County Sheriff George Shadid, Democrat from Edwards, was appointed in mid-May to replace Democratic Sen. Richard Luft of Pekin to represent the 46th Senate district. Luft was appointed state banking commissioner by Gov. Jim Edgar (see below).
Shadid, 64, was selected unanimously by Democratic party leaders from the district, having served as Peoria County sheriff since 1976 and as a police officer since 1953, Shadid indicated an interest in prison reform. "My pledge to the citizens of the 46th district ... is the same as my pledge as sheriff: to always provide honest and dedicated public service," Shadid said.
He and his wife, Lorraine, have two children and three grandchildren.
---
Luft new Illinois commissioner
of state banks & trusts
"Richard Luft will be a great asset to our organization," said Scott Miller, acting commissioner of banks and trusts since former commissioner, Bill Harris, retired last December. Miller returns to his role as deputy commissioner once Luft is on board. Gov. Edgar appointed Luft, Democratic state senator from Pekin, as Illinois banks & trust commissioner on May 12.
Once Luft, 55, took on his new job, which required Senate confirmation, he had to give up his Senate seat, as a Democrat representing the 46th District. In the Senate, he has been serving as an assistant Democratic leader and as cochairman of the legislature's Economic and Fiscal Commission.
Luft served for more than a decade as a member of legislative committees involving banking and other financial institutions. He was first elected to the General Assembly in 1974, after serving two terms as auditor and chief fiscal officer of Tazewell County. He holds a bachelor's degree in political studies and master's degree in public administration from Sangamon State University, Springfield.
As commissioner, Luft's salary will be $70,511 and his term ends February 1, 1997.
---
Bradley resigns as
director of Public Aid
Phil Bradley announced his resignation May 12 as director of the Department of Public Aid to take a job with a Chicago-based health-care corporation, but he declined to provide its name. The corporation is reportedly trying to land a major contract with the state. He and Gov. Jim Edgar agreed that Bradley should not be involved in any Medicaid issues as he prepared to leave the agency, effective May 31.
Bradley, a life-long Springfield resident and director of the Department of Rehabilitation Services under former Gov. James R. Thompson, had been Public Aid director from the beginning of the Edgar administration. Bradley also confirmed that Theresa "Terry" Stoica, another top Public Aid official involved in Medicaid administration by the department, is leaving the agency to join an unnamed Chicago company.
Taking over the day-to-day department operations immediately was Public Aid Deputy Director Robert W. Wright of Springfield; he was set to become acting director, effective June 1, according to the governor. Wright, 31, holds a master's degree from Syracuse University and joined state government in 1985, working in the Bureau of the Budget, first as a bond analyst and later as public assistance division chief. He went to the Department of Public Aid in 1989 as chief of its bureau of hospital services and was named deputy director in February 1990.
---
Denise Kane state's DCFS inspector
general established by executive order
In response to the death of 3-year-old Joseph Wallace of Chicago and other tragedies involving children under state supervision, Gov. Jim Edgar issued an executive order in late April creating the Office of Inspector General for the Department of Children and Family Services (DCFS). He named Denise Kane, 47, to the post May 6. Her annual salary will be $71,000.
Kane has served since 1990 as associate director of the Citizens Committee on the Juvenile Court, an agency that monitors cases and services being delivered to children via the courts. She and her husband also have been foster parents to 12 children.
The inspector general position was designed to provide an independent advocate for children, who will spearhead internal investigations in cases where DCFS officials and caseworkers are suspected of failing in their duties to safeguard children.
---
State Rep. LeFlore dies
after a long illness;
Giles named to seat
State Rep. Robert LeFlore Jr. (D-8, Chicago), touted for his dedication to helping the underprivileged, died May 3 at Northwestern Memorial Hospital, Chicago, after a long illness. He had served in the House since 1983 and was chairman of the Human Services Appropriations Committee and a former chairman of the Legislative Black Caucus.
Born in Carrolltown, Miss., LeFlore attended Malcolm X College, Northeastern University and Governors State University. He served in the U.S. Army from 1951 to 1953. He is survived by his wife, Barbara, and three children.
Calvin L. Giles, 30, was appointed to fill LeFlore's seat in mid-May. Giles has been serving as administrative assistant to his uncle, Chicago Alderman Percy Giles.
---
Manning named chairman
Pollution Control Board
Claire A. Manning, 39, of Williamsville was appointed by Gov. Edgar as chairman of the Pollution Control Board, effective May 1. She succeeds John Marlin as chairman. Marlin will continue to play a role in Edgar's administration as assistant to the director of the Hazardous Waste Research Center.
Manning, a lawyer, served as a charter member of the State Labor Relations Board. She is also the former chief labor relations counsel to the Illinois Department of Central Management Services. She is a member of the Industrial Relations Research Association and a visiting professor at the University of Illinois Institute of Labor and Industrial Relations, teaching public sector collective bargaining to graduate and law students. As chairman of the seven-member Pollution Control Board, Manning will earn $68,689 annually plus expenses; her term ends July 1, 1995.
Reappointed to the board was Bill Forcade, 47, of Chicago, the former general counsel for Citizens for a Better Environment and formerly a research chemist with Witco Chemical Co. As a board member, he receives $66,421 annually plus expenses. His new term ends July 1, 1995.
Senate confirmation is required for both appointments. The board implements federal environmental control standards applicable in Illinois and has authority over decisions concerning permits for pollution

Continued on page 37
June 1993/Illinois Issues/35
---
Names
Continued from page 35

control facilities and hazardous waste disposal sites.
---
Gov. Edgar announces task force to develop
new type of long-term care insurance policy
Gov. Jim Edgar has appointed the members of the new Task Force on Long-Term Care Insurance, implementing the Partnership for Long-Term Care Act which calls for the development of "quality" private long-term care insurance policies.
Jean Blaser, manager of the division of long-term care, Department on Aging, said, "We hope to end up with a plan that is less costly. We want to make it easier for people to receive their benefits, and we want those benefits to be uniform and efficient. We want to cater to each person's individual needs according to their policy and make their lives easier."
This new 46-member task force will attempt to develop standards for an innovative approach to long-term care insurance, which is currently uncoordinated with government-subsidized programs and often unaffordable. One goal is to find a way to protect an individual's assets equal in value to the maximum benefit paid by the long-term care insurance coverage that the person buys.
Cochairing the task force are Maralee I. Lindley, director of the Department on Aging, and Stephen F. Selcke, director of the Department of Insurance. The governor expects the task force to make its recommendations in September for the new type of policies, which would be available by July 1994. He announced his appointments in March. Members aren't paid (except for coffee and donuts).
Consumer advocate members are: Mary Ellen Barry, past president. League of Women Voters of Illinois; Jason Kay, executive director, Illinois State Council of Senior Citizens, Chicago; Robert Kilbury, executive director, Coalition of Citizens with Disabilities in Illinois; Virginia Lake, member, Retired Illinois State Employees Association; Walter Lochbaum, member, Illinois Retired Teacher's Association, Streator; Pat McKenzie, member, state legislative committee, American Association of Retired Persons, Springfield; Wendy Meltzer, president, Illinois Coalition for Better Care, Chicago; James Metz, consumer representative, Senior Health Insurance Program, Springfield; and Pat Taylor, president, Older Women's League, Northbrook.
Long-term care provider representatives: Roger Arnholt, program development director, Lutheran Social Services, Chicago; Karen Freda, executive director, Alternatives for the Older Adult, Moline; William Kempiners, executive director, Illinois Health Care Association, Springfield; Jonathan Lavin, executive director, Suburban Area Agency on Aging, Oak Park; Pete Peters, executive director, Illinois Council on Long-Term Care, Chicago; Jura Scharf, associate director, Catholic Conference of Illinois, Chicago; and Ronald Weismehl, executive vice president, Council for Jewish Elderly, Chicago.
Insurance industry members: Mike Abroe, FSA, MAAA, consulting actuary, Milliman & Robertson Inc., Chicago; Richard W. Garner, group vice president, Continental Assurance Co., Chicago; Steve Robertson, assistant general counsel, Health Insurance Association of America, Des Plaines; Kaye Seaman, executive vice president, Illinois Life Writers Association, Springfield; and Michael Tate, executive director, Professional Independent Insurance Agents of Illinois, Springfield.
Members from the General Assembly: Reps. Bill Balthis (R-79, Lansing), William Black (R-105, Danville), Bob DeJaegher (D-71, Silvis) and Janice Schakowsky (D-18, Evanston); and Sens. Beverly Fawell (R-20, Glen Ellyn) and Karen Hasara (R-50, Springfield).
Department on Aging members: C. Jean Blaser, manager; Jan Costello, division manager; Cheryl L. Cromley, bureau chief; and Suzanne K. Grubb, administrative assistant.
Department of Insurance members: Charles Budinger, unit supervisor; Kathy Jackson, director of Senior Health Insurance Program; and Ron Kotowski, assistant deputy director over life, accident, health and HMO complaints.
Department of Public Aid members: George Anne Daly and William Opper, both bureau chiefs.
Other members from state government: Anton Kamnick and Amy Staten, both budget analysts, Governor's Bureau of the Budget; Claudia McFadden, research associate, Legislative Research Unit of the General Assembly; Randy Tomlin, Medicaid coordinator, AIDS unit, Department of Rehabilitation; Grey Warrner, chief, office of community services, Department of Commerce and Community Affairs; and Janet Zimmerman, management operations analysis, Illinois Health Care Cost Containment Council.
Academic specialist to the task force is Hunter McKay, deputy director. Center on Aging, National Program Office, University of Maryland.
---
Lincoln Academy inducts
six new laureates
Gov. Edgar presented the "Lincoln Me-

Continued on page 38
June 1993/Illinois Issues/37
---
Names
Continued from page 37

dallion" to the six newest laureates of the Lincoln Academy on April 17 at the Merle Reskin (Blackstone) Theater in Chicago. Established in 1965, the academy's purpose is to honor Illinoisans for their achievements or contributions to humanity.
The laureates, nominated and elected by the academy's 60-member board are:
| | |
| --- | --- |
| | Etta Moten Barnett of Chicago, a pioneer in movies and on Broadway. She is a Chicago civic and cultural activist who enjoyed a successful entertainment career, including performing as Bess in the 1942 Broadway production of "Porgy and Bess" and later became a goodwill ambassador for Presidents Eisenhower, Kennedy and Johnson. She is a national trustee of the National Conference of Christians and Jews and of the African American Institute. She is a member of the women's boards of the Lyric Opera, the Field Museum, the University of Chicago and the Art Institute. She is a graduate of the University of Kansas. |
| | |
| --- | --- |
| John H. Bryan of Chicago, director and past national chairman of the Business Committee for the Arts. Bryan is also chairman of the board and chief executive officer of Sara Lee Corporation. He is a member of the Fine Arts Committee of the U.S. Department of State and is vice president of the board of trustees and treasurer of the Art Institute of Chicago. He was the 1992 Grain's Chicago Business Executive of the Year and is a laureate of the Chicago Business Hall of Fame. He has also received the French Legion of Honor Award. | |
| | |
| --- | --- |
| | Subrahmanyan "Chandra" Chandrasekhar of Chicago, a University of Chicago professor who specializes in theoretical astrophysics. In 1983 he won a Nobel Peace Prize in physics for his studies of the evolution of stars and is the Morton D. Hull distinguished professor in astronomy, astrophysics and physics at the Enrico Fermi Institute of the university. He has served as editor of the Astrophysical Journal for nearly 20 years. He holds 12 honorary degrees and received numerous awards including the Gold Medal of the Royal Astronomical Society of London, the 160-year-old Rumford Premium of the American Academy of Arts and Science, the Royal Medal of the Royal Society, London, and the Henry Draper Medal of the National Academy of Science. |
| | |
| --- | --- |
| Lester Fisher of Chicago, retired director of the Lincoln Park Zoo in Chicago. His design of outdoor natural settings for animals rather than cages was just one of his many contributions to the zoo. He is internationally known for his success in the breeding and preservation of endangered wild animals, particularly the African Lowland Gorilla. Fisher graduated from Iowa State University. | |
| | |
| --- | --- |
| | Richard Hunt of Chicago, who is considered to be a master in the creation of large, outdoor, metal sculptures. He served on the National Council on the Arts and as a commissioner of the National Museum of American Art, Smithsonian Institution. He earned a bachelor's degree from the School of the Art Institute of Chicago. |
James J. O'Connor of Chicago, chairman of the board and chief executive officer of Commonwealth Edison Co. He has been honored for his outstanding service with volunteer and charitable organizations by the Urban League of Chicago, the United Way/Crusade of Mercy and the Woodlawn organization. He served as chairman of the Chicago Urban League and is past chairman of the board of the Field Museum and the Chicagoland Chamber of Commerce.

The governor serves as president of the academy.



---
Tarnaris named new member of Illinois
Housing Development Authority
Gov. Edgar appointed one new member to the Illinois Housing Development Authority (IHDA) and reappointed two others.

Continued on page 40
38/June 1993/Illinois Issues
---
Names
Continued from page 38

The new member is Napoleon Tarnaris, 37, of Long Grove, president and attorney at law with Skoubis, Tarnaris & Skoubis Law Firm in Rolling Meadows. He replaces John Washburn.
The IHDA subsidizes, with below-market-rate mortgages, housing rehabilitation and single-family home purchases for the physically challenged, senior citizens and low- to moderate-income persons. It also provides funds for loans or grants to finance rehabilitation of housing for the homeless.
Reappointed to the board were A.D. Van Meter Jr., 70, of Springfield, chairman emeritus of First of America Bank in Springfield; and John Viera, 61, of Des Plaines, vice president of Commonwealth Edison Co. in Chicago.
All terms were effective April 6 and run four years. These positions pay expenses only, and the appointments require Senate confirmation.
---
Mahru named to state's Affordable
Housing Advisory Commission
Gov. Edgar named Daniel Mahru of Glencoe to the 15-member Illinois Affordable Housing Advisory Commission, effective April 26. Mahru, 48, is president and chief executive officer of two Chicago-based companies, Rezmar Corporation and Automatic Ice Inc.
The commission is linked to the Illinois Housing Development Authority Board. The commission advises the authority on development and administration of an affordable program to meet the needs of low-income and very low-income households. The commission is funded directly through state tax dollars by the real estate transfer tax. This tax is assessed anytime a real estate transaction is made in the state. In a good year this tax can yield $13 million to $15 million annually for the commission.
Mahru replaces Rance Carpenter in this position which pays expenses only, and the appointment does not require Senate confirmation. Mahru's term ends October 1, 1994.
---
Malik and Shoultz new appointees
to Illinois Human Rights Commission
Gov. Edgar appointed two new members and reappointed four others to the Human Rights Commission, which adjudicates charges of civil rights violations in employment, housing, public accommodations and financial credit filed with the Department of Human Rights.
Gail Bradshaw, executive director of the commission said, "Sexual harrassment, race and age discrimination on the job and in education are our top priorities." She said that most of the cases that the commission handles deal with race, sexual harrassment and age — in that order. She added that 92 to 93 percent of cases are job-related. "After the Clarence Thomas' hearings," she said, sexual harrassment had more impact in the work force. Age discrimintation cases are on the rise, she said, explaining "more older workers in the work force are being layed off — just because they are old."
New commission members, effective May 1, are Bashir Malik, 57, of Aurora, administrator of the Malik Medical Clinic in Aurora (he replaces Jarvis Williams) and the Rev. Rudolph Shoultz, 74, of Springfield, pastor of the Union Baptist in Springfield (he replaces Howard Veal).
Reappointed, effective April 4, were Mathilda Jakubowski, 66, of Downers Grove, a member of the Coalition of Polish American Women and a former vice president of the Copernicus Foundation; Grace Kaminkowitz, 57, of Chicago, public affairs consultant and owner of Grace Kaminkowitz Enterprises in Chicago; Sylvia Neil, 40, of Glencoe, executive director and legal counsel for the American Jewish Congress in Chicago; and Randall Raynolds, 44, of Springfield, general manager of John B. Clark Realtor, Springfield.
All terms run four years, ending in January 1997. Each position pays $26,650, and appointments require Senate confirmation.
---
Judith Jones new member
of State Board of Elections
Judith A. Jones, 52, of Chicago, former executive director of the Cook County Republican Party and a former employee with the Department of Central Management Services, was appointed to the State Board of Elections by Gov. Edgar, replacing Richard Cowen. The governor reappointed three others to this board, which cannot have members solely from one political party:
David Murray, 57, of Sterling, a Republican and president of the Ward, Murray, Pace and Johnson Law Firm in Sterling. He is also the current vice president of the State Board of Elections, a position that pays $25,237 annually.
Langdon Neal, 35, of Chicago, a Democrat and an attorney with Earl L. Neal and
40/June 1993/Illinois Issues
---
Names
Associates in Chicago. He is vice president if the Children's Place Association. Neal currently serves as the chairman of the State Board of Elections; that position pays $30,723.
Wanda Rednour, 56, of DuQuoin, a Democrat and board member of the DuQuoin State Bank. She is honorary chairman of the DuQuoin Tourism Commission.
As members of the State Board of Elections, Rednour and Jones are paid $21,832 annually.
Senate confirmation is required of the appointment and reappointments; all terms are effective July 1 for terms ending on June 30, 1997. The State Board of Elections administers registration and election laws along with publishing election results and other information about political campaign contributions and expenditures.
---
Fitzgibbon named to
Toll Highway Authority
Thomas Fitzgibbon, 56, of Des Plaines was named to the Illinois State Toll Highway Authority, effective April 6, by Gov. Edgar. Fitzgibbon is chairman and chief executive officer of Combined Contract Services Inc., Chicago. He replaces Timothy Bresnahan on the authority. Fitzgibbon's appointment requires Senate confirmation. He will receive $16,459 annually as a member of the authority; his term runs four years. The Toll Highway Authority is responsible for the planning, constructing and maintaining of the state's toll highway system, which is concentrated in northeastern Illinois.
---
Hoffman new chairman of State
Labor Relations Board
Manny Hoffman, 56, of Hazel Crest was appointed chairman of the State Labor Relations Board by Gov. Edgar, effective April 15. A former state representative (the old 37th District), he is owner and president of Manny Hoffman Insurance Agency Ltd. in Homewood. He also served as president of the village of Homewood for six years.
The State Labor Relations Board has jurisdiction over collective bargaining between employee organizations and the state, the Regional Transportation Authority, and between certain units of local government and school districts.
Hoffman replaces William Brogan in this position which pays $54,862 annually. The appointment, which requires Senate confirmation, is for a term ending January 24, 1994.
---
Kozubowski pleads guilty, quits as
Chicago city clerk — finally
Walter Kozubowski gave new meaning to the word "chutzpah" this spring when he boasted he would keep his elective position as Chicago city clerk — and its $85,000 annual paycheck — even after pleading guilty April 5 to federal charges of mail fraud, bank fraud and tax evasion. Public outcry against those plans helped persuade him to resign the seat April 15. The point at which a felony conviction disqualifies an Illinois official from holding public office was established very visibly in Illinois when William J. Scott, then Illinois attorney general, was found guilty of tax-related charges (not related to his official duties). The precise time of disqualification was clarified then as the point of sentencing.
The charges against Kozubowski were filed in connection with his alleged running of a ghost payrolling scheme that cost tax-

Continued on page 43
June 1993/Illinois Issues/41
---
Names
Continued from page 41

payers more than $480,000. Mayor Richard M. Daley finally named a successor to Kozubowski on May 19. The newly appointed city clerk is Thomas Scorza, who was serving as an assistant U.S. attorney.
---
Walsh off to Washington
to head AFL-CIO's COPE
| | |
| --- | --- |
| | Richard J. Walsh, 49, of Springfield, Illinois AFL-CIO president since 1989, was named national director of the AFL-CIO political education committee (COPE) by AFL-CIO president Lane Kirkland, effective June 1. Walsh replaces John Perkins, who retired May 1. Walsh becomes only the fourth COPE director in the 38 years since the merger that formed the AFL-CIO. He and wife Jenifer Klindt, a former member of House Speaker Michael J. Madigan's staff, will be moving to Washington, D.C. |
Walsh joined the Illinois AFL-CIO staff in 1978, becoming legislative/political director in 1980 and secretary/treasurer in 1987. "I have worked closely with many wonderful union members in Illinois, and it will be extremely difficult for me to leave," Walsh said. He earned a bachelor's degree from Loyola University of Chicago and a law degree from the University of Illinois Law School, Urbana-Champaign. He is a member of the American Federation of Teachers (AFT) Local 4438, and he served in the Peace Corps. He has also served on the board of Illinois Issues since April 1989.
Illinois AFL-CIO secretary/treasurer, Donald Johnson, will fill the remainder of Walsh's term as Illinois president, and Margaret Blackshere, assistant to the president for political activities for the Illinois Federation of Teachers, was named to replace Johnson. Those appointments were made at a special meeting of the Illinois AFL-CIO vice presidents.

James Pollock with contributions by Jennifer Halperin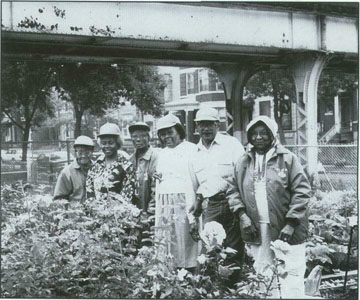 Gerald
and
Lorraine Earles
of Lawndale were honored by President Clinton on April 22, receiving the President's Volunteer Action Award for their involvement in and caring of their community. The Earles, along with numerous volunteers, who have dubbed themselves the "Slumbusters," have transformed ugly, litter-filled vacant lots in the Chicago area into thriving beautiful gardens. The Earles were nominated by the University of Illinois Cooperative Extension Service in Cook County, which offers educational as well as practical programs to citizens so that they can improve their communities. The Earles have been volunteers with the Cooperative Extension Service Urban Gardening Program since 1985.
June 1993/Illinois Issues/43
---