Angelina Corsale and Mary Ann Johnson
On March 2,1908, an incident occurred on the north side of Chicago that sent shock waves through the city and was reported on the front pages of newspapers throughout the country. On that day at 9:00 a.m. an 18-year-old Jewish man, Lazar Averbuch, rang the front doorbell of George Shippy, Chicago's chief of police. Shippy came face to face with young Averbuch, who carried an envelope in his hand. Averbuch stepped into Shippy's entranceway and a struggle ensued. Averbuch was shot several times and killed. Shippy and his son, who had arrived on the scene, were both wounded by gunshots.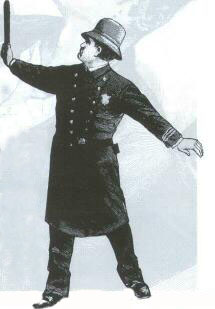 At the time Chicago's Jewish community numbered approximately 130,000. Mostly recent immigrants from Russia, Rumania, Hungary, and other Eastern European countries, these new arrivals had crowded into the old Maxwell Street neighborhood on the city's Near West Side. Their presence was a direct result of restrictive laws, pogroms, and general persecution. Successive waves of Jews had immigrated to American ghettos where they felt safer and sought help from Jews who preceded them.
Averbuch had been a resident of the city's Eastern European Jewish community on the Near West Side. A native of Kishinev, Russia, Averbuch had arrived in Chicago three months before the shooting incident, immigrating to America by way of Vienna where he had studied accounting at a school of commerce. In Chicago, Averbuch was employed by W. H. Eichengreen, a German Jewish businessman who owned an egg commission house. Averbuch lived in a small apartment in the Jewish neighborhood with his sister Olga. Before fleeing Russia, Averbuch and Olga had witnessed the Kishinev Massacre in 1905 in which Russian officials hunted and murdered Jews.
Following Averbuch's death, a group of concerned citizens met to set up an investigation into the Averbuch case. Among them was Jane Addams, head resident of the well-known social settlement, Hull House, founded in I889 near Averbuch's community. Established in local communities as centers for education, philanthropy, investigation, and reform, social settlements also often served as an intermediate voice interpreting foreign colonies to the rest of the city and visa versa.
A thorough investigation into the facts of the Averbuch case was inconclusive. The envelope Averbuch carried had Chief Shippy's name and address on it along with a daily quotation of the price of eggs, the piece of paper having been used in Eichengreen's egg commission house. An inquest into the Averbuch case was held on March 24,1908. In preparation for this inquiry, the attorney compromised with the city coroner whereby no evidence about Averbuch's alleged anarchist connections would be introduced. In return the attorney promised not to mention irregularities on the part of the coroner's office during Averbuch's autopsy. By this agreement, the attorney hoped to prevent further violence and anti-Semitic feeling directed against the Jewish community. Years later he pondered: "Was it a good trade? I think it was, because it removed the element [anarchism] which might have implicated a great many of the younger Jewish men and women."
Foreign-born anarchists were feared in Chicago since their involvement in the Haymarket Riot nearly twenty years earlier. Averbuch's death provoked an immediate response from various elements of Chicago's population. The city split into factions.
Shippy emphasized his assumption that Averbuch was an anarchist. As a Chicago newspaper reported, "seeing a dark young man with a letter in his hand standing in his doorway at an unusual hour, he was convinced that the man was an Italian anarchist sent to
25
---
assassinate him in the furtherance of an anarchistic plot, of which he had been warned." Shippy admitted shooting Averbuch, but his defense rested on his assumption that Averbuch had come to his house to harm him. Shippy further stated that he had assumed that the envelope in Averbuch's hand contained a decoy letter as it had Shippy's name and address on it. Shippy also stated that Averbuch carried a gun and a knife and that Averbuch shot at both the chief and his son in the course of the scuffle.
In the days following the shooting, a number of incidents were reported that demonstrated the general public's prejudice. Jane Addams reflected, "In the public excitement, good citizens jumped to the conclusion disseminated by certain newspapers that the ghetto was full of 'anarchists' and 'anarchist plots'."
School children were hooted and stoned on the streets, while young people returning from their work on the street cars were treated with contempt. A large parcel of land in central Illinois that had been purchased for use as an agricultural colony by Russian Jews was withdrawn by the seller on the ground that the people of the vicinity were not willing to have anarchists settle there. Addams further observed, "The old anti-Semitic feeling held sway, encouraged and sustained by the sense that to indulge it was to put down anarchy."
Immediately after the incident the Chicago police ransacked all the printing offices they could find in the city's Russian Jewish community, raided a restaurant because it had been supplying food at cost to the unemployed, searched private homes for papers and photographs of revolutionaries, confiscated the library of an anarchist educational group and carried away all of the books to city hall, and arrested two of Averbuch's casual friends and kept them in the police station for 48 hours. Olga, Averbuch's sister, employed by Mrs. Eichengreen as a seamstress at the time of the shooting, was also interrogated continuously by the police in an attempt to establish an anarchist connection with her brother. One of the Chicago papers printed an interview with Olga in which she stated that her brother's
object in going was to ask the Chief for a record or certificate of good behavior as is customary in Russia. You know that in Russia every office demands a certificate . . . . He thought that such a certificate would help him procure a good position .... My brother had no revolver .... he did not know how to shoot.... My brother was never an anarchist.... how old was my brother? He would have been nineteen at the next Passover holidays.... My brother was neither a fool nor insane. He went to seek bread, and he met his death.
The Averbuch incident and the response of the Chicago press, police, and public greatly agitated the Russian Jewish community partly because of experiences its members had suffered at the hands of Russian government agents before they immigrated to the United States. Jane Addams explained:
For two hundred years we have been crying aloud our bill of rights; the immigrant heard it in all its variations long before he touched our shore. He came from the persecutions of Russian officialdom with a heart full of gladness, to be plunged into an experience which in every detail is the counterpart of the horrors from which he fled.
Factions within the Russian Jewish community advocated different responses to the incident and its aftermath. The younger and more radical members of the community urged immediate action and a public demonstration against the actions of the police. The older and more conservative members believed that such a demonstration would lead to further violence in the charged atmosphere and should therefore be avoided if at all possible.
A third group were German Jews who, unlike the Eastern European Jews, had arrived in Chicago some decades earlier and were already quite well established. Many members of this group were deeply concerned about the Averbuch case and its possible anti-Semitic influence on the city. Some members of this community banded together to support an investigation of the incident. Funds were raised by a committee of prominent Jews for the purpose of investigating the case with the hope of "freeing that race from the stain of Averbuch's attempted crime."
26
---
From her vantage point at Hull House, Addams was exposed to the various points of view and reactions that emerged as a result of the Averbuch case. She observed:
the more excited and irrational public opinion is, the more recklessly newspapers state mere surmises as facts, and upon these surmises arouse unsubstantiated prejudices against certain immigrants, the more necessary it is that some body of people be ready to put forward the spiritual and intellectual conditions of the foreign colony which is thus being made the subject of inaccurate surmises and unjust suspicion.
Addams was also concerned that reactions to the Averbuch incident would undermine new immigrants' confidence in the American system of government. Finally, in a newspaper article dated May 10, 1908, Addams concluded there were few anarchists among the new immigrants, that they were humiliated by sporadic acts of violence, and that the police's "arbitrary and unreasonable arrests and other oppressive measures" provoked the very sentiments they hoped to prevent.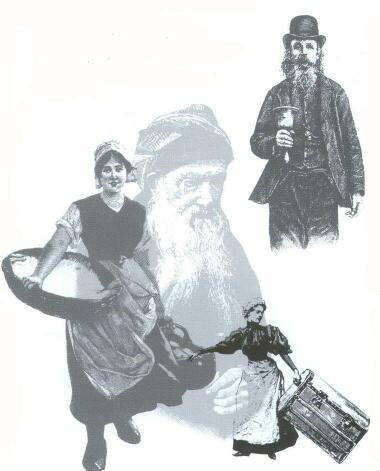 Click Here for Curriculum Materials
27
---