By JENNIFER HALPERIN
---
Riverboat gambling on a collision
course over local control
Some communities put pressure on lawmakers to allow more betting boats, while anti-gambling forces launch a grassroots counter-offensive
Riverboat gambling, approved in 1990, was aimed at helping Illinois' aging and ailing river towns. Initially, 10 licenses were authorized by the state. After seeing how lucrative gambling has been so far, however, some who were cut out of the first round want in. Making no small plans, Chicago Mayor Richard M. Daley wants five boats, if not the state's first land-based casino. Richard Duchossois, owner of Arlington International Racecourse, wants a boat at his track in Arlington Heights. And communities as far-flung as Waukegan, Sycamore and Springfield are bidding for part of the deal. Consequently, lawmakers are likely to revisit the issue of expanded gambling as part of a wider discussion on business reforms and economic development policies.
Nestled in the hills of northwest Illinois, Galena's streets are lined with old-fashioned ice cream parlors and craft shops. Tourists from Chicago and Des Moines, who stay in 19th-century bed-and-breakfasts fronted by wrap-around porches, come to enjoy the area's rich heritage.
Ironically, an economic downturn in this community around the time of the Civil War served to protect many of the old buildings that line the bluff along the town's main street. While the rest of the nation turned to rail to transport people and goods, Galena's business and political leaders continued to bet on the river traffic. Consequently, backers of the railroad chose nearby Dubuque for a main terminus and prosperity passed by this once-bustling community. Ultimately, the riverboat trade dried up, as did the river that flowed past the town's front door. Galena became so poor, in fact, that few could afford to tear down their vacant buildings. As a result, little has changed here since Ulysses S. Grant tried to get a start in his family's harness shop. And that is precisely what makes Galena so attractive to modern out-of-towners with cash.
Now some residents of Galena believe a 20th-century resurgence of 19th-century-style riverboat gambling threatens their quieter and simpler way of life, as well as their tourist trade. In 1991, the Jo Daviess County Council granted docking approval for a riverboat casino in East Dubuque, a few miles west of Galena. "They rammed it through as a surprise," says Galena native Janice Lisk, who works at the town's history museum. "No one knew the vote was coming up; no one knew anything about it. There was no citizen discussion of how this would change our area."
In response, Lisk and others formed the Coalition of Concerned Citizens Against Gambling in Jo Daviess County, which put three anti-gambling measures on the ballot in the spring of 1992. With more than 60 percent voter turnout, all three non-binding referenda passed overwhelmingly. What's more, three incumbent county board members lost their primary battles to challengers who opposed gambling in the county. Residents of the area clearly were angry.
That grassroots effort was not enough to keep the Silver Eagle riverboat casino from coming to Jo Daviess County. But it taught local activists a powerful lesson about how public policy sometimes is shaped. "It was the money that won here," says Sara Fisher, another coalition member. "Nobody listened to what the people wanted."
Illinois officials approved riverboat gambling as a form of development for the state's economically stressed river cities. Now a number of other communities — most notably Chicago — are pushing to cash in. Lawmakers likely will debate additional riverboat licenses this spring.
Meanwhile, though, anti-gambling activists in cities across Illinois are starting to question some of the long-term costs of such economic development. Increasingly, they're raising that issue at the ballot box. And, along the way, they're butting heads with those who are sold on gambling's benefits. The conflict raises an important question: How much say should citizens have on whether gambling comes to their community?
Since Galena's experience, local groups opposed to expanded riverboat gambling have sprung up from Decatur to Chicago. Not only have voters in seven of 10 communities approved anti-gambling referenda since 1992, but voters in 23 communities approved measures saying they want the right to vote before expanded gambling comes to their areas. In Chicago, Mayor Richard M. Daley beat back aldermanic efforts to give voters a say on gambling in the Windy City. In Arlington Heights, a citizens group recently won a year-long battle to place a referendum on the ballot asking if casino gambling
14/February 1995/Illinois Issues
---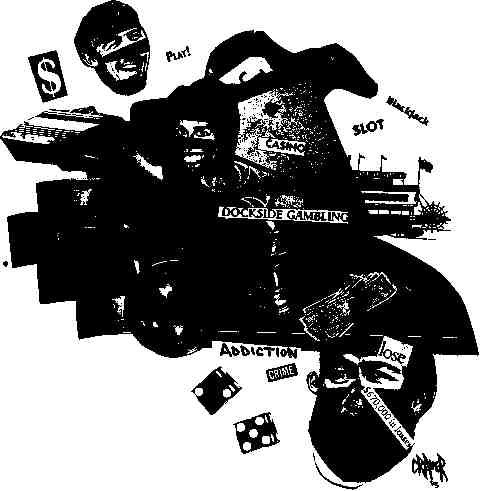 should be permitted at the Arlington International Racecourse. The non-binding vote will take place in April.
That victory took some, doing. When rumors first began circulating that Richard Duchossois wanted a casino boat at his horse racing track. Concerned Citizens for Self-Determination launched the referendum bid in an effort to get some say on the matter. However, the grassroots effort was opposed by a coalition of business interests and racecourse executives. In addition, village board members repeatedly turned down the group's requests to place the measure on the ballot. Finally, though, the two sides agreed on the language of the referendum.
Though voters can use an advisory referendum to gauge sentiment on gambling in their area, state and local politicians still have the final say. And grassroots anti-gambling forces face some imposing foes: politicians and investors eager for the financial rewards casinos can yield. Indeed, in the short run, riverboats have been lucrative for Illinois. By fiscal year 1994, the boats had generated more than $220 million in state and local taxes since taking to the water. Profits for investors have been hefty. During the Joliet Empress' first 18 months of operation, its nine principal investors split $85.8 million in dividends on an initial $7 million investment, according to data from the Securities and Exchange Commission.
February 1995/lllinois lssues/15
---
Illinois referenda on specific gambling proposals

Municipality

Date

Yes

No

Chicago

Nov.86

42%

57.6%

Jo Daviess County (riverboats)

Mar. 92

19.3 %

80.7%

Jo Daviess County (casinos)

Mar. 92

19%

81%

Rolling Meadows

Mar. 92

44.7%

55.3%

Antioch

Apr. 93

39.1 %

60.9%

Elgin

Nov. 93

62.3%

37.7%

West Dundee

Nov. 93

50.1%

49.9%

Blue Island

Mar. 94

55.3%

44.7%

Menard County

Mar. 94

45.1%

54.9%

Willow Springs

Nov.94

44%

56.0%

Palos Hills

Nov.94

43.5%

56.5%

Des Plaines

Nov.94

44.9%

55.1%

A "no" vote opposed the expansion of gambling in that area.
Communities supporting gambling in their referenda are in bold face.

Source: Religious Task Force to Oppose Increased Legalised Gambling
Still, more voters want to help decide whether gambling comes to an area. "It's an industry that can have profound economic effects on a community, and I think citizens deserve a say on it," says Rep. Ron Lawfer, a Republican from Stockton. Lawfer sponsored a bill last year seeking a statewide advisory referendum on whether the General Assembly should grant additional riverboat gambling licenses; he said he's discussing a similar proposal for this year. "A referendum spurs discussion, and I think there needs to be discussion before gambling is expanded."
"We're just citizens trying to take control of our own town," says Phil Crusius, who chairs the Arlington Heights citizens group. "I'm amazed at how much we've battled on this. I used to think, 'Who would fight putting a referendum on the ballot?' It shows you what money and clout can do."
If any one individual drove Galena citizens to organize against gambling, it was Tom Grey. A Methodist minister with a history of social activism. Grey has since undertaken a formal mission — at the behest of the bishop of the Chicago Area United Methodist Church — to launch anti-gambling referenda nationwide. Grey says he wasn't inspired so much by a dislike of gambling per se as frustration over lack of local control.
"It's time to see if the people who don't want gambling in their towns can really do anything about it," says the energetic Grey, who insists this year is Illinois' final chance to expand gambling. Grey believes, as do some gambling proponents, that if lawmakers do not increase boat licenses or move to land-based casinos this year, the casino industry likely will set its sights on other states. He hopes communities will help convince these investors to move on. "The common people at the grassroots have been ignored as people in power go for the money," he says. "We have no money to fight the big casino industry. But my confidence is at the level that I think we still can win."
"I would rather see the issue decided by referendum than in back rooms," says Doug Dobmeyer, legislative chair for the Religious Task Force to Oppose Increased Legalized Gambling. "And I think it's changing. The election this fall sends a clear message about that. The Republicans boxed themselves into the position of saying they're going to change government. They can't go and cut a deal in the back room now; [the deals] have to be cut in public."
Activists point to the potential social costs of gambling. The Silver Eagle has been up and running for about two-and-a-half years, but Lisk, Fisher and other Galena residents still lament its arrival and its effects on their community. Gathered in Fisher's home, they pass around the story of a young man's suicide, reported in the Dubuque, Iowa, Telegraph Herald. The article describes how 19-year-old Jason Berg of Waukon, Iowa — across the Mississippi River from East Dubuque — stole from his family in order to gamble on the Silver Eagle. With his debts mounting, according to the account. Berg wrote a note that said, "I'm out of control," before ending his life with a gunshot to the head.
In fact, studies have found that 15 percent to 25 percent of compulsive gamblers attempt suicide, says John Warren Kindt, a business professor at the University of Illinois. This rate is five to 10 times higher than in the general population.
That's part of the price riverboat casino communities pay for the revenues they gain, says John Cluney, legislative chair for Illinois Churches in Action, who counsels people with gambling and other addictions. Experts say that from 1.5 percent to 5 percent of the population is susceptible to gambling addiction. "At some point we have to wonder why we would bring an industry into town whose sole purpose is to addict society. That's the way they make their money."
Few state legislatures have recognized the social costs that accompany legalized gambling, says Kindt. Further, gambling not only creates huge pressures on social welfare budgets, but increases costs for businesses in general and insurance companies in particular, he says.
"In 1992, for example, insurance fraud apparently related to legalized gambling activities was already $1.3 billion nationwide," Kindt wrote in 1994 in the Drake Law Review.
Pathological gamblers often borrow from life insurance policies, surrender their policies and allow them to lapse or be revoked — which is costly for insurance companies as well as the gamblers' families. A national Gamblers Anonymous study found that 47 percent of addicted gamblers had engaged in insurance-related fraud or theft, forcing insurance companies
16/February 1995/Illinois Issues
---
to pay the victims. The average amount of the fraud involved was calculated at $65,000.
In addition, Kindt says current data show legalized gambling increases the number of addicted gamblers by up to 550 percent within five years. "The social, economic, business and governmental costs are enormous," he says. "Every addicted or compulsive gambler negatively impacts between seven and 17 other people." He extrapolates that in 1992 dollars social welfare costs related to gambling in Illinois would jump from $730 million to as much as $4.75 billion if gambling were expanded. These costs include lost income, spousal abuse, child abuse and welfare checks. "Even under the most optimistic projections and scenarios, social-welfare budgets will probably not be able to meet 100 percent of increased demands," he says.
Critics also argue that gambling lures the poor. University of Illinois economist Earl Grinds, who has studied several aspects of riverboat gambling, found poor people lose proportionately more of their disposable income by gambling. Grinols found that compulsive gamblers making under $10,000 a year gamble an average of 5.5 percent of their income. Findings such as these prompt opponents to call legalized gambling a "regressive tax" on the poor.
The Rev. Tom Clay works at Reformation Evangelical Lutheran Church in Roseland, a community on Chicago's South Side. "On a good day, it's a working-class community," he says. "But there are a lot of people struggling." A 1991 analysis that broke down lottery sales by zip codes found that in seven months $11.2 million was spent on lottery tickets in Roseland. "For a community like Roseland to give up that much money... it's unbelievable," he says. "That's money that's going away. If we were given a grant like that — $20 million for a year — we could do so much with it in this neighborhood. The lottery folks could've written a $350 check to every man, woman and child in the community. If we had this much to spend, we could make Roseland look like Schaumburg."
Expansion of gambling in Illinois
1927: Illinois legislature approved pari-mutuel wagering on horses
1971: bingo games became legal in Illinois
1973: legislature approved state lottery
1986: charitable games became legal in Illinois
1986: off-track betting parlors were approved
1990: legislature approved 10 licenses for riverboat gambling
Expanded riverboat gambling and changes in regulations
affecting the horse racing industry are under discussion now.
Social costs aside, gambling opponents in Jo Daviess County and other parts of Illinois aren't impressed by promises of economic development. A study by the University of Illinois' John B. Crihfield and J. Fred Giertz for the Illinois Gaming Board found the Alton Belle riverboat has had a positive impact on the city of Alton and the region's economy: Over 1,000 people are on the boat's payroll, and over $14 million in state and local tax revenues are generated directly by the boat. But Grinds found that riverboat gambling had little effect on reducing unemployment in 11 of 12 Illinois counties he studied. Massac County, in far southern Illinois, was the lone county where Grinds found gambling had a positive impact, with a net gain of 349 jobs accountable to the Players Riverboat Casino on the Ohio River. Although boats in Illinois employed 8,296 people, the study found, there was little or no net reduction in unemployment in the local economies.
Grinds' study found that riverboat casinos appear to shift jobs rather than create jobs. For example, the study showed the number of independent restaurants drops when a casino opens up, as do car sales. Grinds was cautious about drawing long-term conclusions on riverboat gambling's economic effects based on short-term evidence. But in the case of Chicago, his study found, preliminary evidence suggests most of the gambling revenues would come from city residents, and Chicago would lose two to three jobs for every gambling job gained.
Kindt also is suspicious of the numbers tossed around regarding jobs that would be spurred by a Chicago casino complex. "During approximately an eight-month time frame, [proponents'] job estimates ranged from 15,000 to 100,000 — raising serious doubt about the credibility of the sponsors of the casino complex," Kindt wrote in the Drake Law Review. "Similarly, the range of new tourists fluctuated from an initial estimate of 2.9 million new tourists to estimates of 10.2 million new tourists to Chicago each year.
"It should be noted that the entire state economy would probably have lost more jobs than the sponsors of the casino complex promised to create," Kindt says, "partially due to the migration of consumer dollars away from pre-existing Illinois businesses."
Even Illinois Gaming Board Chairman J. Thomas Johnson acknowledges that while many people believed casino river-boats would be the catalysts for transforming communities into destination resorts, that did not occur. Galena, for example, already attracted tourists to its boutiques and restaurants, where they spent plenty. Now, Lisk and others say, busloads of tour groups come into town, but their money is spent on the riverboat. These visitors are given an hour or so to explore Galena's charm, but their wallets don't open much. "The boat discourages people who come here for the quaint-ness of Galena," says resident Donna Wilmirth. "Some things just are not compatible ... like country inns and casinos."
Grey is banking on such local economic realities taking precedence over the wishes of public officials and politically connected would-be investors. "I hope what happened in Galena was a wake-up call for people in other communities," he says. "I think average people deserve to have a say in what happens to their communities — and I wish those in power could see these are the people they should be catering to." *
February 1995/lllinois Issues/17
---