---
By DONALD SEVENER
---
Mike Hudson
Memorial
Economics Essay

Michael H. Hudson was vice president of public affairs at Illinois Tool Works Inc. and chairman of the Illinois Issues Board at the time of his death in 1992. In his memory, fellow Board members established an annual essay to examine a significant economic trend in Illinois that has been affected by public policy or lack of public policy. This essay about jobs in Illinois is the first in the series of Mike Hudson Memorial Economics Essays, which are funded by a donor that asked to remain anonymous.

Finding
jobs
in Illinois

As trends since 1978 reveal, a changing job market is demanding a new breed of worker in Illinois. How well the next generation of workers prepares will determine how friendly the new workplace will be
The world, it seems, was a simpler place in 1978, more orderly, better defined. Gasoline averaged about 70 cents a gallon. It cost two bucks to see Richard Pryor in Blue Collar at the Chicago Theatre. Tuition at the University of Illinois was about $400 a semester. There was no AIDS, no MTV; there was a World Series. Those were, it now seems, the "good old days."
Norman Rockwell, illustrator of the American Dream, died in 1978, the year my daughter Katy was born. Kate is now a high school junior in Springfield, soon to be on the threshold of college. Class of 2000. The world has changed a lot in the 17 years since Kate was born.
Soon after her birth, I took a job with a newspaper group in Decatur, a blue-collar city where organized labor was a potent force; today in Decatur, workers at A.E. Staley Co. have been locked out by their management and the once-mighty UAW has been humbled by a Caterpillar that defeated a strike with threats to hire replacement workers. Back then I worked for a group of downstate daily newspapers, typing editorials and news stories on an old Royal manual typewriter; today, I'm writing this on a high-speed Macintosh computer with CD-ROM and, just a dial tone away, the information superhighway, In 1978, Chicago, one of the nation's great newspaper towns, lost one of its great newspapers when the Daily News folded after 103 years of publication; today, thanks to the technological revolution, I can read the Chicago Tribune electronically without even going to the drugstore to buy one.
Leonid Brezhnev was the leader of the Soviet Union the
12/January 1995/Illinois Issues
---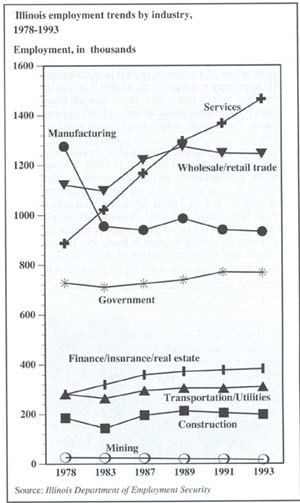 From 1978 to 1983, more than 300,000 jobs — high-paying manufacturing jobs with good fringe benefits — vanished in Illinois
year Kate was born; now there is no Soviet Union. Back in '78 the president of the United States was an obscure former southern governor who was widely unpopular with the public and maligned by Republicans and Democrats alike, the Cubs had a mediocre season and Illinois had a Republican governor. Well, maybe some things haven't changed much.
But most have. As Kate enters college next year, settles on a major and maps out her career, she will find that many of those changes will profoundly affect her life, her livelihood, her success and her happiness. Nowhere has change been so fast, so fundamental, so widespread and so momentous as in how Americans work.
In Illinois, the labor force, the workplace, the very nature of the economy has changed — and is changing — dramatically. The job market my daughter will enter as a college grad in 2000 will be vastly different from that faced by people just a generation earlier. It will offer her huge opportunities, but great uncertainties. It will reward those who prepare themselves and punish those who don't. It will present her with new demands and few guarantees.
Will she be ready? She might. But many experts question whether the skills, knowledge and aptitudes that young people learn in the schools of today will well prepare them for the workplace of tomorrow. And yet, it will be a workplace that will be demanding and unforgiving of its workers. "I don't think it will be sanguine," says one expert of the new world of work. "I don't think it will be very worker friendly."
By the time she enters the world of work at the dawn of the new century, Kate and her generation may well find our Rockwellesque vision of the American Dream — the promise of opportunity, economic security, just rewards for hard work, a growing standard of living — ever more elusive.
Where we've been
The economy hasn't been especially worker friendly in the past 16 years.
While Katy was growing up, Illinois' economy, like that of the Midwest and of the nation, underwent a vast transformation, and not a sanguine one for many workers. In 1978, there were 4.8 million people employed in nonagricultural jobs in Illinois. At the end of 1993, more than 5.3 million Illinoisans were employed. In between, work in Illinois changed significantly, irreversibly and, for many workers, ruinously. The greatest impact was on those who worked in factories; many of them lost their jobs.
In 1978, more than one in four Illinois workers — nearly 1.3 million people — were employed manufacturing things. But by 1983, about the time Kate was entering kindergarten, the state and the rest of the nation were in the depths of a prolonged and punishing recession. In those five years, more than 300,000 jobs — high-paying manufacturing jobs with good fringe benefits and what had long thought to be a certainty of lifetime employment — vanished in Illinois. "The early '80s was really a hellacious period for Illinois," observes John Crihfield, a professor of economics at the University of Illinois in Urbana.
Between 1978 and 1993, the number of manufacturing jobs in Illinois fell 37 percent — the only job sector to show a
January 1995/Illinois Issues/13
---
decline — and the manufacturing component of the state's economy employed just 17.5 percent of the work force, down from 26.6 percent 15 years earlier. Job losses were felt throughout the manufacturing sector, though workers making durable goods were especially hard hit — 90,000 jobs lost in the manufacture of machinery, 60,000 in electrical equipment, 49,000 in primary metal products, 48,000 in prefab metal production. But, though less severe, there were job losses in production of nondurable goods as well, 23,000 in food production alone, for example, where employment stood at 118,000 in 1978.
Big firms and small companies closed plants and laid off workers in every corner of the state. In 1980, Wisconsin Steel shuttered its mammoth production facility, idling 3,400 employees in the Chicago area. Six hundred workers at Johnson & Johnson in Park Forest South lost their jobs when the company lost its market in 1981. National Metalcrafters gave pink slips to 500 workers in 1982, citing economic conditions as the reason for closing its plant in Rockford. That same year, consolidation of operations by DeKalb-Pfizer put 2,000 workers on unemployment rolls. Layoffs hit companies like Clark Equipment Co., Admiral Corp., Freeman United Coal, Wyeth Laboratories, Hiram Walker, Fiat Allis, Pabst Brewing, International Harvester, Owens-Illinois and Schwinn. In places like Chicago, Deerfield, Peoria, Mundelein, Decatur, Kankakee, Pinckneyville, Springfield, Monmouth, Rock Island, Harvey, and Murphysboro. For such reasons, noted by the companies, as "loss of market," "imports," "low productivity," "lack of market," "relocated to Arkansas," "depressed market," "production shifted to Texas," "relocated to southern U.S. and Asia," "new owners reducing Chicago operations."
According to figures compiled by the state Department of Commerce and Community Affairs, in 1981 alone, 39 companies employing 6,157 workers closed plants due to economic conditions, ranging from Gale Products' 800 workers in Galesburg to Midwestern Safety Manufacturing Co. in Mackinaw with 22 employees.
Unemployment rates soared — to 12 percent in Kankakee in 1981, 10.5 percent in Decatur, 9.4 percent in Rockford, and more than 8 percent in Joliet, the Quad Cities, Chicago, Peoria, Aurora and Elgin. The national recession that cost Americans jobs throughout the economy was a major factor, but in



Leading occupations

Job:

Average
annual
openings:

1. Retail salespersons
2. Laborers/material movers & handlers
3. Cashiers
4. Secretarial
5. Janitors, cleaners, maids
6. Registered nurses
7. General office clerks
8. General managers & top execs
9. Waiters & waitresses
10. Truck drivers
11. Food preparations workers
12. Teachers, preschool & elementary
13. Fast food service and food prep
14. Nursing & psychiatric aides
15. Material dispatch & schedulers
16. Vehicle/mobile equip, repairers
17. Accountants & auditors
18. Misc. blue collar supervisor
19. Supervisor, clerical & administrative
20. Cafeterial attendants
21. Machine installers/repairers
22. Short order cooks
23. Secondary school teachers
24. Sales reps, exclusive retail
25. Sales floor stock clerks

7,494
7,005
6,317
5,210
5,108
4,784
4,772
4,519
4,080
3,779
3,668
3,277
3,059
2,844
2,725
2,713
2,340
2,287
2,240
2,198
2,152
2,071
2,067
2,048
1,991
Source: Illinois Department of Employment Security

14/January 1995/Illinois Issues
---
the Midwest another force was at work.
American manufacturers, especially those in the Midwestern Rust Belt that long enjoyed global dominance, finally came to face the reality of global competition. "What was driving all this was competition from abroad," notes Crihfield. "After World War II, we were the only major industrial power that had not been devastated by the war. We had an open market and we were the only major player for 20 years. We had it so good, for so long, that we really were a sitting duck for foreign competition." As a result, companies closed plants, laid off workers and "downsized" in a single-minded emphasis on increasing productivity. And it worked. Notes Crihfield: "We are still producing as much [in manufactured goods] in inflation-adjusted dollars, but the percentage of the work force employed in manufacturing is much smaller. It's well understood now that many of our manufacturers — steel, automotive — are among the most efficient producers. But one consequence has been that you don't need to hire as many people."
By 1987, when the nation was enjoying an economic boom, many Illinois communities, especially those that had been centers of manufacturing, continued to be burdened with high unemployment — 10 percent in Decatur and Rockford; 9 percent in the Quad Cities, Metro East area and Kankakee; 8 percent in Joliet and Peoria. Notes Fred Giertz, Crihfield's colleague on the U of I economics faculty: "The factory jobs for those with no more than a high school education, paying relatively high wages, became less and less available. It has been a painful adjustment. Illinois and other places just don't have the potential for those kinds of opportunities for people. The fact is, we no longer have the old-fashioned, high-paying jobs. It's much more tenuous for workers."
In other sectors of economic activity important to Illinois, the job picture went beyond tenuous to traumatic. Employment in farming and mining continued a downward spiral that promises to persist into the next century. Between 1980 and 1990, 39,766 jobs left the farm, a decline of 27 percent. As in the manufacturing sector, notes Crihfield, improvements in productivity on Illinois farms have reduced the demand for rural labor. And that demand will continue to fall. The state Department of Employment Security projects that employment in agriculture — cash crops and livestock — will fall nearly 23 percent between 1988 and 2005 when total farming jobs will drop to 98,800, compared to 147,221 in 1980.
Employment in Illinois mines fell 22.6 percent during the 1980s, a loss of nearly 9,000 jobs. Enhanced productivity combined with stricter environmental regulations that softened the demand for Illinois' high-sulfur coal contributed to plummeting employment in Illinois' mining industry. State labor analysts say those declines will continue. They project that total mining employment will fall more than 16 percent by 2005 and coal mining will plunge almost 27 percent to just 8,400 jobs.
Faced with the loss of hundreds of thousands of high-paying, good-benefits jobs, state leaders in Illinois and elsewhere tried to do what governments traditionally try to do when a big problem confronts the people who elect them: They "took action." Politicians campaigned on a theme of "Jobs, Jobs and More Jobs." Governors gallivanted across the globe in search of Far Eastern or European or South American investments in decaying Rust Belt regions. Then they engaged in bidding wars of incentives and giveaways in hopes of landing the next big manufacturing plant — Saturn, Diamond Star, Honda. Finally, they created an alphabet of new job-training programs to retrain factory workers who had become obsolete in an economy that could find all the low-skilled workers it needed overseas at half the price.
Nothing government could do mattered much. It was like holding up an umbrella to stem a tidal wave. No job-training program, no industry incentive package was a match for the economic forces that were transforming the work force and workplace.
But as those forces washed away jobs in manufacturing, farming and mining, they brought boom times to other sectors of the economy. Nonmanufacturing employment rose 30 percent between 1978 and 1993, adding about 900,000 jobs to the economy, fueled principally by a 65 percent jump in jobs in the services sector where two-thirds of the growth occurred during that span.
The common stereotype of service sector jobs conjures the image of a teenager working the cash register at McDonald's: a part-time, minimum-wage, no-benefit, no-future position with little ability to sustain a comfortable standard of living. Indeed, employment in eating and drinking establishments (though not technically classified as "services") rose by nearly 100,000 jobs from 1978 to 1993. But services employment has a high end as well — business services, for example, and health care — that combines decent salaries with good benefits. Those jobs also rose substantially in the decade following the 1981-83 recession. The number of jobs in health services rose 44 percent between 1978 and 1993, while the number of Illinoisans working in business services leaped 101 percent. "It's a mixed bag up and down the line," notes Crihfield. "Just as we are creating low-paying service jobs in fast food, we are also creating high-wage, high-tech jobs in computers and health care."
Even so, other forces in the job market and in the workplace portend difficult times ahead for most people, especially those who are unable to adapt to an economic metamorphosis that is revolutionizing work in Illinois.
Where we're going
In 1972, not long after I took my first real job after graduate school at a newspaper in Battle Creek, Mich., the senior copy editor hung a "30" —journalism jargon meaning "the end" — on the pillar next to his desk and retired after more than three decades at the paper. The news editor had more than 20 years at the paper, and a couple of reporters had worked there since Eisenhower was president. Most of the printers in the composing room had had no other job in their lives (though by the time I left five years later most of them would be gone, the victims of automation in the newsroom). This sort of longevity is a thing of the past. "Before your daughter was born, in the 1960s," Giertz tells me, "there used to be more stability in Illinois and in the country, in terms of holding jobs for longer periods of time, especially for those without a college education. There were good prospects for jobs."
January 1995/Illinois Issues/15
---
One of those people who found good job prospects in the old economy is Kate's uncle, my brother, who along with many of his contemporaries went to work for General Motors when he graduated from high school in 1959. That was a time when going to work in the "shop" was thought to be a lifetime guarantee of steady employment, high wages and generous benefits. That was before General Motors, long the engine of American industry, announced in 1993 that it was cutting 69,600 employees from its work force, including more than 4,000 at its V8 engine plant in Flint, Mich., where my brother has worked for more than 30 years. "Downsizing" has become the dominant term in the American corporate lexicon.
One of the most pronounced trends in job development in recent years is the rise of the contingent workforce
GM's action was notable for the scope of its downsizing, but not for the fact of it. The nation's largest automaker was simply reflecting a trend of recent years in which no company — no matter how large or profitable — seems immune to shedding workers in an attempt to increase productivity and enhance competitiveness. Last summer, the Chicago Tribune tallied up the number of job cuts announced by large Illinois firms since January 1993 and found that 86,900 jobs had been downsized out of existence, including 50,000 at Sears, Roebuck, 8,300 at Sara Lee Corp., 6,000 at Ameritech, 4,500 each at Amoco and Baxter International and 2,800 at United Airlines. The New York Times did the same thing nationally and found the total came to a staggering 587,890 job cuts in 1993-94. Equally unsettling was the roster of companies involved, some of the country's largest, most stable corporations: Boeing, IBM, Procter & Gamble and Eastman Kodak. AT&T said it planned to shed 15 percent of its work force; Nynex, the New York Baby Bell, 22 percent; Xerox, 10 percent.
These mammoth dislocations are, understandably, grounds for anxiety throughout the American workplace. But so far my brother has been spared. His plant in Flint, originally scheduled to be shuttered this year, has been given a three-year reprieve by General Motors. He reports that the gossip mill believes the plant will not last another three years and that GM will cut back from two shifts to one long before. But in the meantime, paradoxically, rather than losing their jobs my brother and his coworkers have been working round the clock — 10- and 12-hour shifts, six and seven days a week for months. So extensive, and grueling, has the use of overtime become that (JAW workers at the Buick City plant in Flint staged a walkout last fall to protest GM's refusal to hire more workers to relieve overtime pressures on the factory's work force. Workers in Wisconsin also went on strike to protest overtime work late last year.
Overtime pay is costly to a company, but not as costly as hiring new workers. The growing use of overtime as a way to skirt personnel costs points up another significant trend in the U.S. workplace. This one affects me.
When I leave for work in the morning, I need to check my calendar to see where I'm going. Depending on the day of the week, or even the time of day, I might be in classrooms at local colleges, in the editorial offices of this magazine, working at home on free-lance projects or teaching writing and journalism at state prisons. I am what you might call an "independent contractor," but what others, including U.S. Secretary of Labor Robert Reich, have labeled a "contingent worker."
One of the most pronounced trends in job development in recent years is the rise of the contingent work force — a broad term that includes free-lancers, contract laborers, part-time employees and temporary workers. So recent is the development of this trend that the state Department of Employment Security didn't even categorize temporary workers until 1988, when it counted 66,000 people employed in temporary services like Manpower Inc. in Illinois. By 1993, the number had grown to 94,200 people, a 43 percent jump in five years. This trend reflects a nationwide development. The Wall Street Journal reported recently that on average nationwide there are 1.9 million temporary workers employed daily, double the number just five years ago. Half the new jobs produced by the American economy between 1988 and 1993 were in the contingent work force.
The idea that the temp is a clerical worker filling in for a secretary who called in to stay home with a sick child is also fast changing. Tom Heffem, a labor market economist with the Department of Employment Security, notes that manufacturers are increasingly turning to temporary help to fill production orders. Moreover, as employment in certain areas of the service sector blooms — the proliferation of franchise food outlets, for example, and of Wal-Marts — the need for cheap, part-time or temporary help accelerates.
The lure of using overtime, temps and part-timers is bottom line. American companies, says Heffern, are in "competition with the rest of the world. Employers are trying to reduce personnel costs as much as possible. There are certain savings in using temporary services." One savings is overhead, avoiding, for example, the accounting cost associated with payroll and ancillary services. But the key savings is in fringe benefits, which can add 20 percent or more on top of an employee's salary.
As contingent workers go, I'm lucky — for a premium, I have health insurance available through Sangamon State University and a pension program through the university retirement system. But as a rule, contingent workers rarely have fringe benefits, usually must forego any company-supported retirement and make less in wages than permanent employees (even when both are doing the same jobs). For example, for what Lincoln Land Community College in Springfield pays its average full-time faculty member, it can hire about 40 temps like me.
Contingent workers. Downsizing. Global competition. Where is all this leading us?
16/January 1995/Illinois Issues
---
Closed factories
Selected list of companies shut down for economic reasons,
affecting at least 500 employees

Year

Company

Location

Workers

1978

Clark Equipment Co.

Aurora

900

1979

Ober Nester Glass Co.

E. St. Louis

620

&nbsp

Admiral Corp.

Harvard

90

&nbsp

Freeman United Coal

Wattonville

708

&nbsp

Crane Co.

Chicago

786

&nbsp

Scholls

Chicago

687

1980

Hunter Packing Co.

Chicago

850

&nbsp

Hiram Walker

Peoria

617

&nbsp

Wisconsin Steel

Chicago

3,400

&nbsp

U.S. Steel

Waukegan

558

&nbsp

Swift & Co.

Rochelle

740

&nbsp

A.O. Smith Corp.

Granite City

650

&nbsp

Wagner Castings

Decatur

525

&nbsp

Fiat Allis

Deerfield

580

1981

Johnson & Johnson

Park Forest South

600

&nbsp

Gale Products

Galesburg

800

1982

Pabst Brewing

Peoria Heights

700

&nbsp

Texaco

Lockport

655

&nbsp

International Harvester

Chicago

850

&nbsp

Western Electric

Lisle

650

&nbsp

National Metalcrafters

Rockford

500

&nbsp

DeKalb-Pfizer

Mason City

2,000

&nbsp

Sunbeam

Chicago

500

1983

Central Electronics Co.

Paris

600

&nbsp

Aldens

Chicago

1,681

&nbsp

Amphenol

Broadview/Cicero

800

&nbsp

Agar

Chicago

700

1984

Playskool Inc.

Chicago

700

&nbsp

Ettelbrick Shoe

Casey, Greenup,

500

&nbsp

&nbsp

Robinson

&nbsp

&nbsp

Teepak

Chicago

1,200

&nbsp

Schwinn

Chicago/Kostner

1,600

1985

Ludwig Industries

Chicago

500

1986

TRW

Chicago

650

&nbsp

W.F. Hall Printing Co.

Chicago

900

1987

General Motors

Willow Springs

2,900

&nbsp

General Electric

Cicero

1,250

&nbsp

Rheem

Chicago

600

1990

General Electric Hotpoint

Cicero

1,250

&nbsp

Stewart-Warner

Chicago

700

&nbsp

Bergner's

Bedford Park

565

&nbsp

Leaf Inc.

Chicago

620

&nbsp

Sara Lee

Deerfield

500

1991

Quantum

Tuscola

600

1992

USX

Chicago

690

&nbsp

Oscar Mayer

Chicago

675

&nbsp

Unocal

Schaumburg

725

&nbsp

Inter-City Products

Red Bud

750

1993

R.R. Donnelley & Sons

Chicago

660

&nbsp

Wittek

Galesburg

500

1994

AllSteel Inc.

Aurora

550

&nbsp

Valmont

Danville

500

&nbsp

Kraft General Poods

Kankakee

600

Source: Illinois Department of Commerce and Community Affairs
"No one knows what the future holds," says Giertz. Adds Richard Krieg, executive director of the Institute for Metropolitan Affairs at Roosevelt University: "The tea leaves are hard to read because of the acceleration of change."
Nonetheless, some trends are clear, or at least less muddy than the rest. The Department of Employment Security last year gazed into its crystal ball to project employment trends into the next century. Entitled "Occupational Projections: 2005," the study forecast that total employment in 2005 would reach 6.7 million workers, an increase of 921,700 jobs over 1990. The study forecast that, overall, manufacturing employment will decline about 5 percent between 1990 and 2005. The drop in durable goods manufacturing (cars, refrigerators and such) will be more pronounced — 9.6 percent during that period. By 2005, the report notes, about one in 12 jobs will be in the manufacture of durable goods; in 1978, durable goods accounted for one in five jobs in Illinois. Employment in the services sector will continue to escalate, says the department, by 32 percent through the end of this century and into the next.
Krieg sees another trend in the recent election. "Government, at all levels, is now the largest employer in metropolitan Chicago," he notes. "Second is the hospitality industry and third is health care." The November election, he asserts, sent "a clear signal: There will be a reduction in government. I would not counsel anyone to count on a government career."
But he might counsel someone to try business management or health diagnosis as careers that still look promising. The Employment Security department's breakdown projects that jobs in white-collar occupations will rise about 19 percent, while employment in blue-collar jobs goes up just 6 percent. Overall, the Illinois economy is expected to produce 193,600 jobs annually during that 15-year span. But, two-thirds of those jobs will be the result of needing workers to replace others who have left work through retirement, resignation or other causes; just 41,000 of the new jobs each year are expected to come from economic growth.
Nurses will be in demand as will other workers in hospitals as overall employment in health services grows by 149,000 jobs, according to the Employment Security analysis. Social service workers, predominantly those involved in residential care, also will be a high-demand profession with a projected growth rate of 62 percent. The department expects 108,000 new jobs in business services, the bulk of them in temporary help services that are expected to grow 73 percent between 1990 and 2005. Other occupations showing strong potential include teachers, librarians and counselors (9,500 jobs a year); health diagnosis and treatment professionals (8,100 jobs); and technicians (7,200 jobs).
Jobs also will be plentiful for cooks, hostesses, cashiers and stock clerks as restaurants, taverns and food stores will lead a 20 percent growth in retail trade employment between 1990 and 2005. "Retail trade will need more than 1 million workers in 2005," the Employment Security report notes, "up 178,000 from 1990. Eating and drinking places, one of the fastest growing industries overall, will account for half the growth, calling for cooks, wait staff, hostesses and others." Food stores needing cashiers and stock clerks will add 17,800 jobs. Other services occupations that show signs of growth include cleaning
January 1995/Illinois Issues/17
---

Photo by Jon Randolph

The Illinois Department of Employment Security projects that by the year 2005 jobs in white collar occupations will rise about 19 percent, while employment in blue collar jobs will go up just 6 percent. Thiti Thamsiri (above) is a software engineer for Motorola.


Photo by Terry Farmer
and building services (5,100 jobs a year), protective services (4,900) and personal services (4,500). The strongest growth in blue-collar jobs is expected in vehicle operators and other transportation workers (7,200), laborers and material movers and handlers (7,000), mechanics and repairers (6,500) and construction trades (6,300).
The findings and projections of the department's study are consistent with a 1989 survey that projected employment needs and job trends through the end of the century. Illinois, noted an Employment Security report, "is expected to solidify its shift to a service-producing state while maintaining strong growth in high technology manufacturing industries."
The greatest labor demand, said the report, "will be for workers to fill low-pay, low-skill jobs, while workers with substantive education and experience will be needed for sophisticated manufacturing and its associated research and development. The potential for labor shortages is expected at both ends of the scale."
The study predicted that labor demand "for white-collar jobs can be filled through retraining and skill upgrading of middle-aged workers." But it concluded that "the most difficult jobs to fill in 1999 will be the low-paid, low-status, unskilled jobs — but not because there will not be enough unskilled workers in 1999. By that time, such workers will have high expectations of the labor market, will be older and have families to support and therefore need more pay than these jobs now offer, and the supply of new entrants to the labor force and the marginally attached workers (teens and young adults) will have dropped substantially."
This warning reinforces concerns echoed by economists and other analysts: The likelihood that changes in the economy will leave a significant number of workers behind, poorly trained for a job market that will be unforgiving of those who lack knowledge and skills.
Krieg of Roosevelt University says that my daughter's lifetime corresponds to a troubling trend "of enormous impact on the labor force." From the mid-1970s, he says, "We began seeing a shift in the distribution of income — the poor began to get poorer, the wealthy became wealthier, and the people in the middle saw their incomes static." He attributes the shift to the globalization of the economy, which, he says, "has produced two types of people: the ones who provide the labor, who are in great supply at low rates of pay, and people who have knowledge, training and capital support."
Robert Ginsburg, research director for the Midwest Center for Labor Research in Chicago, has observed the same trend. "There is a widening gap between the upper 20 percent of the population and the lower 20 percent." He attributes the trend at least in part to the transformation of the state's economy (though the trend is actually worldwide) from a manufacturing to a service base. "There are a number of service jobs that pay well, but what they do for the overall economy is very different. You can have a stable community based around a manu-
18/January 1995/Illinois Issues
---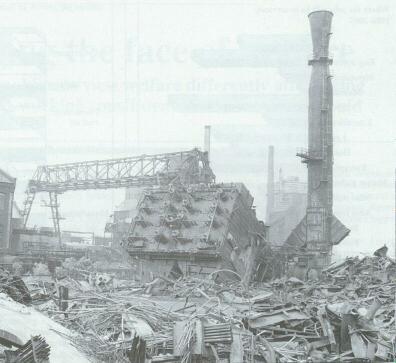 Photo by Jon Randolph


In 1980, Wisconsin Steel shuttered its mammoth production facility, idling 3,400 employees in the Chicago area. In fact, the early '80s was a "hellacious" period for Illinois, says University of Illinois economist John Crihfield. In 1981 alone 39 companies employing 6,157 workers closed plants due to economic conditions.
factoring plant, but putting a bank in it doesn't do much. Each job in a machine shop generates at least 1.5 to 2.5 other jobs. But service sector jobs don't do that; if you work in a bank, that doesn't generate many new jobs."
He also notes that even though some service jobs produce high incomes, they are vastly outnumbered by jobs that don't. Job trends bear out the concern he voices. Of the 10 occupations projected by the Department of Employment Security to provide the greatest number of annual job openings, only two have entry level pay scales exceeding $10 an hour — general managers and registered nurses. In fact, even the median income for the other eight leading occupations — salespersons, laborers, cashiers, secretaries, janitors and maids, office clerks, waiters and waitresses and truck drivers — falls below $10 an hour. Those occupations average about $6.70 an hour, or $14,079 annually — $800 less than the official poverty line for a family of four.
"Illinois has less of the growth of high-performance, high-tech industries," says Krieg. "Our major universities have not spawned the type of Silicon Valley developments that we've seen in other states, even in Ohio, for instance. We have a high concentration of mature industry clusters, the old Rust Belt types of industries."
Adds Ginsburg: "There are a lot more hamburger-flippers than stockbrokers."
Ginsburg's point is clear, especially regarding future workers like my daughter: Working at the low end or the high end of the economy will depend more than ever on her preparation for a vastly changed world of work. I'm not the only one worried that her 1990s education won't make it in the 2000 workplace.
Going nowhere
Not long ago I took my old computer, the one that is not-so-high-speed, and hooked it up in my daughter's room. Her first request was for me to copy the "Phraze Craze" game, a "Wheel of Fortune" clone, from my computer onto hers.
This is not the sort of computer literacy James Peterson has in mind when he says, "Kids have to be able to think well, not just learn computers to play games." Peterson is president of NCI Research, an Evanston-based economic research institute affiliated with the Kellogg Graduate School of Management at Northwestern University. It's his job to know the future of jobs and his view is that "the most important skill you can have is the ability to learn."
"Different skills are needed now," says Ginsburg. "In 1978, we didn't have PCs. That's important to remember; it's a very different world." That is the lesson Larry Michaud discovered when he was laid off for 16 months from the state Department of Commerce and Community Affairs. Now back at the agency in its planning department, Michaud says his experience on the unemployment line convinced him that workers face a vastly changed job market. "Every job interview I went on," he says, "the first question they asked was: What kind of software are you familiar with?
"The ball game is changing rapidly."
The ball game of the future — for a growing number of employers every day it's the ball game of the present — will demand employees who can solve problems, work in teams,
January 1995/Illinois Issues/19
---
Where the jobs will be in services, 1988-2005




Source: Illinois Department of Employment Security

Illinois job growth by industry, 1990-2005


Source: Illinois Department of Employment Security
analyze processes and use information in creative ways. People won't train, says Peterson, to become lathe machine operators or radiology technicians, as much as they will learn broad skills they can adapt to manufacturing processes or health care diagnosis. "The average worker," says Peterson, "will carry around a portfolio of skills and specialized knowledge, and that is how they will be evaluated by employers. By the year 2000 or so, that is the way people will be hired and advanced — by the proficiency they have in very specialized knowledge, skills, competencies and aptitudes.
"Your daughter," he tells me, "will find an entirely new workplace in which much of the old industrial era information about jobs will be completely replaced."
I mention to him that I haven't noticed much evidence that her high school is preparing her for this visionary world of work, and he answers, "There's no question that most high schools haven't a clue to what's happening in the workplace. They are depending on existing marketplace information, which is misleading them." Up until recently, he says, some high schools were still training students in "data entry," which is basically typing information into a computer, on the erroneous belief that it was an occupation growing at 10 percent a year. Technology no longer needs humans to enter data into computers; "that's a job that is almost completely abolished."
Ginsburg echoes Peterson's belief that the most important skill a person can learn is the ability to learn. "That's a bit much to ask of the people in high school today," he says. "We don't have an educational system that actually pushes that."
Jan Grayson, director of the Department of Commerce and Community Affairs, agrees. "We see that. Schools are not providing people who can read and write. They are not providing good school-to-work programs. More and more, there are shortages of a skilled work force." He says a Ford production plant "could add 40 electricians tomorrow if they could find them. Employers can't find the critical skills they need."
Richard Krieg of Roosevelt University says his optimism about the future of jobs in Illinois is tempered somewhat by the preparation — or lack of it — of people for the new world of work. "The one factor that has held us back," he says, "is the quality of our work force. When we poll industrial leaders, the number one determinant they cite in decisions to locate new facilities is work force quality. We have spoken to 40 or so corporate leaders [in Illinois] and they say our work force is holding us back."
His advice? "Get a college education." Which is what my daughter plans to do. Even so, the world of work Kate will enter in 2000 wiy all be less secure than the one her uncle entered in 1959 when unions still had the power to protect workers, or the one her father joined in 1973 when America still dominated the world economnd company loyalty still dominated the workplace.
All that has changed or is changing. To an extent unparalleled in our past, Kate and her generation will determine for themselves whether they seize opportunities, economic security and a growing standard of living — their piece of the American Dream. They will determine for themselves how worker friendly their world of work will be.
20/January 1995/Illinois Issues
---