---
By ROBERT KNIGHT
---
Motorola:
One company's blueprint for improving
the quality of its products and work force
They file in, about 120 of them, to the auditorium of the Motorola Museum of Electronics in Schaumburg, northwest of Chicago. They sit, the lights go dim and 120 faces reflect the glow of a large screen. A videotape dissolves to a portrait of a stocky gray-haired man who looks as if his role was created by Central Casting.
Each non-Motorola business executive at this Quality Briefing has paid at least $300 for the one-day session. And up on the screen Motorola Chairman Robert Galvin is telling them about that day in 1979 when Art Sundry, a communications sales manager, stood up at a meeting of Motorola's officers and told them, "Our quality stinks."
Sundry kept his job. And Motorola's executives turned their attention to defects in design, materials and production processes. "It isn't like we were a bad-quality company," says Jack Germain, now retired, who became Motorola's first corporate director of quality. "We just came to the conclusion that we ought to be better than we were."
As a result. Motorola launched a program called six sigma, a mathematical formula signifying a ratio of 3.4 defects per million parts. That goal has proved more elusive than Motorola expected, but it remains a goal, according to company spokeswoman Margot Brown. She says the company averages 30 defects per million, or about 5.5 sigma.
In fact. Motorola executives believe America has slipped in its competition with Pacific and European countries partly because American businesses have relied on an outdated definition of quality. In the United States, traditional "good-design practice" has dictated that tolerances be limited to plus or minus three sigma.
That standard would yield:
• at least 54,000 wrong drug prescriptions each year;
• more than 40,000 newboms dropped by doctors or nurses each year;
• nearly 1,300 incorrect surgical operations per week;
• a total of 54,000 lost articles of mail per hour.
In contrast, six sigma would yield:
• one wrong prescription in 25 years;
• three newborns dropped every 100 years;
• one incorrect surgical operation in 20 years;
• 35 lost articles of mail per year.
Germain says Motorola's approach requires a continual commitment from all management levels. And the results must be measurable. That, he says, should be distinquished from quality control, which spends precious resources on inspections but does nothing to prevent the defects that damage quality.
---
Motorola invests 7 percent of its budget on training its own employees, 'the highest among major corporations in the country and one of the highest in the world'
---
If attendance at Motorola's training seminars is any indication, other business executives are open to Motorola's approach. One analyst who specializes in tracking the worldwide cellular market gives Motorola high marks. Herschel Shosteck of Silver Spring, Md., says, "They improve and improve and improve and they minimize failures."
But Shosteck also credits Motorola with marrying the quality management model to marketing savvy. He says the company manages to broaden its appeal to different types of customers, drive down costs and prices and control the means of distribution.
Such a strategy has helped to transform Motorola into the nation's second largest producer of electronics after IBM, with revenues of nearly $17 billion in 1993. The company is a significant player in the state's economy. It employs 20,000 Illinoisans — one-sixth of the company's total workforce. Those workers are scattered around the state in sales offices and clustered in campuses and buildings at half a dozen sites, mostly in Chicago's north and northwest suburbs. In addition. Motorola is building a new cellular phone plant in Harvard, north of Chicago and just south of the Wisconsin border. That plant is expected to employ 3,000 workers. It plans to add another 300 jobs at a new cellular distribution center in McHenry, 20 miles to the east.
28/January 1995/Illinois Issues
---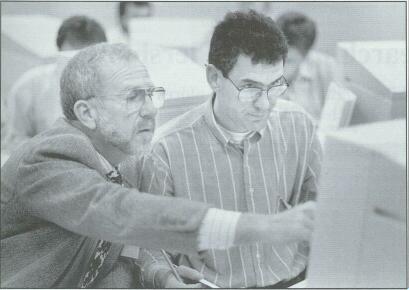 Photo by Jon Randolph

Motorola University was launched by the company in 1981. All employees are required to take a minimum of five days of training every year, and many take at least 10. An emphasis on education as a prime component of quality is one reason observers are betting the company will be competitive 10 or 20 years from now.
Motorola is known for staying ahead of whatever market the company has targeted. It also has a reputation for getting out of a market before it goes stale. Forbes magazine dubbed Motorola "the company that likes to obsolete itself."
Tony Langham, vice president and securities analyst at NatWest Securities USA in New York, considers Motorola his favorite company. "Motorola is the dominant company in the most interesting market in the world, wireless communications," Langham says. "It is a market that has basically changed the way people communicate, not just in the industrialized world, but in every country, and Motorola consistently has market shares of more than 50 percent in paging and two-way communications, and 40 percent in cellular handsets," he says.
One reason Motorola stays ahead, according to spokeswoman Brown, is that Robert Galvin knows when to get out of one business or enter another. In 1974, Motorola sold the television business to Matsushita in Japan, a few years before Japan virtually took over the world's consumer electronic business.
"It was a pro-active decision on the part of Bob Galvin," Brown says. "We had only 10 or 15 percent of the television market share. We couldn't control the price because it was handled by distributors. It's fair to say that when Bob and the board made the decision to sell the consumer business, they had a vision of the future in high-tech electronics, the semiconductor and communications business."
By 1983, Motorola had introduced the first cellular phone. According to Brown, the company sold $200 million worth of phones at a time when people outside and inside the company thought it was just a gimmick. "The management at Motorola had the stomach to anticipate that cellular was going to become a real market," she says.
Analyst Shosteck admits that he and everyone else underestimated the cellular market. "In our first demand forecast, for '82 and '83, we were about 30 percent ahead of everyone else, but the market was three to five times larger than anyone thought, including us.
"The reason it exploded beyond what anyone foresaw — I believe AT&T said there would be 900,000 subscribers by the year 2000 — was that nobody appreciated the rapidity with which the processing power on chips would expand and the costs would drop." In 1983, a low-price phone cost $2,628. By 1993, the average low-price transportable phone was $114. Shosteck estimates that as of September 1994 there were 20 million cellular subscribers. As many as 15 million cellular phones exist worldwide and Motorola has 40 percent of that marketplace.
Yet, an emphasis on education as a prime component of quality is one reason observers are betting the company will be competitive 10 or 20 years from now. Beyond sharing tips on quality management with non-Motorola executives, the company invests 7 percent of its annual budget on training its own employees, "the highest among major corporations in the country and one of the highest in the world," according to Ed Bales, director of education at Motorola University. Managers spend about two weeks training each year at the university, which was launched in Schaumburg in 1981. "All employees are required to take a minimum of five days of training every year, and many take at least 10."
In addition, Motorola sees itself as helping to train future workers. The company works with 40 Illinois school districts to develop learning leadership teams aimed at training school district personnel on what the workplace of today looks like. "We no longer work in the industrial model," Bales says. "But our schools are still bureaucratic, top down. We're doing a really good job of preparing our children on a model that is obsolete."
Robert Knight is a senior rewrite editor at City News Bureau in Chicago.
January 1995/Illinois Issues/29
---