By DENNIS McMURRAY
---
Jam-packed in the joint
In 1839, the state had more prison inmates than cells.
So lawmakers doubled the capacity of the state prison at Alton.
Things haven't changed much in 156 years
In September 1831, the first state prison in Illinois, a stone compound of 24 cells built on a steep bluff next to the Mississippi River in Alton, opened for business. In the first month, there was only one inmate, Greene County burglar Wilson Heff, and as late as 1833 the warden complained about an inadequate number of prisoners being sent to him.
It was the first and last time the Illinois prison system had a surplus of cells.
Within six years, the first prison overcrowding crisis would hit Illinois. Except for some short-term declines, primarily during war times, the prison population has steadily increased until the state now leads the nation in the ratio of inmates to the capacity the prisons were designed to hold. The lonely confinement of Wilson Heff contrasts with a prison system in Illinois that has nearly 37,000 adults jammed into facilities intended to house about 22,000.
As penitentiaries have filled to capacity and beyond, the state has tried a variety of means — from early release to rehabilitation programs to a prison without walls — to give inmates some elbow room. But mostly, politicians and policy-makers have responded to the flood of prisoners just as they did when the first 30 cells at Alton filled up: They built more cells. Now, 160 years and 22,000 cells later, prisons still are bursting at the bars — and the building boom continues.
Piece by piecemeal
Before the Alton prison was established, punishment of crimes had been a local matter, primarily through short-term lockups, the pillory and public floggings.
The new state penitentiary was considered to be a reform and was also intended to be self-supporting under a lease awarded to a private contractor, who then sold the inmates'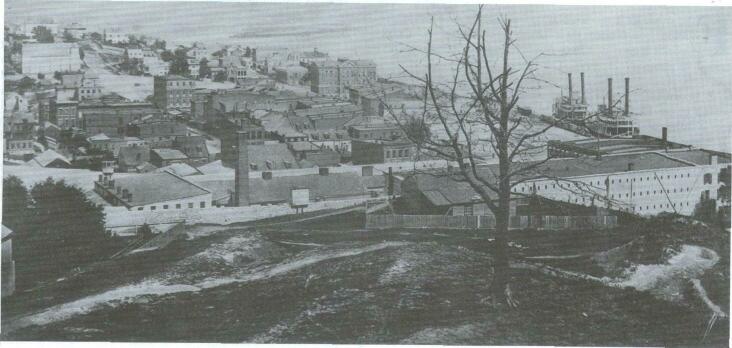 Photo courtesy
AltonTelegraph
files and Robert Graul
This 1862 photo of Alton, with the walled first state prison in the foreground, was taken when the first Confederate prisoners of war arrived by steamboat After state prisoners were moved to Joliet in 1860, the building was sold to Samuel Buckmaster, who had operated it under a lease. Buckmaster made even larger profits leasing it as a military prison for Confederate soldiers and sympathizers. Thousands died from diseases before the end of the Civil War.
26/June 1995/Illinois Issues
---
labor to local businessmen.
Starting in 1839, the lease was held by Samuel Buckmaster, who made a fortune and a political career from selling convict labor during the next two decades while running the prison as cheaply as possible. By the time he took over, the Illinois State Penitentiary at Alton housed 30 convicts, and the legislature had authorized construction of 32 more seven-by-three-and-a-half-foot cells.
It was the first of many unsuccessful efforts by the state to build itself out of a prison overcrowding crisis.
In 1842, with an inmate population of 90, a legislative Committee on the Penitentiary urged constructing at least another 200 cells, arguing "it will be cheaper to do it in one job than by piecemeal." But typically, the legislature agreed only to finance another 32 cells.
In 1847, famed social reformer Dorothea Dix, who had visited prisons and mental hospitals across the nation, inspected the Alton prison and reported to the legislature. Dix said she discovered not only double-celling but prisoners chained to walls in passages and in a damp cellar hospital. Inmates were forced to stand to eat their meals and there were no bathing facilities. The prison was poorly constructed, unsanitary and at an "ill-chosen" location where inmates were susceptible to disease, she said. There were no floors and deep mud gullies formed in the 10-acre compound whenever it rained. Dix also criticized the contract labor system in which convicts worked from dawn to dusk, were shackled with eight-foot chains while on work gangs and had one side of their heads shaved to deter escapes.
The contract labor system was finally abolished in 1907, and food, medical care and other physical conditions have improved since Dix made her report on the first prison in Alton. Illinois is now one of the few states with all of its institutions accredited by the American Correctional Association.
The personal living space has increased slightly, with an average cell size in new prisons of six by 10 feet, but the basic goal of giving a cell to each inmate has repeatedly been abandoned.
Still, although attitudes toward various types of crimes have changed over the years, locking criminals away to protect society while scrimping on resources to keep them in a safe environment has not changed since those early days at Alton.
When she found 128 inmates at Alton, Dix lectured against the evils of confining more than one inmate per cell. "To me, it seems there are many objections, obvious enough, besides endangering the safekeeping of the convicts and the lives of the guards."
But Dix disagreed with calls to simply build more cells at Alton. "No outlay of money can convert this prison into a secure, commodious, or durable establishment," Dix concluded, urging the state to build a new and more humane prison at a better site.
It took another decade of "piecemeal approach" before a new prison was finally authorized at Joliet in 1857. By then, another legislative committee reported that 475 prisoners were being kept in 256 cells.
In early 1858 the first crew of convict laborers from Alton arrived in Joliet to start construction of the new penitentiary.
The last group of inmates from Alton was moved to Joliet in July 1860.
It would be the first and last time a state prison was closed in Illinois.
Opening the floodgates
The 1927-1928 Illinois Blue Book noted that when the new Stateville prison, first opened in 1917, was fully completed "it is anticipated that the original prison at Joliet will be disposed of by sale to private industry." As of May 1995, the 135-year-old Joliet prison still housed more than 1,100 inmates.
Intended to avoid the double-celling so often criticized at Alton, by 1866 the new state prison at Joliet was already bursting at its seams, with 1,073 inmates, most of whom had to share cells.
The overcrowding continued, despite the opening of several new prisons through the early 1900s and the passage in 1863 of the state's first law to allow prison officials to grant inmates a reduction in their sentence for good behavior. The more months prisoners went without infractions, the more "good time" they received for early release.
---
In the mid-19th century Samuel Buckmaster made a fortune and a political career selling convict labor
---
Previously, the only option for prisoners to get their freedom early was either a pardon from the governor or escape. Both were frequent at Alton, where the first inmate, Heff, was pardoned 19 months into his three-year sentence and the second inmate, James Hyatt, escaped three weeks after he arrived.
But various early release options to relieve prison overcrowding have repeatedly come under political and news media attack after individual convicts committed new crimes, limiting their effectiveness in controlling prison populations.
Historically, the most effective reduction has been war. During the Great Depression, the prison population increased dramatically from 8,945 in 1930 until it peaked at about 13,000 in 1939. But World War II helped empty prison cells until the population had fallen steadily to 7,687 when the war ended in 1945. The population began to steadily climb again until 1962. But then the long period of the Vietnam War resulted in a gradual decline to just over 6,000 adult inmates by 1973.
In 1965, the first minimum-security "honor prison" without fences or walls in Illinois was opened at Vienna. Inmates were guaranteed single cells, and there was an emphasis on educational and work programs. "The security at Vienna is supposed to be the programs — keeping inmates active and involved and knowing if they don't behave there are worse places they can go," said Department of Corrections Deputy Director Karl
June 1995/Illinois Issues/27
---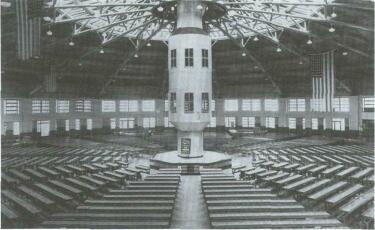 Photo of guard tower at Stateville
prison courtesy Illinois State Historical Library
Sprouting prisons across the prairie

Correctional center

Year opened

Ideal capacity

Population

Big Muddy

1993

1,152

1,971

Centralia

1980

750

1,446

Danville

1985

1,096

1,919

Dixon

1983

1,206

1,975

Dwight

1930

620

908

East Moline

1980

688

1,048

Graham

1980

750

1,389

Hill

1986

896

1,747

Illinois River

1989

985

1,690

Jacksonville

1984

700

1,125

Joliet

1860

761

1,178

Lincoln

1984

558

1,015

Logan

1978

826

1,207

Menard

1878

1,460

2,577

Menard

Psychiatric

1970

315

381

Pontiac

1892

1,258

2,201

Robinson

1991

600

1,128

Shawnee

1984

1,046

1,828

Sheridan

1973

624

1,060

Stateville

1920

1,506

2,353

Taylorville

1990

600

1,200

Vandalia

1921

599

1,055

Vienna

1965

845

1,334

Western Illinois

1989

878

1,585

Work release

1,083

1,237

TOTAL

21,802

36,557

Figures as of May 1995

Source: Illinois Department of Corrections
Becker. But like most of the other prisons now in Illinois, Vienna is now almost entirely double-celled, and there are waiting lists to get into programs, Becker said.
In 1978, the corrections department titled its annual report "125 Years of Neglect" and commented: "Many of the 10 prisons in Illinois are quite old and overcrowded." Actually, 1978 was a watershed year for Illinois' correctional system, setting off a prison construction boom under Gov. James Thompson that followed passage of a new determinate (fixed) sentencing law pushed through the legislature by Thompson.
On June 30, 1978, five months after the new sentencing structure went into effect, the state adult prison population stood at 10,621, less than the peak levels during the Depression. By the time Thompson left office in January 1991 there were more than 27,000 adult inmates.
By 1984, more than 8,400 beds had been added to Illinois prisons since Thompson took office. But once again, the state could not build cells fast enough, as determinate sentencing opened a floodgate of new laws to also increase the maximum minimum sentences for many crimes.
In June 1980, the Thompson administration began a policy of forced early release. Until it was halted by an Illinois Supreme Court decision in July 1983, more than 10,000 inmates had their sentences shortened by as much as 800 days good time, although the average was about 90 days. Although a federally funded study concluded the program did not result in more convicts returning to prison, it came under attack from state's attorneys and many legislators.
Also in 1983, a blue-ribbon task force on prison overcrowding called by Thompson recommended a greater emphasis on community corrections, including intensive probation by counties. But the task force did not anticipate the impact of a new war on drugs that provoked the next prison overcrowding crisis and the next building boom.
Incoming Gov. Jim Edgar in 1991 faced a severe state budget crisis:
28/June 1995/Illinois Issues
---
Department of Corrections cuts slashed staff-inmate ratios and delayed openings of new facilities. In May 1991, Edgar spoke to the annual meeting of the John Howard Association, a 94-year-old prison reform group based in Chicago. "The state cannot build its way out of this crisis. With the system already at one-and-a-half times capacity, adding new facilities is not the answer," the governor told the group. Edgar's new corrections director, Howard Peters III, emphasized that message in frequent appearances before legislative committees, urging them to hold the line on creating new crimes or enhancing penalties for existing ones, although he had mixed success.
The next year, Edgar appointed his own blue-ribbon committee on prison overcrowding, chaired by former federal prosecutor Anton Valukas. The task force recommended a variety of short-term and long-term responses in its final report in March 1993. But only the short-term ones — allowing additional "earned good time" credits for all but the most serious violent criminals for participating in work, education and drug rehabilitation programs and limited expansion of early release on electronic monitoring devices — were approved by legislators that spring.
Many lawmakers said they were voting for the additional "good time" credits only because the same bill also included authorizing a new 500-bed super-maximum security prison that is intended to house the most violent and troublesome inmates away from the citizen and isolate them in single cells.
The bulk of the recommendations were not pursued by either the Edgar administration or the legislature, particularly the call for more programs to help inmates return to the community and reduce a recidivism rate of about 46 percent. The 1983 task force had also been largely ignored.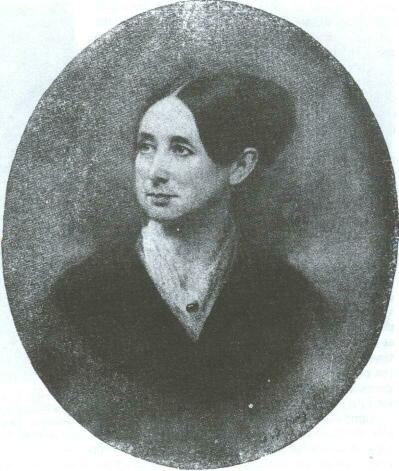 Photo courtesy Illinois State Historical Library
In 1847, social reformer Dorothea Dix, who had visited
prisons across the nation, inspected the prison at Alton.
Her report to lawmakers described the "evils" of overcrowding.
Hard time for crime
One member of both task forces was Mike Mahoney, executive director of the John Howard Association for the past 20 years. Mahoney as much as anyone in Illinois today is the spiritual descendent of Dorothea Dix — and as outspoken.
Mahoney formerly was an administrator with the Department of Corrections at a time, he recalls, "when rehabilitation was in." Times changed, he says, "and then we went to get tough, and then we swung back a little bit about five years ago to drug treatment and education and now we're back to getting tough again."
"Everybody is afraid of being soft on crime so everybody is trying to outdo everybody else. And that's what happened with good-time measures and other efforts to relieve prison overcrowding," he said of state lawmakers. "One or two things are predictable in this prison overcrowding crisis — a riot and/or federal court intervention, neither of which in the long run are what we need but they will both bring about change and reforms. There will be the usual blue-ribbon commissions, which I and others will be appointed to, and they will study the problem and say, you know, overcrowding caused this and we'll throw some money at it and forget about it," Mahoney predicted. "The legislature doesn't seem to have any discipline in keeping down sanctions or punishments and has no resources to give for that many more beds so the federal court may be the best answer," he said.
However, Mahoney concedes federal courts have been reluctant to intervene, particularly on the issue of double-celling. The last federal judge to declare double-celling unconstitutional (at Pontiac) and order the state to end it was U.S. District Judge Harold Baker in 1982, but he was overruled by a federal appeals court.
In February, new corrections director Odie Washington told legislative committees that most of the system was 91 percent double-celled, "the highest ratio in the country."
A U.S. Department of Justice report in June 1994 had already listed Illinois with the highest inmate population compared to design capacity of any state in the nation at 152 per-
June 1995/Illinois Issues/29
---
cent at the end of 1993, even though the per capita incarceration rate for Illinois was still below the national average. As of May that ratio has climbed to about 165 percent, Becker said.
"This has a significant impact on what happens in our prison system. We have had to lock down more cellhouses, and the number of assaults on inmates has doubled in the last five years," Washington also told the committee.
In April, an inmate at Stateville murdered his cellmate, the third such incident in less than a year and a symptom of overcrowding in the maximum security prisons, said veteran Department of Corrections spokesman Nic Howell.
Mahoney noted most other large states, including neighboring Michigan, have preserved single cells in their maximum security prisons. "As long as you have double-celling, murders and homosexual rapes are going to increase," he added. Becker said the overcrowded conditions have also increased the level of violence and disturbances within minimum- and medium-security prisons. "We're putting people who have at least some anti-social and possibly some violent tendencies into a small space for a very long time. You put normal people in those circumstances and they're going to have some problems managing their behavior."
Some of the minimum-security prisons have dormitory rooms, instead of cells, that were built originally for 10 inmates, but now virtually all of them have been doubled with bunk beds, and thefts of personal property and fights have escalated, Becker said.
The population boom has also outstripped the availability of education programs, work assignments and drug rehabilitation. Becker said more than 6,000 inmates are now on a waiting list for education programs, for example. "The programs that have an impact on recidivism and keep people busy and lessen tension in the institution are things we are cutting out," Mahoney said.
State lawmakers this year have shown little interest in dealing with the prison overcrowding problem.
When Washington made his presentation to the House Judiciary Criminal Law Committee, two representatives suggested that inmates be required to sleep in shifts, like submarine crews in the Navy. And in another demonstration of the attitude of lawmakers toward convicts, the House passed one bill taking away good time credits for inmates who file "frivolous lawsuits" and another taking away the three free postage stamps a week inmates have received for several years.
Photo of guard tower in round house at Stateville. Courtesy of Illinois State Historical Library
The second state prison was authorized at Joliet in 1857. It was built by convict laborers.
That 135-year-old Joliet prison still houses more than 1,100 inmates. Meanwhile, Stateville
prison, also in the Joliet area, opened for business in 1917.
With the governor's current plans for an additional new medium-security prison and new cellblocks added to existing ones, as well as what is currently under construction, the corrections department hopes to at least tread water for the next two years through double-celling.
Opening this month is a 600-bed prison in a former East St. Louis high school, a 200-bed work camp and three 448-bed cellhouses at Western Illinois, Mt. Sterling and Illinois River. The budget for next fiscal year includes planning for a new 1,808-bed medium-security prison; 800 more work-camp beds and four more 448-bed cellhouses to be added to other existing prisons. The idea of paying private companies to build and operate prisons is one gaining increasing currency in the legislature these days.
Even with no changes in current sentencing laws, the adult prison population is conservatively expected to hit 50,000 by the end of the decade, the department projects. That does not take into account one of the most partisan political debates of this year's legislative session — "truth-in-sentencing," requiring some felons to serve 85 percent of their sentences. Echoing the past, some lawmakers have proposed easing the expected increase in inmates — and reducing costs — by turning the construction and operation of prisons over to private companies. When it comes to stop-gap solutions for relieving prison overcrowding in Illinois, history keeps repeating itself.
Meanwhile, the arguments over crowding in prisons are basically the same as when a legislative commission addressed the issue at Alton in 1857: "The comparatively innocent are placed in the closest relations with the most hardened and desperate and come out of prison at the expiration of the time for which they were sentenced, educated in the ways of crime and ready for any desperate deed, and thus the object of their incarceration, aside from the public security, will have totally failed." *
Dennis McMurray is Statehouse bureau chief for the Alton Telegraph.
30/June 1995/Illinois Issues
---