---
People
---
Shifts at the top
•Daniel Luchins was appointed associate director of the Illinois Department of Mental Health and Developmental Disabilities. He is chief of Adult Extramural Psychiatry at the University of Chicago and president of the Illinois Psychiatric Society. Luchins will head the clinical services division for the department. He replaces Ivan Pavkovic who has served as clinical director of the agency since 1989.
•Shawn Jeffers was named associate director of the mental health department's developmental disabilities division. Prior to his appointment, he was director of the Choate Mental Health and Developmental Center in Anna.
•Joan Forney is the new superintendent of the Illinois School for the Deaf in Jacksonville. She has been acting superintendent since former superintendent Pete Seiler left April 1 to head a school for the deaf in Arkansas.
•George Fleischli was named chairman of the Capital Development Board, which oversees all of the state's building and maintenance projects. Now with the National Jockey Club/Sportsman's Park, Fleischli was formerly a key member of Gov. Jim Edgar's administration. Edgar named him to the board in May.
•Michael J. Ward was appointed public affairs officer for the Illinois Department of Transportation, He is based in Schaumburg and is assigned to Cook and the collar counties. Prior to his appointment he served as director of public relations for Loyola University Medical Center in Maywood.
• Jim Skilbeck is the new director of communications for state Treasurer Judy Baar Topinka. He replaces Mark Randal, who resigned to work for the Farm Progress Show organization. Skilbeck was deputy press secretary and later special assistant to former Gov. James R. Thompson. Skilbeck worked for the treasurer on a contractual basis this summer. He will be paid $70,000 a year.
Governor sets special election
The primary election for U.S. Rep. Mel Reynolds' seat will be held November 28, with the general election to be held two weeks later on December 12.
The field of candidates vying for the 2nd District seat is filling up. Senate Minority Leader Emil Jones Jr. joined General Assembly colleagues Sen. Alice Palmer and Rep. Monique Davis. Jesse Jackson Jr., son of the two-time presidential candidate, also announced his intention to seek the Democratic Party's nomination in the primary election.
Manny Hoffman, Cook County Republican Party chairman, is considering a run in the predominantly Democratic district.
Reynolds, a two-term congressman from Dolton, resigned following his conviction in August for sexual misconduct.
New senator for 58th District
Sen. Ralph Dunn, Republican from DuQuoin, resigned his Illinois Senate seat effective the end of September. Dunn made his announcement at a fund-raiser in late August. Dave Luechtenfeld, a high school coach in Washington County, was named his successor.
Homewood mayor appointed to fill vacant House seat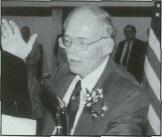 John Doody, mayor of the Chicago suburb of Homewood, was selected to complete the remainder of state Rep. Ed Zabrocki's term. Zabrocki, a Republican from Tinley Park, resigned last month after complaining of partisan bickering in the House. Doody was chosen by five Republican committeemen of the 37th District. He intends to run for the seat when his appointed term ends in 1996, according to Cook County Republican Chairman Manny Hoffman. Doody was appointed mayor of Homewood in 1991 when Hoffman resigned the position to enter the Illinois House. Prior to serving as mayor, he was a teacher in Tinley Park.
Best unkept secret
Lt. Gov. Bob Kustra made it official. He announced in September he would run for the Republican nomination for the U.S. Senate seat being vacated by retiring Sen. Paul Simon. He joins Rep. Richard Durbin and former state Treasurer Pat Quinn, both Democrats, as the announced candidates. On the same day, U.S. Sen. Alan Dixon announced he would not run and would support Durbin.
Kustra is backed by Gov. Edgar and has endorsements from the majority of GOP leaders. The primary election is March 19.
Five lawmakers targeted in ghost payrolling scandal
Five Illinois lawmakers, all from the Chicago area, are under investigation for ghost payrolling — the practice of paying individuals for doing little or no work — at the Cook County Sheriff's office, according to reports by The Associated Press and the Chicago Sun-Times. Employment and district office records have been requested from Sen. William Mahar, a Republican from Orland Park; Sen. Margaret Smith, Sen. Bruce Parley, Rep. Miguel Santiago, all Democrats from Chicago; and former Rep. Sam Panayotovich, a longtime Chicago Democrat turned Republican.
40/October 1995/Illinois Issues
---
Trial date set for House member, former tollway chief
The date has been set for December 19 in the trial of Rep. Joseph Kotlarz, a Democrat from Chicago, and Robert Hickman, former head of the Illinois Toll Highway Authority and longtime friend of Gov. Edgar, for conspiracy, theft and misconduct in a land deal along I-88.
Optometry school really is poorer now
The private Chicago optometry college that has received more than $1 million in state grants will not get the $300,000 allocated this year. Gov. Edgar stopped the grant, saying it is inconsistent with spending cuts in such services for the poor.
Former governor named to special panel
Former Gov. James R. Thompson was named to a special three-person panel that will monitor operations of the Hotel Employees and Restaurant Employees International Union. The union is under investigation for alleged ties to organized crime.
Judicial appointment
Judge Timothy C. Evans, a former Chicago alderman and mayoral candidate, was appointed presiding judge of the domestic relations division of the Cook County Circuit Court. He replaces Judge Benjamin S. Mackoff, who resigned to enter private practice.
Obituaries
•Former Chief Justice Thomas J. Moran died of cancer September 14 in Lake Forest. He was elected to the Illinois Supreme Court in 1976 and served as chief justice from 1988 through 1990. He resigned from the court in December 1992, while in his second 10-year term.
•David Dodds Henry, the former president of the University of Illinois, died at age 89 in Naples, Fla. He guided the university through the turbulent campus anti-war demonstrations during the 1960s. Also during that time he established the university's Chicago Circle campus, now known as the University of Illinois at Chicago. Henry was president from 1955 to 1971.
Beverley Scobell
1995 inductees to hall of fame recognizing exemplary public service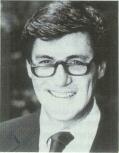 Prescott E. Bloom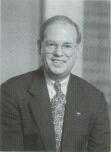 Timothy R. Campbell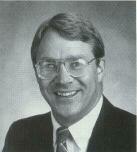 Alien Grosboll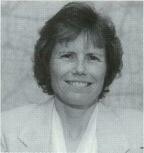 Linda M. Wheeler
Four people who started their public service careers as legislative interns will be inducted into the Samuel K. Gove Legislative Internship Hall of Fame on October 19 at the Executive Mansion. Inductees are former interns with the Illinois Legislative Staff Internship program, which was initiated by the General Assembly in 1961 and is directed through the University of Illinois at Springfield.
In 1990, Illinois Issues established the Hall of Fame to honor former legislative interns whose careers have exemplified distinguished public service. The first 11 members of the Hall of Fame were inducted that year, with four more added in 1993. This year four more former interns will be added to the roll.
Prescott E. Bloom, class of 1970-71, was a Republican state senator from Peoria from 1975 until his accidental death in 1986.
Timothy R. Campbell, class of 1968-69, is director of governmental affairs for Traveler's Insurance in Hartford, Conn.
Alien Grosboll, class of 1973-74, is senior assistant for special projects in Gov. Jim Edgar's administration.
Linda M. Wheeler, class of 1972-73, is director of planning and programming for the Department of Transportation.
October 1995/Illinois Issues/41
---