Then, in 1981, Outboard Marine Corp. shut down a local factory employing more than 800 workers, and a few months later Gov. James R. Thompson announced the closing of Galesburg Mental Health Center, with the loss of 950 more jobs. The next year, when Thompson announced a major prison construction program, Galesburg had changed. It was one of the more than three dozen communities expressing interest in a prison. Many
14 * February 1996 Illinois Issues
---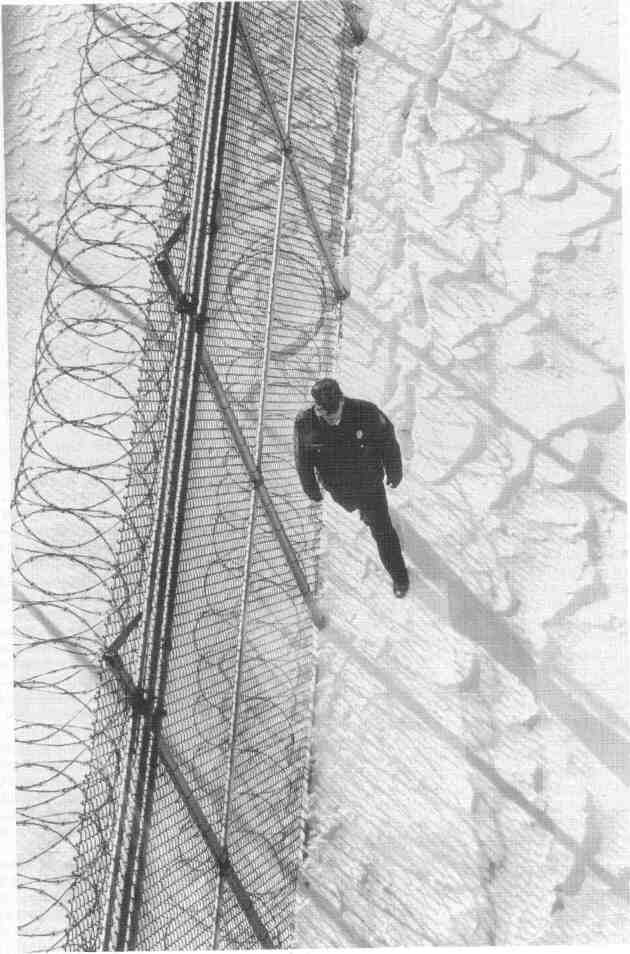 Illinois Issues February 1996 * 15
---
remaining skeptics in town were quieted when corrections officials took a busload of them on a tour contrasting Hillsboro, where a new prison sustained a lively retail industry in the center of town, and nearby Litchfield, where a third of local stores were closed. Galesburg was one of three towns to win its bid, and the Henry Hill Correctional Center opened in 1987, employing about 400 people.
"When you're looking at a 22 percent unemployment rate, there are some things you do that you wouldn't do otherwise," Galesburg Mayor Fred Kimble observes matter-of-factly. "We needed those 400 jobs." Despite a few setbacks along the way, Galesburg has recovered much lost ground since then. With some state "Build Illinois" aid, the mental health center land — now dubbed Hawthorne Center — has become home to a variety of not-for-profit and for-profit enterprises, state and local government agencies, and a successful business incubator run by the local community college. All told, Kimble estimates, the new enterprises now provide nearly as many jobs as the mental health center did. Other key businesses in town also have gained strength, and a new firm now occupies the old Outboard Marine building.
So when the federal government was looking for a central Illinois site for a new prison a few years ago, community leaders were surprised to find substantial public opposition. The leaders had reasoned that if one prison is good, two would be better. But, Kimble recalls, the average citizen thought, "One is enough. Times are better, and we're susceptible to the same 'not in my backyard' fears as others." Given a choice of jobs, most people put prisons way down on their list.
Over the past 15 years, as Illinois communities have been rocked by the loss of nearly half a million manufacturing jobs and other economic upheavals, many have — like Galesburg — looked to the state to fill the void. Hard times forced Galesburg and smaller towns to seek prison jobs they once might have spurned. Prisons were growing fast and had the advantage of flexibility in location, unlike agencies that need to be near the people served (such as Children and Family Services workers concentrated in metro Chicago).
There are clear economic benefits from jobs in these and other state agencies that are dramatically evident in small communities. Yet the experience in Galesburg suggests that most people would quite justifiably prefer to build their local economies on such options as private factories and white-collar offices or public universities and research centers. However, in recent years the state has been more likely to offer such towns corrections facilities.
"It's a sad commentary on the state of Illinois that the overall economic strategy has come down to building of prisons or expansion of gambling," laments Democratic state Sen. Penny Severns of Decatur.
Not-so-big government
Nobody can blame communities for trying whatever they can to revive hard-hit local economies, especially when public sector jobs are often relatively well-paid and stable. And at least some public jobs generate other lasting benefits that spread through the local economy.
Public sector paychecks once were far from generous, but with the power of their unions behind them, public employees today often are as well or better paid than comparable private sector workers and have more security. Prison security guards, for example, make $26,000 a year or more and have good benefits. Because these state jobs are less dependent on the boom and bust of the private economy, cities like Galesburg seek public employers. Kimble says, "They make a contribution to the economic base that helps you resist fluctuations."
Also, with public sector jobs, government can target its investment to some extent in places that the private market has neglected, or favor local suppliers to spur economic development (as Mayor Harold Washington did in Chicago). Especially when they efficiently provide useful services, public agencies are a positive economic force, counterbalancing the regional shifts and imbalances of the private sector.
To the extent that public sector jobs do offer economic benefits, Illinois may be losing out compared to other states. By almost any measure, Illinois has a skimpy public sector. With about 168,600 employees out of a nonfarm state work force of 5,604,200, Illinois government employs a smaller percentage of its nonfarm work force than any other state, according to Bureau of Labor Statistics figures for 1995. In 1989, Illinois ranked 49th in per capita expenditures for state wages and 48th in the number of state employees per 10,000 population.
Budgets reflect priorities and the growth in state spending has not, in recent years, come in areas that generate significant private economic activity or long-term economic benefits, such as investments in education. Of all budget categories, Medicaid, established in 1965, is among the fastest growing, rising from 14 percent of the state budget in 1975 to 26 percent in 1995. Human services dropped by more than half from 1965 to 1985, then crept up slightly to its current share, 19 percent. Aid to Families with Dependent Children, the main "welfare" program and the object of widespread political assault, has declined the most of all major state programs, from 14 percent of the budget in 1965 to only 6 percent in 1995. Universities, with about 36,000 full-time and 20,000 part-time employees, account for the largest bloc of state workers. Still, Illinois ranks near the bottom — 47th —among all the states in the percentage of "gross state product" (total output of goods and services) devoted to education. Over the past three decades education's share of the state budget dropped from 44 percent in 1965 to 34 percent in 1995.
Meanwhile, as both tougher sentencing laws and the war on drugs greatly increased the numbers of prisoners, the corrections budget, while still relatively small, has grown much faster than any other category. It grew from 1 percent of spending in 1965 to 5.9 percent in 1995. Yet this only accounts for money spent to run prisons, not the cost of constructing new ones. Since 1973, the state has also appropriated $1.2 trillion for building new prison capacity, nearly one-fifth of total capi-
16 * February 1996 Illinois Issues
---

Correctional Officer Jamie Stille of Jacksonville works in the tower that overlooks the grounds of the Jacksonville Correctional Center
tal spending in Illinois. The spending greatly accelerated after 1978; in the five years from 1973 to 1977 corrections claimed only 3.5 percent of capital spending.
Some public investments do more than others, providing not just immediate jobs but a basis for sustained growth in productivity. The tragedy of the prison boom is not simply that corrections facilities, which thrive on the human misery of crime and punishment, are the fastest growing state function. On top of that, prisons are a weak tool for economic development. They are less likely to foster long-term economic growth or higher incomes than public investments in education, research or basic infrastructure, for example. Unfortunately, with budgets tight, rising prison costs compete with other uses for state funds.
Ultimately, however, public sector jobs must be judged by more than narrow economic standards, such as the effects of payrolls, local business growth or taxes on a single town like Galesburg. A government enterprise should first embody good public policy. That is, it should do such things as educate children well, care humanely for the disadvantaged or maintain public order while protecting freedom. Yet even if social values come first, government has an interest in its operations being both efficient and contributing to regional economic vitality. Economic judgments on public enterprises should be made on benefits and costs in the broadest sense, looking at direct and indirect effects and alternative policies.
A high price
There are, of course, potential drawbacks to an economic reliance on public sector jobs. Politics and policies do change, even if not as predictably as business cycles. What once seemed like rock-solid jobs can suddenly wither away, as a military base or mental hospital closes. Dependence on public jobs thus means dependence on political and social trends. And simply because a community has an opportunity to attract a public facility, like a prison or military base, does not mean that those jobs are the best option for the local economy. Finally, in their desperate competition for jobs, whether public or private, communities often pay too high a price.
Because of its rapid growth, the corrections department has most strikingly posed the question of the relative economic benefits of public employment in recent years. In the early '80s, when the prison building boom accelerated, the Department of Corrections opened the process of prison site selection to intense bidding, taking into account appropriateness of the site for the state, local community support, and, last, economic need. There were many communities in need.
"Sometimes it gets ludicrous," says Nic Howell, spokesman for the Department of Corrections. "One
Illinois Issues February 1996 * 17
---
---

Most of the new prison sites
report prison-stimulated
boomlets in retail sales,
mainly to prison employees.

---

community did a video of a guy in a barrel singing, 'Is you is, or is you ain't, going to give us a prison?'" Nearly always it has involved demonstrations of public support and offers of "incentive packages," including free land, new highways or utility hookups.

Consider the battle for "Supermax," a new maximum security prison now under construction.
Jerry L. Reppert publishes the newspaper in Anna, a town of 5,000 in deep southern Illinois that had lost 700 jobs from two factory closings in 1992. "I decided to go to Springfield to see what new might be coming up that we might go after," he says. "I had no intention of looking for a prison." But after bouncing from one agency to another with no luck, he ended up at the Department of Corrections. He then returned home to form the Southernmost Illinois Prison Committee to compete for Supermax. "My thinking was strictly jobs," he says. "We needed jobs and the payroll that came with them."
Besides mounting a petition drive in support of the prison, the surrounding communities offered to buy the property and give it to the state, extend utilities to the site at no cost and offer free water and sewer service for two years. To raise money for the land, the committee asked local people to buy "honorary ownership" at $100 a share. This voluntary contribution brought about $100,000 toward the $1.4 million cost to the village of Tamms, population 700, where the prison was located.
Last fall, Pinckneyville offered a package of incentives worth $8 million to win a new medium security prison. The town, hard hit by coal mine closings that cost more than 1,500 jobs, wanted to expand its manufacturing base and opened a new industrial park. By winning the prison, argues Tom Denton, who doubles as police chief and economic development coordinator, the town could justify extending utilities to develop the new industrial site near the proposed prison. "There's a considerable cost [for the prison], but we needed to do the infrastructure anyway," he says. "We wouldn't necessarily go into an $8 million investment for a private corporation that could leave, but prisons are a stable building block."
Now, Denton says, the once-shuttered stores in town are filled, and new businesses are making inquiries. "I think they see $20 million [the annual payroll] reverberating through the economy as a plus," he says. "The fact that we were most competitive in the eyes of the state also brought us a lot of attention."
Most of the new prison sites report prison-stimulated boomlets in retail sales, mainly from the prison employee payroll but also for some local purchases of goods and services for the prison. Robinson, a southeastern Illinois town of 7,500 where unemployment hit 26 percent in 1986, was so pleased with the minimum security prison that opened in 1990 that it applied again last year for the prison that ultimately went to Pinckneyville.
"We look at the prison as one of our development partners, an industry in town, and, like it or not, a growth industry," says Peggy Keen, executive director of the area Chamber of Commerce. After the prison opened, though not entirely because of it, sales tax revenue increased by 20 percent, unemployment dropped 2.5 points to 7.7 percent, and both the industrial and commercial tax base have jumped nearly 40 percent.
The prison sweepstakes
No wonder prisons have become popular. But that popularity may distort the selection of sites, skewing the process to favor small, hard-pressed downstate towns over midsized cities that are equally in need of jobs but where opposition tends to be more vocal. The process is not immune to political manipulation, and critics have complained that Republican governors have chosen sites that would be beneficial to GOP legislative interests.
Moreover, the state's siting process encourages communities to bid against each other with incentive packages that are costly to already depressed towns and villages and at odds with Edgar Administration policy that, at least ostensibly, eschews use of incentives to lure new jobs to an area.
Most communities believe that the long-term benefits will exceed the cost. They may be right, though typically they vastly exaggerate the indirect effects of the prison in their projections. Boosters often claim that the prison payroll will ripple through the local economy, generating five or six times the number of prison jobs in other local businesses, from hardware stores to fast-food outlets. But economist Joseph Persky of the University of Illinois at Chicago argues that, on average, the correct "multiplier" of economic impact for public facilities is only 1.6 to two times as many jobs in peripheral firms as in the core business. The multiplier calculation for private companies tends to run higher — as many as three spinoff jobs for each job an auto plant, for example, brings to town.
Even if the community recovers its incentive package, is it proper for the state to encourage such subsidization? After all, the bidders are virtually all among the most economically distressed communities in the state. If it were not for the incentives, revenue for building and maintaining the new prisons would come out of taxes, which are slightly progressive, falling a bit more on the wealthy Chicago suburbs. Defenders of the process say that the state is simply getting the best deal it can for itself. "Being a taxpayer, it doesn't bother me at all," says corrections spokesman Howell. "The kind of incentives these communities offer is the same they'd offer any big business."
But the state is supposed to operate on more socially responsible principles than a business. Besides, officially, the state of Illinois now deplores the way businesses try to get tax breaks to locate factories or offices. Though Thompson aggressively bid for new factories with government subsidies, Gov. Jim Edgar has downplayed the incentive bidding game.
18 * February 1996 Illinois Issues
---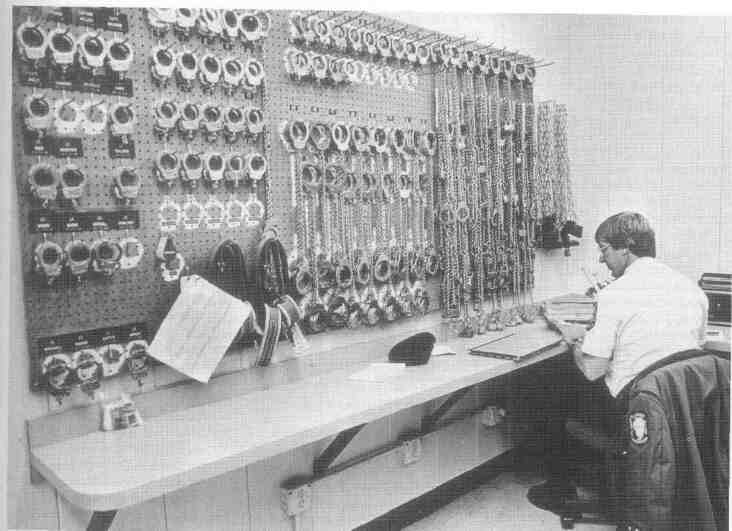 Correctional Officer Bill Flynn engraves name tags amid shackles and handcuffs at the Jacksonville prison. Flynn is from Jacksonville.
Nevertheless, critics maintain, the state has inappropriately encouraged a similar contest among communities for prisons. "If the state of Illinois had made the decision that they're not going to ante up huge quantities of money to attract businesses," Galesburg Mayor Kimble says, "I'd hope they'd be consistent and not require such sums for communities within the state." For her part Sen. Severns argues, "Instead of putting communities into a bidding war, I believe decisions should be made on where can it do the most good, provide the most hope, have the most economic impact and serve the economic interest of most families."
J. Fred Giertz, professor of economics at the University of Illinois at Urbana-Champaign, does not adamantly oppose community incentives but contends that "the state shouldn't go around squeezing areas and do like firms in pitting one area against another. It's strange. State government doesn't like that game when it's played by firms, but to a certain extent, they're doing the same."
Balancing the ledger
Despite obvious benefits to some small communities, a more comprehensive balance sheet calls into question the value of prisons as an economic development tool. Social policy choices carry economic consequences. It is thus misleading to judge even the economic impact of an institution like a prison too narrowly. With certain crimes and criminals, incarceration is the costliest alternative, robbing scarce state dollars from more productive economic enterprises to build prisons.
The first question that needs to be asked is: Do we really need them? In the long run, it makes little economic sense to provide unneeded services. No one would argue against locking away criminals who are a clear danger to society. Clearly, removing destructive individuals from society brings economic as well as social rewards. But many critics contend that tougher sentencing laws have less to do with protecting society than with vengeance and political grandstanding. Also, locking up nonviolent offenders with hardened criminals may end up having the negative economic effect of creating "schools for crime."
Similarly, a growing number of critics question the use of the criminal justice system and prisons to deal with the vast majority of drug problems. They argue that drugs are a public health problem, best addressed through education and treatment and an overall strategy of "minimization of harm" rather than punishment. Within that broad strategy, employed by most Western European countries,
Illinois Issues February 1996 * 19
---
---

The lure of prisons as a
solution to local woes may
divert local communities
from pursuing better
economic strategies.

---

there are a wide range of options, from simple steps like providing clean needles (to minimize AIDS transmission) to decriminalization or legalization (neither of which needs to imply social approval of drugs).

These drug policy revisionists, ranging from conservative economist Milton Friedman to Baltimore Mayor Kurt Schmoke, argue that the vast majority of drug-related criminal offenses result primarily not from the "high" that comes from drugs but from their illegality. Criminalizing drugs pushes up prices, turning drug abusers to crime to support their habit, and stimulates the deadly war among participants in the drug trade.
Few approaches are economically costlier than what we are now doing, critics say. For example, David Olson and Roger Przybylski of the Illinois Criminal Justice Authority found that arrest, trial and incarceration for the average drug offender cost $36,452. Probation for the same offender costs $6,067. The cost of drug treatment — ranging from roughly $4,000 for an intensive outpatient program to $15,000 for inpatient treatment —is far less than prison. It also is more effective. (Even if abusers in drug treatment programs eventually return to drug use, there is strong evidence that their criminal behavior greatly declines during treatment, more than repaying the cost.) A recent Rand Corporation study found that every dollar spent in drug treatment yielded $7 in such benefits to society as reduced crime, reduced drug consumption and lower health costs.
"It is not just criminals who are paying an exaggerated price for America's addiction to incarceration," the conservative British weekly, The Economist, argued last December. "The criminal minority, in effect, consumes an increasingly disproportionate share of the public purse. State spending on prisons has increased more than sixfold in real terms since 1979, using money that could have been spent on education, parks and hospitals. Getting tough on crime is punishing not just the bad guys, but law-abiding citizens as well."
Thus, in weighing the benefits of new jobs in Pinckneyville versus the total cost to the state of an expensive, ineffective war on drugs, both the economic development and public policy scales tip toward new approaches to drug problems, not more prisons. Inevitably, using such a comprehensive balance sheet involves the complex task of assessing the economic costs and benefits of social policy, not simply jobs generated by building and operating a new prison. The economic value of a new prison thus looks quite different when viewed from Pinckneyville or when viewed in terms of the interests of the state as a whole.
The lure of prisons as a solution to local woes may also divert local communities from pursuing more productive economic strategies. Savanna lost its bid last year to locate a prison on a nearby army depot that is shutting down over the next couple of years. Though it is now starting an economic development effort, the town is still keeping an eye on the prison sweepstakes. "We're not going to give up," says Mayor Eugene Flack. "They do one of these penitentiaries about every year. We hope one of these years we'll get one up here."
Despite their appeal, prisons aren't even the best development option for many communities. The problem is, as Jerry Reppert found when he went on his search to Springfield, sometimes they're the only option available. "Prisons aren't the ideal economic development facility, but they're better than nothing," observes Giertz. "They just redistribute [money] from one area of the state to another. It doesn't make the state any better economically, except to reduce crime."
Finding alternatives
In weighing the economic benefits of prisons, it is also worth asking what the alternatives might be. Most of them, unfortunately, do not provide the quick fix of a prison, but most of them do provide more long-term benefits. Galesburg discovered some of the better alternatives: encouraging growth of existing enterprises, incubators for new business, creative reuse of facilities, and development of local education and training. Instead of more prisons, Rep. Mike Boland, an East Moline Democrat, would rather see a branch of a state university in his Quad Cities region, and a new highway linking the area to St. Louis. The state, which is now thinking of expanding the use of convict labor for recycling, could instead invest in recycling and related manufacturing enterprises that could create new civilian jobs in many depressed areas through both nonprofit and for-profit enterprises.
The state could also help reduce the great inequities of spending on education, which afflict many small downstate communities as well as poor parts of the Chicago metropolitan region. The Corporation for Enterprise Development, a Washington-based think tank focused on economic development, last year cited Illinois' tax and fiscal system as among the nation's 10 worst in terms of equalizing local fiscal capacity and as a drag on the state's economic performance.
Education pays off handsomely for both individuals and society. Economists consider the "social rate of return" on an investment as the increase in personal income compared to the investment made. Though some economists might stress the economic benefits of social order resulting from imprisonment of criminals, Walter McMahon, a professor of economics at the University of Illinois at Urbana-Champaign, sees the rate of return on prisons as negative (since they function as schools for crime). On the other hand, he argues that the rate of return on education is about 12 percent per year, only a bit less than the average return on investment in manu-
20 * February 1996 Illinois Issues
---
facturing plants and equipment. In addition, education provides substantial "nonmonetary returns, including reduction of poverty, reduction of inequality, democratization and lower crime rates," he argues.
Even with much more money for schools, however, there would still be crime and the need for prisons, though probably fewer than today. If prisons must be built, they can boost local economies, but the system would work better if there were fewer political considerations and no incentive game.
Some gain, some lose
If some communities are keenly anticipating what new state facilities might open, others are equally worried that they might lose what they have. Although Illinois has closed only one prison in its history, government has shut down many other institutions that were long considered economic anchors of their communities. But critics, including the public employee union, argue that the state does not weigh local job needs as seriously when closing facilities like mental health centers as it does in touting the opening of new prisons.
"It drives me crazy that people make a big deal over a business closing with 85 jobs, and we close a mental health facility with 300 jobs, and nobody thinks it has an economic development impact," argues Roberta Lynch, deputy director of Council 31 of the American Federation of State, County and Municipal Employees (AFSCME), which represents more than 40,000 state workers.
While all shutdowns take a toll, some have less impact because there are more opportunities for conversion of facilities or alternative employment for workers. For example, in recent years the federal government has closed many military bases and facilities, including Glenview Naval Air Station, Great Lakes Naval Training Center, Chanute Air Force Base in Rantoul, the Joliet Arsenal and the Savanna Army Depot. The main concern with the two north suburban sites was which of many competing private and public uses would be adopted.
But not every base closing is so benign. Following the 1993 decommissioning of Chanute, the Bureau of Economic and Business Research at the University of Illinois at Urbana-Champaign tracked the local economy. Though they find local optimism, especially with the prospect of a new Defense Department accounting center at the base, the 1995 report said the local economy is not "particularly strong." Compared to some forecasts, "the impact was minor," argues Bank of Rantoul President Tom Bryan, and parts of the base have been developed for private businesses and housing.
Other than federal bases, community concern about closing of public facilities has focused on state mental hospitals and residential facilities for the developmentally disabled. There has been a long-term decline in population and the number of centers as philosophies about caring for both groups has changed dramatically. From a high of 56,587 in 1940, the combined population of these facilities dropped to 17,344 in 1970, 9,875 in 1980 and 6,245 currently. Since 1977 the Department of Mental Health and Developmental Disabilities has closed nine facilities with more than 2,000 beds, shifting many patients or residents to nonprofit and for-profit community institutions (which now care for about 3,259 mental patients and 6,105 developmentally disabled people at state expense).
The change reflected a new approach to treatment for the mentally ill, including greater use of drugs, attempts to integrate the mentally ill into community life and the recognition of civil rights for the mentally ill. It also reflected the effort — supported by parents and most educators — to teach developmentally disabled children in the schools, rather than simply warehouse them. Especially with the mentally ill, the state also saw deinstitutionalization as a way to save money.
But critics argue that many of the mentally ill have not received adequate treatment on release and have not fared well, often ending up homeless or "relabeled" and reinstitutionalized in prisons. In several cases, prisons have been built on or near the sites of former mental hospitals, easing the pain of closings but unintentionally reflecting a shift in types of incarceration for some individuals. Some former state workers find jobs in the privatized community programs but typically at much lower pay.
Last year Edgar announced closings of both the Meyer Mental Health Center in Decatur and the Kiley Developmental Center in Waukegan. In both cases, the state planned to disperse residents to community institutions. AFSCME fought both closings, stressing the economic loss and the inadequacy of the community alternatives. With strong backing from parents, many of whom praised the Kiley staff and had experienced serious problems with private facilities, the coalition against the Kiley closing won a reprieve for at least five years.
UlC's Persky concluded that in addition to 669 jobs directly lost to Kiley layoffs, the four-county area would lose another 252 jobs and the metropolitan area another 571 jobs, with a loss of $65 million in income to the area through the year 2000. Though the state projected saving $4 million a year with the closing, Persky's study concluded that the state would lose nearly $5 million in income tax revenue through 2000, plus losses of sales and property taxes for different levels of government.
Illinois Issues February 1996 * 21
---
---

The impact of government
institutions is greatest for
less-skilled workers with
fewer job opportunities.

---

The economic argument was important but did not determine the outcome. (Family members were more involved in the Kiley fight than with Meyer, and local politicians, including some Republicans, were more united behind the effort to keep Kiley open.) The economic analysis did highlight the importance of the government as an employer. Persky argues that the impact of opening or closing government institutions is greatest for less-skilled workers with fewer opportunities in a national labor market. "Where you know workers would otherwise very likely be unemployed and have limited opportunities, the benefit [of opening or keeping open a facility] is legitimate," he argued. "Where they could do other things, the benefit is less."
Two-edged sword
The transformation of the Department of Mental Health and Developmental Disabilities is a case study in the difference that public employment can mean for moderately skilled workers. At the publicly operated facilities, the average caregiver, like a certified nurse's assistant, makes about $24,000 a year, but in private agencies the starting wage in 1992 was only $9,256 a year for the same work, well below the poverty level. Few of the private sector workers have pensions or health insurance, unlike the public employees.
Still, reliance on private sector agencies has become an important means of providing public services. The state spends more than $550 million a year from the departments of Public Aid and Mental Health at more than 500 private agencies, supporting a "shadow public sector," according to AFSCME calculations. Counting all social service agencies with private subcontractors supported by the public purse, this "shadow sector" may total 30,000 to 40,000 workers, based on various public employee union estimates.
The government — and thus taxpayers — may save money by privatizing this social service work. But as Geoffrey Hewings, director of the Regional Economics Applications Laboratory at the University of Illinois at Urbana-Champaign, notes, "If you unburden one part of the state and privatize it, and the private providers do the work with uninsured workers, then we have to look at the cost to the state of providing medical care. We may save one dollar with one hand and spend 95 cents with the other."
Also, the savings to the state may not be as great as the loss to workers. According to AFSCME calculations, the cost per bed per day at the one privately managed veterans home is about 10 percent less than the cost at the three state-run homes, but typical wages are often 40 percent less. AFSCME recently won an election to represent the privatized home workers and hopes to raise their wages.
From the standpoint of the economy as a whole, privatization often brings no real gain. It usually entails wage cuts, and that doesn't make society more productive, says economist Persky. Those cuts simply transfer income from workers to someone else — the private employer, managers or taxpayers, for example. But to the extent that the tax system is progressive, or low wages are an alternative to raising needed revenues by making the system more progressive, then the main taxpayer beneficiaries are those with the highest incomes.
"Unless someone can show me there are real efficiency gains, that is, more output per unit of physical input, I'm real dubious about the value of privatization," Persky says. For example, when the university privatized its food service, which retained the same people but cut wages, "that's not a gain in efficiency," he says. "You would hope the public sector wouldn't get caught in this race to the bottom."
Slashing wages does make workers poorer at a time when one of the biggest economic problems of the country and state is the stagnation of wages. Wage cuts hurt the rest of the economy (since workers buy less), damages the fabric of society (by increasing inequality and social tensions), and may contribute to future social problems, which will cost the state more later.
AFSCME, traditionally a public employee union, has launched an effort in recent years to organize the shadow sector workers. So far it has won elections to represent workers in several locations, though some private employers are resisting signing a contract. That's another consequence of privatization: It is harder for workers to unionize in the private sector and gain a collective voice at work. The Service Employees International Union has also organized an estimated 10,000 home care workers, who work for private employers reimbursed by the state, and has forced the state to raise their abysmally low compensation.
Several unions are also collaborating with ACORN, the community group, to pass a "living wage" ordinance in Chicago, similar to an ordinance passed in 1994 in Baltimore and now being pushed in several cities around the country. It would require any contractor with the city, or beneficiary of city subsidies such as tax breaks, to pay a wage sufficient to bring a family of four above the federal poverty line, or about $7.60 an hour. There may be a push for a similar "living wage" law at the state level.
Obviously the level of wages or benefits should not be the only consideration in decisions about privatization. If the private sector truly is more efficient — producing more with less — or provides better products or services, then there could still be a case for privatization. But privatization typically means less public accountability or openness to scrutiny by the press or government.
In many cases, it also brings shoddier products or services, not improvements. For example, according to a 1992 study by David Braddock and Dale Mitchell of the University of Illinois at Chicago, 87.2 percent of the staff on average changes each year at privately run agencies for the develop-
22 * February 1996 Illinois Issues
---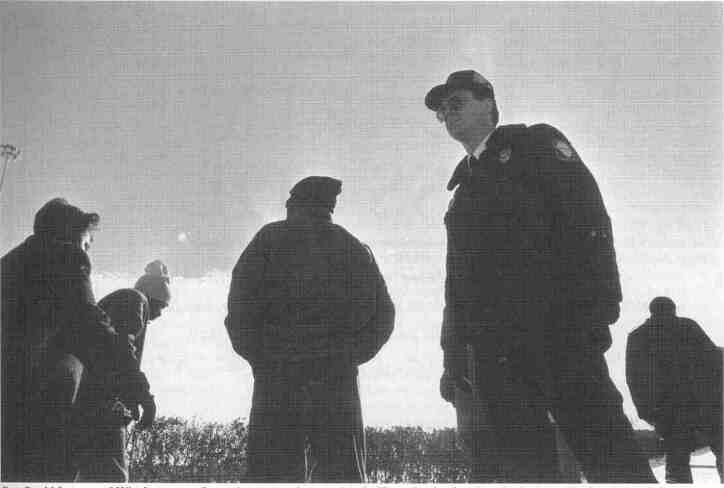 Sgt. David Lawson of Winchester watches as inmates and correctional officers head to lunch at the Jacksonville Correctional Center.
mentally disabled compared to a turnover rate of 13.7 percent at state facilities. In addition, private agencies provide only 56 hours of on-the-job training compared to 394 hours at state-run institutions. The result is frequently poor quality care, even appalling conditions, according to the Department of Mental Health inspector general. But those failings are hidden from the public eye, unlike the more regularly reported shortcomings of state institutions.
Public agencies certainly deserve continued scrutiny to improve efficiency and quality and to guarantee that their services are indeed useful. But it is important to remember that state or other government jobs can be building blocks of economic prosperity for both local communities and the state. From an economic point of view, education, research and creation of new infrastructure are among the most productive traditional public activities. Yet even though it makes sense to gain the greatest possible economic development advantage from government enterprises, it is a mistake to view government as just another business or to judge every policy or agency in narrow economic terms.
In any ease, the economic benefits must be totaled on a comprehensive balance sheet. Such accounting can reveal that what looks like a promising job creation tool, such as building a new prison, can really be an economic deadweight compared to alternatives such as drug treatment or alternative sentencing for nonviolent offenses.
Privatization, in particular, deserves close scrutiny to see if it brings both true efficiency and higher quality. Turning work over to the private sector is no panacea, though it may be justified under certain circumstances, such as some of the community mental health programs. Still, Illinois certainly does not suffer from a bloated public sector. When privatization means simply hardship for workers, a diminished stimulus to the economy and less accountability to the community, then it's a bad deal. If the private sector is going to deliver public goods, then it must be superior in all regards to a public agency, not just cheaper in the short run.
In the long run, economic vitality will come, as it has to some extent in Galesburg, from a judicious mix of public and private initiatives. In an era when all government is portrayed as a drain on the economy, it is important to remember that the right kind of public initiatives — even expanded beyond what they are now — can be foundations for a healthier private economy as well as being in themselves important sources of badly needed jobs. *
David Moberg, senior editor at In These Times, writes widely on economic issues. His articles have appeared in The New Republic, The New York Times and the Chicago Tribune. His previous article for Illinois Issues examined the labor movement.
Illinois Issues February 1996 * 23
---