FATHERS, SONS AND UNHOLY GHOSTS
---

The feds are investigating ghost payrolling in Chicago. But an anthropologist decoding kinship systems of an exotic tribe would have an easier time than one tracing the web of personal and political connections inside the Chicago Machine.
---
Story by James L. Merriner
Illustrations by Mike Cramer
Let us consider two Chicago Democrats, a white Machine loyalist and an African-American anti-Machine crusader, and see what they might have in common.
The former, Joseph P. Rostenkowski, the father of former U.S. Rep. Dan Rostenkowski, was a down-the-line regular Democrat. He served as 32nd Ward alderman from 1931 to 1955 and as ward committeeman from 1936 to 1961.
The latter, Harold Washington, won election as the city's first black mayor in 1983 and re-election in 1987. He boasted of assassinating the Machine and dancing on its grave.
What these two men had in common was that they both were ghost payrollers for the Machine in the 1950s.
The U.S. Justice Department, which has been investigating ghost payrolling in Chicago for six years under "Operation Haunted Hall," has indicted 23 persons so far. The federal probe has concentrated on the 39th Ward Democratic organization and on the Republican administration of the Cook County sheriff's office from 1987 to 1990.
18 ¦ July 1996 Illinois Issues
---
Fortunately for multitudes of ghosts in both parties, the statute of limitations will not allow prosecutions any farther back than that. Otherwise, our prisons might become packed as tightly as the United Center during the Bulls playoffs.
Ghost payrolling, the practice of getting paid for a public job while doing little or no actual work, is a stepchild of patronage, the awarding of public jobs as political favors. Ghosts have such a long pedigree in Chicago that they are usually just called "payrollers," a term so distinctly Chicagoan that it is unknown to the editors of most American political dictionaries.
While other features of corruption such as stealing elections, bribing judges or rigging contracts might be more notorious, it is payrolling that is at the very heart of a political machine — as the careers of Rostenkowski and Washington attest.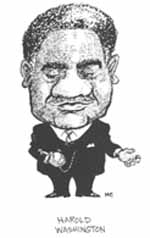 Harold Washington was sponsored for a city job by Ralph Metcalfe.
Washington was sponsored for a city patronage job by 3rd Ward committeeman (later U.S. Rep.) Ralph Metcalfe. The future mayor, fresh out of Northwestern University Law School, joined the corporation counsel's office, where ostensibly he was to handle housing violations and damage claims by the city.
A former colleague has said that Washington showed up at the office once or twice a week at first. Then he appeared just once every two weeks to pick up his paycheck. Then it was once a month to pick up two pay checks. When even that became too much of a strain, Washington asked to have the checks mailed to him.
Two decades later, Washington was a state senator, having been slated for the seat by Mayor Richard J. Daley in 1976. Washington turned his back on Metcalfe when Metcalfe broke with Daley that year.
Later, of course, Washington himself divorced the Machine to win election to Congress in 1980.
The Chicago Tribune reported his record as a no-show assistant corporation counsel in a 1986 profile. The article angered Washington, who refused to discuss the matter with reporters.
As for "Big Joe Rusty" Rostenkowski, back in 1955 he supported Daley, an Irish American, for mayor over a Polish American candidate, Benjamin Adamowski. The heavily Polish 32nd Ward duly punished Rostenkowski by booting him from his aldermanic seat.
Within a couple of years, Daley paid Rostenkowski back, first by giving him a no-show job in the Sewer Department, then by slating his son, Dan, for Congress. The elder Rostenkowski joined the city work force on April Fool's Day, 1957, drawing $9,156 a year (good money back then), supposedly to supervise sewer repairs. Of course, his real job was to run the ward's political apparatus for Daley.
"Rusty," the sewer supervisor, had previous exposure to ghost payrolling. In 1952, as chairman of the City Council License Committee, he employed three "investigators."
One drove the alderman to work. Another was a bartender for the saloon owned by Ald. Mathias "Paddy" Bauler (43rd). The third was an unmarried woman who sometimes accompanied Rostenkowski, a widower, to nightclubs. Their purpose, Rostenkowski explained to a Chicago Daily News reporter, was "to see if they have a license for the number of musicians working."
In 1961, newly elected President John F. Kennedy owed Daley a lot of favors. He retired one of them by elevating "Big Joe Rusty" from the city sewers to a federal sinecure as collector of customs for the Port of Chicago. He kept
Illinois Issues July 1996 ¦ 19
---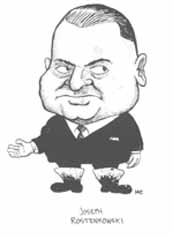 Richard J. Daley gave "Rusty" Rostenkowski a job in the Sewer Department.
the job until Republicans retook the White House under Richard M. Nixon in 1969, whereupon Rostenkowski retired. He died the next year.
Dan Rostenkowski, in a plea bargain last April, pleaded guilty to two felonies, including a count of mail fraud for mailing payroll checks to ghost employees in his Chicago office. The original indictment in May 1994 listed 14 alleged Rosty ghosts who were paid by federal funds for services such as renovating his house, keeping his insurance company's books and cutting the grass at his vacation home in Wisconsin. Also among the 14 was Rostenkowski's former son-in-law, who allegedly did no official work but paid his father-in-law cash kickbacks.
If Rostenkowski had learned the personal rewards of patronage at his father's knee, Washington had done likewise. The late mayor's father, Roy Washington, also had a patronage appointment as an assistant corporation counsel, although the elder Washington was not a ghost. A prosecutor, he was known to actually press cases.
Roy Washington, Joe Rostenkowski and their sons understandably might have drawn two conclusions about ghost payrolling in Cook County.
First, nobody seemed to pay it much mind — it had been going on forever. Second, it tended to run in families.
The perspicacious "Paddy" Bauler, who forever is being quoted as saying, on the night Daley was first elected mayor, "Chicago ain't ready for reform" (although what he actually said was, "Chicago ain't ready for reform yet"), was a paragon of patronage. Two of his brothers were aldermen, another brother was a cop, his son was a sanitation superintendent, and anyone else even distantly related seemed to get city jobs somehow.
But the all-time champ for ghostly nepotism might be Anthony C. Laurino. Laurino, 85 years old, is the last surviving link to Aldermen "Hinky Dink" Kenna and "Bathhouse John" Coughlin (1st), whom he served as an assistant precinct captain. Kenna, a pint-sized saloonkeeper, and Coughlin, a one-time masseur in a Turkish bath, presided over civic corruption so wide-open that it has entered national folklore. They protected Prohibition-era saloons, gambling halls, brothels and opium dens. In return, a grateful Al Capone supplied money and muscle for their 1st Ward elections.
Laurino, who started out as a "license inspector" in the water bureau, was 39th Ward alderman from 1965 until he resigned in 1994.
He was indicted last December 13 for inspiriting City Hall with at least 35 ghosts over two decades. Among the alleged ghosts were Laurino's wife and daughter; the grandson of a former congressman; the father of the city clerk; and the son-in-law of Laurino's second wife. The son-in-law landed a city job because he needed help paying for his marriage to Laurino's stepdaughter, prosecutors said.
Bonnie Rhein Laurino, Laurino's second wife, had been an aide to former U.S. Rep. Frank Annunzio, whose grandson her husband also hired. Unwittingly taking a cue from Joe Rostenkowski, Bonnie Laurino chose April Fool's Day to join the city payroll.
In a practice known to the Machine as "wife swapping," she went to work for a committee formerly chaired by the late Ald. Lemuel Austin Jr. (34th), while Ald. Laurino provided a job for Austin's wife.
Bonnie Laurino and three other family members have pleaded guilty in the "Haunted Hall" probe. If you are keeping all these names
20 ¦ July 1996 Illinois Issues
---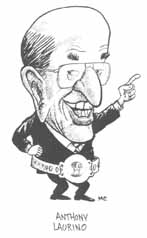 Anthony C. Laurino was indicted for inspiriting City Hall with 35 ghosts.
straight, you are a fan of Chicago politics. Certainly the insiders who benefit from the system take care to keep them straight. An anthropologist decoding the elaborate kinship systems of an exotic tribe would have it easier than one trying to trace the web of political, personal and employment connections inside the Chicago Machine.
Sometimes, during grand jury sessions or election campaign seasons, the web quivers a little so that the public notices. In March 1994, Anthony Laurino called his precinct captains together for a pep rally for Dan Rostenkowski, who was facing a primary election struggle. "You know, Danny, down here in the ward, we always carried you," Laurino said, using ward heeler's shorthand for carrying the vote. Rostenkowski responded by spinning stories from his many years in politics.
One story he didn't tell, but could have, was the time he was 8 years old and tagged along as his father, Joe, went to Bauler's tavern at 343 W. North Ave. A local politician had died, and "Rusty" intended to take his fellow alderman to the wake. Attending wakes was a hallowed duty for old-fashioned ward bosses, yet Bauler refused to go. Asked why, he explained: "I ain't going to his wake because he ain't coming to mine."
In later years, Dan became a close friend of Bauler's son, Harry. He used to go over to Bauler's house to hear Harry play the drums.
Rostenkowski was longtime pals with the Baulers and Laurinos and their peers. He even got to be rather friendly with Harold Washington toward the end of the mayor's tenure in office, taking him on a drinking tour of Polish neighborhood bars. Perhaps they talked about the old days in the corporation counsel's shop, where Rostenkowski started his career as an "investigator" in 1950.
With Rostenkowski steeped in such a buddy-buddy political culture, there is no doubt that he meant it when he remarked in a 1994 television interview: "You know, in Chicago, we have a very unusual association with people that work for us. I mean, they're our friends as well."
The practitioners of the Machine just don't get it when it comes to ghost payrolling. An FBI official told the Tribune last December that when Operation Haunted Hall investigators confront suspects, "In many instances, we get that sort of blank look: 'Well, what's wrong with that? Isn't it business as usual?'"
Actually, the public perception that ghosts do no work for their pay is, in many cases, wrong. It's just that they work for the Machine, not the public. Aside from coat-holding and other personal services for their patrons, their real job traditionally is to keep in touch with voters in the ward, broker city services such as curb repairs, maybe spend a few nights a month in ward headquarters working the phone, and, of course, do door-to-door canvassing during campaigns.
On its own terms, this is an efficient system. Both the ghosts and their Machine employers derive tangible benefits. Few people personally or directly lose anything as long as they elude getting indicted.
Except, that is, for the costs picked up by taxpayers.
Not counting Anthony Laurino, who has pleaded not guilty and is awaiting trial, 21 aldermen or former aldermen have pleaded guilty or been convicted on corruption charges in the last 23 years.
No wonder Chicago has not stamped out ghost payrolling. It can't even put aldermen behind bars at the rate of one every year.
James L. Merriner, a frequent contributor to Illinois Issues, has been political editor for the Atlanta Constitution and political writer for the Chicago Sun-Times. He's currently writing a biography of Dan Rostenkowski.
Illinois Issues July 1996 ¦ 21
---