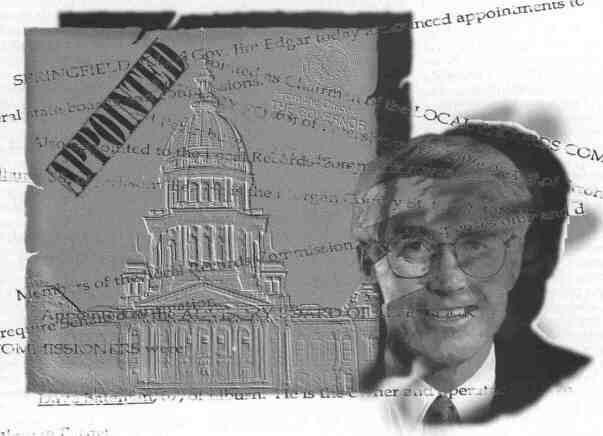 PATRONAGE LITE
GOV. EDGAR'S SHADOW GOVERNMENT: WHEN IT COMES TO GETTING AN APPOINTMENT IT PAYS TO BE A FRIEND OF JIM
Story by Tom Brune and Jennifer Halperin Illustrations by Keith Whaley
Six-term Republican state Rep. John Hallock Jr. of Rockford was favored to win his 1990 attempt to succeed Lynn Martin in Congress. But along the way some things went wrong — he was caught speeding, he went through a messy public divorce and he ran a campaign that didn't catch fire.
He lost.
Hallock may have been down, but he wasn't out for long. About six months after the election, Gov. Jim Edgar appointed Hallock to a $63, 000-a-yearjob as a public member of an obscure but important state agency, the Illinois Industrial Commission. The commission administers the state's complex workers compensation system.
To make way for Hallock, Edgar bumped a well- respected member: Stuart Pellish, a Democrat who had studied workers comp in other states for two years before his appointment. Hallock, an attorney, had no comparable experience. At the time, labor lawyers grumbled about Hallock's appointment, claiming the governor was politicizing the commission. "He's as Republican as they come," one longtime workers compensation lawyer said of Hallock, who was assistant minority leader in the Illinois House when he ran for Congress.
"Most people felt Pellish had done a good job," Kenneth Zehnder, then Edgar's assistant for boards and commissions, conceded at the time. "But the governor wanted his own person on the board."
Welcome to Patronage Lite.
Since becoming governor in 1991, Edgar has used his appointment power to reward friends, supporters and the party faithful — like John Hallock — by naming them to the hundreds of boards and commissions spawned by state government for regulation, over-sight or advice.
In his first five years in office, Edgar appointed more than 2, 000 members to 225 of the boards that operate as a sort of shadow government at the behest of the governor and his administration, Illinois Issues found in the first comprehensive outside analysis of a governor's appointments to those boards. More than anything else, the analysis found, Edgar's appointments to the shadow-government boards illustrate once again the advantage that insiders have over outsiders in gaining access to powerful or prestigious government positions — and all the advantages those appointments bring.
Though many of the seats on the boards are reserved as "public positions," Edgar has filled those seats more often than not with members of his public: his supporters, his friends and his party members. And though many of the boards are established to offer independent advice, Edgar doesn't usually seek people with independent, much less contrary, views to stir debate or consider a variety of perspectives. Instead, he mainly appoints people whose views coincide with his own. That approach has the dual effect of reinforcing his own vision of government, and of rewarding those who do the reinforcing.
12 ¦ October 1996 Illinois Issues
---
For some of the board members, the advantages of an appointment far exceed a letter and photo opportunity with the state's chief executive. A core of key boards offer paying jobs and real power, even though they are not cabinet-level departments.
Last year, taxpayers paid members of boards and commissions $4.5 million in salaries, per diems and expenses, providing full- or part-time employment to more than 100 appointees and covering the expenses for another 500 board members.
Members of boards have oversight or authority for millions, if not billions of dollars in state funds, from awarding $75, 000 in arts grants to administering some $300 million in capital development funds to overseeing the State Board of Education's $4.5 billion budget.
Though not as empowering as full-time state jobs, nor as lucrative as contracts for legal or other consulting work, appointments to shadow-government boards have proven to be increasingly useful as a source of patronage for Edgar. Indeed, the boards recently have taken on added importance since the 1990 U.S. Supreme Court decision in Rutan v. Republican Party of Illinois curbed patronage hiring and promotions among most state employees and a similar ruling this year outlawed partisan political considerations in hiring independent contractors — despite a legal challenge by the Edgar Administration.
State officials estimate that of the 64, 394 employees working in cabinet departments, about 2, 808 are exempt from the Rutan ruling. The number of appointments on the shadow government boards rivals that figure.
Edgar has tapped his trusted personnel director and patronage chief Janis Cellini, and her assistant, Janell Hilgers, to quarterback the process of filling positions on the shadow-government boards. The rest of the governor's team also suggest or approve of names.
Ultimately, the decision rests with Edgar himself.
The vast majority of his appointments go to Republicans, say Democratic legislators who help oversee the appointment process. Many Republican Party leaders agree with that assessment, although some reject that conclusion. Neither the governor's office nor the legislature, however, keeps track of the party affiliations of all the appointees, spokesmen for both branches of government say. Nor do they keep track of the race or ethnicity of the appointees.
Those who know the process well point out that not all the appointments are political — the mandates for several boards require members to have technical backgrounds, or represent specific segments of the popu
Illinois Issues October 1996 ¦ 13
---
lation, or even Fit a certain professional profile. And they note the governor is barred from filling every board with Republicans exclusively. The legal mandates for nearly a quarter of the boards limit a governor to appointing only half or a simple majority of the board's positions with members of his own party, the analysis found.
But within those confines, Edgar is free to select whomever he wants.
According to state Sen. Patrick Welch, a Peru Democrat who serves on the Senate Executive Appointments Committee, that freedom has resulted in Edgar's basic approach: "The appointments are a reward for the party faithful among the Republican Party. There is no doubt these appointments go to well-connected individuals, with the exception of a commission where a great deal of expertise is needed to carry out the duties."
Among Edgar's appointees are 12 Republican county chairmen, another dozen former Republican legislators, several other former top officials in Edgar's administration and that of former Republican Gov. James R. Thompson, the analysis found.
Manny Hoffman, who was appointed to a paying job as chairman of the Labor Relations Committee after he lost his bid for re-election to the state House in 1992, rejects the notion that the appointments are patronage. "I've been Cook County Republican chairman for five years and I have not come across this being patronage," he says. "I think people are selected because they are qualified. If this was patronage, I'd be a happy camper because all the people I sent in would be appointed."
And Mike Lawrence, the governor's chief spokesman, says, "[Edgar's] more likely to appoint people who share his views than those who don't. That's not the same as saying every spot is viewed as for a Republican."
Often, though, Democrats who are appointed are insiders in government's higher levels, transcending partisan politics, qualifying as friends of the governor and sometimes even financial supporters. Consider Anne Burke, wife of Chicago Aid. Ed Burke, a Democratic Party leader. Her appointment to the Court of Claims by a Republican governor gave her fledgling career a significant boost. In 1987, Thompson named Burke a judge on the Court of Claims, which hears cases against the state. The post pays $41, 000 for 10 meetings a year. In September 1991, Edgar reappointed her. In May 1994, he tapped her as a $76, 000-a-year special counsel on the child welfare system. In September 1995, the Illinois Supreme Court named her to fill a vacancy on the First District Appellate Court.
Even though Burke is married to a Democrat, and has considered running for state attorney general as a Democrat, since 1991 she has given $7, 700 to Edgar's campaign fund, records show. "I gave Edgar money prior to my appointment as special counsel for the Department of Children and Family Services," says Burke, who added that the contributions had nothing to do with her appointments. "I gave it to Gov. Edgar just as I had given to Thompson before him, only because he is a personal friend. I am a well- known Democrat, but he is a personal friend of mine."


Among the appointees are 12 GOP county chairmen, a dozen former Republican legislators and several former top officials in Edgar's administration and that of his predecessor, James R. Thompson.
Outside a handful of Republican leaders, most politicians and academics argue that filling positions in the shadow government is patronage.
"The appointments to prestigious boards and commissions represent a form of patronage that's probably eclipsing the old form of patronage," says Jim Nowlan, senior fellow at the University of Illinois' Institute of Government and Public Affairs. "With the constraints placed on traditional hiring and firing practices of elected officials, there has been a shift in focus of patronage to boards and commissions," he says. "A number of those are attractive because of the prestige they carry. Horsemen like to be on the Racing Board. The social set likes to be on the Arts Council.
"All of these build benefits and credits for the appointing officer," he says, and that officer is Jim Edgar, governor of Illinois.
But there is disagreement about whether using these boards for patronage is ethically wrong, or bad for government. Mary Lee Leahy, the attorney who filed the Rutan case, sees no problem in the shift described by Nowlan. "My view is that members of boards and commissions, because of the authority they have, would be exempt from Rutan" she says. "And that's OK. I think the governor ought to have his own people in policy-making positions." Adds Nowlan: "I don't think that simply because the governor appoints a former legislator or friend or colleague from a law firm that it's inappropriate, so long as the primary focus is the person's quality and experience."
Mike Lawrence, the governor's press secretary, agrees. "I believe in patronage," he says. "It seems to me totally logical that if the governor is held accountable for what happens in state government, he ought to be able to appoint people who share his views." Lawrence acknowledges that "there probably are some people who have been appointed because they have been helpful politically and they expressed an interest in serving. If he puts in someone unqualified or dishonest, then he needs to be held to account for that. But if he puts in someone qualified and honest, what's wrong? If you want to call that patronage, so be it."
14 ¦ October 1996 Illinois Issues
---
Indeed, there are so many spots to fill and so many boards deal with such arcane subjects that sometimes the governor ends up picking people whose main qualifications are that they won't embarrass him — though that has not stopped patronage or deal-making in the appointment process.

And it's not always clear that qualifications win over party loyalty or friendship, say those who criticize the influence of special interests, insider connections and campaign contributions in politics.

Tracy Litsey, executive director of the government watchdog group Illinois Common Cause, is concerned that loyalty is not necessarily the best qualification for these boards — most of which were created to give advice and oversight to the governor's departments. If they are all friends, who will deliver the objective opinion, the bad news, the contrary position, she asks.

"These are people who in their gratitude [for the appointment] aren't going to make decisions that deviate from the governor's or the party's wishes," she says. "I don't think with patronage that you're necessarily getting the best qualified person."

Others also are alarmed. "We're hopefully moving away from traditional government-job patronage because of court decisions, but that's being replaced by patronage that includes appointments to state boards and commissions," says state Rep. Mike Boland, a Democrat from East Moline who is outspoken in his criticism of campaign money and the influence it buys. "These boards don't get a lot of press or attention, but they affect governance, they affect taxpayers, they regulate various professions and busi- nesses. They're a form of pinstripe patronage."

Mike Lawrence sees it otherwise. "Patronage normally is thought of as involving money: a job or a contract. But for the vast majority of boards and commissions, there is no remuneration." Furthermore, he says, a shared political philosophy is only one reason the governor might name someone to a commission; another is friendship. "There are people the governor may know — you like that person and feel he has good qualities. It's not just that someone agrees with the governor on a checklist of viewpoints."

The hundreds of boards that orbit the Edgar Administration represent both the best and worst of government at a time when many are questioning just what the role of government should be. There are so many boards, commissions, committees, authorities and task forces being created and shut down every week that no one has a precise count. If boards created and appointed by the legislature are added to those appointed by the governor, the number can easily surpass 300.

The majority of those boards, the Illinois Issues analysis found, are advisory in nature. They are not required to formally make reports to the governor, his staff, or department or agency directors. Most of the appointments to these boards do not require state Senate confirmation, and few have limits on the number of terms their members can serve.

But of those boards, about 94 are generally considered to be key boards whose seats are sought eagerly and granted usually to the well-connected. These boards have large budgets, pay salaries, regulate professions, manage pension funds, oversee education or offer prestige.

Of the key boards, about 30 are recognized as the most important to the state as a whole. They include such entities as the Illinois Commerce Commission, the $23.6 million agency that regulates utilities and sets their rates; the boards of Education, Elections and Health; and the Illinois State Toll Highway Authority, which had a $338 million budget last year. (Robert Hickman, an Edgar friend and fund-raiser and a top official at the scandal- scarred agency, has been indicted in connection with a real estate deal.)

Also among the key boards are 25 that oversee licensing and regulation of professional or skilled-trade workers, such as the Medical Disciplinary Board, the Real Estate Administration and Disciplinary Board, and the Miners' Examining Board.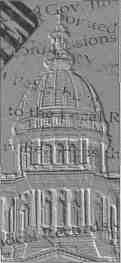 Then there are 14 education-related boards, including the boards of trustees for the state's major universities, as well as a special high school for math and science and a summer school for the arts. The revamping of higher education governance last year gave Edgar the opportunity to name trustees to the governing boards of each state university — including the plum of prestige, the University of Illinois (though a court suit delayed his appointments until the terms of incumbent elected trustees expire). The change gives Edgar a net gain of 40 appointments, and the governor generally has received high marks for the quality of his appointments to university boards.
Ten of the key boards oversee authorities, which spend or authorize the spending of state money, such as the Health Facilities Authority or the Rural Bond Bank. The more than $24 billion in pensions for teachers, as well as university and state employees, is invested with the approval of three key boards — one, the State University Retirement System, also generated negative headlines when its director resigned after disclosure of questionable perks and expenditures.
All the key boards play vital roles in the lives of the citizens of Illinois as part of the state's shadow government. They determine how doctors practice, how brokers sell property, how high electric rates will be, how much pollution is acceptable, how well the state's money is invested.
The best list of those boards, and all others that exist, is kept by a little- known entity called the Legislative Research Unit. The list includes the names of the boards, their legal man-
Illinois Issues October 1996 ¦ 15
---
dates, the names and addresses of the appointees and the number of vacant seats. About once every two years, the unit publishes a directory of the boards that is as thick as a Chicago telephone book. Almost everyone in government calls it the "Goodie Book."
To the recipients, the appointments represent, at the very least, an honor — a bright spot on a resume. An appointment can mean a chance to network, to make the kind of contacts that can lead to a better career. An appointment can offer added prestige to a lawyer or insurance broker that can bring in business. Some positions have been the launching pad for political advancement.
At their best, they are part- or full- time paying jobs.
Most boards pay only expenses, and most members don't even bother collecting reimbursements for their costs.
Last year, taxpayers covered expenses for about one in three board members — some 380 appointees were reimbursed a total of $161, 000.
Another 20 boards pay members per diems, or payments for each day of work they do for the board. The per diems range from a low of $36 for members of the Carnival-Amusement Safety Board to a high of $300 for the Illinois Gaming Board. Last year, tax- payers paid about $390, 000 to nearly 100 appointees in per diems and expenses.
And 18 boards pay salaries, ranging from $8, 869 to members of the Miners' Examining Board to more than $80, 000 to the chairman of the Pollution Control Board. Last year taxpayers paid some $4 million in salaries and expenses to some 110 appointees. Many of the salaried boards are a bit obscure, such as the Industrial Commission, the Prisoner Review Board or the Property Tax Appeal Board, although they are well- known among those whose lives or fortunes depend on them.
Some of the appointments carry real power, the kind of authority most often associated with top managers in full-fledged departments established by the state's Civil Administrative Code of 1917.
Most, however, are little known beyond their sphere of influence, such as the Advisory Board on Necropsy Services to Coroners, a highly specialized panel, or the Board of Boiler and Pressure Vessel Rules, which sets standards for boilers. But within that sphere, those are important appointments, carrying both career-enhancing status and some measure of influence.
The legal mandates for many boards spell out the qualifications for the position: a real estate broker with 10 years of experience; a representative of the homeless, the elderly, or persons with physical or mental disabilities.
---
Jim Edgar's gender gap — men rule the shadow government
Just months after Gov. Jim Edgar took office in 1991, he signed a largely symbolic law to show his commitment to giving well-qualified women a place on the boards and commissions that would serve his new administration.

Called the Gender Balanced Appointments Act, the law represented Edgar's promise to try to make appointments in a way that would result in roughly similar numbers of men and women serving on state boards and commissions. The act was significant mainly for its recognition of the gender gap between the parties. Increasingly, a majority of women appear to be voting Democratic, offsetting a shift among men to vote Republican.

Five years later, however, the law remains little more than a promise, Illinois Issues found in the first comprehensive outside analysis of a governor's appointments to the hundreds of boards and commissions that revolve around the state's cabinet-level departments.

It is a promise that Edgar failed to fulfill. He appointed twice as many men as women to boards overall, and three times as many men as women to boards that pay salaries, the analysis found. As a result of his appointments, two- thirds of 30 key boards and commissions remain the special preserves of men.

Most of the boards with a balance of men and women members are related to the arts, such as the Illinois Arts Council, or social issues, such as the Human Rights Commission or the State Board of Education. Two key boards that defy this categorization are the Lottery Control Board and the State Board of Elections.

But the desirable boards for compensation or power have at least twice as many men as women appointees. Men reign exclusively over four powerful boards: the Capital Development Board, the Civil Service Commission, the Illinois State Toll Highway Authority and the State and Local Labor Relations Board. Eight other boards have only one woman member, and seven more have only two or three women members.

"I can't believe he can't find qualified women to fill positions on these boards," says Myrrha Guzman, an attorney with the Elmhurst-based Citizen Advocacy Center. "He's the one who signed the Gender Balanced Appointments Act into law; he's not even following his own law. I don't know how he can justify such low numbers." Guzman has confronted Edgar before about his failure to appoint women to the Illinois State Toll Highway Authority. Of its nine members, none are women.

The figures surprised most legislators and caught the governor's office off-guard, an indication that Edgar's staff doesn't keep track of the gender of his many appointees. "It does surprise me, knowing the governor's
16 ¦ October 1996 Illinois Issues
---
But, of course, brokers can be Republicans. So can single parents, the disabled or the homeless. Qualifications don't preclude political affiliation.

Who has been appointed? Generally, Edgar has turned most often to business people — CEOs, presidents, top managers — to serve on boards handling issues ranging from economic development to small business to education, the Illinois Issues analysis found. Not surprising, the governor also has frequently selected people employed by his administration, or by local or federal governments, to offer advice or become a sounding board or to fill a niche. He also has tapped the expertise in the state's university system, and, to fill the many boards related to educational issues, he has turned to teachers and administrators from elementary and secondary schools. Representatives of not-for-profit groups make a strong showing on boards dealing with social issues. He has appointed lawyers and health care professionals in about the same proportion, and has similarly named the same proportion of people working for trade associations as he has people employed by labor unions.
Gov. Edgar's gender gap
1991
1992
1993
1994
1995
Total
Male
68%
71%
67%.
69%
70%
69%
Female
32%
29%
33%
31%
30%
31%
This table is based on the number of appointments made by Gov. Edgar, 1991 through 1995.
Source: Governor's office, analyzed by Illinois Issues
Indeed, Edgar's appointments display a blend of backgrounds and occupations that would seem so balanced as to be almost politically calculated. And he has used the appointments effectively in staying in touch with his political base, the analysis found.
The governor made the most appointments of his first five years in office in 1994, the year he ran for re- election. Those 646 appointments were nearly three times the number he made in his first year in office in 1991, and double the number he made in 1995, the year after his re-election.
Edgar has a free hand in the timing of the appointments — only a handful
Jim Edgar's gender gap- men rule the shadow government (Continue)
disposition on women in government," says Edgar's spokesman, Mike Lawrence.

Not surprisingly, few in powerful positions knew of the Gender Balanced Appointments Act. State Sen.-Steve Rauschenberger, a Republican member of the Senate's Executive Appointments Committee that approves the governor's appointments to boards and commissions, says he had not heard of it. He says the committee has not used that law as a criteria in judging the people whose names Edgar had submitted for approval. "I'm surprised to learn it's that high a proportion of men to women," he say.

Lawrence was surprised as well. "He has appointed more women and minorities to high-ranking positions than any other governor." But Lawrence also says he is "at a loss" to explain why the appointments to boards and commissions, particularly those that pay salaries and involve policy-making authority, are so lopsided. "There is no question he is committed to having women in key roles," says Lawrence. "My sense is that he'll be surprised and that will be one area he'll want to work on."

Lawrence says he saw Edgar take a more active involvement in the appointment of university governing boards a year ago than with many other boards. The result, he notes, is that 45 percent of those appointments were women.

Republican state Treasurer Judy Baar Topinka is aware of the act. "I would hope we could come closer to the 50 percent mark [for women]," she says. "I object to using quotas - I think they're demeaning and condescending. But I can't believe we don't have more qualified women out there who can serve on these boards."

One woman who does serve on a prestigious board — Ruth Kretschmer of the Illinois Commerce Commission — says she isn't bothered by a lack of female company. "I've worked very well with my colleagues," she says. "Then again, I've always been in the minority. I was only the second woman ever appointed to the commission. I would have thought overall there would be more women, though."

Republican state Rep. Suzanne Deuchler of Aurora says the governor's numbers should be higher. "More than 22 percent [of appointees to salaried boards] could have been and should have been women," she says. "I think there are qualified women in every part of the state who could serve on these. Obviously, I'd like to see more of a 50-50 split."

Republican state Comptroller Loleta Didrickson, meanwhile, put the onus on women to improve Edgar's statistics. "It's no different than a lot of boards of directors for top-500 firms," she says. "It demonstrates that we need to make sure our professional groups are putting forward names and resumes. It's up to us to make sure we're out there on corporate boards and in government offices. You have to make your wishes known."

Tom Brune and Jennifer Halperin
Illinois Issues October 1996 ¦ 17
---
of boards have limits on the number of terms appointees can serve, and nearly all boards allow members to serve beyond their terms indefinitely, at the behest of the governor. A review of the 1994 appointments shows that about a fifth of them were reappointments whose terms had expired the year before or earlier.
If his timing is good, his sense of location is better. Edgar made the vast majority of appointments to people who live in areas of the state where he has the most political support, the analysis found.
More than five of every 10 appointments went to a Springfield or downstate resident, and about three of every 10 went to a suburbanite. Only two in 10 came from Chicago, the stronghold of Democrats, the analysis found.
Furthermore, the appointments allow Edgar to acknowledge financial contributors to his campaigns, although his spokesman Lawrence has stated flatly there is no relationship between political donations and board appointments.
Members of the boards have contributed more than $800, 000 to the governor's campaign fund during his first five years in office, The Associated Press found in an analysis last year. About one in 10 appointees contributed, AP reported, and more than $100, 000 came from one board alone: the controversy-plagued Toll Highway Authority.
At the time, Lawrence knocked the study, saying it was but a fraction of the nearly $15 million the governor had raised in his first five years in office. "Ninety percent of the people whom the governor has appointed to boards and commissions have not contributed to his campaign," Lawrence told AP. "The governor believes people should have the right to contribute to political campaigns, but it's obvious he does not make it a requirement for making appointments."
But that does not mean the governor's campaign does not ask appointees for contributions.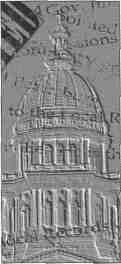 Carolyn Stone, chair of the Farm Development Authority Board, tells Illinois Issues her board is "apolitical," and says she and other board members would laugh at suggestions that their appointments were a form of patronage — "because we don't make any money."
Stone, however, contributed $250 to Edgar's campaign about six weeks after the governor reappointed her to the board in June 1994. A coincidence? "Probably not," she concedes. "I got a letter, and that was it."
The letter came from Edgar's campaign addressed to her as a Republican, not as a board member, shortly after her reappointment, she says. The governor's office never put pressure on her to contribute, she says, but she felt she should respond.
That's not to say the governor doesn't acknowledge financial supporters through appointments. The Illinois Issues analysis found that Edgar had made dozens of appointments to employees of his biggest funders in 1994 and 1995.
For example, Ameritech contributed $11, 050 to Edgar from mid-1994 through the end of 1995. Edgar made 11 appointments that involved employees of the powerful regional telephone company. Similarly, Illinois Power Co., the downstate utility, and Mayer, Brown & Platt, a well-connected Chicago law firm, each contributed $10, 000, and the governor made five appointments each involving their respective employees. And various locals of the International Union of Operating Engineers pitched in $10, 200 in contributions to Edgar in 1994 and 1995; union members were involved in 10 of the governor's appointments.
"In all these cases, it comes down to influence," says state Rep. Julie Curry, a Decatur Democrat, in describing the power of board appointments. "It creates a whole other army of supporters for the governor," she says. "These people have received appointments, and they'll be obligated to support the governor financially or in future runs for political office."
Lawrence calls the suggestion that appointments are linked to campaign contributions "ludicrous." He says he finds it "pretty predictable" that one in 10 campaign contributors would show up on lists of appointments, and adds, "The people who end up on the boards and commissions are people who care about government. So it is logical they would show up on lists of campaign contributors. A person should not be disqualified from serving on a board because he or she chose to participate in a campaign."
The vast pool of appointments at the disposal of the governor creates opportunities for a safety net for failed politicians. Particularly useful in catching falling political stars are the boards that pay salaries.
Defenders of the practice say serving in the legislature gives a person the skills to handle public-service jobs like the ones found on key boards and commissions.
"It's not so much a golden parachute for former lawmakers as being able to tap into all their experiences," says Mike Cys, spokesman for Republican House Speaker Lee Daniels of Elmhurst. "Clearly these people are very qualified because of their government experience."
In an interview with Illinois Issues, Hallock said legislative experience was a qualification for his appointment.
He says after he unexpectedly lost his bid for Congress he turned to the governor asking for a job on the Industrial Commission. "I had talked to the governor's office five years ago because as a lawyer obviously I was interested in different legal issues and one of them was workers comp," Hallock says, though he adds he was not a workers comp attorney.
"I think I gave recommendation letters so they would know I had some base of support, but I had known the governor earlier from serving in the
18 ¦ October 1996 Illinois Issues
---
House with him," he adds.
Hallock was paid $72, 463 by the state last year.
He's not the only failed politician to turn up. Take Manny Hoffman. He lost his legislative seat in Chicago's southwest suburbs when large numbers of Republicans crossed over to the Democratic primary in 1992 to vote against U.S. Rep. Gus Savage.
Edgar helped Hoffman, who serves as chairman of the Cook County Republican Party, by appointing him chairman of the State Labor Relations Board. Last year, he made $63, 103, according to the comptroller's office.
How did he get his job? "I made it known I was interested," Hoffman says. "I was a small businessman, and I liked dealing with situations between employers and unions." He conceded that at the time he had little contact with labor-management relations. "I didn't serve on the Labor Committee or any of the big committees when I was in the House," he says, "but as mayor of Homewood I negotiated with police unions over contracts."
Hoffman, who still owns and operates his insurance agency in Home- wood in addition to running party affairs for the biggest county in the state, adds, "Being on the board is not an easy job. I spend a lot of time reading stuff, a lot of time going over things with legal counsel. I'd say I sometimes spend three full days down-town in my position as chairman."
There are many other former politicians on the salaried boards. Roger Keats lost his state Senate seat in 1992, and Donald Hensel, a four-term House member, left office in 1992. Edgar appointed Hensel in 1993 and Keats last year to the International Port District Board. Salary for members is $20, 000 plus expenses.
William Walsh, a Republican from Oak Brook, served in the House for 20 years, from 1961 to 1981. In 1993, Edgar appointed him to the Prisoner Review Board. He made $51, 933 last year. Former state Sen. Max E. Coffey, who serves as Coles County Republican Party chairman, resigned from the state Senate in 1986. In 1992, Edgar appointed him to the Property Tax Appeal Board, where he made $37, 659 last year.
The Court of Claims has been both a safety net and a launching pad.
The year after Roger Sommer, a Morton Republican, failed to win re- election to his Senate seat in 1986, he was appointed by Thompson as a judge on the court. Last year, Edgar reappointed him as chief judge. Last year the state paid him $41, 801.
Or take Joanne Shea, wife of former House Majority Leader Gerald Shea, who is now a lobbyist. Joanne Shea first served on the Court of Claims before Edgar appointed her to the higher profile and better paying Prisoner Review Board. She made $51, 933 last year.
Then there is the Illinois Liquor Control Commission, whose board and staff includes failed politicians and would-be politicians. It is a time- honored practice of governors to use this commission for political appointees.
Among its members are Don Adams, the former chairman of the Illinois State Republican Party who was paid $15, 144 in salary and $5,748 for expenses by the state last year, and Albert McCoy, the former Republican mayor of Aurora, who was paid $ 19, 218 in salary and $ 1, 607 in expenses as the panel's chairman.
Gov. Edgar appoints mostly men to salaried boards
1991
1992
1993
1994
1995
Total
Male
77%
81%
75%
95%
73%
78%
Female
23%
19%
25%
5%
27%
22%
Source: Governor's office, analyzed by Illinois Issues
Among the Democrats on the board are Irving Koppel, a consultant for Helene Curtis Co., whose chairman, Ronald Gidwitz, is a Republican. In 1991, Koppel contributed $1, 000 to Edgar's campaign. In 1992, Edgar appointed Koppel's wife, Mary Ann, to the Lottery Control Board, which hears complaints on the operation of the lottery and sets advertising policy.
Among the Liquor Control Commission's staff members is associate director Samuel Panayotovich, a former House member who lost his 1994 congressional bid.
But it is not just those who are attempting to rebound who find them-selves at the Liquor Commission. Some use it as a stepping stone.
Nancy Sage, a member of the family that owns the well-known Chicago watering hole Sage's Restaurant, took a job as an administrative assistant in 1993, the year after she was appointed to the Judicial Inquiry Board. And the commission's director, John "Jack" Dorgan, left his job to become deputy chief of staff for House Speaker Lee Daniels.
Lawrence defends appointments of former legislators to posts on boards and commissions. "They shouldn't be disqualified because they lost an election." And he suggests that qualifications and performance should be the only test. Noting, for instance, that John Hallock has served on the Industrial Commission for several years, Lawrence asks, "Is there any evidence he has not done a good job? From what we hear, he's done a good job."
A person's influence is sometimes best measured in the jobs or appointments he or she can provide for family members, and patronage based on a form of nepotism has its place among the shadow-government boards.
The most obvious example is the Cellini family. William Cellini is one of the governor's chief fund-raisers, as well as a high-powered businessman and political broker in his own right. His sister Janis is Edgar's patronage chief. So it is not surprising that William Cellini's wife, Julie, is on the
Illinois Issues October 1996 ¦ 19
---
prestigious Board of Trustees of the Historic Preservation Agency, a position she was first named to in 1982 by Thompson. Edgar has reappointed her twice, in 1992 and 1994, And, for a while, Janis Cellini, who contributed a total of $2, 000 to Edgar in 1991 and 1992. served on the even more prestigious Illinois Arts Council, a position Edgar appointed her to in November 1993. She resigned in April 1995.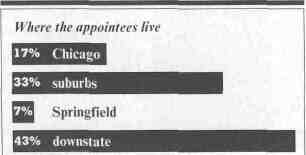 This table is based on the number of appointments made by Gov. Edgar from the beginning of 1991 through 1995. a total of 2,069. Of that number, hometowns could not be ascertained for 84 appointments, leaving the base for this table at 1,985.
Source: Governor's office, analyzed by Illinois Issues.
Or take the Gidwitz family. Helene Curtis Co. executive Ronald Gidwitz' brother Peter, president of the real estate firm Burnham Companies, was appointed by Thompson in 1983, and reappointed by Edgar in 1993, to the Development Finance Authority, which finances industrial and commercial developments. Brother James was appointed to a five-year term as a $20, 000-a-year member of the International Port District Board in 1990. And Ronald Gidwitz' wife, Christina, serves on the Illinois Arts Council, a position she originally was appointed to in 1988 and reappointed to by Edgar in 1993.
The Arts Council is a good illustration of political and social connections. "Look, if you're on the Arts Council you're either a friend of the governor or you've got friends who tell the governor you should be there," says J.P. "Rick" Carney, DuPage County recorder of deeds and a council member since 1990.
"A lot of the wives of these friends are on it. I was friends with Gov. Thompson, that's how I got on. I asked the governor if I could be appointed," Carney says. "I've been involved in and out of the art community for 40 years. My brother owns a gallery. I was an extra in the American Ballet Theater. I've held season tickets to the opera for 17 years.
"No one on that council doesn't have an interest in the arts. Many of them are patrons of the arts. Eighty- five percent are very wealthy. I think there are three billionaires on the council, and I don't know how many millionaires — big contributors to the arts. Very rarely, we'll get someone who comes on and you can just see they don't have a clue. Some friend of the governor's just wanted them on. It happens with this governor, it happened with the past governor, it'll happen with every governor, every president, every chairman of the board throughout time." Edgar's first round of appointees in 1991 to the board included Charles P. Archer, treasurer of the agribusiness giant Archer Daniels Midland Co. (which contributed $20, 000 to Edgar's campaign in 1994); public relations executive Martin Janis (who contributed $6, 000 to Edgar's re-election campaign); and Elaine C. Muchin, wife of a partner in the powerful Chicago law firm of Katten Muchin & Zavis.
He also appointed Andy Abram Van Meter, son of A.D. Van Meter Jr., the chairman emeritus of First of America Bank in Springfield, where Edgar keeps his campaign funds. The senior Van Meter is one of the longest-serving appointees, having been a member of the board of Southern Illinois University since 1975 and the Housing Development Authority since 1977.
Edgar's second round in 1993 included Meta Berger, wife of connected Chicago developer Ronald Berger, and Rosemarie Buntrock, wife of J.P. Buntrock, the chairman of Waste Management Corp. (which contributed $28, 500 to Edgar's campaign in 1994-95).
Then, of course, there is the former chair of the council, Shirley Madigan, wife of Democrat Michael J. Madigan, who until recently was House speaker and is now the House minority leader. Shirley Madigan was first appointed to the council in 1976, and was last reappointed in 1990 by Thompson. Technically, according to the Legislative Research Unit, her term ended on June 30, 1993. But she continues to serve, even though Edgar has not reappointed her.
Lawrence: "Should people be disqualified from serving on a board or commission because they're related to prominent families?"
For many professions and occupations, the licensing and regulatory boards can mean the life or death of a career. The trade associations for the licensed professions have a keen interest in the membership of these boards, and seek as much influence as possible.
Take the Real Estate Administration and Disciplinary Board. It considers complaints against licensed real estate brokers and sales people, and can levy fines or suspend or even revoke a license. By law, the governor must consider the suggestions of the real estate industry in making appointments to the board, which must include six brokers or salespersons and three "public" members not connected to the real estate industry.
In reality, the Illinois Association of Realtors takes the lead in the selection process. The office of the Commissioner of Savings and Residential Finance (now the Office of Banks and Real Estate headed by former state Sen. Jack Schaffer), which oversees the board, is the passive partner in the process.
"The IAR lets us know when there are openings in the industry slots. We work with the association to come up with candidates who meet the guidelines," says Assistant Commissioner Chris McAuliffe, who serves as the
20 ¦ October 1996 Illinois Issues
---
nonvoting chairman of the board. "They [the IAR] work with our office and we submit the names to the governor's office."
Gary Clayton, executive vice president of the association, knows the system well. From 1980 to 1987 he was director of the Department of Professional Regulation, when it oversaw the real estate board.
Neither his old boss, Thompson, nor Edgar has felt compelled to appoint every person recommended by the association, Clayton says. But, he adds, "Most of the time it is really an open discussion and dialogue with the association [and the state] about the needs and qualifications. It's very rare that we disagree."
It would be surprising that the governor would want to cross swords with the association. The group's political action committee ranks fifth in the state in contributions to the campaigns of legislative candidates, giving $264, 000 in the 1989-90 election cycle and $387, 000 in the 1991-92 cycle. And from mid-1994 to the end of 1995, the Realtors Association and its PAC contributed $22, 850 to Edgar's campaign.
According to statistics compiled by the real estate board, as it's generally known, there were approximately 1, 200 complaints filed with the agency's real estate division in fiscal year 1996. About 950 of the complaints were referred for investigation or prosecution. Disciplinary action was taken against 124 licensees.
"The disciplinary board as a whole has functioned very well," says Clayton. "We are comfortable and pleased with it."
In the past year, Edgar has made a few hundred more appointments, and they generally follow the pattern the governor established during his first five years in office.
Take his press release of August 23, announcing appointments to several boards and commissions.
More than half of the appointees were from downstate Illinois, and more than one in 10 had given Edgar's campaign a contribution in 1994 or 1995. The appointees are an assortment of the technically adept and the politically connected — all the physicians named to boards are American Medical Association members, and employers such as Caterpillar Inc. and law firms such as Shefsky, Froelich & Devine Ltd. are represented.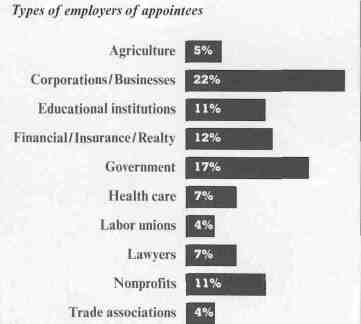 This table is based on the number of appointments made by Gov. Edgar, 1991 through 1995, a total of 2, 069. Of that number, employers could not he determined for 298 appointments. Therefore, the information is based on 86 percent of the appointments.
Source: Governor's office and survey of boards, analyzed by Illinois Issues.
The most high-profile name appointed to a board was Republican Gregory W. Baise, a former governor's aide and director of transportation under Thompson who lost a race for state treasurer in 1990. He is now president of the Illinois Manufacturers' Association, a lobbying group. The association's PAC gave Edgar's campaign $28, 500 in 1994 and 1995.
Baise was appointed to the Employment Security Advisory Board, which makes recommendations on the state's unemployment insurance act, an issue of great importance to the state's wage-paying manufacturers.
Just one month earlier, Edgar appointed John Hallock chairman of the Industrial Commission. Hallock's promotion earned him a raise to $86, 839 this year.
"When it came to being chairman, they approached me about it when there was a vacancy," Hallock says. "I first went to them about being on the board, but they came to me about being chairman. I like to think it's because I've done a tremendous job. I accepted it when they offered it. "
Tom Brune is a Seattle-based free-lance journalist who spent nearly 12 years as a reporter/or the Chicago Sun-Times. Jennifer Halperin is Stutehouse bureau chief for Illinois Issues. Additional research was provided for this report by Brian Lee, a graduate assistant at the magazine. Donald Sevener was editor of the project.
Illinois Issues October 1996 ¦ 21
---