POLITICS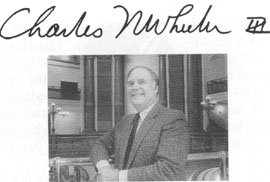 Michael Madigan will be
the longest-serving speaker
by Charles N. Wheeler III
Madigan's comeback was made possible by his party's strong showing among voters in south suburban Cook County.
On March 1, 1815, Napoleon Bonaparte returned from exile on Elba to a hero's welcome and the emperor's mantle. In doing so, the Little Corporal became one of the few figures in history to regain power after a humiliating defeat.
Closer to home and 181 years later, Illinois House Democratic Leader Michael J. Madigan has achieved a similar feat, reclaiming a House majority after two years of Republican rule.
Napoleon's triumphal return was abetted by elements in French society who just a short time earlier seemed only too glad to rid themselves of his rule.
In similar fashion, Madigan's comeback was made possible by his party's strong showing among voters in south suburban Cook County, who two years ago went solidly Republican. This time, however. House Democrats picked up five GOP seats in the south suburbs and added one in northern Illinois to claim a paper-thin 60-58 edge. The winners included:
* Maggie Crotty of Oak Forest, who bested Rep. Jack O'Connor (R-Palos Heights), a 16-vote winner in 1994, in the 35th District.
* James Brosnahan, an Evergreen Park attorney, who edged Rep. Maureen Murphy (R-Evergreen Park) in the 36th District.
* Kevin McCarthy of Orland Park, a former school teacher, who topped Rep. John Doody Jr. (R-Homewood) in the 37th District.
* Michael Giglio, a Lansing contractor, who beat Republican Marvin Lyzenga, a Lansing village trustee, for the 79th District seat being vacated by retiring Rep. Bill Balthis (R-Lansing).
* George Scully Jr., a Flossmoor attorney, who ousted Rep. Flora Ciarlo (R-Steger) in the 80th District.
* Mary Kay O'Brien of Coal City, who knocked off Rep. Stephen Spangler (R-Newark) in the 75th District, which runs west from Will County's southwest corner midway into LaSalle County.
A strong suburban showing also helped Democrats shave the Republican edge in the Senate by two seats, to 31-28. The victorious Democrats were:
* Lake County Democratic Chairman Terry Link of Vernon Hills, who upset Rep. Thomas Lachner (R-Lake Bluff) for the 30th District seat left open by the retirement of Sen. David Barkhausen (R-Lake Bluff).
* Debbie Halvorson of Crete, the Crete township clerk, who defeated Assistant Senate Majority Leader Aldo DeAngelis (R-Olympia Fields), an 18-year veteran, in the 40th District.
Key to the Democrats' fortune in the south suburbs was the "Punch 10" campaign mounted by party leaders to encourage straight voting. The $1.5 million marketing effort, backed up with old-fashioned precinct work, resulted in record numbers of party- line votes in Cook County. The strategy succeeded for a variety of reasons. Demographic changes have brought more minority Illinoisans into the south suburbs with their Democratic voting preferences. Labor leaders were able to energize rank-and-file union members in blue-collar suburbs by tying local GOP lawmakers to the hugely unpopular U.S. House speaker, Newt Gingrich. Moreover, Democrats had a much easier package to sell to suburban moderates — particularly women — than the GOP alternative.
As a result, in five key townships in south Cook — Bremen, Bloom, Rich, Thornton. and Worth — President Bill Clinton and U.S. Senate candidate Dick Durbin ran almost 2-to-l ahead of Republicans Bob Dole and Al Salvi. Republican legislative candidates in districts rooted in those townships all ran 10 or more points better than the top of the ticket, but lost nonetheless.
The six-seat House pickup gives Madigan the chance to make history.
When the once and future speaker takes charge again for a seventh term in January, he will become the longest- serving speaker in Illinois history. Madigan now shares the mark with another Chicagoan, Republican David E. Shanahan, whose six terms were staggered over a 21-year period, ending with his death in 1936 during his 41st year in the House.
Moreover, Madigan is only the third person this century to get a second shot at the speakership after losing his
42 / December 1996 Illinois Issues
---
majority. Besides Shanahan, the other was legendary Vienna Democrat Paul Powell, who was elected to a second term as speaker in 1959, 10 years after his first stint.
In his encore at the House helm, Madigan has pledged to be less combative and more cooperative with Republican Gov. Jim Edgar and Senate President James "Pate" Philip of Wood Dale.
Although skeptical House Republicans are bracing themselves for two years of political hell, Madigan may be serious about an "era of cooperation." One lesson to be learned from the 1996 election is that voters are more interested in productivity than in partisanship. Clinton enhanced his re-election prospects dramatically when he managed to convince the public that congressional Republicans were to blame for the federal government shutdown in 1995. That led chastened GOP leaders to tone down the revolutionary rhetoric and work with the White House to compile a record to show voters back home.
House Democrats will he more diverse. To preserve his new found majority in 1998, Madigan will need to be attentive to all regions.
Moreover, concerns that Madigan will pursue a Chicago-only agenda at suburban expense are not well-founded. House Democrats will be a more diverse group come January than they have been the last two years. Adding five suburbanites and a downstater to their ranks means that Chicagoans will no longer comprise a majority of the caucus. Instead, the 28 Democrats from Chicago-based districts will be outnumbered by 13 from suburban districts and 19 from outside the Chicago metropolitan area. Thus, to preserve his newfound majority in 1998, Madigan will have to be attentive to the needs of all regions of the state.
And should the temptation ever arise to indulge in all-out partisan warfare, Madigan need only recall what befell Napoleon when he took up arms again — after Waterloo, there was no third chance.
Charles N. Wheeler III is director of the Public Affairs Reporting program at the University of Illinois at Springfield.
Illinois Issues December 1996 / 43
---
|Back to Periodicals Available|
|Table of Contents|
|Back to Illinois Issues 1996|