Today's
TECHNOLOGY AND YOU
Realistic looking electric fireplaces
Q: I recently saw a low-cost electric fireplace with very realistic looking flames. I would like to install one in my bedroom and one in my living room. Are they also efficient and effective heaters? - W. N.
A:. By using new designs of high-tech electric logs, electric fireplace/heaters create very realistic looking embers and flickering flames. Many are mounted in a finely finished wood, stone or cultured marble fireplace surround (some with 14-karat gold trim) and they become the focal point of any room. Corner units with built-in bookcases and shelves and models that hang on a wall are available.
At a recent remodelers show in Kansas City, I had to look twice at one electric fireplace to determine if the logs and brilliant flames were really burning or not. During mild weather or in the summer, switch the heater portion off and relax by the flickering fire without driving up your air-conditioning cost. On some models, the electric logs and sound-making devices use only about 100 watts.
Many electric fireplaces, like models from Burley, have adjustable flames and brightness. By turning a dial on the fireplace controls, the flames can be changed from lazy and relaxing to a raging dancing fire. Other models even have adjustable sound that simulates the crackling of real burning logs.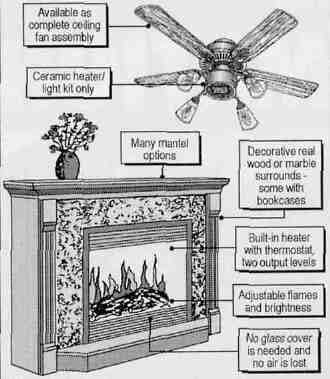 New electric Fireplaces create realistic-looking flames
Unlike real wood-burning or gas fireplaces that often lose more heat than they produce, electric fireplaces are 100-percent efficient. Another efficiency advantage is that, since there is no flue and indoor air is not lost, no chilly indoor drafts are created. Your house stays cleaner with less allergens.
Select an electric fireplace with adjustable heat output, a built-in thermostat and adjustable blower speeds. The maximum heat output is usually about 1,500 watts. Just a low and high heat setting coupled with a thermostat provides adequate control over the heat output and room temperature.
Electric units are available two ways — complete fireplace/mantel assemblies or electric logs to fit an existing fireplace. Either way, you just slide them out of the box and plug them in for a raging fire in a few minutes. Many of the complete free standing fireplace assemblies are light enough to easily be carried from room to room.
Several different design methods are used to create the realistic flames in electric fireplaces and logs. One method uses a combination of several mirrors, a small fan, lights, long ribbons and a special "movie-type" screen in the back of the fireplace.
The small quiet fan blows air through the ribbons making them dance over the red, amber and orange-colored lights behind the logs. These moving ribbons create a flickering flame image on the screen and it appears to be coming from the logs. The intensity of the flames is controlled by adjusting the speed of the ribbon fan and the brightness of the colored lights.
A different adjustable realistic flame design technique uses a rotating silver foil disc. It rotates between colored lights and real wood logs for a very authentic flame appearance. In addition to creating the flickering flame image, the rotating foil disc brushes against a special plastic piece to produce a crackling sound of logs burning.
When using the electric fireplace, you will realize the maximum savings on your electric bills if you set back your furnace thermostat too. The fireplace will keep that room comfortably warm. If you have a heat pump, install a true heat pump-type setback thermostat before adjusting the thermostat down and up. Without it, the big backup electric heating elements might kick on.
Another unique and decorative electric heater option is a new combination ceiling fan/ceramic element heater. The thermostatically controlled heater element is built into the light fixture beneath the ceiling fan for excellent hot air distribution. There is a small fan inside the heater to force the heated air out. These can be purchased as complete ceiling fan/heater/light assemblies or just as heater/light kits to mount under any existing ceiling fan.
Write for or instant download (www.dulley.com) Utility Bills Update No. 989 - a buyer's guide of electric fireplace and ceiling fan/heater kits listing fireplace styles, finishes, sizes, log designs, adjustable flames, heat outputs, features and prices. Please include $2 (with checks payable to Jim Dulley) and a business-size SASE. Mail to: Jim Dulley, Illinois Country Living, P.O. Box 3787, Springfield, IL 62708. To read previous columns, go to http:// www.dulley.com.
James Dulley is a mechanical engineer who writes on a wide variety of energy and utility topics. His column appears in a large number of daily newspapers.
Copyright 1996 James Dulley
18 ILLINOIS COUNTRY LIVING DECEMBER 1997
---