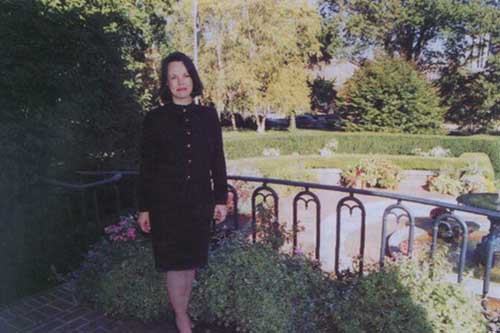 Illinois' first lady Brenda Edgar bids farewell to public office
By Janeen Keener
Photos by Chuck Kurfman
After first lady Brenda Edgar leaves the political limelight, not only will she have more time to stop and sniff the roses, she might grow some, too.
Born and raised on farms in Massac and Union counties, Mrs. Edgar soon will retire with her husband, Gov. Jim Edgar, to another rural home near Champaign. The Edgars are well acquainted with rural life and electric cooperatives. They are former members of Coles-Moultrie Electric Cooperative, Mattoon, and Menard Electric Cooperative, Petersburg, and currently receive C-band satellite television service from Unlimited Visions, Inc., an Eastern Illini Electric Cooperative subsidiary based in Paxton.
When he steps down next month, the governor will join the faculty of the University of Illinois as a distinguished fellow within the Institute of Government and Public Affairs. While her husband will swap the title "governor" for "professor," Mrs. Edgar, who this year earned her diploma from Eastern Illinois University, says she's looking forward to not having any specific immediate plans.
Not long after announcing he would not seek another public office, the governor took some ribbing when he told a reporter he might like to buy a trailer and travel around the country. While she said she hoped he wasn't serious, she does look forward to a slower pace out from underneath the media microscope.
While she recognizes the media has a job to do, all too often the headlines focus on some negative aspect of government. She wishes more attention would be given to the good things public servants do. "There's so much that I feel this administration has accomplished that people are hard-pressed to know about," she said. "It's hard as a spouse to deal with what you feel is an unfair assessment of something."
Another aspect of public service she won't miss, she said, was the inability to say "Yes" to all the requests for her time,
10 ILLINOIS COUNTRY LIVING DECEMBER 1998
---

"There's a certain lack of freedom," she noted. She receives so many invitations for public appearances it's impossible to accept many of them. From 1991 to 1997, said Linda Howard, Mrs. Edgar's personal assistant, the first lady made more than 600 public appearances. "I want to do all of it, but it's too much to do," said Mrs. Edgar, adding that when she declines, "I genuinely feel bad."
As she shifts into a new season of her life, she said she is grateful for the unique window on the world with which she has been blessed.
"I truly believe I leave here a better person for having had the opportunity to learn so much about the world," she said. "I have a better understanding of the world and a greater appreciation of the people of Illinois, their diversity, and especially the people who farm and their role in feeding the world.
"I've been given a doorway to beautiful places, as well as places where, I feel, no one should have to live. So you see the inside of all types of lives. Some are exhilarating and wonderful, some are sad and unhappy."
Mrs. Edgar said she takes the most pride in two programs she has promoted, both of them cooperative efforts between public and private sources aiming to reduce the unhappiness many people suffer.
The first is the Help Me Grow program, a campaign that helps new mothers raise healthy, happy children.
Help Me Grow is an alliance with Ronald McDonald House Charities (RMHC) that highlights children and family programs that are available through a dozen state agencies. The program, housed in the Department of Public Health, provides a single point of initial contact for new mothers and moms-to-be. Its mission is to reduce preventable childhood deaths, injuries and illnesses by promoting preventive health care and safety. It includes a 70-page wellness guide that addresses the various stages of a mother's pregnancy and a child's early development. It was funded through a partnership with RMHC, Dominick's Finer Foods and Alberto Culver.
Another part of the program, the most fun part she said, was the development of a teddy bear called P.J. Huggabee. Developed by Marshall Field's, the bears are given to children taken into the protective custody of the Department of Children and Family Services to help give them a sense of security and companionship. The bears are tagged with a brochure about the different forms of child abuse, how to prevent them, where to go for help, and a hotline number. For each bear sold in Illinois Marshall Field's stores, another is given to DCFS for children entering foster care.
The second program Mrs. Edgar takes pride in is the Illinois Women's Health Campaign, called Friend-to-Friend, a partnership with BlueCross & BlueShield of Illinois, Pfizer Inc., and State Farm Insurance. This program, like the Help Me Grow program, promotes existing services among state agencies, non-profit organizations and medical providers in the state. Friend-to-Friend is coordinated by the recently formed Office of Women's Health, also in the Illinois Department of Public Health, and is one of only six such state departments in the nation, Mrs. Edgar said this initiative was sparked by the wives of governors nationwide.
To contribute to this program, the Illinois State Florists Association has created a special Friend-To-Friend floral arrangement. A portion of the proceeds

DECEMBER 1998 ILLINOIS COUNTRY LIVING 11
---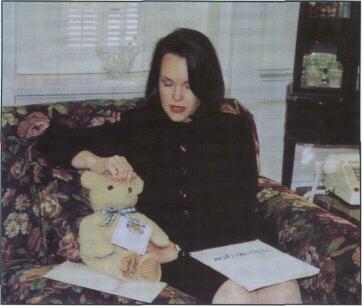 P.J. Huggabee Teddy Bears are given to children taken into the protective custody of the Department of Children and Family Services. The bears, which are a part of the Help Me Grow program promoted by Mrs. Edgar, are tagged with information about child abuse and a help hotline number.
from the sale of the arrangement is donated to the program. In addition to a beautiful bouquet, recipients also receive a health quiz and information about the helpline.
Mrs. Edgar said she planned to continue promoting public awareness of these programs. "I feel confident that these programs are so well established that they will continue," she said.
But she especially looks forward to not having to micro-manage her life. "It's important for me to have some time to think and review and reinvent my life after politics," she said. "I would just love to grow some flowers. I think that would be very interesting."
Of course, the Edgars look forward to spending more time with their children, Brad and Elizabeth, and grandchildren. Brad and his wife, Stacey, who live in Colorado, are the parents of 3-year-old Dakota and 4-month-old Cali Ann. "They have captured our hearts and we want to be a part of their lives," she said. "It's hard to be so far away."
Finally, Mrs. Edgar wished to extend her gratitude to Illinois Country Living readers and all Illinois citizens "for their support, friendship and kindness to Jim and to me and to all of our family, and for giving us the opportunity of a lifetime. We couldn't have done it without them. People in public office don't arrive here by themselves. We will always be grateful for people who take the time to be involved and to vote on election day. So, to everyone, we all remain most grateful."
Help Me Grow: (800) 323-GROW
The Help Me Grow hotline links 12 state agencies: Illinois Departments of Aging, Alcoholism and Substance Abuse, Children and Family Services, Corrections, Public Aid, Public Health, Rehabilitation Services, Mental Health and Developmental Disabilities, and Transportation, as well as the State Board of Education, the Illinois State Police and the Office of the Governor. The Illinois Council on Early Intervention also has added its information to the hotline.
To access Help Me Grow and to obtain a copy of the wellness guide, called "Mommas, Babies and Good Stuff to Know," call the toll-free hotline, (800) 323-4769 (GROW). Pregnant women and mothers may use this line to ask the operators, who are trained professionals, for information on a variety of topics and services. Information about the Illinois Safety Seat Loan/Rental program and the Illinois R.E.A.D.S. (Retirees Educating and Assisting in the Development of Students) program also is available.
Areas of information in the hotline include alcoholism and drug abuse, child abuse prevention, preventive health, immunizations, child safety seats, parental and family involvement, and gang prevention. Information about child care, education, emergency services, financial aid, legal assistance, and help for Hispanics also is available.
Friend to Friend: (888) 522-1282
The Friend to Friend program focuses on Illinois women, especially those in mid-life. Its emphasis is in six areas: heart disease, breast cancer, osteoporosis, menopause, mental health, and domestic violence.
Health awareness materials for women are available through a toll-free helpline, (888) 522-1282, or (800) 547-0466 for hearing-impaired callers. This program encourages women to be their own health advocate by providing information about agencies, professional medical associations, advocates and government officials.
The corporate sponsors are joined by more than two dozen other project partners, including the Illinois Rural Health Association, American Association of Retired Persons, American Cancer Society, and American Heart Association, to mention only a few.

12 ILLINOIS COUNTRY LIVING DECEMBER 1998
---