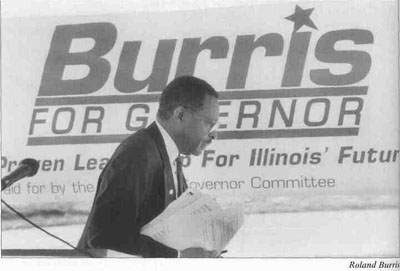 WHAT MAKES ROLAND RUN?
Democrat Roland Burns is back in politics.
But he's making a good living
as a Chicago lawyer. Why would he want to give
that up to be governor?
by James L. Merriner
Photographs by Jon Randolph
Roland Burris has it pretty good. At age 60 he can look back on an impressive career in public service. The first black to win statewide office in Illinois history, he was elected comptroller three times and state attorney general once. When a 1994 bid for governor fell through, he left Springfield for a job at a Chicago law firm, where he can earn more than taxpayers could ever pay him.
But, good life or not, when it comes to politics, Roland Burris won't, or maybe can't, rest. Three years age this month, Burris' friend and longtime top aide Fred Lebed tried to prepare the outgoing attorney general for civilian life.
"Look, Roland," he said, "you're entering private life now, so go out and have some fun for a change. You've
24 / January 1998 Illinois Issues
---
been driven by state troopers for 16 years. Do what [former Republican Gov.] Jim Thompson did when he left office. Buy yourself a 'fun' car and just tool around."
Lebed recalls the time he had accompanied his boss to a meeting of the Democratic National Committee's finance panel. The month was March. The setting was West Palm Beach, Fla. Burris had packed not a single pair of walking shorts or swim trunks, just his gray suits. So when Burris left the Illinois attorney general's office in January 1995, having lost that three- way primary for governor, Lebed was insistent. "Dammit, you won't go fishing with me, but at least get yourself a 'fun'car."
Burris has tried Thompson-style retirement. He rejoined his old law firm, Jones, Ware & Grenard, where he says he's now "making a decent living for the first time in my life." And he got that "fun" car, a red Cadillac convertible that he dutifully drove to a family reunion in Cincinnati and to an awards ceremony in Carbondale.
But private life didn't take.
Burris had less fun driving than strolling the streets of the Loop from his office to Marshall Fields, the Cook County Building, the bank, the post office. He says folks would stop him — "white, Hispanic, Asian, black" — and say, "When you gonna run for mayor? When you gonna run for governor? We need you back in politics, Roland."
To Burris, that constitutes a draft. So he's making a second try for governor, this time in a four-way primary, where he faces Glenn Poshard of Marion, a congressman and former state legislator; former U.S. Attorney Jim Burns of Evanston, who made an unsuccessful run for lieutenant governor in 1990; and John Schmidt, a former justice department official and former aide to Chicago Mayor Richard M. Daley.
Like Chicago athletes Michael Jordan and Ryne Sandberg, Roland Burris has heeded voices, perhaps internal as well as external, and returned to the field more than once. He has yet to enjoy the success of his athletic counterparts, though. And critics claim that while his quixotic comebacks, including unsuccessful bids for U.S. Senate and Chicago mayor, apparently haven't dented his psyche, they may have bruised his credibility Nevertheless, Burris is making an eighth try in 22 years for statewide office.
But why chuck a good life and a role as something of a Democratic elder statesman for another grueling campaign? Burris is asked that question in his sparsely furnished -headquarters on Chicago's LaSalle Street, an office that overlooks the Thompson Center, where he hopes to move into the governor's suite next year. Burris, who has his hands folded under his chin, gazes out the window at the beckoning state complex. "My life is not where my heart is," he says. "I should get back into the arena where I can affect policy."
Fair enough, but critics say a policy agenda is not what really drives Burris. He has, they say, a politician's share, if not more, of ego and ambition. In 1989, for example, when invited by Statehouse reporters to give the rebuttal at a Press Room fund raiser that skewers politicians, he raised some eyebrows by pretending to be "The Greatest," Mohammed Ali.
Indeed, for all their backslapping bonhomie, many politicians fit sociologist David Riesman's classic 1950s model of an individual who is driven by a need for applause. Such individuals feel incomplete, adrift, without the public approval vouchsafed by elective office. They are "at home everywhere and nowhere, capable of a rapid if sometimes superficial intimacy with and response to everyone," he observed. Such people, Riesman added, are especially prone to harbor feelings of anxiety.
And Burris, despite his undeniable campaign skills, can be overcautious, stuffy and thin-skinned against perceived slights to his ego. In 1984, for instance, then-Chicago Mayor Harold Washington and his alder- manic enemy, Ed Vrdolyak, agreed on then-U.S. Rep. Dan Rostenkowski as a compromise chairman of the Illinois delegation to the Democratic National Convention in San Francisco. Power never sat lightly on Rostenkowski's shoulders. He literally did not recognize Burris, who was chairman of Washington's city delegates, and demanded to know what the hell Burris was doing in a chairman's seat at a delegation meeting. This was humiliating to a man who had said Illinois, known as the Land of Lincoln, might someday be known as the Land of Burris. He has not forgotten Rostenkowski's snub.
In fact, Burris now occupies an odd niche in Illinois politics: a perennial campaigner given to grandiosity, often successful but not widely loved by either the black or white party organizations. Lebed allows Burris has "as much of an ego as any politician out there. There is a line between stuffiness and seriousness. He's a great one-on-one person. But there is a wall around him."
But, perhaps, if you want to take the measure of a man's character, it's useful to consider how much he has had to overcome, as well as what he's accomplished. And since his teens, Burris has worked like an ironman to prove he can make it in a white- dominated society.
Burris was born August 3, 1937, in Centralia in south central Illinois. He's the son and grandson of railroad workers and the great-grandson of a Pulaski County farmer. At age 16, he remembers, he helped to integrate the Centralia public swimming pool. And that was, he says, the moment he resolved to become a lawyer and a statewide elected official.
Short (five-foot-six) and slight, Burris won honorable mention as a high school All-State defensive safety through sheer grit. There followed Southern Illinois University in Carbondale, postgraduate study in Hamburg, Germany, and a law degree from Howard University, a prestigious Washington, D.C., training ground for black leaders. He served there as senior class president.
His wife, Berlean — whose vividly colored outfits complement Burris' gray suits — is a former administrator at National-Louis University. She took
Illinois Issues January 1998 / 25
---
a buyout to become a full-time student at Chicago's Moody Bible Institute. Their son, Roland II, is a lawyer and vice president of the firm that owns 180 North LaSalle, site of Burns' law and campaign offices. Their daughter, Rolanda, is pursuing a doctorate in higher education administration at Northern Illinois University.
Burris began his career as a bank examiner for the U.S. comptroller of the currency, then joined Continental Illinois National Bank in Chicago as a tax accountant. In eight years, he rose in the bank — at the time "fraught with racism," Burris says — to second vice president. But he wanted something more. With colleague Ron Greer, Burris would spread computer printouts across his desk to lay organizational plans for a campaign for statewide office. Greer thought he was nuts but went along out of friendship. That friendship lasted through Burris' nearly two decades in public office.
Burns lives on Chicago's South Side in the former home of gospel singer Mahalia Jackson. His political cradle was the black independent movement of the 1960s based in the middle-class neighborhoods of Chatham and Hyde Park. In 1968 he challenged the city's Democratic Machine for a General Assembly seat and was smothered, finishing last in a field of five.
Burris began as a bank examiner for the feds and as an accountant for a Chicago bank. But he wanted more.
An anti-Machine governor, Dan Walker, picked Burris to run the state's general services department in 1973. In 1976, Burris ran for comptroller and lost. He then involved himself in the black "movement," serving a brief stint as executive director of the Rev. Jesse L. Jackson's Operation PUSH. But Burris' relations with Jackson were less than ideal, and he later successfully challenged a Jackson proxy, then-Mayor Richard Hatcher of Gary, Ind., for a top Democratic National Committee post. Burris lost the vote in the black caucus, but won on the floor. At the time, some blacks accused him of being an "Uncle Tom." When Burris ran for mayor in 1995, The Chicago Reporter quoted Hatcher as recalling that "Roland was perceived as reducing the effectiveness of African Americans within the Democratic Party."
Elected comptroller in 1978, Burris was twice re-elected easily to four-year terms with Greer as campaign manager. He had made history and was not shy about making the point. On the day of his first inaugural, Burris expressed pride at assuming office in the state Abraham Lincoln called home. He had visited the Lincoln Tomb that morning and said:
"It was quiet, and I was alone with Mr. Lincoln. And I wondered: Can he see me? Does he know who I am? Does he know what's taking place in his Illinois? In his beloved Springfield? And as I stood there in that quiet place of eternal rest, amidst the snow and the monuments to the past, I know what his answer was: 'Yes, I can see you. I know who you are. And I am pleased at what is taking place in Illinois today. In my beloved Springfield.'"
For other Republicans, Burris showed less reverence.
In the 1980s Comptroller Burris' analyses of the state's financial condition were more accurate than the optimistic ones of GOP Gov. James R. Thompson, especially during election years. On the inaugural stage after his 1986 re-election, Thompson turned to Burris.
"Comptroller!" he boomed.
"Yes, governor?"
"We're gonna have to borrow some money!"
"I was wondering how you were going to get through this thing."
The state borrowed short-term funds, and Thompson later proposed a tax increase. Burris opposed it, despite
The highlights
Roland Burris can look back at an impressive 16-year career in public service.
The first black to win statewide office in Illinois history, he was elected comptroller three times and state attorney general once.
He began his political career in 1968, challenging the city's Democratic Machine for a General Assembly seat. He was smothered, finishing last in a field of five.
An anti-Machine governor, Democrat Dan Walker, picked Burris to run the state's general services department in 1973.
In 1976, Burris ran for comptroller and lost. But he ran again and won in 1978. Burris was twice re-elected to that post. As it turns out, Burris' analyses of the state's financial condition during the economic downturn in the '80s were more accurate than Republican Gov. James R. Thompson's. Nevertheless, Burris took some heat from the black legislative caucus for opposing the governor's call for a tax hike.
Burris ran unsuccessfully in 1984 for a U.S. Senate seat. He lost in a four-way primary.
In 1989, he announced for governor, then ran successfully for attorney general. In that post he sparred with another GOP governor, Jim Edgar. That battle stemmed from Edgar budget cuts, including cuts in Burris' office, and from disputes over the attorney general's role as the state's lawyer.
Burris went on to lose his next two campaigns, a race for governor in 1994 and a race for Chicago mayor in 1995.
He lost the gubernatorial bid to Dawn Clark Netsch in a three-way Democratic primary.
26 / January 1998 Illinois Issues
---
support for it from black legislators who wanted to see Chicago school funding increased. After the proposed tax hike failed, the governor started imposing spending cuts. One item he axed was $9 million for a new office computer system on which Burris already had spent $14 million. "The program would have paid for itself in the first year" if fully implemented, Burns still insists.
Always with his sights on higher office, Burris ran for the U.S. Senate in 1984. He lost the primary. Burris pronounced his next move in 1989, a bid for governor. "I want a promotion."

He added,"A lot of people will tell you that Burns is talking about governor now, but he's really going to settle for attorney general, and what I'm saying is I am not jockeying for governor to settle to become attorney general. "He settled for attorney general. The state Democratic organization cleared the field to give its slated candidate, Neil F. Hartigan, the 1990 gubernatorial nomination without a primary fight. Burris succeeded Hartigan as AG.

Jim Edgar defeated Hartigan to succeed Thompson, who had stepped down after 14 years, and once again Burris was serving under a Republican governor. As attorney general, Burris created legal divisions for civil rights and women's and children's problems, bragging points for his 1994 gubernatorial campaign, but the divisions were poorly funded and barely staffed. Once again, Burris sparred with a GOP governor. He and Edgar disagreed over the scope of the attorney general's role as the state's lawyer. But Burris' tenure as AG brought brickbats from other quarters, as well. The Chicago Council of Lawyers, a reform group, launched a study of the state's legal office. Burris refused to cooperate. The 1995 study charged the office was driven by politics and operated by a mediocre staff. Most of the budget was devoted to political hires in support positions while little effort was made to recruit and retain top-quality lawyers, according to the study.

Accusing an Illinois constitutional officer of running a political office is like scolding a zebra for having stripes. But the study does serve to underline what a mainstream politician Burris is.

Another critical report came from the state auditor general, who said in 1995 that Burris had paid consultants $716, 070 to manage three computer systems that were not operating. And current GOP Attorney General Jim Ryan has eliminated 12 of 18 satellite offices around the state, saying they were patronage outlets little used by the public. The offices had been installed by Hartigan and kept by Burris.

Burris was determined to run for governor in 1994 no matter whom the party might slate. The party slated no



Illinois Issues January 1998 / 27
---
one and let Bums, Comptroller Dawn Clark Netsch and Cook County Board President Richard J. Phelan fight it out. Netsch started last in the polls but vaulted to victory with a "straight- shooter" theme, catching the imagination of suburban Democrats. Burris carried Chicago with a plurality of 46 percent but lost the state, 36 percent to Netsch's 44 percent.
Burris returned to Jones, Ware & Grenard. The firm had paid him a $100, 725 buyout when he became attorney general, although he was "of counsel," not a partner with an equity stake in the firm. When his gubernatorial opponents brought up the amount of state legal business the firm was awarded under Burris, he said, "I've spent my whole life making sure that minorities ... receive their fair share of contracts and business."
Private citizen Burris said, "It's good to pull back. You get so caught up in the day-to-day stuff in [elective] office. I had no intention of running for mayor." But within months of resuming his practice, Burris changed course: He ran for mayor, enticed into the race by a few of Harold Washington's former committeemen. Whatever his critics say about this race, it took courage to go up against Richard M. Daley. Perhaps it also took chronic- campaigner syndrome.
Mayor Daley had destroyed in assembly-line fashion his black challengers in the elections of '89 and '91 — Eugene Sawyer, Timothy C. Evans, Danny K. Davis, R. Eugene Pincham. In '95, Daley trounced Joseph E. Gardner in the primary and Burris, running as an independent, in the general election. Still, Burris says he took heart in spending $250, 000 to win 220, 000 votes while Daley spent $3 million to win 340, 000 votes.
He then planned his second campaign for governor. But a personal tragedy intervened. Ron Greer suffered a stroke, endured painstaking rehabilitation, then had a fatal stroke while brushing his teeth one night last May. Meanwhile, Fred Lebed was laying out his own campaign for comptroller, one he later abandoned.
Burris had to build a new campaign organization from scratch. He announced his candidacy in September.
Burris says he resolved that, "I should get back into the arena where can affect policy." However, his policy declarations, which tend to be vague, support the view that he seeks elective office for its own sake.
He would, for instance, pump an extra $2.1 billion into public schools over six years — without raising taxes — through unidentified budget shifts. Burris spokeswoman Delmarie Cobb says Edgar's modified school funding plan, passed in last month's special session, fortifies Burris' program by pumping more money into schools in the next three years. Cobb says Burns supported Edgar's original plan to swap higher income taxes for lower property taxes because Burris would favor almost anything that gives more money to poorer schools.
Burris also says he would reduce incivility in public life, including "road rage," which would be a novel high in constituent services. He also would consider dockside gambling statewide and a riverboat for Chicago, but is opposed to land-based casinos or further expansion of the industry.
Burris supports building a third Chicago regional airport near south suburban Peotone, which puts him into an alliance with U.S. Rep. Jesse Jackson Jr. and, of all people, GOP U.S. Rep. Henry J. Hyde of the northwest suburbs near O'Hare Airport. Frank Watkins, spokesman for Jackson, says the congressman has not yet decided on a gubernatorial endorsement, but he certainly will not support anyone who does not back the Peotone site. To date, only Burris and George Ryan have done so. Because the south suburbs could provide a critical swing vote in 1998, Burris might have pulled off a coup on the Democratic ticket.
Burris' financial disclosure forms
Four-way odds
A winning strategy would see Roland Burris carry Chicago with a healthy plurality and rack up enough downstate votes to eke out a statewide plurality. And there are intriguing parallels between the four-way Democratic U.S. Senate primary in 1984 and the four-way gubernatorial primary in 1998.
In 1984, Paul Simon won with 36 percent of the vote, followed by Roland Burris, 23 percent; lawyer Alex Seith, 21 percent; and state Senate President Phil Rock, 19 percent. Downstater Simon, a former lieutenant governor, and Burris were the best-known candidates statewide. Rock was highly regarded in the party hierarchy, but was not a product of then-Chicago Mayor Harold Washington, the city's first black mayor.
No two elections are identical, of course, and Burris' base of support could have changed in 14 years. Still, if he can get a statewide vote somewhere between his 23 percent showing in 1984 and 36 percent in 1994, he could well win a four-way contest.
More info
Illinois Issues has profiled three other Democratic candidates for governor. For a look at John Schmidt, see June, page 22. To read about Jim Burns, see July/August, page 22. To read about Glenn Poshard see November, page 26.
Later, we will profile George Ryan, the Republican candidate.
All of the profiles of candidates for the state's highest office also will be available through the magazine's home page. Our web site address is: www.uis.edu/~blee/ ii.html. Just look up the site and follow our links.
28 / January 1998 Illinois Issues
---
feature relatively modest contributions from labor, politically connected banks, and other groups that typically donate to moderate candidates. Cobb says Burris intends to raise and spend $1 million, although his money-raising prowess might be less than that of his rivals.
But then, Burris doesn't need to spend as much. He has the highest name recognition and the most longstanding supporters. House Speaker Michael J. Madigan, who has no clear-cut favorite, said in November that Burris was the front-runner, owing to an established base and track record, and "would be a credit to the state Democratic Party" as nominee.
Yet Burris, who says he doesn't run a race-based campaign, could be hindered by a low black voter turnout in Chicago. That turnout hasn't approached 50 percent since Mayor Washington's re-election in 198 7. And Burris could have some fences to mend. He did not endorse one key Washington ally, U.S. Sen. Carol Moseley-Braun, in her 1992 primary and, in turn, she endorsed Daley over Burris in the 1995 mayoral race. U.S. Rep. Bobby Rush of Chicago also has reason to be cool to Burris, as they are competitors for black political leadership in the city.
Yet, Burris is already trying to build support in the African-American community by appealing to black churches. Last month, he swung through Chicago's Grant Memorial African Methodist Episcopal Church, asking parishioners to "pray for me."
"I am a God-fearing former politician seeking to become governor," Burris is quoted as saying by the Chicago Defender. Church member Francis Davis noted that Burris never left the black community. "He still lives in the 'hood." Critics would say that's a stretch.
Still, a winning strategy would see Burris carry Chicago with a healthy plurality and rack up enough downstate votes, particularly in such Democratic — and heavily black — enclaves as St. Clair County, to eke out a statewide plurality.
But John Jackson, provost of Southern Illinois University, argues that's Poshard's base. The southeast Illinois district used to include the southwest corner of the state before the 1992 redistricting. Thus, Jackson says, Poshard's total downstate support may be stronger than Burris is counting on.
Don Rose, a Chicago political consultant who has worked for candidates of both parties, observes that in a multicandidate field the public tends to "throw one candidate away." In 1994, for example, the Democratic electorate seemingly ignored Cook County Board President Richard Phelan's bid for governor, no matter how much money he spent on TV ads. This year's primary might turn on whom the public throws away: Burns or Schmidt, because they are relatively unknown, or Burris, because he is a retread and a recent two-time loser.
However, a statewide race with four major candidates makes the political math nearly impossible to calculate.

Along with 1994's three-way primary, the 1984 Democratic primary for U.S. Senate can serve as another measuring stick. The lineup of major contenders in that race is strikingly similar to the 1998 Democratic field for governor: three white males and Burris, who is trying to make history as the first black to hold the office he's seeking.

In 1984, Burris finished second behind U.S. Rep. Paul Simon, who went on to beat Republican incumbent Sen. Charles Percy. Finishing behind Burris were attorney Alex Seith and then-Senate President Philip J. Rock.

The four-candidate Senate primary saw Burris win 23 percent of the vote, better than Jesse Jackson's 21 percent in the three-candidate presidential primary held the same day.



No two elections are identical, of course, and Burris' base of support could have changed in the 14 years since 1984. Still, if he can get a statewide vote somewhere between his 23 percent showing in 1984 and 36 percent in 1994, he could well win a four-way contest.
And the deciding factor could be the way he presents his motive for running. If Democratic primary voters see Burris as a bona fide vote getter, a returning veteran who wants to affect policy, he could hit the magic margin. But to do so, he'll have to avoid the notion that he runs simply because he's desperate to be in the race.
Otherwise, he might have to fire up that red convertible again. 
James L. Merriner, former political writer for the Chicago Sun-Times, reports for the Associated Press. Mr. Chairman, his biography of Dan Rostenkowski, will be published this fall by Southern Illinois University Press.
Illinois Issues January 1998 / 29
---
|Home|
|Back to Periodicals Available|
|Table of Contents|
|Back to Illinois Issues 1998|
Illinois Periodicals Online (IPO) is a digital imaging project at the Northern Illinois University Libraries funded by the Illinois State Library