A VIEW FROM METRO EAST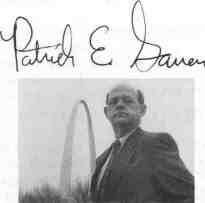 There will be a rematch of the
most expensive legislative contest
by Patrick E. Gauen
Barbara Brown attracted no attention at the T.J. Maxx store in Fairview Heights. No second looks, no awkward intrusions, no public recognition whatsoever that just a year before she was half of the most expensive legislative contest in Illinois history.
"I'm going to run again," she quietly told me over a table of Sunday afternoon bargains, solidifying what I should have known anyway. Brown almost beat David Luechtefeld for the 58th District Senate seat in 1996. Maybe she even got more votes than he. We'll never really be sure.
For the record, the shoppers in Fairview probably wouldn't have noticed Sen. Luechtefeld either. Despite the Luechtefeld-Brown vaporization of $1.38 million in an especially unpleasant exchange of campaign invectives, their profiles remain quite low beyond the boundaries of their home district, a ways down the road.
But their spending is a testament to the hardball fight for legislative control between two closely matched parties that in recent years have taken turns enjoying a majority at the capital — and the spoils a majority provides.
Democrats trailing 28-31 in the Senate obviously salivate at the prospect of electing Brown, whose 127- vote loss to Luechtefeld marked the state's closest 1996 legislative finish.
Their spending is a testament to the hardhall fight for legislative control between the parties at the capital.
Based largely on failure of Monroe County election judges to initial about 500 ballots, Brown asked for a recount. By law that is a decision left to the will of the Senate, where the Republican majority eagerly seated Luechtefeld with no second thoughts.
The triumph of Luechtefeld, 57, the popular retired basketball coach of Okawville High School, was the payoff of Republican gamesmanship 16 months before.
You see. Brown, 43, who lives in Chester and teaches political science at Southern Illinois University at Carbondale, surely would have had a better shot if Luechtefeld weren't an incumbent.
And he wouldn't have been an incumbent if Republican Party leaders hadn't arranged for aging Sen. Ralph Dunn of DuQuoin to retire early enough for them to appoint Luechtefeld in his stead.
The 81-year-old Dunn insisted there was no quid pro quo, but he immediately accepted a one-year $60,000 post with the state treasurer's office that bumped up his pension by almost $10,000 a year.
The lesson in this hasn't been lost on the Democrats. They did some fancy footwork of their own this season in the 112th House District. That's the seat Jay Hoffman of Collinsville vacated in 1996 for a failed run against Republican John Shimkus for Congress.
Glenn Bradford, a lawyer and Democratic Party benefactor from Glen Carbon, narrowly defeated Republican Mario Garcia of Belleville for the former Hoffman seat in a race that like Brown-Luechtefeld was both expensive and nasty.
But less than a year later, Bradford abruptly resigned from the House. He cited pressures of family and his law practice, but party insiders roundly reported he was told to take a dive.
Speaker Michael Madigan, it was said, privately put out the word that Bradford was a liability who would find himself on his own if he insisted on seeking re-election.
Not only had Bradford posted just a modest victory over Garcia, he found himself accused of late payment of property taxes and failing to pay Social Security for a babysitter. Then there was the matter of the Supreme Court censure in 1995 for co-signing loans for clients.
Exit Bradford. Enter Hoffman, back in his old saddle in plenty of time to capitalize on the advantages of office.
The instant incumbency should help Hoffman fend off a spirited 1998 challenge by Steve Reeb, a hard- charging GOP newcomer from Swansea, exactly the way incumbency helped Luechtefeld fend off Brown.
These are distant battlegrounds for most Illinois political observers, but critical just the same.
Something as simple as Reeb beating Hoffman could tie up the House at 59-59. Brown defeating Luechtefeld would diminish the GOP Senate majority to one vote — 30-29.
Patrick E. Gauen covers Illinois politics for the St. Louis Post-Dispatch.
Illinois Issues January 1998 / 41
---
|Home|
|Back to Periodicals Available|
|Table of Contents|
|Back to Illinois Issues 1998|
Illinois Periodicals Online (IPO) is a digital imaging project at the Northern Illinois University Libraries funded by the Illinois State Library