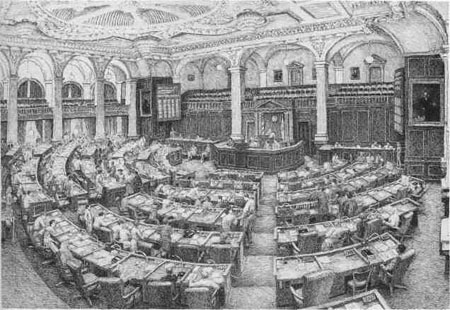 LEGISLATIVE LITMUS TEST
Conservatives are challenging moderate House Republicans
in the primary. What's new? 'Partial-birth9 abortion. And an
ideological battle at the top of the GOP ballot.
Analysis by Jennifer Davis
Illustrations by William Crook Jr.
Republican state Rep. Rosemary Mulligan has a tenacious grip on her north suburban district — for now. But Jim Curley, a 66-year-old semi- retired pharmaceutical representative from Mulligan's hometown of Des Plaines, has spent the past few months trying to change that.
Curley has done all the expected campaign tasks: He walked door-to- door, sent out direct mail, held $50 fund-raisers at a local banquet hall. But probably the most important thing he's done — indeed, the one thing that makes Mulligan, a popular, three-term incumbent, view this one-term former alderman as a "serious threat" — is to garner the support of Family PAC, a wealthy organization whose 500 members are committed to electing anti-abortion, "pro-family" candidates. Mulligan, a self-described fiscal conservative and social moderate who recently voted against a ban on the controversial "late-term" or "partial- birth" abortion procedure, is not their type of legislator. That's why, she says, "they've declared war,"
A series of battles in critical legislative primary races is more like it. Mulligan is not the only "moderate" Republican facing a so-called "ultra-
Illinois Issues March 1998 / 23
---
conservative" in the upcoming March 17 election. Indeed, there are several such races worrisome to House Minority Leader Lee Daniels, who is struggling to regain control of the chamber he lost by the slimmest of margins in the last election.
Both parties want to be in the best shape possible for the fall general election and that usually means having an incumbent candidate on the November ballot, someone with stronger name identification and fund- raising skills. But to get there, they've got to get past here. And here is a primary election with a handful of races crucial to both sides.
If Democratic Speaker Michael Madigan expects to keep control of the House he's going to have to win two contested primaries in Chicago's south suburbs, an area that could swing back to the Republicans. Of 16 contests for the House Democrats, those two likely top the list.
Still, it's easily Daniels' side of the aisle that has the greater challenge. While House Republicans face 15 primary challenges, three legislative districts in the northwest and west suburban area covering DuPage and McHenry counties are getting most of Daniels' attention.
In those districts, moderate, pro-choice Republicans are facing anti-abortion Republicans backed by a wealthy, organized Christian Right. That's nothing new. Here's what is:
This year one of the conservative Republicans' poster boys — state Sen. Peter Fitzgerald of suburban Inverness — is running a strong race at the top of his party's ticket for U.S. Senate against the moderate state Comptroller Loleta Didrickson. If Fitzgerald draws conservative voters, those voters also may give candidates like Jim Curley enough support to beat popular incumbents like Mulligan.
What's more, this past year saw an issue that divides the Republican Party played out in the General Assembly: "late-term" or "partial-birth" abortion. The law was struck down last month in federal court.
The Republicans who voted against a ban on that abortion procedure became immediate targets of the Christian Right. Mulligan is one. State Rep. Mike Brown of Crystal Lake is another.
Both represent portions of the northwest suburbs — a traditional Republican stomping ground.
It isn't so much that Daniels is worried about losing those seats to Democrats, as that he's interested in supporting his moderate incumbents and not letting an ideological split among House Republicans fracture his future as party leader. In other words, Daniels benefits from the current makeup of his side of the aisle: mostly moderate.
This wide divide — pro-choice Republicans vs. anti-abortion Republicans — is reflected throughout the country. Indeed, earlier this year, details on just how divisive the split has become made national news when a contingent of conservatives tried to convince the Republican National Committee not to fund pro-choice Republicans. The effort failed, but it illustrates the rift within the Republican Party. It's not something Daniels can be thrilled to deal with when, as his spokesman so emphatically states: "We cannot lose any seats."
Enter Family PAC. Since it was launched in 1992, the group, run by conservative Chairman Tom Roeser and Director Paul Caprio, has spent $450,000 supporting and recruiting pro-family, anti-tax candidates. Candidates like Jim Curley, who says it was Mulligan's vote on the "partial- birth" abortion bill that finally pushed him to challenge her.
And Mulligan, a 56-year-old former paralegal who in 1992 first won this DuPage County district — a mix of middle- and upper-class bedroom communities — is taking that challenge seriously. Not because she doubts her abilities or her record, but because she knows she's up against a well-funded, well-organized group that could appeal to a conservative contingent within her "socially moderate" district.
"I'm reluctant to cry wolf, but it is true [that] I'm dealing with a group dedicated to removing people like myself and Rep. [Carolyn] Krause, who is the other half of this [Senate] district."
Indeed, before Mulligan won the seat, the 55th House District was represented for 16 years by Republican Penny Pullen, a staunch abortion foe.
"The people angry [that] 1 finally beat her are the same ones driving this issue," says Mulligan, adding that she hasn't done herself any favors by speaking out. "I'm very vocal on the House floor. Many of my colleagues who are pro-choice, particularly on our side of the aisle, don't feel they've met the challenge in their districts the same way I have. So, it's all right for me to stand up and take the lead position on a bill. The more adept you are at presenting the arguments, the more they rely on you. Which makes them want to get rid of me more."
And Family PAC does want to oust Mulligan, along with a few others. Freshman state Rep. Mike Brown of Crystal Lake is one candidate Caprio believes is especially vulnerable.
Brown, who replaced third-term incumbent Ann Hughes in that strong Republican district after she resigned last year, faces ultra-conservative Steve Verr, who repeatedly ran against the pro-choice Hughes. That McHenry County district northwest of Chicago has been mostly rural but is quickly becoming urbanized as the suburbs spread.
In the 1996 primary, Hughes spent $137,430 defending her seat. Verr spent $30,960.
Caprio says Verr's forces are stronger than in the past. "If he is nominated, we believe he will win in the fall."
Hughes isn't so sure.
"It's a little less Republican than it looks," she says of her former district, pointing to an influx of new voters moving in from Chicago and inner- ring suburbs.
Another weak spot in Family PAC's eyes is the 56th House District, represented by Republican Krause of Mt. Prospect. Her district abuts Mulligan's and includes Park Ridge, an upper- class bedroom community with a sizable contingent of Catholics.
While Krause voted for the "partial- birth" abortion ban, a position
24 / March 1998 Illinois Issues
---
Catholic voters are likely to support — she's still pro-choice. Caprio is betting the more conservative Bob Lowen, a Park Ridge police commander, can squeeze out the three-term incumbent, especially if the conservative voters come out in full force.
"The partial-birth abortion bill is going to be the 800-pound gorilla of politics in this primary," Caprio forecasts. "Those Republicans who voted against it are going to find it very difficult to explain themselves to voters."
Daniels no doubt knows that. In what appeared to be a divide-and- conquer strategy, he had several of those at-risk Republicans — including continued on page 27
House primary contests
Republicans face 15 primary contests on March 17. Of those, the leadership is keeping a close eye on five:
• 55th District. Republican incumbent Rosemary Mulligan faces Jim Curley, a former one-term Des Plaines alderman. Mulligan, who was first elected in 1992, is pro- choice. Curley is not. He has the support of Family PAC, a conservative grass-roots group. This DuPage County district includes most of Des Plaines, a middle-class suburb with both white- and blue-collar workers, and part of Park Ridge, an upper-class bedroom community with a sizable contingent of Catholic voters.
• 56th District. Republican incumbent Carolyn Krause faces Bob Lowen, a Park Ridge police detective commander. Krause, who was first elected in 1992, is pro-choice, but she supported the ban on "partial-birth" abortion.Lowen is supported by Family PAC. This DuPage County district includes most of Park Ridge.
• 63rd District. Republican incumbent Mike Brown faces Steve Verr, an ultra-conservative who has run repeatedly for this seat. Brown was appointed last year to replace Rep. Ann Hughes, who resigned. He voted against the "partial-birth" abortion ban. Verr has been supported by Family PAC since 1992. This McHenry County district northwest of Chicago is strongly Republican and has been mostly rural until recent years.
• 79th District. Jim Giglio of South Holland and Gene Wolfe of Lansing are battling it out in this primary race. Both men, former Democrats, are vying to face Democrat incumbent Mike Giglio in the fall. House Republicans are supporting Jim Giglio, a distant cousin of the incumbent. No doubt they would like to capitalize on voter confusion over the names to win this seat, which was held by ; Republican Bill Balthis for one term. This southern Cook County suburb consists of mostly blue-collar middle-class families. It's a crucial swing district.
• 116th District. Bruce Brown of Chester and Al Mehrtens of Millstadt face each other in this race. House Republicans support Brown, a Republican state central committeeman, to take on Democrat incumbent Dan Reitz in the fall. Reitz was appointed to this seat last year following the death of Rep. Terry Deering. Reitz, like Deering, was a coal miner. This Washington County district in southern Illinois is populated by former coal miners. It's been represented by Democrats for the past 24 years.
Democrats face 16 primary contests. Here are five of the more serious races:
• 1st District. Democrat incumbent Sonia Silva of Chicago faces two Democrat opponents: Susana Mendoza and Alan Mercado, both of Chicago. Silva, a first-term legislator, is considered vulnerable because competing Hispanic factions make up the majority of this southwest Chicago district.
• 2nd District. Democrat incumbent Ed Acevedo also faces two challengers: Guillermo Gomez and Linda "Evangelist!" Johnson, both of Chicago. House Democrats consider these challenges a serious threat to their incum- bent. In the 1996 primary, five Democrats split the vote. The winner won by only 290 votes. Further, Gomez is backed by state Sen. Jesus Garcia, that district's senator. Johnson, an Italian American, could also benefit from a split Hispanic vote. This southwest Chicago district also has a large Hispanic working-class population.
• 29th District. Democrat incumbent Ariine Fantin of Calumet City faces three opponents: Willis Harris, Clarence Richard and Richard Sparks, all of Chicago. Harris is Fantin's biggest threat. She narrowly beat him in the 1996 primary by 169 votes. Further, Harris is black, while Fantin is white. This south Chicago district is more than 65 percent African American.
• 79th District. Democrat incumbent Mike Giglio of Lansing faces Linda Slubowski of Thornton. Giglio, a freshman, is embroiled in a confusing primary battle that insiders say boils down to local back-stabbing. Slubowsfci appears to be backed by a longtime rival of Giglio's father, Frank. Slubowski is Frank Giglio's former secretary. This south suburban district with mostly blue- collar, middle-class families is a crucial swing district for Democrats. They will do whatever it takes to keep their incumbent in place.
• 80th District. Democrat incumbent George Scully of Flossmoor faces Michael Maynard of Crete. Scully, another freshman from a crucial south suburban swing district, wasn't challenged in the last primary. House Democrats want Scully, a lawyer and former bank examiner, over Maynard, a former teacher who lost his job due to an old marijuana charge. Gov. Edgar recently pardoned him. Education, the issue Scully was elected on, remains an issue for this district, which has a poor commercial real estate base. Jennifer Davis
Illinois Issues March 1998 / 25
---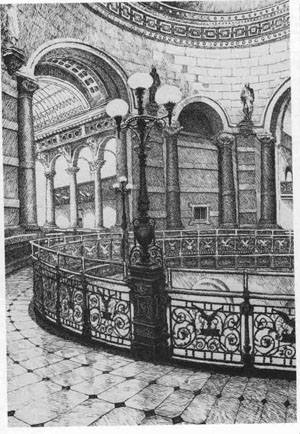 26 / March 1998 Illinois Issues
---
Mulligan and Brown — stand by his side last month while he announced his plan to double the credit property taxpayers get on their income tax — a proposal embraced by strict anti-tax conservatives.
While both Caprio and Daniels focus in on Mulligan's, Brown's and Krause's seats as the most critical, there are others the conservatives are watching. For instance, Family PAC supports Tim Schmitz, a Batavia computer salesman, in his effort to replace retiring 18-year incumbent pro-choice Republican Rep. Suzanne Deuchler of Aurora. And the group wants Patricia Trowbridge, a former DuPage County Board member, to replace the pro- choice Judy Biggert in the 81st House District. Biggert, a three-term incumbent from Westmont, is leaving to run for Congress. Three other Republicans are in the race for that open seat.
House Democrats have their own troubles. While not plagued with a serious ideological split, Madigan faces primary challenges in the two crucial south suburban districts known to swing toward either party. The House Democratic leadership won five such south suburban districts this past election, giving them a two- vote majority.
Madigan's top priority is holding on to that edge in the fall — something he could do more easily with incumbents in place.
But freshman Democratic state Rep. Mike Giglio of Lansing faces a confusing primary battle that insiders say boils down to a personal spat involving Giglio's father, Frank, a township committeeman. Mike Giglio's opponent, Linda Slubowski of Thornton, used to be Frank Giglio's secretary. She appears to have the backing of a longtime political rival of the elder Giglio.
A second south suburban race important to the Democrats is that of freshman Rep. George Scully of Flossmoor. Untested in primaries, he faces Michael Maynard of Crete, a former teacher who was recently pardoned by Gov. Jim Edgar on a marijuana charge.
What's at stake this fall is obvious: control of the House and, thereby, control of the legislative agenda.
When the Republicans won the House in 1994, their agenda — from caps on personal injury lawsuits (overturned by the courts) to truth in sentencing — sailed over to the Republican-controlled Senate and on to a Republican governor. If Madigan retains control of the House in November, he says he'll continue to push for an end to overreliance on the property tax to fund schools.
Still, more is at stake than just control of the House. Candidates who win this general election, points out Kent Redfield, professor of political studies at the University of Illinois at Springfield, will have the incumbent advantage in the 2000 general election. "Whichever party wins the majority in that election will get to draw the next [legislative] district map."
And redistricting, as even political neophytes know or soon learn, is everything in this game. To the map- makers go the political spoils.
Nevertheless, while Madigan and Daniels are no doubt planning ahead, their first concern is the next couple of weeks.
If history holds, Madigan's game plan will be to outspend his incumbents' challengers in the south suburbs so he can keep control of those crucial swing districts. That winning formula — money — won't be so easy for House Republicans, who face considerable spending from their own conservative wing. While Family PAC won't say how much it's spending or where, Caprio has said he could invest $100,000 in an important district. Again, Hughes spent nearly $140,000 to defend her McHenry County seat against Steve Verr's last attack.
So, yes, it often takes money to win. The conservative wing has that. It also takes votes. And they may have those in this primary as they've never had before, thanks to an ultra-conservative at the top of the ticket and the controversial vote on "partial-birth" abortion.
In fact, some political analysts see March 17 as the race for House Republicans. And GOP political consultant Art Hanlon calls it "the bellwether race" for Daniels.
Hanlon predicts the Fitzgerald vs. Didrickson race, a "clear-cut philosophical difference at the top of the ticket and the only real hotly contested primary on our side," will draw conservative voters in droves. And with other conservatives claiming their movement is growing, Daniels could be concerned about his status as party leader.
While the makeup of the House Republican caucus is mostly moderate, the dynamic has shifted. In "partial- birth" abortion, the conservatives have an issue they can run with. After all, even many pro-choice Democrats couldn't support the procedure.
Hanlon sketches a scenario worth watching: "This could be it. We could see a complete change in the makeup of the House Republicans."
William Crook Jr.
Illinois Issues used William Crook Jr.'s first pen and ink sketch of the exterior of the state Capitol on the cover of its September 1975 edition. We've been publishing his work ever since.
In fact, the Springfield artist considers the Statehouse an important symbol of his hometown. Crook got his start as a photographer, and his first photograph was of the Capitol. Now, his Capitol scenes, including the legislative chambers and the stained glass dome above the rotunda, are sold widely to lawmakers, lobbyists and political journalists.
Crook also is well-known for his pen and ink drawings of old houses and country churches, street scenes and roadsides, rivers and open fields.
The Editors
Illinois Issues March 1998 / 27
---