BRIEFLY
Edited by Rodd Whelpley

AMENDMENT ON BALLOT
Non-judges could sit on Judicial Commission
James D. Heiple's name won't be on the ballot next month, but the state Supreme Court justice may be on voters' minds when they decide whether or not to change the way judges are disciplined.
Heiple's run-in with local police two years ago was the impetus for a proposed constitutional amendment to add two governor-appointed citizens to the panel that punishes wayward judges.
Gov. Jim Edgar called for the amendment in his last State of the State address, charging the Illinois Courts Commission's "impartiality was called into question" when it handed Heiple the most lenient punishment possible. (See Illinois Issues, June, page 8.) The commission gave Heiple a written reprimand last April when he could have been removed from the bench on charges he abused his authority to evade traffic tickets. Critics believe that amounted to little more than a slap on the wrist.
The commission also was criticized for holding the hearing in Collinsville, away from the state's major media markets; initially banning tape recorders and cameras from the proceedings; and forbidding police to testify but allowing Heiple to speak. Further, Supreme Court Justice Moses W. Harrison II, who headed the panel, heard Heiple's version during a casual conversation before misconduct charges were filed.
If the amendment to the state's 1970 Constitution is approved November 3 by three-fifths of those voting on the question or a majority of those voting in the election, the governor will add two public (non-judge) members to the commission. The panel currently has five members who are appointed by the Supreme and Appellate courts.
The amendment also would require commission members to step down if a conflict of interest arises. A member of the Supreme Court, for example, could not sit in judgment of a fellow justice.
In backing the change, Edgar said "public trust in our judicial system was diminished" by the attention focused on the commission. "We need to amend the Illinois Constitution to help restore that lost faith."
Peggy Boyer Long
---
Illinois students dig into history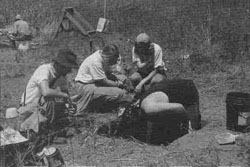 Just before their 1673 discovery of Illinois, Jacques Marquette and Louis Jolliet visited several Peoria Indian villages near what is today St. Francisville, Mo. This summer, approximately 20 Illinois students journeyed to this site — now preserved as the Illiniwek Village state historic site — to participate in an archaeological field school co-directed by Western Illinois University associate anthropology professor Lawrence Conrad and University of Illinois doctoral student Eric Hollinger. As shown here, students unearthed a number of cultural artifacts, pottery, deer and bear jawbones, small pieces of copper, brass and heads, and cooking and trash pits. Says Conrad, "This is a site where Marquette actually stood; if we would have called out his name where we were working, he would have heard us." Conrad and Hollinger coordinated the dig with the Missouri State Department of Natural Resources, which administers the site, and Larry Grantham, the site's head archaeologist. This was the school's third and probably final year of operation at the site; Conrad hopes to establish a field school next year at a late prehistoric site near Peoria.
Rosalie Warren
8 ¦ October 1998 Illinois Issues
---


Politics for dummies
In the final days of his first campaign for statewide office, Al Salvi made a reckless comment on a Chicago radio program. Jim Brady had once been a machine gun dealer, he blurted to the interviewer, almost as an aside. The charge was wrong, of course. Even ludicrous. Brady, an advocate for gun control, was left permanently paralyzed in 1981 by a bullet meant for President Ronald Reagan. As it happened, Brady stopped off in Chicago and made himself available to refute the charge.

Within hours, Salvi's comment became national news, and the defining moment of his 1996 failed bid for the U.S. Senate. It wasn't merely that Salvi was wrong; he was wrong spectacularly. The attack on Brady, something of a national hero, carried immense symbolic weight.

Why did it happen? Salvi, seeking to discredit Brady's endorsement of his opponent Richard Durbin, said he relied on a friend who gave him hearsay information. Yet the incident may well have been inevitable. A more seasoned campaigner would be unlikely to stumble so badly, proving, if ever it needed proving, that it takes more than loads of enthusiasm and lots of money to win a race for major political office.

In fairness, Salvi appears to have overcome, even learned from, the experience. (He's running for secretary of state in this election.) But the gaffe highlights a disturbing trend: more office seekers — and by extension, officeholders — who have little or no prior political or governmental experience.

Just in time for November, though, we have a couple of helpful primers. William S. Bike's how-to manual, Winning Political Campaigns: A Comprehensive Guide to Electoral Success, was published by The Denali Press. Taegan D. Goddard's and Christopher Riback's more theoretical analysis of the problems of first-time officeholders, You Won — Now What? How Americans Can Make Democracy Work from City Hall to the White House, was published by Scribner.

Taken together, they show just how far we've come from the days when the parties groomed — and, yes, directed — political wannabes.

We can never go back to those days. Nor would we want to. Still, at the very least, parties once provided training grounds for political novices. And, not to put too fine a point on it, they offered a vision of what should be done and guidance on what can be done. Now it's everybody for himself or herself.

This leads to a lot of mistakes. Bike, who has been a journalist and a publicist, seeks to fill the campaign experience void with advice on everything from planning the wardrobe, to designing the ad, to going negative — successfully. Bike's lesson on the Salvi story, for example, is that if candidates choose to go negative, they should do their homework first. His book is designed as a practical introductory checklist (with case studies) for the first-time candidate.

While Winning Political Campaigns is primarily for politicians, Goddard, a political insider, and Riback, a journalist, concern themselves more with the rest of us. There is a problem with neophyte politicians, they argue, but it's not simply inexperience. Instead, too few elected officials have any idea what they want to do after the campaign is over.

"Lacking a vision in government," they argue, "is like picking up a phone with no one to call. Nevertheless, a shockingly high number of public officials enter office without one."

As a result, these authors contend, government effectiveness is on the decline and citizen cynicism is on the rise. The search for quick fixes can cause voters to gloss over candidates' obvious flaws. And that can be dangerous for democracy. "Voters may one day opt for someone who, at any cost, can simply make the trains run on time."

Democracy was designed to be run by amateurs (Goddard and Riback note that Lincoln had little experience when he moved into the White House), but both of these books argue for better preparation.

Peggy Boyer Long

Illinois Issues October 1998 ¦ 9
---
BRIEFLY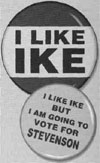 WEB SITE OF THE MONTH
POLITICAL PARAPHERNALIA
With just one month left before the general election, it's time to don those political buttons and bows in support of your favorite candidates. If you enjoy collecting political memorabilia, there are some web sites that offer online auctions and sales of old and new collectibles.
Cresswell's List, found at www.msys.net/cress/list.htm, is a fun site even for the novice or noncollector. It has two main components: a monthly list and a basic catalog. The monthly list features get-'em-while-they're-hot items of limited availability. For example, the September list featured 12 buttons — called jugates by collectors — of Alton B. Parker, the 1904 Democratic candidate for president. Items on the monthly list that do not sell out may reappear in four or five months.
The basic catalog contains items always in stock.
Stephen Cresswell, the man behind the site, is a history professor at West Virginia Wesleyan College. His expertise adds value to the site as memorabilia become props for lessons on political history. Last month, in reference to a button picturing the 1896 Democratic candidate for president William Jennings Bryan with Populist Party veep candidate Tom Watson, Cresswell wrote: "Populists had hoped Bryan would ask his Democratic running mate Sewall to step aside in favor of their own VP nominee Tom Watson, but Bryan refused to do so. Still, in most states voters had the choice of the Bryan-Sewall ticket or the Bryan-Watson." That button listed for $425, but the 1900 McKinley-Roosevelt buttons were priced at $21, and many items from the basic catalog go for under $10.
Go to www.ebay.com/, click the collectibles option, then the political subgrouping, to find a cyber auction where you can bid on such items as a Gen. U.S. Grant mourning ribbon, a 1909 invitation and program for President William H. Taft's visit to Cape Girardeau, presidents' spoons (a set of 12) and a 12 oz. private label beer bottle commemorating the 1992 train tour of George Bush and Dan Quayle.
For more contemporary political merchandise, go to www.polAmericana.com/orderpam.htm. You can pick up copies of historic photos such as Dewey Defeats Truman, Nixon and Elvis, and JFK with Bobby and Teddy. Once you've made your selection, you can order by e-mail.
So even if your candidates lose, their buttons could be winners. That 1972 "Liberated Ladies Like McGovern & Shriver" that you may have thrown in a box with your bell bottoms now sells for more than $100 at auction.
Beverley Scobell
10 ¦ October 1998 Illinois Issues
---
Plugging in poor people
Illinois Power provides a new way to pay old debts
Low-income Illinoisans can now earn up to $600 to put toward overdue medical, utility or household bills by performing community service. They are getting a hand up — rather than a handout — from A Hand Up Inc., a nonprofit community outreach program sponsored by Illinois Power.
The Hand Up program hires people to work for community organizations at a rate of $10 per hour, then sends their paychecks directly to the companies they owe. The program has operated in Collinsville at The Unique Boutique since April and in Decatur at the Water Street Mission since May. The two sites have helped approximately 55 people to date.
Civic and private groups donate the funds necessary to run the program and pay the wages. This April, Illinois Power awarded a $10,000 start-up grant to the Decatur program and the Illinois Department of Commerce and Community Affairs awarded a $25,000 grant to the Collinsville program.
Sharon Durbin, a work donation administrator for Illinois Power, conceived the idea as a way of giving people "motivation to help themselves." She describes the program as a winning situation for all involved. Participants learn such job skills as record keeping and phone answering while paying their debts. And, of course, the communities benefit from the volunteers' work.
Rosalie Warren
Illinois Issues October 1998¦ 11
---