PEOPLE AND PLACES
Rockford's Magic Waters Receives "Wave Reviews"
The Rockford Park District's Magic Waters, an 18-acre water theme park, won the annual "Wave Review" award from the World Waterpark Association for in-park promotional materials in the 100,000 to 300,000 attendance category. Dan Gundrum, manager of the facility, said the in-park promotional materials included a map with $1-off coupons attached and the audio information playing in the park These programs were developed by Midwest Marketing Organization. Attendance at the water theme park was 243,000 this year, the 10th year of operation by the Rockford Park District.
Buffalo Grove's Cable Show Earns Community Recognition
The Buffalo Grove Park District's community access cable show "Play'n BG Style" won an award in the Community Affairs category at Media One's 1997 Public & Government Access Awards ceremony held November 6 at Harper College in Palatine. The 30-minute "Play'n BG Style" show offers Buffalo Grove Park District residents information on classes, special events and park development. Two shows have been produced each year since the show's first airing the spring of 1996. The success of this show is due in large to Steve Rowley, who assisted with the production of this show from its start. Rowley is now president of Image/Ally Productions, a production company which specializes in digital video productions, CD/interactive development and 3D computer graphics and animation.
Bolingbrook and Volo Bog Recognized For Facility Design Excellence
The American Institute of Architects Northeast Illinois chapter presented its annual awards for design excellence at its November Awards Program at McDonald's Lodge in Oak Brook. From 44 entries, 14 awards were named; among them were facilities of the Bolingbrook Park District and the Ill. Dept. of Natural Resources.
Distinguished Building Award for Excellence in Design
Bolingbrook Recreation and Aquatic Complex, Bolingbrook, Ill.
Architect: Pollock Holzrichter Nicholas Ltd., Wheaton, Ill. Description: This 68,000-square-foot facility contains numerous amenities for visitors of all ages and provides a safe, affordable recreational environment. Features include: an indoor playground, early childhood rooms, dance/aerobic studios, a double-size gymnasium, gymnastics room, child care, conference room, fitness center, two indoor pools as well as an outdoor aquatic center. Since opening in 1996, the facility has become the hub of family activities in Bolingbrook with more than 700,000 visitors the first year.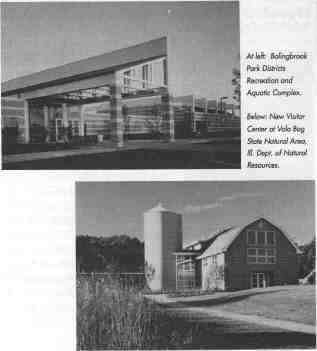 Preservation/Adaptive Reuse Award for Excellence in Design
Project:New Visitor Center, Volo Bog State Natural Area, Lake County, Ill.
Architect: Dahlquist and Lutzow Architects, Ltd., Elgin, Ill. Description: The Volo Bog Visitor Center represents the adaptive use of a dairy barn into an interpretive facility, informing and educating the visiting public on the geology and ecology of the state's only natural bog. Visitors ascend a gently rising walkway, amidst prairie grasses and wild flowers from the parking lot to the new facility. The Center's form is composed of the original dairy barn, silo and new addition of a sympathetic agrarian barn form. The second floor Exhibit Hall, the former hay loft, may be accessed by a grand stairway passing the glass walled elevator, housed within the walls of the silo.
Urbana Receives Gold Leaf Award
The Urbana Park District was awarded the 1997 Gold Leaf Award by the Illinois Arborist Association, the state chapter of the international Society of Arboriculture. The Gold Leaf Award is an annual award given to municipalities, agencies or individuals that promote excellence in preserving community natural resources. The Urbana Park District was cited for the development and management of the Anita Purves Nature Center, Busey Woods, Meadowbrook Park and the 1997 Arbor Day program.
January/February 1998 / 45
---
PEOPLE AND PLACES
Novak and Sarno Inducted into Chicago 16" Softball Hall of Fame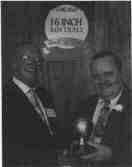 Among the 34 inductees in 1997 to the Chicago 16-inch Softball Hall of Famer are Park District of Forest Park's director of parks and recreation Dave Novak and former director Jim Sarno. Sarno, director of parks and recreation from 1965 to 1983, was noted for organizing the first Forest Park Invitational Softball Tournament in 1969, which is still considered the most prestigious 16-inch softball tournament in the Chicagoland area. Novak began his recreational career at Forest Park in 1974 as a recreation supervisor. From 1975 to 1983 he was superintendent of recreation and from 1984 to the present has held the position of director of parks and recreation. The year 1998 marks the 30th anniversary of the Forest Park Invitational Tournament and will also mark Novak's 25 years of involvement with this event, the last 15 years as tournament director.
Meridith Zucco has joined the Peoria Park District as coordinator of marketing/golf. She will be responsible for all marketing and promotional efforts for the district's GOLF PEORIA, including the five public courses and the planned Golf Learning Center. Zucco is a 1997 graduate of Bradley University.
Dona K. Pepper former receptionist at the Peoria Park Districts administrative office, is group rental sales coordinator. This is a newly created position with responsibilities of marketing rentals including weddings, corporate picnics and retreats al Peoria Park District facilities, primarily concentrating on environmental facilities. Pepper is a graduate of the University of Illinois.
James A. & "Andy" Dunfee joined the Rolling Meadows Park District as athletics supervisor and oversees all the district's sports and fitness related programs. He also is liaison to the various athletic associations in the community. Dunree has a bachelor's of science degree in Recreation and Leisure Studies from Winona State University, Winona, Minn. Previously, he has worked for both the Northfield Park District and the Park District of Highland Park.
Chris Criddle joined the Oregon Park District as the sports and fitness coordinator. He is responsible for youth and adult athletics and fitness programs. He is a graduate of Illinois State University where he earned a bachelor of science degree in Recreation and Park Administration. Criddle completed his internship with the Byron Park District and previously worked for the Rockford Park District.
Sandi Carlisle joined the Oregon Park District as the facility manager of its new Blackhawk Center. She oversees the operation of a 50,000-square-foot indoor sports and physical education center in a cooperative venture with the Oregon School District. Carlisle comes from San Marcos, Texas, where she worked for more than 12 years managing student recreational sports programs for Southwest Texas State University. She earned a master's degree in Physical Education from Southwest Texas State University and an Undergraduate Degree from St. Edwards University.
Jeff Murray is the new museum curator for the Buffalo Grove and Morion Grove park districts. Murray will be responsible for collections, preservation and education at Buffalo Grove's Raupp Memorial Museum and Morton Groves Haupt-Yehl House. Murray has a master's of art degree in Historical Administration and Museum Studies from Eastern Illinois University, and an undergraduate degree in History and German from Ball State University. Past work experience includes the Wade House State Historic Site in Greenbush, Wise.; Coles County Historical Society in Charleston, Ill.; interpreter at Conner Prairie in Fisher, Ind. Morton Grove and Buffalo Grove park districts have shared the talents of a professional curator since 1994 when they entered into a cooperative agreement.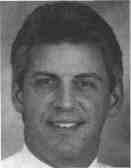 Bruce Bourn, CLP, has been named the director of recreation for the Bourbonnais township Park District. He is responsible for the administration and daily operations of the Recreation Department, including all aspects of recreation programming, facility and services development and operation. Baum previously held the superintendent of recreation position at the Warrenville Park District for five years, a position he accepted after working ten years with the Romeoville Recreation Department in Romeoville, 111. Baum is a member of several professional organizations including the National Recreation and Park Association, Illinois Park and Recreation Association and the American Park and Recreation Society.
Robert "Dan" Gooch has been named executive director of the Forest Preserve District of DuPage County. In November, the Forest Preserve Districts board of commissioners officially appointed Gooch to the position he has held on an interim basis since January 1997. Gooch brings 23 years of experience with the district to the position. He began his career in 1974 as a naturalist and has since held a variety of administrative positions including director of policy administration, director of operations and deputy executive director. Gooch received both his bachelor's and master's degrees from Iowa State University.
46 / Illinois Porks and Recreation
---
PEOPLE AND PLACES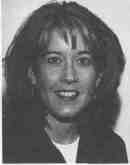 Rebecca Childress has been named marketing director of the Champaign Park District. She is responsible for the overall management of the marketing department. This includes the direct supervision of the marketing department staff members, coordination of all printed materials, development of all printing legal bids and quotes, and development of an annual marketing plan outlining all promotions for the calendar year. Childress has a bachelor of science degree in Leisure Studies from the University of Illinois where she was a Brightbill Award winner. She also has a master's degree in Recreation, Park and Tourism Sciences from Texas A&M with a special emphasis in marketing and development of recreational resources. Childress was previously employed as the promotions director for the Communications Division of the Texas Parks and "Wildlife Department.
Linda Anderson joined the Deerfield Park District staff in March 1997 as a recreation supervisor. Her responsibilities include summer camps, After School Club, teen programming and special events. Prior to joining the Deerfield recreation staff she was a facility coordinator and athletic supervisor for the Park District of Highland Park. She also worked as School-Age Care Manager at the McGaw YMCA in Evanston, 111., and as an elementary teacher in Chicago and the Milwaukee Public School system. Anderson has a bachelor's degree in Physical Education from Ripon College in Ripon, Wis., and also has elementary education certification.
Daniel Elkins, CLP, joined the Deerfield Park District staff in September 1997 as Facility Manager. He also oversees the operation of the swimming pools and the district's Nursery School program. Elkins was previously employed at the Park District of Highland Park as a facility and program coordinator. He also did internships at Northwestern University in the Department of Athletics and Recreation and with the Carbondale Park District. Elkins has a BS in Recreation Administration from the College of Education, Southern Illinois University in Carbondale.
Karrie Adam has joined the recreation staff of the Deerfield Park District as a preschool program supervisor. Prior to joining Deerfield, Adam was a recreation supervisor for the Arlington Heights Park District. She also served an internship as a day camp program leader for the United States Army Community Recreation program in Bad Krueznach, Germany. She has a bachelor's degree in Recreation from Indiana University in Bloomington, Ind.
Lavonne Campbell was recently promoted to the position of superintendent of recreation for the Burr Ridge Park District. Campbells responsibilities will include coordination and programming for preschool, youth, and senior citizens, facility management of all indoor facilities, leadership of the District's marketing program, and supervision and development of cooperative programming initiatives. She has been employed by the district as recreation supervisor since 1992. Campbell has a bachelor of arts degree from Western Kentucky University and a master's degree in Recreation Administration from Aurora University.
Mark Pasqualini has been appointed recreation services coordinator for the Burr Ridge Park District. His responsibilities include development and supervision of athletic programming, teen programs, exercise and fitness, dance and cultural arts, and leisure trips and special events. Additionally, he will supervise park maintenance operations and serve as liaison for a number of community groups. He is a 1995 graduate of the University of Northern Iowa and has received a bachelor of arts degree. Pasqualini previously served as recreation supervisor for the Veterans Park District.
Send People and Places information* and Letters to the Editor to:
Editor, Illinois Parks & Recreation
Illinois Association of Park Districts
211 E. Monroe Street
Springfield, IL 62701-1186
217.523.4273 (fax)
iapd@eosinc.com (email)
*photographs welcome
January/February 1998 / 47
---
PEOPLE AND PLACES
National Recreation and Park Association Awards
At its Annual Congress for Recreation and Parks, the National Recreation and Park Association (NRPA) presented many honors to agencies and individuals from the field of parks and recreation in Illinois. The Congress was held October 29 to November 2 in Salt Lake City, Utah.
Don Bresnan Honored as NRPA Life Trustee
Don Bresnan, commissioner for the Champaign Park District, was elected to a select group of Life Trustees of the National Recreation and Park Association. Bresnan has served on the Board of Trustees for over 15 years serving as Treasurer and Vice Chairman. He joins a group of fourteen other Life Trustees, which include: Lawrence S. Rockefeller; James Evans, CEO of the Union Pacific Corporation; Harry G. Haskell, Jr., former Secretary of Health, Education and Welfare; and Anne S. Close, chairman of the Board of the Springs Foundation and the Springs Corporation.
Hohnke Receives National Service Award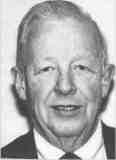 Fred Hohnke, commissioner with Woodridge Park District, received NRPA's Citizen Board Member Branch National Service Award for going beyond the call of duty to serve his local agency, state association and NRPA for the last ten years. Hohnke is recognized as a successful open space advocate and for tireless supporter of Illinois parks, recreation and conservation. Hohnke has served on almost every committee for the board of the directors of the Illinois Association of Park Districts. He is very active in influencing legislators at both state and national levels. In 1997 he personally visited on behalf of NRPA 32 congressional leaders on several major issues. He has been active on the Great Lakes Regional Council for NRPA.
Dodd and Kutska Receive National Distinguished Professional Awards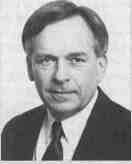 NRPA annually presents the "Distinguished Professional Award" to those in the field who, through Inspiration, incentive and demonstration of leadership, have made noteworthy contributions over a period of time to the recreation, park and conservation movement.
During the last 32 years, Ronald H. Dodd has gained national and international recognition for his professional leadership and dedication to parks and recreation. Dodd is the executive director for the Joliet Park District. He previously served as deputy general superintendent of the Chicago Park District and assistant director of the Dallas Parks and Recreation Department, where he was instrumental in initiating the decentralized management of those park systems. Dodd has been a member of NRPA since 1965 and was elected to the Board of Trustees in 1981, served as president of the American Park and Recreation Society, the NRPA Council of Affiliate Presidents, the IPRA, and chairman of the Great Lakes Regional Council. He served as president of the American Academy for Park and Recreation Administration. He was the recipient of the prestigious Charles K. Brightbill and Joseph J. Bannon awards from the University of Illinois, the National Park Foundation's Cornelius Amory Pugsley Medal, Luther College Distinguished Services Award and IPRA Robert M. Artz Award. The recipient of a master of science degree from the University of Illinois-Champaign, he completed his undergraduate study at Luther College in Decorah, Iowa.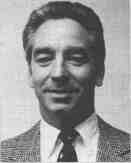 Kenneth S. Kutska has been the superintendent of parks and planning for the Wheaton Park District since April 15,1975. He is a certified leisure professional and was NRPA's first Certified Playground Safety Inspector. Kutska received his bachelor's degree in parks and recreation administration from Western Illinois University and immediately after graduation he went to work for the Elmhurst Park District. During his 22 years with the Wheaton Park District, the district has been a National Sporting Goods Foundation NRPA Gold Medal winner three times, in 1984. 1990 and 1996. Much of the district's success is attributable
48 / Illinois Parks and Recreation
---
PEOPLE AND PLACES
to Kutskas involvement in and responsibility for land acquisition and management, including park and facility development, long-range planning and strong fiscal management. Kutskas contribution to parks and recreation can be summed up through his long-term commitment to the profession, as a visionary and innovator of ideas and concepts in park management and facility design and a career of professional involvement at all levels. He served as president of NRPA from 1994 to 1995.
Lloyd Receives Minority Society's Achievement Award
Robert C. Lloyd, program manager at the Fleetwood-Jourdain Community Center in Evanston, 111., was awarded the NRPA Ethnic Minority Society's Achievement Award. The award is given to those who have displayed innovative recreation programming and who benefited mankind, communities or the parks/recreation field.
For ten years, Lloyd has worked to improve and increase recreational programs for the residents of Evanston. In particular, he has become a specialist in recreation intervention programs designed to involve at-risk youth and antisocial groups in sports. His enthusiastic and personal leadership style has helped to stabilize high-risk areas with innovative programs, activities and special events. One of those programs. Basketball in the Parks, has grown in popularity every year, reaching an all-time high of 650 participants this year. Lloyd's talents and dedication, however, have not been confined to sports programs. He has helped to coordinate the new free summer lunch program for Evanston children and an annual community celebration of Martin Luther Kings birthday.
Lloyd has worked for the city of Evanstons Recreation Division since 1987. He graduated from Greenville College in Greenville, 111., with a bachelors degree in Recreation and worked as recreation director for Burham Management Company before coming to Evanston.
Champaign's Theatre Troupe Receives National Recognition
Co-sponsored by the Champaign Park District and Champaign Safe and Drug Free Schools, the Risk Takers Prevention Theatre Troupe received the Dorothy Mullen National Arts and Humanities Award for its innovation and excellence in the arts and humanities.
Founded in 1995 and directed by Jennifer Goran, the Risk Takers Prevention Theatre Troupe consists of 22 middle school youth from Champaign's Unit IV School District. Participants write their own scenes through improvisational drama based on actual or imagined everyday life situations. Their drama, music, and dance convey powerful messages about topics such as drug abuse, violence, racial discrimination, and conflict resolution. The programs goal is to help the performers and their audience better understand the daily social challenges that youth face.
The award was based on the variety of arts and humanities activities, cross section of population service, length/duration of the program, communities needs met, planning process, public/private partnerships, and interagency cooperation.
The Risk Taker Prevention Theatre Troupe was also recendy selected to be listed as a model arts program in Building America's Communities III: A Compendium of Arts and Community Development Programs, a publication of Americans of the Arts and the Institute for Community Development and the Arts.
"Kudos" Awards Presented for Superior Communications
NRPA KUDOS awards are presented to organizations that best market and communicate the benefits of parks and recreation to the public. First place awards are presented in five separate categories: Best Recreation Catalogue; Best Print Public Service Announcement (PSA); Best Website; Best Short Recreation Film; and Best Overall Communicator. Awards are presented in four classes based on population served. Illinois agencies won in the following categories:
Best Recreation Catalogue
Niles Park District (Class I)
Skokie Park District (Class II)
Best Overall Communicator
Elk Grove Park District (Class I)
Bolingbrook Park District (Class I)
Skokie Park District (Class II)
Best Website
Urbana Park District (Class I)


NRPA awards continue on page 50
January/February 1998 / 49
---
PEOPLE AND PLACES
Channahon and Skokie Win Gold Medals
The Channahon and Skokie park districts are ranked among the top-five park and recreation agencies in the nation as winners of the coveted National Gold Medal Award, co-sponsored by NRPA and the National Sporting Goods Association. The awards, presented annually in different population categories, recognize excellence in administration and programming. Judging categories include staff development, diversity of programming, volunteer management, community partnerships, service and management. In 1997, a new category for "state parks" debuted.
The 1997 Gold Medal winners and the NSGA retail members nominating them are:
Cincinnati Recreation Commission
Class I, nominated by Koch Sporting Goods
City of Plano Parks & Recreation Department
Class II, nominated by Piano Sports Center
SKOKIE PARK DISTRICT
Class III, nominated by Pant-Gear Equipment Co.
Germantown Parks & Recreation Department
Class IV, nominated by Bluff City Sports
CHANNAHON PARK DISTRICT
Class V, nominate by Ken Woody's Shot and a Goal
Ohio Division of Parks & Recreation
State Parks, nominated by Roush Sporting Goods
1997 Gold Medal Finalists - Illinois
Lake County Forest Preserve, District
Class I, nominated by Play It Again Sports
Champaign Park District
Class III, nominated by Gery & Al's Sporting Goods
Bolingbrook Park District
Class IV, nominated by Polos Sports
St. Charles Park District
Class IV, nominated by George's Sports Center
Urbana Park District
Class IV, nominated by Body N' Sole Sports. Inc.
Itasca Park District
Class V, nominated by Creative Awards
Letter to the Editor
Many state park and recreation associations, along with their individual members are fighting to save park and recreation departments in their communities. Illinois agencies have managed—through hard-working, farsighted leadership by IAPD and IPRA as well key local initiatives—to keep their heads above water. However, many states are finding that their parks, recreation and conservation agencies are being decimated in the name of fiscal responsibility. Our constituents listen to their politicians' chant: "we're just listening to the people," "cut taxes," "use tax dollars for more pressing issues!"
Drastic, uncompromising change is needed now! How will our profession, which seems to have been one step behind and a dime short (to mix metaphors) in meeting past challenges, meet those in the future that may endanger our very existence (at least in our present form)? In my opinion, we can accomplish this task only by utilizing our organizations' most valuable assets: the farsighted, risk-taking, innovators who would rather fail again and again until they succeed than just keep the status quo.
We must utilize those individuals who are no longer willing to wait while organization boards, task forces or committees pontificate about the "right thing to do." Our new leaders and innovators are not going to wait for others to do studies or consult experts or to sit in meeting rooms with all the "right" people, plenty of water and little bowls of candy, discussing how to deal with an issue for so long that their brains get more numb than their posteriors. And, with great fanfare and reams of very colorful and important looking printed matter, they make their pronouncements of ex cathedra grandeur. And then, we find ourselves "Right Smack Dab, Back in the Middle!"
We desperately need die leadership of those people who wake up every morning and say: "I may fail today, but I'm going to keep on failing until I succeed!" I believe many in our field fear failure. Due to new and often political pressures, we manage to come up with excuses for everything: programs not running, not enough memberships, lack of funding, misunderstanding of our field, ad nauseam. This fear keeps us from acting.
Instead, what would happen if we didn't give a damn whether an idea or strategy would work; we just tried it. Just go ahead and do something, as my dear departed dad used to say "Come hell or high water!" Oh, yes, we could be criticized, called money wasters, accused of lack of "proper planning"; of not giving a complete evaluation of every possible ramification of our actions.
Many lay and professional park, recreation and conservation individuals are beginning to demand a new kind of leadership: a leadership that embraces failure because they know without it there can be no success.
If you're a risk taker, if you're the first one up the mountain even if you don't know the trail, if you can stand up to those that will inevitably criticize you, then this field needs you. We need you to speak up, to take chances, to make those mistakes. And we need you at every level. You don't have to be president of an organization or chair or even serve on some board, but it would sure make a big difference if you took on one of those roles.
Remember, all you have to do is care enough to want to make a difference. Just keep making those mistakes. What if Thomas Edison quit when he made one of his mistakes before he invented the light bulb (and he made 123 of them)? Your park, recreation and conservation associations in Illinois (such as IAPD and IPRA) and your national organization (NRPA and its affiliates) need you and they need you now! They have been searching for people just like you. I challenge you to step up, to speak out, to make things happen and keep doing it, whether you fail or not.
If you keep taking action, pushing the boundaries, no matter how many times you fail, you will succeed! And, I'll tell you a little secret: once you succeed, all the failures will be forgotten and this profession will have taken another important step forward to finding the leadership it will need to take it into and deal with the problems of the new millennium.
-Timothy D. Royster, CLP
50 / Illinois Parks and Recreation
---