Today's
TECHNOLOGY AND YOU
New metal roofs provide a lifetime of advantages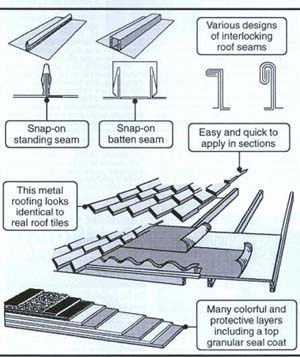 Residential metal roofs are durable, attractive, efficient
Q: On a recent home tour, I noticed that many upscale houses had metal roofs. The roof on my house needs to be replaced for the second time. Does installing a residential-type metal roof make sense? - Ron D.
A: The answer is an unqualified YES! I can think of nothing negative to say about new residential-type metal roofing. It looks beautiful, has a 50-year to a lifetime warranty, is fireproof (lower insurance rates), reduces summer air-conditioning costs, is environmentally sound, and typically weighs only one-quarter as much as asphalt shingles.
Attractive metal roofing is becoming the signature of upscale housing. There are many metal roofing options to choose from depending on your budget and the appearance that you desire. For example, from the ground, a simulated cedar shake metal roof is impossible to distinguish from real cedar.
If you prefer an elegant authentic tile look, consider a new steel roof that uses special painting processes. Several manufacturers place real earthtone granules on the final paint coat which is then covered with a super-durable clear coat. The weight is only one-tenth of real tile.
Even though the metal roofing materials cost somewhat more initially, the overall life cycle cost is lower. After you install a metal roof, you will never have to install another roof. Many of the lifetime warranties are transferable to new owners, so resale value of your home is increased.
In addition to no maintenance costs, a metal roof, especially aluminum, can lower your utility bills. According to the Florida Solar Energy Center, installing a simulated cedar shake aluminum roof can reduce heat gain from the roof down through the ceilings by as much as 34 percent. Steel roofs, although not as efficient as aluminum, are also better than asphalt shingles.
The reduced roof heat transfer lowers your air-conditioning costs. It also reduces the peak afternoon
James Dulley is a mechanical engineer who writes on a wide variety of energy and utility topics. His column appears in a large number of daily newspapers.
Copyright 1999 James Dulley
20 ILLINOIS COUNTRY LIVING JULY 1999
---
electric demand for your cooperative to help control electric rates. The roof cools in five minutes once the sun goes down. Because these roofs are durable and nearly leak-free, your attic insulation will stay dry and be more effective year-round.
Although the material cost is higher that asphalt shingles, metal roof installation is quick and simple. It can usually be installed over the old shingles without an expensive tear-off. The profile of the metal roofing creates an air gap between it and the old roof or felt. This air space beneath it allows it to breathe and stay cooler.
You can walk on all metal roofs without damaging them, but you must step somewhat carefully on aluminum shake profiles. The deeper shake and tile profiles provide extra rigidity even though the metal is thin. Some of the shallow shingle profiles have decorative ribs for rigidity. Walking on the roof is usually not a concern because, with no maintenance, you will seldom be up there.
Many metal roof styles, although they look like individual shingles, shakes, etc., are usually installed in large, lightweight four-foot panels. You typically need only 23 panels per 100 square feet of roof area, so installation is quick with few seams. Some panels are as long as 20 feet. Easy-to-install individual three-tab metal shingle "covers" are another option.
Most durable steel and aluminum residential roofing is finished with a Kynar coating (some offer 20 colors). The Kynar coating is so tough that it withstands the 400-ton metal forming presses with no damage. It is guaranteed against peeling and fading. Hylar 5000 coating is also durable. These fluorocarbon based coatings shed dirt in the rain just like a teflon skillet.
Copper is still the most revered, and expensive, roofing material and it has many advantages. It weathers to a beautiful green patina which protects the surface from further oxidation. Copper also cools faster than any other roofing material on summer evenings; whereas, regular asphalt shingles hold the heat much longer.
Someday your children will thank you for choosing a metal roof. Nearly 80 percent of copper and aluminum roofing is made from recycled materials, as is 50 percent of steel roofing. Each year, reroofing creates 11.5 million cubic yards of old discarded asphalt shingles, enough to fill a football field over one mile high.
Write for (or instantly download - www.dulley.com) Update Bulletin No. 976 - buyer's guide of 15 manufacturers of residential aluminum, copper, steel roofing, styles, colors, weights and features. Please include $3.00 and a business-size SASE. Mail to: Jim Dulley, Illinois Country Living, P.O. Box 3787, Springfield, IL 62708.
JULY 1999 ILLINOIS COUNTRY LIVING 21
---