N • A • P • E • R • V • I • L • L • E
---
Michael H. Ebner
Historical Research and Narrative

Harold E. Moser (b. 1914) is an icon in the local history of Naperville, Illinois, a place distinguished at the close of the twentieth century by rapid population growth and accelerated economic development. His achievements in the home-building industry date to 1949 when he became a real-estate developer. In narrating how Naperville attained celebrity among the region's 262 municipalities, Moser's story is essential.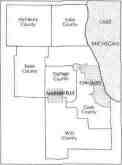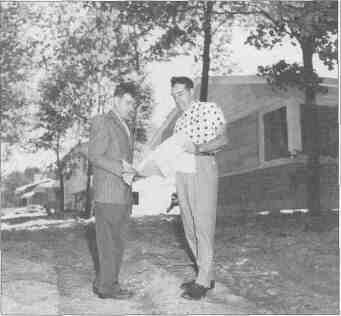 Harold Moser (left) looks over plans with
Jerry Concannon in Moser Highlands
Courtesy: Macom Corporation
Naperville is situated in DuPage County on the western fringe of metropolitan Chicago, twenty-eight miles from the Loop. Physically it expanded from 5.8 square miles in 1960 to 34 square miles in 1997; in fact, it spills over into Will County, which contained 15 percent of its population (12,042) in 1990. Naperville's population exceeded the 100,000 mark in 1994 and reached 118,000 by 1997, ranking as the nation's tenth-fastest growing city during the 1990s; it had experienced the single biggest population surge (+39,739) among all municipalities within Chicago's five collar counties between 1980 and 1990.
Naperville was settled in 1831, and its residents long have cultivated local pride because they live in DuPage County's oldest community. Incorporated as a village in 1857, it attained the status of city in 1890. Its connection to Chicago via railway, a significant element in its economic history, dates to 1864. Over more than 150 years it has experienced four major economic shifts: agricultural and horticultural production; small-scale industrial center; commuter suburb; and center for high technology. Even before the 1958 construction of the East-West Tollway (a segment of Interstate 88), which linked Naperville to Chicago, the seeds of change had been planted. Key was the decision in 1947 by the Atomic Energy Commission, lured by 3,600 acres of available land and low population density, to establish the Argonne National Laboratory in nearby Lemont. (Many Argonne scientists lived in Naperville, attracted by the reputation of its public schools.) In its contemporary form, Naperville evolved into Chicago's technoburb, a process that took hold early in the 1960s. The tollway, designated by boosters in 1985 as the Illinois Research and Development Corridor, is its economic center. Viewed from a contemporary vantage point, today its corporate roster includes Amoco Research Center (1,100 employees), Lucent Technologies (8,600), Naico Chemical Company (1,200), and Northern Illinois Gas Company (700). Yet Naperville's heritage as a small residential suburb remains an active force in the lives of its inhabitants. Sustaining some sense of the past is Naper Settlement, an ambitious 13.5 acre living history museum organized in 1971 and financially assisted by the municipal government.
39
---
Migrating with his parents in 1916 from his birthplace in Fort Wayne, Indiana, Harold Moser's physician father relocated to Naperville to fulfill his wish to raise a family in a rural environment. (Naperville's population in 1920 was 3,830.) Entrepreneurial from the start, Harold's youthful business activities included founding (but soon disposing of) the weekly Naperville Sun in 1935 and operating a coal yard in 1941, which he converted into a lumberyard in the face of rising reliance upon natural gas for home heating. Moser also worked, if only briefly (but not without benefit to his later pursuits), in a Chicago advertising agency. When he retired, in 1993, at age 79 from the home-building business—amid countless tributes—by his own recounting he had developed one-third of the community, erecting 10,000 home sites in Naperville on almost 4,000 acres.
Upon entering the home construction business, Harold Moser's immediate objective seemed rather commonplace: inducing an accelerated demand for his lumber in the face of two competing yards. His first subdivision was named "Forest Preserve," consisting of 51 homes built on nineteen acres that he had purchased from an asparagus farmer; two-bedroom split-levels sold for $18,500, and the three-bedroom ranch for $19,500. At a time when two-thirds of new home construction nationwide occurred in suburbs, he seemed irrepressible. In one instance, not long after beginning, he sold fifteen new homes within a single weekend. Key to Moser's success was his introduction of endless innovations with considerable consumer appeal. Among them was Aero Estates, an unusual development combining a small private airport surrounded by homes situated along runways, each with a private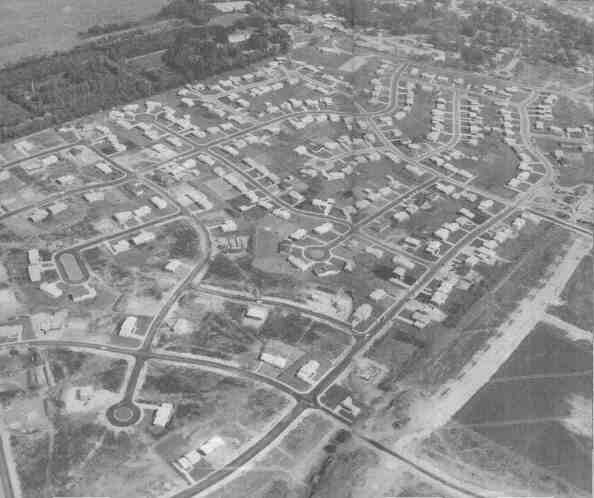 An early view of Moser Highlands
Courtesy: Earl C. Minnick
40
---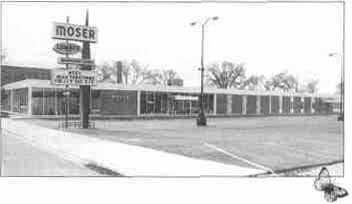 Moser Lumber
Homemaker Center
Courtesy: Macom Corporation
airplane hangar resembling an attached garage of gargantuan proportions (1956); neighborhood shopping centers to serve subdivisions (1958); leisure-oriented subdivision amenities such as a country club at Cress Creek and a bath and recreation club at Maplebrook, with membership originally limited in both instances to its own residents (1962); Moser's Homemaker Center, adjacent to Moser Lumber Company, catering to home improvers; (1963); Moser Structures, wholesaling computer-designed construction components to home builders (1971); and the White Eagle Club, a subdivision surrounding a 7,150-yard golf course bearing the imprimatur of Arnold Palmer, embellished by a 52,000 square foot clubhouse plus 1,150 units of housing, some of which sold for $500,000 (1989). In addition to the profitably of his varied enterprises, he derived enormous satisfaction through the fostering of municipal improvements. A handful of examples are representative: donating a parcel of property to residents of the Moser Highlands subdivision for a clubhouse, which encouraged new neighbors to become better acquainted (1956); making available, at cost, 1,000 trees for purchase by homeowners anxious to improve their lots (1960); and devising a unique plan enabling new home purchasers to reduce the amount of money initially required as escrow for the payment of their local tax bills (1970). A real-estate expert has estimated that Moser has donated in excess of 200 acres to municipal authorities for school sites, public parks, recreational areas, and other facilities.
As Moser surely sensed in the aftermath of World War II, the suburban trend—in Naperville, among neighbors locales around metropolitan Chicago, and nationally-seemed self-fulfilling. (As Chicago's population increased 6 percent during the 1940s, DuPage County grew 49 percent and Naperville advanced 33 percent.) Exhausted by the cumulative shocks of the Great Depression and World War II, families craving domestic tranquility often found their haven in suburbs. New homes were constructed inexpensively, frequently on the peripheries of the nation's metropolises. Correspondingly, market demand rose astronomically, abetted by easy-to-obtain federally underwritten mortgages. Housing starts between 1946 and 1955 doubled over the preceding 15 years. A record 2.2 million marriages occurred during 1946, while 20 percent more babies were born that year than in 1945. Mobility added another essential ingredient. Although the automobile has been a prerequisite of suburban living since the 1920s, car sales soared nationwide from 69,500 in 1945, to 2.1 million in 1946, and 5.1 million in 1949. Chicago's automobile
41
---
count rose from 428,000 in 1945 to 765,000 in 1953. Envisioning postwar economic reconversion, as early as 1943 the federal government had urged Chicago and Cook County—and metropolises across the nation—to devise plans for modern vehicular routes. Culminating in the Interstate Highway Act of 1956, it spurred a transcontinental network of superhighways stretching 42,500 miles and costing $60 billion. The resulting highways in and around Chicago proved pivotal. Residents of Naperville, appreciating the benefits of improved links to Chicago, campaigned successfully to route the East-West Tollway (opening in 1958) just beyond its northern boundary.
"
the
Neaqua
American
Valley
dream
high
School
"
Naperville's circumstances also exemplified the transformation of the American metropolis in the second half of the twentieth century. Framed in this larger context, it is representative of the phenomenon defined as edge cities situated on the fringes of large metropolises as much as 40 miles from their urban cores. People work, live, and pursue many of their leisure activities in 200 such settings, which are aptly labeled as totalized suburbs. Naperville's counterparts include Bellevue (Seattle), Gwinnett County (Atlanta), King of Prussia (Philadelphia), and Tyson's Corners (Washington, D.C.). Among their basic ingredients: location along interstate highways, ease of access to major airports, reliance upon automobiles, excellent public schools, university research centers in close reach, and rapid economic development led by assorted technology-related companies and retailing enterprises.
Demographically, Naperville remained stable but certainly not unchanged. As of 1960, its population was virtually 100 percent white; twenty years later the figure was 97 percent. During 1966, the community encountered one of the unremitting predicaments—claims of discriminatory housing practices—that suburban Americans prefer to avert. Charges were filed with a federal agency (although subsequently dropped for insufficient evidence) involving "Negroes, both of whom hold Ph.D. degrees" employed at Bell Laboratories (today known as Lucent Technologies). (Hundreds of Bell Lab staffers had relocated to Naperville upon completion in 1964 of its 200-acre research campus.) Although the controversy hastened a lingering campaign to enact a fair housing ordinance, municipal authorities probably gauged the depths of public sentiment against formal action in allowing the issue to fade. By 1990, the nonwhite proportion of Naperville's population accounted for 7 percent and reached almost 12 percent as of 1994. Asians constituted the largest segment of its nonwhite inhabitants (3 percent in 1980, 5 percent in 1990, and 6 percent in 1994) while African Americans and Hispanics each accounted for 2.2 percent of the population in the enumeration of 1994.
Chicago, vis-a-vis Naperville, reflected a starkly different situation. A condition echoed across the nation since 1945, the outcome is best appreciated as the dual metropolis: the predicament of decay and glitter abiding side-by-side, accompanied by an emotional gamut running from resignation to optimism. In 1960 the distance in median family incomes between the richest and poorest communities in metropolitan Chicago was roughly 5 to 1; in 1989 it stood at 9 to 1. As of 1990, Chicago's median family income was $30,707 compared to $101,073 for Naperville; 14 percent of Chicago's population (age 25+) completed four or more years of college, while the Naperville figure was 46 percent. When Reverend Jesse Jackson toured Neuqua Valley High School in Naperville, completed in 1997 at a cost of $62.5 million (the most expensive public school ever built in Illinois), he regarded it as "... the American dream school... the promised land of American education." Among metropolitan Chicago's 241 school districts in 1996, the disparity in the property tax base stood at 33-to-1. Underscoring such sharp divisions is that Chicago ranked second nationally (exceeded only by Detroit) in an analysis conducted in 1990 of the 100 largest cities that measured the concentration of poverty and the distress of neighborhoods. Conversely, Naperville was singled out in 1992 as having the single lowest poverty rate (1.5 percent) among cities nationwide with populations of at least 50,000.
Metropolitan patterns of employment reinforce the dichotomy between Chicago and Naperville. The city's share of metropolitan private-sector jobs fell slightly below 40 percent for the first time in 1990; eighteen years earlier its proportion was 56 percent. Correspondingly, the number of jobs in Naperville as of 1989 (33,566) had expanded 144 percent (+19,808) over a decade. A predicament long in the making, William Julius Wilson terms this a spatial mismatch: technologically oriented work requiring high skill levels, mostly concentrated along
42
---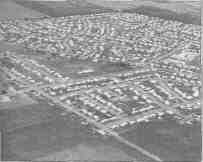 An early view of Moser Highlands
Courtesy of Richard Schreul
suburban corridors; poorly educated, underemployed labor pools, more often than not in the most socially isolated locales within central cities; and disparities in transportation networks, inhibiting opportunities for effecting ready linkages between residence and work sites.
Naperville's transformation since 1945 added new layers of meaning—some more salutary than others—to the everyday experiences of its residents. Yet it has earned a measure of public acclaim because it successfully cultivates an air of small-town intimacy in a place that otherwise would be known only as another center of astonishing growth. What Harold Moser added to its evolution, with acts large and small, burnished the values associated with living in this particular community. Most accurately classified as a community builder in the glossary of suburban America, he amounts to a breed apart by endeavoring to preserve the bond between the natural and built environment. Reviewing his life's work, Moser reflected:
I've never done a cookie-cutter development. Each subdivision has had its own identity, and that's what has set us apart through the years and affected the character of the community.
Unlike so-called curbstoners (sometimes branded as land butchers or lot sellers, and generally without local ties), who viewed the imposition of municipal regulatory controls as an anathema, community builders welcomed their advent. (Beginning in 1940, Naperville enacted its own series of stringent regulatory ordinances.) Consider an assertion advanced in a subdivision advertisement (circa 1990): "Convenience, Craftsmanship, Affordability, NAPERVILLE."
---
CURRICULUM MATERIALS
Brookes S. Ebner
Overview
Main Ideas
Naperville, Illinois, has earned a measure of public acclaim because it successfully cultivates an air of small-town intimacy in a place that otherwise would be known only as another center of astonishing growth (population 118,835 in 1997; 48,820 jobs in 1996). Harold E. Moser (b. 1914) is as a central figure in its evolution during the second half of the twentieth century. His celebrated achievements in the home-building industry helped color it as a distinctive place among metropolitan Chicago's 262 municipalities. Situated in DuPage County on the western fringe of metropolitan Chicago, Naperville is twenty-eight miles from the Loop. Once a small commuter suburb (population 5,272 in 1940), it is classified as an edge city or totalized suburb where people work, live, and pursue many of their leisure activities.
Connection With The Curriculum
These materials apply to lessons in American history, economics, and sociology, all with a particular emphasis on cities, suburbs, and metropolitan development.
Teaching Level
Grades 9-12
Materials For Each Student
• A copy of the narrative portion of the article
• Copies of the activities/handouts
Objectives For Each Student
• Distinguish between a real estate developer regarded as a community builder and another regarded as a curbstoner.
• Define key concepts used to define rapid metropolitan growth: edge city; technoburb; totalized suburb; and dual metropolis.
• Explain the changing relationship between Naperville and Chicago, with particular emphasis on population/demographics; employment opportunities; and transportation links.
• After the visit from the municipal official, the students will compare and contrast their own community's circumstances with those of Naperville.
43
---
SUGGESTIONS FOR
TEACHING THE LESSON
Opening the Lesson
Students read the narrative with their teacher, devoting particular emphasis to the significant role of Harold E. Moser.
Utilizing an overhead projector or individual maps, teachers should explore the series of maps contained in Handout 1 that examine transportation link and centers of economic activity.
Students can focus on one or more of the following: exploring the concept of community builder as embodied in the career of Harold E. Moser; the disparities between job opportunities in Naperville and Chicago and how they have changed; and how Naperville's transformation has affected the everyday experiences of its residents.
Developing the Lesson
In Activity 1 students will devise a time-line (consult Handout 2) of the basic benchmarks in Naperville's transformation, with particular emphasis on the role of Harold E. Moser as well as its role in metropolitan Chicago.
In Activity 2 students will read the newspaper articles (consult Handout 3) entitled "Meet Naperville's New Families", reflecting on the questions raised in Handout 4.
Concluding the Lesson
Students and their teacher, consulting their timeline, should compare and contrast life in Naperville, in 1949 and today. Issues for discussion include: what remains the same over 50 years; what were the catalysts for Naperville's transformation; why is the role of Harold E. Moser so distinctive to the course of change in Naperville; and how does Naperville fit into metropolitan Chicago?
Extending the Lesson
For students wishing to conduct independent research about Naperville, search the World Wide Web beginning with the following URLs, and then identify additional ones:
http://www.naperville.il.us
(city of Naperville's home page)
http://www.napersettlement.org
(Naper Settlement home page)
http://www.ipsd.org/nvhs
(Neuqua Valley High School)
http://govinfo.kerr.orst.edu
(U.S. Census Data)
As a culminating activity, the teacher should invite a municipal official from your community to visit the class. The teacher will ask the visitor to highlight some or all of the following: the distinctive attributes of your own community; the changes its has experienced, both demographically and economically; comparisons between your community and Naperville; and identification of key individuals— contemporary or historical—who have played leading roles in your community comparable to Harold Moser's in Naperville.
Assessing the Lesson
Imagine yourself as a real-estate agent in Naperville in 1949. What would you discuss with a prospective home buyer about the attributes of residing in this community? Now the year is 1999. What are the attributes of Naperville? Conclude by comparing and contrasting the attributes of Naperville in 1949 and 1999.


Cress Creek Golf Course
Courtesy: Macom Corporation
44
---
Handout 1 - Maps
Five Maps Of Naperville and Metropolitan Chicago

Courtesy of Chicago Daily News,
September 30, 1957

Courtesy of Chicago Tribune, June, 16, 1990

Source: Macom Corporation

Source: Gary Faxxion and David Justh, Coldwell Banker

Source: Mr. Naperville, A Tribute to Harold Moser upon His Retirement (Naperville: McElroy Associates, 1994), p. 4
1. Brookdale
2. Cress Creek Country Club
3. Saybrook
4. Brush Hill
5. Forest Preserve
6. Columbia Estates
7. Huntington Commons
8. Huntington
9. East Highlands
10. West Highlands
11. Pembroke Commons
12. Huntington Estates
13. Knolls of Huntington
14. Huntington Ridge
15. Brighton Ridge
16. Maplebrook I, II, South
17. Naper Carriage Hill
18. Farmington
19. Walnut Hill
20. Walnut Ridge
21. Old Sawmill
22. Cedar Glen
23. Aero Estates
24. White Eagle Club
25. High Meadow
45
---
Handout 2 - Timeline
Constructing a timeline examining Naperville's rapid growth and the influence of Harold E. Moser.
Here are a handful of basic benchmarks, arranged chronologically (you will need to identify additional benchmarks based upon your reading of the research narrative):
Original settlement (1831)
Incorporation as city (1890)
Population (1920)
Harold E. Moser enters real-estate business (1949)
Interstate Highway Act (1956)
Nonwhite proportion of population exceeds 10 percent (1990)
46
---
Handout 3 - Newspapers
Meet Naperville's New Families
These articles, all published between 1950 and 1952 in the Naperville Sun informed the newspaper's readers about families who recently moved into the community.
After reading these reports, please reflect upon the following questions:
What did these families find upon moving to Naperville that was distinctive from their previous place of residence?

What are some of their hopes for the immediate future as newcomers to Naperville?

What does each family say about its newly occupied residence?

What are the specific opportunities for children?

Are there gender differences in occupations?

When mention is made of Chicago, how is it portrayed?
Meet Naperville's
New Families
Mr. and Mrs. Calvin George of Radcliff road have lived in Naperville for a year now, and have already become a part of the community. In addition to their "farming" activities on their 2 1/2 acres, they have joined the Congregational church and have taken an active interest in all school meetings and school projects. In another year, Mrs. George hopes to get into Girl Scout work. Mr. George is also interested in community activities and hopes to be able to take a more active part in the near future. The Georges claim that they can't help being community-minded in such an outstanding community!
Mrs. George, the former Harriet Duke, is a charming auburn-haired southern-girl. She was born in South Carolina, and raised in Florida. She was graduated from Florida State University at Tallahassee in 1938 and then came to Chicago to take a year's course in medical technology at Michael Reese hospital. She was working in the laboratory of the Henrotin hospital when she met her future husband at the young people's department picnic of the Fourth Presbyterian church on Memorial Day, 1941. They were married on January 14, 1942. There are two children — Mitchell, a lively red-headed lad of six, who is in the first grade at Ellsrworth school; and, Sally Jo. three years old.
Cal George was born in Chicago but was raised in Western Springs. He attended the township high school at LaGrange and was graduated from Wabash college at Crawfordsville, Indiana, in 1940. He is a Phi Beta Kappa, and was a member of the Delta Tau Delta social fraternity. In February of 1942 he was inducted into the Army, and he was graduated in October of the same year from Officers' Training school. In the same class with Clark Gable Before going overseas, he was stationed in California for 18 months. He is now a captain in the Air Force Reserves.
Previous to his induction, Cal, worked for the Continental Casualty Co. as an underwriter in the automobile department. After he was discharged, he went back to his job and attended the John Marshall Law school at night. He was graduated last June, and passed his bar examination in October. Last August he went to work in the legal department of the Zurich Insurance Company.
The Georges lived in Chicago just previous to moving to Naperville, but they found the city too noisy and crowded, and they wanted more room for the children. When they saw an ad for their present home, with a little acreage, they knew it was just what they wanted.
"I have 50 chickens," said Mrs. George, "several rabbits, lots of fruit trees, and a vegetable garden. This year the Georges will have a smaller garden so Cal can have a little time for golf.
Source: Naperville Sun (September 4, 1952)
---
Meet Naperville's
New Families
Mr. and Mrs. John L. Clay consider themselves very fortunate to have found a home in Naperville. They felt a part of the community immediately, and the homey atmosphere is just what they hoped to find some day in a place that would really be home to them. They moved here in February to their new home at 134 Aurora avenue.
Mr. Clay is an accountant for the Atomic Energy Commission at Argonne National Laboratory at Lemont. He was born in Iowa and raised in Galesburg, Illinois. He was graduated from the University of Illinois in 1932, and then worked for the Caterpillar Tractor Company, in the credit department at Peoria, before going into the service for four years. While in service he spent most of his time at Ft. Benjamin Harrison at Finance School.
He married Viola Starrer, a teacher, from Tremont, Illinois, near Peoria, on October 24, 1342. When John was released from service, he and Viola went to Denver, Colorado, where John got a portion as office and credit manager for a wholesale upholstery, company. He went to work tor the Atomic Energy Commission a year ago and was stationed in Grand Junction, Colorado, for six months, before being transferred to Argonne. The Clays were fortunate enough to find a home in Naperville through the housing department at Argonne.
This is the first time the Clays have had a yard and they have enjoyed working in it this summer. John likes to play golf, but hasn't had time since he came to Naperville. He likes to watch all sports events. Viola enjoys knitting. She just became the director of children's work at the Methodist church, and she feels she will enjoy this part time work.
The Clays especially like the friendliness and cleanliness of Naperville. They felt at home here immediately and believe that they will continue to always feel this is the best home they have ever had!
Source: Naperville Sun (September 4, 1952)
47
---