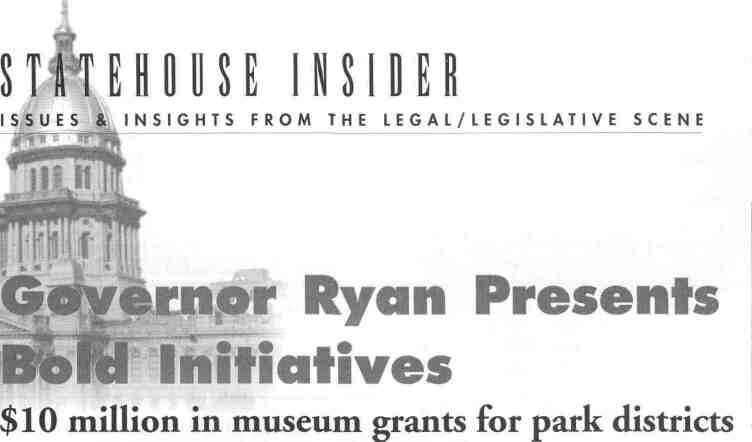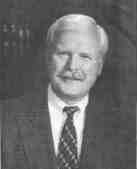 THE LEGISLATIVE SESSION took off to an exciting and fast-paced start when it began on January 11, 1999. For the remaining session calendar, see page 15.
Governor Ryan also hit the ground running by quickly retaining some directors and making new appointments for the state departments. Top on our list of notables is Ill. Department of Natural Resources director Brent Manning, who will continue serving the DNR in the fine manner he has in the past.
Of note as well are the first-time awards for the new Illinois Public Museum Grant Program, which were distributed prior to Governor Edgar leaving office in January. For more on that program and the grants given, seepage 17.
A new legislative session means new initiatives and your associations have made the following items part of the 1999/2000 Legislative Platform. The full platform can be found at the front of this issue of the magazine as a special insert. Here are some highlights.
• Clarify statutory authority to lease parcels of up to 20 acres of property with tax exempt status.
• Restore bonding ability to those park districts without existing authority or with severely limited authority when tax cap bonding amendment was enacted.
• Permit park districts to statuterily accumulate funds for specific capital projects.
• Seek legislation permitting park districts to lease park property to a for-profit corporation if it will be used exclusively for recreational purposes.
• Seek to initiate an increase in funding levels of OSIAD as advocated by Governor Ryan.
• Support efforts of the Illinois Sports Authority to establish a grant program for youth sports facilities.
• Clarify that the use of a referendum approved bond issue does not eliminate a park district's non- referendum bonding ability.
• Seek legislation to exempt the tax for Joint Recreation Programs for the Handicapped from the Property Tax Extension Limitation Act.
• Seek amendment to allow municipalities to use drug seizure money for programs designed for youth at risk.
• Permit park districts to transfer interest earnings from one fund to another at discretion of the board.
• Raise rate ceilings in the corporation and recreation fund levies without referendum (only in tax cap counties) to enhance flexibility in budgeting.
In addition to this exciting and aggressive legislative program we will also be reacting to new bill introductions by other groups and legislators. Some of the more notable of these to date are included in Bill Watch.
Bidding HB 1372 (Hoffman)
Creates the Second Lowest Bidders' Protection Act. Provides that the second lowest bidder on a public works project and any person who entered into a contract with the second lowest bidder who suffers damages as a result of the rejection of a bid for the public works project because the successful bidder violated certain labor Acts may bring an action for damages against the violator/ subject to specified restrictions.
Bingo SB 32 (O'MALLEY, WALSH)
Amends Bingo License & Tax Act; provides that a park district may provide a premise for the conduct of bingo without obtaining a license from the Department.
Computers, Donated HB 497 (Names, Mathias)
To create a program to refurbish and upgrade donated computers as high quality computers for use by children in schools, park district programs, and community centers; requires Corrections Dept. to start a correctional industry whereby donated computers are refurbished by prisoners.
Computer Immunity HB 293 (Frifrchey)
Creates the Local Government Computer Immunity Act and amends the Court of Claims Act, State Lawsuit Immunity Act and the Local Governmental and Employees Tort Immunity Act; provides that no cause of action may be brought against the State or any of its agencies or against a local public entity or employee on the basis that a computer or other information system produced/ calculated or generated an incorrect date, regardless of the cause of the error; other related provisions.
Conservation Congress HB 463 (Novak, Brunsvold)
New Act; the Conservation Congress Act; establishes such in the Natural Resources Dept; provides that Dept. shall
14 Illinois Parks and Recreation
---
ISSUES AND INSIGHTS FROM THE LEGAL/LEGISLATIVE SCENE



adopt rules to administer such; defines congress composition.

Criminal Code SB 7 (O'Malley)
Amends Criminal Code; provides that it is a Class 4 felony for sex offenders to be present in a public park building or grounds, or to loiter on a public way within 500 feet of any of those places when persons under 18 are present in the building or grounds.

HB 408 (L. Long)
Amends Criminal Code; provides that the offense of threatening a public official includes conveying the threat by radio or computer.

Debt Reform HB 473 (Schoenberg)
Amends Local Government Debt Reform Act; provides that, with authorization of the governing body, the treasurer of a governmental unit may join with the treasurers of other governmental units to jointly invest funds in the treasurer's custody.

DNR Appropriation HB 289 (Hartke)
Appropriates $350,000 to Dept. of Natural Resources for the City of Effingham to develop and construct recreational and athletic facilities.

HB 296 (Feigenholtz)
Appropriates $10 million to Dept. of Natural Resources for a grant to the Chicago Park District for repairing the Lake Michigan shoreline.

Emergency Vehicles HB 1396 (Scott)
Amends the Illinois Vehicle Code to provide that the Local Governmental and Governmental Employees Tort Immunity Act shall not be superseded by provisions of the Illinois Vehicle Code requiring public employees who are driving emergency vehicles to drive with due regard to the safety of all persons.

Family and Medical Leave HB 2 (M. Madigan)
New Act; the Family and Medical Leave Act; similar provisions to those in the federal Act of 1 993, except that it applies to employers with 25 or more (instead of 50 or more) workers, and some of the provisions of the federal low regarding federal workers and federal matters have been deleted or changed.

Flex-lime Rights HB 3 (M. Madigan)
New Act; the Flex-time Rights Act; provides that an employer of 25 or more persons must grant leave of up to total of 24 hours during any calendar year to workers who meet specified eligibility criteria.

Freedom of Information HB 538 (Hamos)
Amends Freedom of Information Act; provides that information that is requested to further a commercial enterprise or purpose is exempt from public copying and inspection.

IMRF HB 441 (Giglio)
Amends IMRF Pension Article to compound automatic annual increase in retirement, incremental, disability, and survivor annuities. Amends State Mandates Act.

SB 100 (Burzynski, R. Madigan)
Amends IMRF Article of Pension Code; provides a program of group health benefits for retired employees and their dependents/ survivors. Provides that Fund defray part of cost of participation; active employees shall contribute 1 % of earnings and employees 1.25% of payroll to subsidize participation costs. Amends State Mandates Act.

Intergovernmental Cooperation SB 351 (Geo-Karis)
Amends the Intergovernmental Cooperation Act. Amends the provision governing intergovernmental agreements by providing that agencies created under that Section are not intended to become separate suable entities. Provides that the amendatory Act is not intended to create additional liability exposure for the individual agencies participating in the agreement.

Lease of Land SB 311 (Link)
Amends the Civil Administrative Code of Illinois. Provides that the Department of Transportation may grant a lease of land or property to a governmental unit for a period of not longer than 99 years (now for a period no longer than 5 years.)

Municipal Code HB 390 (Skinner, Lindner)
Amends Municipal Code; provides that if property in a municipality also lies within a park district and is being taxed for recreation purposes by both muni. and park district, then corporate muni. authorities may pay all or part of park district tax to the County Treasurer. County clerk shall abate in proportionate amounts for each parcel the tax extension of the park district.

Open Space HB 211 (Slone, Winters, Lindner, Scott, Lawfer)
Creates the County and Municipal Open Space Law; authorized the acquisition of open space areas for the preservation and maintenance of open land, scenic roadways, and pathways; provides for hearings; authorizes bonds issuance and tax levies; creates the Farmland Development Rights Law.

SB 1087 (Karpiel)
Creates the Illinois Open Land Trust Act. Allows the DNR to develop and administer a program to acquire real property for conservation and recreation purposes, to make grants and loans to units of local government and not-for-profit corporations for such purposes.

Prevailing Wage HB 1375 (HoffmanLang)
Amends the Prevailing Wage Act and the State Finance Act. Provides that the Deportment of Labor shall complete its investigation of a complaint alleging a violation of the Prevailing Wage Act within 90 days after it is filed. Provides that, if the Deportment of Labor has not made a final determination on a complaint within 1 80 days after it is filed, the Director of labor shall refer the complaint to the Attorney General, who shall then determine whether to sue to enforce the Act and prosecute violations. Requires contractors and subcontractors covered by the Act to post the prevailing wage rates at a location that is easily accessible to employees engaged on the project. Provides that failure to complete with a subpoena is a violation of the Act. Creates the Prevailing Wage Enforcement Fund as a special fund in the State treasury. Provides that penalties collected for violations of the Prevailing Wage Act shall be deposited into the Fund and moneys in the Fund shall be used to conduct investigations under the Act.

Property Rights HB 110 (Lawfer)
New Act; the Properly Rights Preservation Law & the Relief for Diminished Property Value Law; requires Attorney General to provide to

SPRING SESSION DATES
Illinois House of Representatives
March 2-5, 9-13, 16-20, 22-26
April 14-16, 20-23, 27-30
May 3-7, 11-21


Illinois Senate
March 2-4, 9-11, 16-19, 23-26
April 14-16, 20-22, 27-29
May 4-7, 11-14, 18-21


IAPD LEGISLATIVE CONFERENCE
May 4-5 Springfield Hilton

March/April 1999 15
---
STATE HOUSE INSIDER
state & local agencies guidelines to assist in identifying and evaluating state-local government actions that may result in taking of private property such that compensation to the owner is required under the state of U.S. Constitution; requires such agencies to assess whether a government action may result in such a taking of private property; provides a cause of action for owners and enforcement by the Attorney General.
SB 26 (Petka)
Limits the eminent domain activity of units of local government. Prohibits the taking of property for recreational purposes if owner occupied.
Property Tax Code SB 37 (Peterson)
Amends Property Tax Code regarding filing of tax objection complaints in counties under 3 million; provides that county clerk shall notify each taxing district that may be affected by the complaint of the reason for the tax objection; exempts Mandates Act; other provisions.
SB 104 (Radogno)
Amends Property Tax Extension Law in Property Tax Code; provides that for levy years before 1999, taxing districts reducing their aggregate extension for the preceding year shall use the highest aggregate extension in any of the last 3 years for computing the limited rate. For 1999 levy year and after, if the aggregate extension is less than the amount authorized, the difference may be added to the numerator in computation of the limiting rate for succeeding years.
HB 109 (Lindner, Skinner)
Amends Property Tax Code; provides if governing authority of a taxing district determines that a surplus of funds is available for a special purpose, the authority may abate all or part of the extension for that special purpose for the year.
HB 263 (Giglio)
Amends the Property Tax Code; provides that beginning with the 1999 levy year, assessor may not increase the value of a tract or lot of land by more than 5% over the assessed value of the previous year, unless the value increase is due to new or added buildings, structures, or other improvements or if the amount of increase in value exceeding 5% was established in the sale of the property in an arms length transaction.
HB 1327 (Cowlishaw)
Amends the Property Tax Code. Provides that a taxing district may intervene in any case in which an objection is filed against the taxing district's levy by filing an appearance in the case with notice. Provides that the taxing district is then responsible for defending the levy and the State's Attorney is relieved of the defense. Provides that the taxing district may also then participate in the court conference with the objector. Effective immediately.
Speed Limits HB 482 (Scott)
Allows a park district, city, village, incorporated town, or county board to adopt an ordinance which changes the maximum speed limit on roads within their jurisdiction by publication of notice in a newspaper of general circulation at least 3 times, with the last publication coming not less than 30 days prior to the implementation of the change.
Tux COD SB 345 (Parker)
Amends the Property Tax Extension Limitation Law in the Property Tax Code. In the definition of "aggregate extension" for taxing districts that were not subject to the law before the 1995 levy year (except those taxing districts subject to the law by referendum) excludes extensions made to fund the district's expenses to provide recreational programs for the handicapped under the Park District Code.
Truth in Taxation SB 36 (O'Malley)
Amends Truth in Taxation Law; requires taxing districts to hold public hearings on their intention to adopt an aggregate levy; sets uniform dates for the public hearings of local taxing districts; exempts Mandates Act.
Vehicle Code SB 101 (Parker)
Amends Vehicle Code; For liability purposes, provides that bicyclists are intended users of all streets and highways in Illinois except those where bicycles are prohibited.
SENATE LEADERSHIP
Senate President James Philip announced the following Republican leadership appointments: Sen. Stanley B. Weaver, majority leader; Sen. Adeline J. Geo- Karis, Sen. John W. Maitland, Sen. Laura Kent Donahue, Sen. Frank Watson and Sen. Walt W.Dudycz, assistant majority leaders; Sen. Doris C. Karpiel, caucus chair;
Sen. Edward F. Petka, majority whip. Minority Leader Emil Jones announced the following Democratic leadership appointments: Sen. Vince Demuzio, Sen. Miguel del Valle, Sen. Patrick Welch, Sen. William Shaw and Sen. James DeLeo, assistant minority leaders; Sen. Margaret Smith, caucus chair; Sen. Evelyn Bowles, deputy caucus chair; Sen. Debbie Halvorson, minority whip; Sen. Louis Viverito, minority whip.
PHILIP APPOINTS COMMITTEE CHAIRMEN
Sen. James Philip has appointed the following chairmen and vice chairmen to the Senate standing committees:
Agriculture & Conservation, Sieben (Ch.), Noland (VC); Environment & Energy, Mahar (Ch) Maitland (VC); Executive, Klemm (C) Petka (VC); Judiciary, Hawkinson (Ch) Dillard (VC); Local Government, Dillard (Ch) Lauzen (VC); Rules Weaver (Ch) Dillard (VC).
HOUSE LEADERSHIP
House Majority Leader Michael Madigan has announced the following appointments to the Democratic leadership: Rep. Barbara Currie, majority leader; Rep. Ralph Caparelli and Rep. Art Turner, deputy majority leaders; Rep. Kurt Granberg, Rep. Gary Hannig, Rep. Lou Jones, Rep. Chuck Hartke, Rep. Joel Brunsvold and Rep. Lou Lang, assistant majority leaders; Rep. Edgar Lopez, majority conference chairman.
House Minority Leader Lee Daniels has announced the following appointments to the Republican leadership: Rep. Art Tenhouse and Rep. Tom Ryder, deputy minority leaders; Rep. William Black, Rep. Kathleen Wojcik, Rep. David Leitch, Rep. Ron Stephens, Rep. Dan Rutherford and Rep. Tom Cross, assistant minority leaders; Rep. Patricia Lindner was named Republic conference chair.
$10 MILLION IN MUSEUM GRANTS
Grants totalling $10 million were awarded in January to 30 public museums in Illinois to help expand facilities and create new exhibits. They represent the first awards through the five-year, $50-million Public Museum Capital Grants Program created by the Edgar administration last year.
Each dollar in state funding requires an additional $2 in matching funds through local public or private support. The capital grant program is
16 Illinois Parks and Recreation
---
ISSUES & INSIGHTS FROM THE LEGAL / LEGISLATIVE SCENE
administered by the Dept. of Natural Resources and is available to Illinois museums operated by or located on land owned by a unit of local government.
For additional information, contact the Illinois State Museum, Spring and Edwards, Springfield, Illinois 62706-5000, 217.782.7388.
Adler Planetarium & Astronomy Museum (Chicago)
$75,000 to renovate and expand the addition of the "Sky Pavilion," including the world's first Star Rider virtual reality planetarium theater.
Arlington Heights Historical Museum
$10,000 for the initial phase of a four-phase project to design and implement climate control systems for the museum's three historic buildings.
Art Institute of Chicago
$850, 000 to expand and renovate the historic 1893 Allerton Building.
Batavia Park District Depot Museum
$50,000 for a project that includes the addition of a classroom, research area and archival storage space to the Depot Museum.
Buffalo Grove Park District Raupp Memorial Museum
$150,000 fora planned addition to the museum for new exhibits, added programming, and storage space for collections.
Burpee Museum of Natural History (Rockford)
$450,000 for a museum addition to house new paleontology, biology and ethnology exhibits, as well as new classroom and collection storage areas.
Chicago Academy of Sciences Peggy Notebaert Nuture Museum
$33, 000 for a project that includes construction of exhibits for the Peggy Notebaert Nature Museum.
Chicago Athenaeum - Museum of Architecture and Design
$200, 000 toward this museum campus in Schaumburg which will educate a new audience about the vitality of Chicago as an international art center and the significance of art, architecture and design in the human environment.
Chicago Botanic Garden leaching Center (Glencoe)
$850, 000 toward this project, which will include the construction of "The Enabling Garden" for people with disabilities; redevelopment of the existing Teaching Center as an educational facility; and the addition of a new Education and Administration Hall.
Chicago Historical Society
$550, 000 for the renovation of the Sewell Visitor Center.
Chicago Zoological Park Brookfield Zoo
$850, 000 for a new 3.6- acre exhibit, "Habitat Africa! The "Forest" will include outdoor trails and a building that features unique animals of the central African rainforest.
Elk Grove Village Park District Farmhouse Museum
$50, 000 for a project that includes the construction of a visitor center and classroom, new exhibits and the exterior-interior restoration of the circa 1856 farmhouse.
Field Museum of Natural History (Chicago)
$850, 000 for a project that will include preparation and exhibition of a rare Tyrannosaurus rex fossil dating bock 65 million years.
Glenview Park District, The Grove National Historic Landmark
$20, 000 for the construction of a new greenhouse adjacent to The Grove Interpretive Center will provide a programming area to explain wetlands ecology and function.
John G.Shedd Aquarium (Chicago)
$850, 000 for a project that includes the redesign of all galleries in the original building and the addition of two new wings.
Lake County Forest Preserves, Lake County Museum
$250, 000 for a new permanent exhibition presented as "The Lake County Mall of History" will include 1 1 unique store environments that will tell the story of Lake County settlement and development from ancient native Americans to current social
Lincoln Park Zoo (Chicago)
$850, 000 to rebuild the 30-year-old Sea Lion Pool, making it into a contemporary facility.
Madison County Historical Museum (Edwardsville)
$25, 000 toward the purchase and restoration of the building adjacent to the current museum.
Mexican Fine Arts Center Museum (Chicago)
$320, 000 for the expansion will increase cultural opportunities for youth and families as it promotes tourism in the Pilsen-Little Village Community.
Midway village and Museum Center (Rodcford)
$200, 000 to provide quality care of collections and eligibility for high quality traveling exhibitions.
Museum of Science and Industry (Chicago)
$850, 000 for three new permanent exhibits: "Enterprise," which includes a management learning lab and the National Business Hall of Fame; and "Networld."
Park District of Oak
Park Eartg Shelter Interpretive Center
$100, 000 for construction of an Earth Shelter Interpretive Center to be located adjacent to the historic 1929 Oak Park Conservatory.
Oregon Park District Chana School Museum and Education Center
$15, 000 for moving and restoring an 1883 two- room schoolhouse to its original design; restoring sand hill prairie on the site to integrate ecological and historical roots; development of exhibit space which will enable the museum to present programs and exhibits; and establishment of learning links to other museums to support the rural education focus of the curriculum.
Riverfront Museum Park • Rockford Art Museum and Discovery Center Museum
$150, 000 to create science exhibits, renovate a science classroom, establish a new interactive information area, and create an accessible vestibule connection to an underground tunnel between Riverfront Museum Park and the Burpee Museum of Natural History as part of the development of the museum campus.
Skokie Park District Emily Oaks Nature Center
$100, 000 for a new interpretive exhibit, "Woodland Wander Inn," will include 17 interpretive stations in the discovery room and interpretive signs along nature trails.
Smith Museum of Stained Glass Windows and American Art (Chicago)
$ 100, 000 toward the establishment of a museum at Navy Pier.
Tinker Swiss Cottage Museum (Rodcford)
$100, 000 to restore the Tinker Swiss Cottage and place the museum within its 19'1' century context.
Urbana Park District Anna Purves Nature Center
$25, 000 for new exhibits to enhance educational programs at the facility.
Village of Addison Historical Museum
$55, 000 toward the purchase of the historic 1 892 Balzar house.
West Chicago City Museum
$50, 000 for the Expansion 2000 project, which includes renovation of the existing facility. 
CORRECTIONS
Please note the following corrections to the chart of referenda results published in the January/February issue of IP&R:
• Clarendon Hills Park District's bond proposition was in the amount not to exceed $4.9 million.
• The Oakbrook Terrace Park District did not have a referenda on the ballot.
• Both propositions by the Urbana Park District failed.
March/April 1999 ¦ 17
---