Illinois
Currents • News • Legislation • Trends • Research •
---
Soyland Power Cooperative forges new alliance

Soyland Power Cooperative has joined forces through a strategic alliance with Allegheny Electric Cooperative of Harrisburg, Pennsylvania. In separate actions the week of March 13, the boards of directors of both generation and transmission cooperatives (G&Ts) voted to create a new operating entity, which will initially be called Continental Electric Cooperative Services (CCS). It will be based in Harrisburg.
"Operations on this scale will enable us to compete with the larger generation entities that are emerging in the deregulated marketplace," explained Allegheny President and CEO Frank M. Betley, who will head CCS. "This will help us maximize the effective procurement and sale of electricity to our member cooperatives."
The alliance makes sense, said Soyland President/CEO Joseph Firlit. "Soyland's distribution cooperatives, which are facing electric competition in the near future, gain the benefit of tapping into the expertise Allegheny has developed over the past three years while operating in Pennsylvania's competitive retail electricity environment."
Estimated general and administrative cost savings alone from the alliance are expected to total $1.4 million to $2.8 million annually.
CCS will have available to it the retail marketing capabilities of American Cooperative Services (American), the non-profit, electric generation supply affiliate of Pennsylvania and New Jersey electric co-ops. American is currently selling retail electricity to residential, small business and industrial customers served by private power companies in Pennsylvania.
The new power co-op will serve a combined load of approximately 1,000 megawatts and will be governed by a 27-member board of directors composed of one representative from each of Allegheny's 15 member cooperatives, and Soyland's 12 member cooperatives in Illinois.
"The bottom line for the nearly 300,000 members we serve, is that we're creating a stronger, more flexible, less risk-adverse organization with significantly lower overhead costs," said James E. Coleman, Soyland board chairman. "By increasing size and negotiating power, CCS will be well-positioned to better achieve our original G&T mission - providing a reliable source of power for cooperative consumers at the most competitive price."
Keep your little ones safe
Little children, especially toddlers and crawlers who love to explore their surroundings, can't seem to resist the urge to pick up small objects on the floor, or to place those small objects into electrical outlets. And they're just too young to understand the dangers.
So it's up to you to watch out for them. Be sure to shield all your outlets with child safety covers; for frequently used outlets, you can buy the type of cover that slides out to allow a cord to be plugged in.
Never leave light bulb sockets empty! It's a good practice to leave a burned-out bulb in place until you can replace it. That empty socket, especially if it's in view of a toddler, is very tempting.
Also, keep small objects off the floor as much as possible. Pennies, hairpins, and other small things, especially metal ones, represent a real risk to your small child.
Source: Fayetteville (NC)
Public Works Commission
6 ILLINOIS COUNTRY LIVING MAY 2000
---
Rural communities must develop telecommunications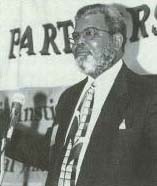 "Without telecommunications rural communities will die," said Jim Beatty, a nationally recognized consultant, at the Rural Community Economic Development Conference in Springfield, March 8.
Jim Beatty, the man praised by the Wall Street Journal as "one of the nation's tel-economic consultants," said "You must become cyber-communities if you're going to succeed." Beatty, CEO of NCS International, Inc., was a featured speaker at the Rural Community Economic Development Conference, held March 8, in Springfield.
"It doesn't matter who serves rural areas, but it's very important that somebody does," he said. "I want to make sure rural areas have telecommunications capability. But the big players are overlooking the rural market. They don't even know that you exist. As a matter of fact, they just don't care."
Beatty said that rural communities have to fight for their economic survival. "You must be your most vocal lobby. Corporate America doesn't know where you are, and the politicians don't either. Invite them to your community. Visit them and get to know them," he said.
Studies may help, said Beatty, but they're just the initial step. "Step two is implementation," said Beatty.
There are no rules, he said, but he offered Evanston as one example of an aggressive telecommunications community.
"Evanston, a community of 75,000 in northern Illinois, decided to provide all its residents with telecommunications capability free. They set up a not-for-profit entity to provide e-mail and Internet service for all. There were a lot of 'construction delays' and bumpy roads, and problems to overcome, but they stuck with it and now the residents who want it all have free telecommunications," he said.
Change in a community takes fewer than six people who say, "This is what we want, and we're unwilling to settle for anything less," said Beatty.
Beatty also reminded the audience that cooperation with other rural communities is critical to success. "Don't refuse to work with the next town because their ball team whupped up on yours years ago," he said.
An energy tip for all of us
One of the most important things you can do to save energy won't save you any money on your power bill, but it could save energy and money for all of us, today and in the future. It's recycling.
You may think of recycling as something we do to keep our landfills from filling up, but recycling is also an important energy saver. It takes 60 percent less energy to recycle paper than it does to make paper from new timber. Making an aluminum can from recycled metal takes an amazing 95 percent less energy than making new aluminum from scratch. And the energy saved by recycling a glass jar will keep a light bulb burning for four hours.
So the next time you recycle, remember: you're saving energy as well as landfill space!
Source: Environmental Systems of America Inc.
Air conditioning season is here
If your old air conditioner is on its last legs and you're planning to replace it, keep in mind that today's air conditioners are far more efficient than earlier models • and there's more information available to help you make the energy-wise choice. Today, manufacturers are required to provide information on their units' efficiencies, based on the Seasonal Energy Efficiency Ratio (SEER) or Energy Efficiency Ratio (EER), i.e., the higher the SEER or EER, the better.
Even now, efficiencies among air conditioners range widely. The best air conditioners on the market are up to 70 percent more efficient than average systems; a typical room air conditioner has an EER of 9, while the best units have an EER of 12. In one study, a highly rated room air conditioner cost only $70 more than a unit with average efficiency. That difference in efficiency means that the more expensive unit will pay for itself in energy savings over a shorter period of time. Plus, your bills will be lower, and you'll be cooler.
Questions about air conditioners and efficiency? Contact your local electric co-op. They will be glad to show you how to save money during the hot summer months.
MAY 2000 ILLINOIS COUNTRY LIVING 7
---
U.S. electric prices at nine-year low
U.S. electric prices decreased for the fifth straight year in 1998, falling at a faster rate than previous years in the past decade and moving average prices to their lowest mark since 1990, according to the Energy Information Administration (EIA).
Price declines were experienced across all major consumer sectors, including the residential sector, EIA said.
"The average price for all electricity customers in the U.S. was 6.74 cents per kilowatt hour (kwh) in 1998," the agency said. New Hampshire, whose utilities depend on higher-cost nuclear and non-utility power contracts, had the highest average price at 11.93 cents per kwh. Idaho, which uses lower-cost hydroelectric generation, had the lowest average price for all electricity customers at 4.20 cents per kwh.
Overall, the national average monthly residential power bill dropped by 2 percent in 1998 despite a 4.8 percent increase in average monthly energy consumption.
Sources: Energy Information Administration; Energy Central
Utility mergers keep pace with record-breaking economy
"It's truly a fascinating time to be in the energy business today," said Sheldon Petersen, president and CEO of the co-op owned National Rural Utilities Cooperative Finance Corporation (CFC). CFC provides the capital for the majority of co-ops that have paid off their USDA Rural Utility Services debt.
"Without question, everything in the world is changing," Petersen said during Soyland Power Cooperative's annual meeting. "I'm certainly familiar with some of the challenges facing the farming economy right now. But this truly has been an incredible period of time in the economy in general. There are record-breaking numbers, absolutely phenomenal growth in the gross domestic products, due largely by consumer spending. The unemployment rate is at a 30-year low. The inflation rate 1.9 percent, the lowest level since 1965," said Petersen.
At the same time, deregulation is fundamentally changing the utility industry. "In most states we are seeing reasonable periods in which to make the transition from being monopoly businesses to being competitive businesses," he said.
But to compete with large multi-national energy companies, co-ops will need to continue to pursue new alliances with other co-ops. Illinois' two generation and transmission cooperatives, Soyland Power and Southern Illinois Power Cooperative have both pursued new alliances that will help ensure reliable and affordable power supplies for co-ops in a competitive environment.
Petersen gave just one example the type of competition co-ops will face in a deregulated market. "I'm originally from the state of Iowa," he said. "My father spent 41 years with Iowa Public Service Company. In the last few years, Iowa Public Service Company has merged with Iowa Power and Light, become Smith-West Energy, which then merged with Iowa-Illinois Gas/Electric to become Mid-American Energy which was then sold to an independent power marketer called CalEnergy. That organization is now being bought by Warren Buffet's Burkshire Hathaway Investment Company."
Free energy efficient home seminars

Two seminars on "Designing for Energy Efficiency" with Doug Rye will be held this month in Springfield and Quincy. These seminars are for homeowners, home builders, heating and cooling contractors, architects, lenders, appraisers and real estate agents
A licensed architect and nationally recognized residential energy consultant, Doug Rye is host of the weekly radio series "Home Remedies" and several TV productions on energy saving construction techniques. Co-op members that have attended his seminars before have said: "Excellent, Doug makes good sense!" ... "Doug Rye is absolutely fantastic!" ... "Best three hours ever invested!"
Topics will include: home design, construction techniques, air infiltration, caulking, insulation, window & doors, lighting, water heating, appliances, ventilation, ductwork, heating and cooling systems, geothermal heat pumps and energy efficient mortgages.
Where and when
6:00 p.m. - 10:00 p.m. • May 17th • Northfield Inn, 3280 Northfield Drive Springfield, Illinois • (217) 523-7900.
And
6:00 p.m. - 10:00 p.m. • May 18th • Quincy Holiday Inn • 201 South 3rd Street Quincy, Illinois • (217) 222-2666.
The seminars are free, but seating is limited. Advance registration is encouraged. Call Soyland Power Cooperative, phone (800) 543-5385.
Medical care costs outpacing inflation
Medical care inflation continues to outpace general inflation, with prescription drug costs growing more quickly than other health care services and supplies.
Drug costs were up more than 22 percent during the 12-month period ended July 1998, While many of these drugs treat conditions that once required surgery, others treat conditions that could be controlled or cured with lifestyle changes or are cosmetic in nature.
To make sure you and your medical plan are getting your money's worth, request generic drugs or less expensive brand name drugs when they are available. And, for more out-of-pocket savings and larger quantities, consider using a mail service pharmacy for maintenance (long-term) medications.
Source: On the Wire, a publication of NRECA's Retirement,
Safety & Insurance Department
8 ILLINOIS COUNTRY LIVING MAY 2000
---