Franklin Creek State Natural Area
Daring to Dream
BY Liz PENSONEAU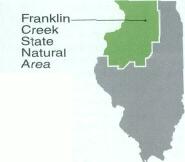 In the spirit of an old-fashioned barn raising, members of the Franklin Creek Preservation Area Committee completed reconstruction of a four-story operating grist mill at the first park site in Illinois-and perhaps the nation-to be built entirely with volunteer labor and contributed materials. It's an American dream-type story that spans nearly two decades and involves a unique partnership with state government and the private sector.
It's a classic American story, reminiscent of the days when people made a practice of helping each other, donating what they could, whether it be property, money, labor and/or wisdom, for a cause in which they believed.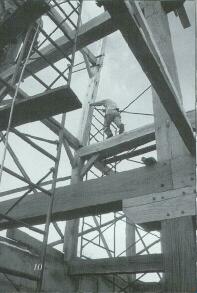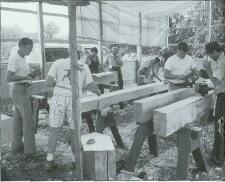 People helping people.
The concept took shape in 1981 when concern existed in the Lee County community of Franklin Grove that a stone quarry would be established on property adjacent to idle state-owned land. Winifred Knox of Franklin Grove had donated 100 acres of land in 1970 for wildlife preservation, and the National Land Institute had purchased additional land along Franklin Creek during the 1970s. Convinced that this pristine land would be better utilized as a state site, a group of interested citizens organized the Franklin Creek Preservation Area Committee and approached the (then) Department of Conservation with a proposal for developing the property. It offered to fund the project with private contributions, utilizing volunteers to install electrical service and lighting, construct shelters, restrooms and picnic tables, build trails, dig wells and eventually rebuild a 19th century grist mill that had operated at the location.
The department's end of the deal was to take over maintenance operations once the initial work was completed. It was an offer the state couldn't refuse. True to its end of the bargain, the state named Elmer Stauffer site superintendent in 1986, and today he oversees the 664-acre site of which 180 acres is a dedicated nature preserve. And, as of Sept. 25, the partnership between the committee and DNR has a crown jewel: the newly reconstructed Franklin Creek Grist Mill.
10 OutdoorIllinois
---
As the Franklin Creek Preservation Area Committee was pondering how to raise more than $40,000 to qualify for a matching grant from the Illinois Department of Commerce and Community Affairs' Tourism Grant Program, 96-year-old Henry Fruit surprised those at the meeting by pulling out his checkbook, borrowing a pen and writing out a $40,000 check. Fruit's generous donation kicked off the reconstruction of the former Franklin Creek Grist Mill at the Franklin Creek State Natural Area. It was Fruit, a life-long resident of Franklin Grove, who was asked to turn over the first shovelful of dirt at the groundbreaking ceremony in 1992. Pictured with Fruit are Ivan Hullah (1), founder of the committee, Ellen Baker, project chairperson, and her husband Donald Baker, project coordinator. Ellen Baker also serves on DNR's Conservation Congress Executive Committee.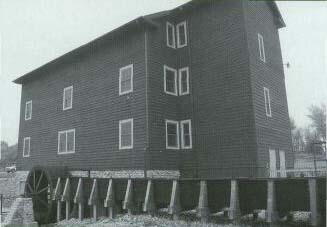 One of a kind
It was a the culmination of a dream when the state's only truly water-powered grist mill ground cornmeal for the public for the first time on Sept. 25, after a seven-year construction period. Volunteers had raised more than $430,000 to erect the four-story grist mill, utilizing their own labor and sweat. The basement and first floor are used for the actual grinding and milling operation, while the second and third floors are planned as a Burning center. Paul Schmidt of Polo sawed the lumber, including the 43 different woods native to northern Illinois that comprise the walls on the second floor. The origial grist mill was built in 1847 by the Rev. Joseph Emmert and his son-in-law Christian Lahman, whose sons operated the mill until 1870. Robin Lahman, a fifth-generation descendant, turned over an 1852-1860 daily log book from the original mill, showing proceeds of $5,000 in 1854-55.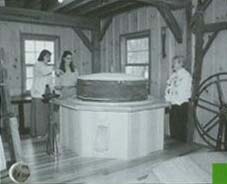 Amanda Holt (I), Karen Holt and Mary Swegle on the first floor of the grist mill.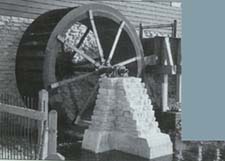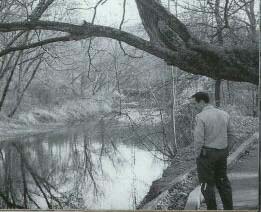 Mobility Enhancement Trail
Site Superintendent Elmer Stauffer pauses along the 5-foot-wide handicapped accessible trail leading to the Mill Spring. The trail and concrete sidewalk were constructed by volunteers who raised money for the project by selling sponsorships of each foot of the trail for $5. Stauffer says the trail is tremendously popular and that each year local retirement village residents pay a visit to the clear, natural spring. One faithful visitor is a 109-year-old resident who says she has to get a drink of the spring water to "keep her going." Since another regular visitor is 104, it leads one to believe they may have discovered the proverbial "Fountain of Youth." At any rate, Stauffer says the water at Mill Spring is "the best water you've ever tasted."
January 2000 11
---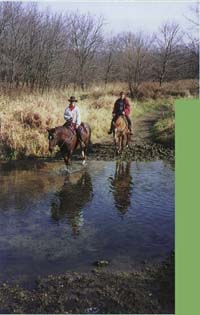 Equestrian opportunities
Jewel Sobeck (1) and Jeanne Eberhardt of Sandwich enjoy the 6-mile equestrian trail at Franklin Creek State Natural Area, where Class C overnight equestrian camping is available for $7 per unit. There are no showers or electricity, but there is drinking water, picnic tables and a shelter for picnics. The vehicular-access campground also attracts patrons from nearby Lowden-Miller State Forest, which has newly opened equestrian trails, but no equestrian camping. Superintendent Stauffer says the Rock River Trail and Horsemen's Association, a local equestrian club, and members of Franklin Center FFA have been instrumental over the years in maintaining and developing the trails on the l80-acre parcel previously used for farming. Trails are closed for a couple of months each spring when the ground is soft.
Nature lover's paradise
The forested areas provide habitat for any species of nongame wildlife. Woodpipers, flycatchers, thrushes, vireos and warblers are among the breeding birds on the site. The area provides critical stop-over habitat for many more species during migration. Great blue herons and green herons have been observed here. Mamma utilizing the area include raccoons, chipmunks, gray and fox squirrels, beaver and deer. Shrews, white-footed mice, weasels and fox may also seen. Nineteen species of fish have been recorded in Franklin Creek.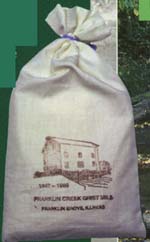 In Leslie C. Swanson's 1963 publication. Old Mills in the Mid-West (Illinois and Iowa), he points out that there once were 2,800 mills in Iowa and Illinois. By 1963, he said that number had fallen to less than three score of them.
"A mere handful of mills is still engaged in grinding grain although the water method of operation has long been superseded by electric or other power equipment. Others have been maintained as empty and idle monuments by private owners, some have been converted into other uses such as storage buildings. livestock shelters, barns or residences while others live on in a dilapidated condition.
"New interest has developed in old mills in recent years as a part of the general awakening of the populace to Americana in all its forms. Americana fans delight in wandering through the old structures, probing through their dusty and cobwebhed interiors where such visits are permitted. In some areas old mills are rivaling covered bridges as tourist attractions.''
12 OutdoorIllinois
---
Passing the time away
Franklin Creek State Natural Area, 8 miles east of Dixon, has been a favorite local recreation site for years. It's the perfect retreat for hiking enthusiasts and for fishermen like Ellwyn Swegle who like to fish in a relaxed environment.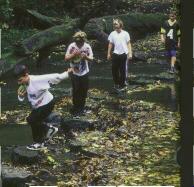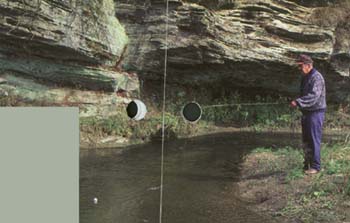 Franklin Creek Facilities:
Camping: Equestrian camping only. Class C.
Picnicking: Picnic tables, grills and five shelters.
Trails: 6 miles of equestrian trails; 4 1/2 miles of hiking trails, including Mill Spring Trail (handicapped accessible) and Pioneer Pass (natural beauty trail).
Fishing: Mill Pond and the state-owned portion of Franklin Creek. Ice fishing allowed on Mill Pond. Smallmouth bass, channel catfish, carp, redhorse and rock bass.
Hunting: Archery deer hunting and spring and fall archery turkey hunting are allowed on 180 acres north of Franklin Creek.
Snowmobiling: With a 4-inch snow base, snowmobiling is allowed on 4 miles of equestrian trails after hunting season closes.
Cross-country skiing: Ski through 65 acres of rolling, wooded landscape on 2 miles of equestrian trails after the close of hunting season. Other: Equestrian show arena.
Grist Mill:
Serves as visitor center for natural area. Milling demonstrations. Handicapped accessible.
Open weekends from April 1 to Nov. 1 or anytime by appointment.
Telephone: (815) 456-2718 to schedule appointment, or contact the park office, (815) 456-2878.
Information You Can Use:
Address: Franklin Creek State Natural Area, 1872 Twist Rd., Franklin Grove 61031 (815) 456-2878
Website: http://dnr.state.il.us/lands/landmgtparks/franklin.htm
Directions: Travel east of Dixon or west of Rochelle to Franklin Grove on Route 38. At Franklin Grove, turn north on Daysville Road, traveling one block to Old Mill Road. Turn left (west) on Old Mill Road and proceed 1 mile to the natural area.
From Oregon. Take Route 64 east out of Oregon, over the Rock River, to the Daysville Road intersection (at the traffic light). Turn south on Daysville Road, traveling 10 miles to the outskirts of Franklin Grove. Turn right onto Old Mill Road and proceed 1 mile to the natural area.
Winter sports

If you like to cross-country ski or ice fish, Franklin Creek State Natural Area is for you. Snowmobiling is also allowed with a 4-inch snow base.



January 2000 13
---