Muskie Mania
---
Once called the fish of 10,000 casts, muskies are attracting Prairie State anglers.
BY GARY THOMAS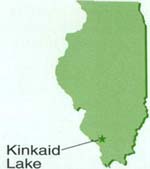 " Muskie fishing is an extreme sport," says Al Nutty. "It's like going out to play a round of golf and only counting holes in one. This is an idealistic sport. There's a lot of anticipation, but the pay-off is small compared to the investment."
That sounds like the voice of someone disenchanted with muskie fishing, but Nutty is a dyed-in-the-wool muskie angler and guide on southern Illinois' Kinkaid Lake. He just thinks he's a realist.
"This sport is an obsession," he says. "No fish provides the thrills this fish does. You'll see guys out in bitter cold weather, braving howling winds in terrible winter conditions, with reels freezing up, fingers freezing and all for the chance to just see a fish. Muskie fishing fosters a mystique that defies description."
Nutty started fishing for muskies about six years ago-throwing bass lures and using bass fishing equipment. Today his boat carries St.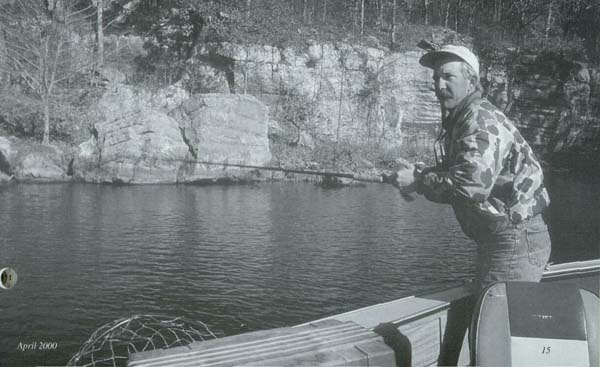 April 2000 15
---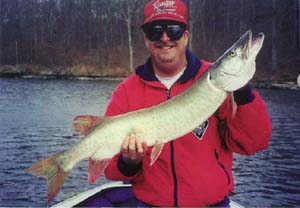 Muskie guide Al Nutty took this photo of Gary Dew, DeKalb, with a 38-Inch long muskle he caught at Kinkald Lake. After the photo, the fish was returned to the water.
Croix muskie rods matched with heavy-duty reels filled with 60-pound test superbraid line and 110-pound wire leaders. Lures range from small 6-inch bucktail spinners to 14-inch jerkbaits. It's a heavy-duty arsenal.
"A lot of this is because I've grown with the sport, and a lot is because the fish have grown," Nutty says. "The muskie is capable of humbling you quicker than any other species. If you hook into a big fish, you better be able to handle him. If it wraps your line around a tree, your line will snap in a heartbeat."
And muskie lures aren't cheap. A typical one can cost from $8 to $20, and some custom-built lures sell for up to $50. But those prices don't scare off many anglers.
The muskie has never been very common in Illinois. It always has lived in one or two lakes in the state, plus in Lake Michigan, the Mississippi and Fox rivers, but catches were isolated. Today, muskie are stocked regularly in 10 lakes, while another seven have populations of tiger muskie (a northern pike/muskie hybrid species).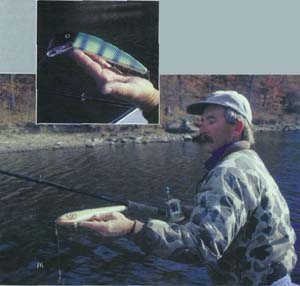 A typical muskie lure will be 8 to 10 Inches long and cost from $8 to $20, but those prices don't scare off many muskie anglers.
The muskie used to be described as the "fish of 10,000 casts." That meant you would catch one muskie for about every 10,000 casts. That has changed. Anglers know a lot more about the fish, and they know what the fish is looking for and where it is looking.
"This doesn't mean they're easy to catch," Nutty says. "They're still tough. If you go out and hook into three muskie, you've had a really good day on the water."
Perhaps the biggest reason this fish is caught more often today is catch and release fishing.
"Muskie anglers are fanatics about catch and release," Nutty says. "In the past, muskie were caught and killed. Today's muskie anglers handle the fish as gently as a baby. Most muskie anglers go fishing to catch a big fish and then a bigger fish. Catch and release fishing is for the betterment of the sport. If you want to catch 7-pound bass, you have to put 5-pound bass back. If you want to catch a 40-inch muskie, you put the 30-inch muskie back."
Some anglers are so fanatical about catch and release fishing that many fish never make it into the boat. Once they are alongside the boat, they are netted, the hook removed and the fish released while still in the water. Larger fish are lifted into the boat, a photo taken
16 OutdoorIllinois
---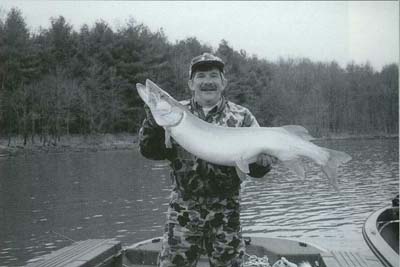 Guide Al Nutty holds up a 42-Inch muskie he caught at Kinkald Lake last year. The fish spent less than a minute out of the water.
and the fish quickly returned to the water to provide the same thrill for another angler.
"This also can be a very strenuous sport," Nutty says. "You use heavy action 71/2-foot rods and cast 4- to 5-ounce lures. Do this all day and your shoulders and arms will feel it. It's a lot different than casting 3/8-ounce bass lures on a light action 6-foot bass rod."
While guiding for muskies is a tough business, Nutty's motto is: "Refuse to lose."
And "refuse to lose" is something Nutty understands. While working at a quarry when just 20, he was caught in machinery and broke his back, bruised every major organ and almost lost an eye. He wasn't expected to make it to the hospital alive. He was paralyzed for 31/2 years, in a wheelchair for 51/2 years and in therapy for 71/2 years. But he walked out of the hospital from his final therapy without the use of a crutch or cane. Now 41, he and his wife, Brenda, and their daughter Allyson, live in Carterville.
A native southern Illinoisan, Nutty learned fishing from his mother and grandfather while growing up in Johnson County. But guiding was never anything he planned to do.
"I was doing advertising sales for an outdoor magazine, and I started getting telephone calls from anglers wanting to know where they could hire a muskie guide," he says. "I tried to find guides, but none of the local ones wanted to fish for muskies. I finally agreed to take a couple of anglers out. I've been doing it ever since."
Nutty does about 80 trips a year, but he does it a little differently, putting his clients in the front of the boat so they get the first chance to fish areas while he operates the trolling motor and fishes from the back of the boat.
Nutty fishes for muskie from late January through February when weather permits, then from March through June. He starts fishing for them again in early October and continues through December.
"Muskie can be caught during the hotter summer months, but I usually don't fish then," he says. "Despite being a big fighter, they don't hold up well during the hot months. They are easy to stress in warm water, so I just leave them alone those months."
That's not to say Nutty stops guiding then. He just turns his attention to other lakes and fishes for bass and crappie-plus takes clients night fishing for rainbow trout and bass at Devils Kitchen Lake.
Have a question? Just ask.
Muskie anglers are neighborly fishermen. They stop and talk with one another throughout the day. In fact, this group of anglers might share more information about what they're using and where they're finding the fish than any other assemblage.
Muskie guide Al Nutty is no exception. The day we spent on Kinkaid Lake was just prior to a muskie tournament and Nutty was stopped numerous times while putting the boat in the water and throughout the day.
"I want anglers to have a good day, so I share information and answer as many questions as I can," he says. "If you see me on the lake and you have a question, just stop and ask me."
To learn more about muskie fishing, you can hire Nutty for a guided trip. His prices: two anglers for a half-day (5 hours): $150; 1 angler - $125. Two anglers for a full-day (sun-up to sundown): $250; 1 angler - $200.
You can book a trip by calling (618) 985-4105 or writing him at: 305 Nightingale Court, Carterville, Ill. 62918.
April 2000 17
---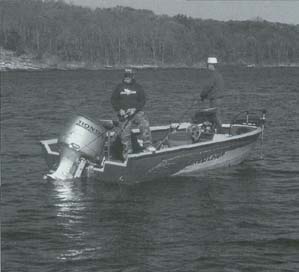 Two Kentucky anglers enjoy a day fishing for muskie at southern, Illinois' Kinkaid Lake.
Nutty has caught hundreds of muskies since taking up the sport, the largest of which was 461/2 inches long. He's had bigger fish on the line, but didn't get them to the boat.
"No one catches as many muskie as they would like," he says. "There are days when you do everything right, but don't even see a fish. On those days you have to enjoy your surroundings. I tell people I have the messiest desk and most beautiful office in the state. My boat is my desk, and my office is 2,700 acres of water."
Muskie fishing can be phenomenal on Kinkaid Lake.
"What made muskie fishing so good early on was this lake was really unpressured," Nutty says. "It still isn't highly pressured because there aren't that many local muskie anglers. Locals prefer fishing for bass, crappie and catfish."
Like most Illinois lakes, muskie reproduction is probably non-existent in Kinkaid. That means fish must be stocked yearly, further emphasizing the importance of catch and release fishing.
"The Department of Natural Resources has been great about making sure we have adequate numbers of muskie for stocking each year," Nutty says. "And my hat goes off to DNR for putting up the fish retention barrier that keeps muskie from going over the spillway. The spillway loss of muskies used to be tremendous."
Nutty advises novice muskie anglers to read up on the species, and to make sure they have the right equipment.
At a Glance:
Kinkaid Lake State Fish and Wildlife Area
Located in Jackson County, Kinkaid Lake is one of Illinois' prettiest lakes. Built as a water supply in 1968, the lake opened to the public in 1974. Featuring 2,750 acres of water and more than 90 miles of shoreline, the lake has winding water areas, numerous coves, standing timber, long points and sharp drops. In other words, ideal fishing habitat. It's also a deep lake, with water depths of 75 feet in some areas.
The topography varies from sandstone bluff to rolling hills with thick stands of oak/hickory forest. There also are plantings of prairie, cool-season grasses and wildlife food plots around the lake.
Ownership of the surrounding land is divided between DNR (4,000 acres), U.S. Forest Service (5,000 acres) and Kinkaid-Reed's Creek Conservancy District (300 acres).
Picnic areas with charcoal grills and restrooms are located at the Johnson Creek and Paul Ice recreation areas. The Ice area also has playground equipment. There is limited camping permitted on the Forest Service and Conservancy District land.
The lake is owned by the Kinkaid-Reed's Creek Conservancy District and managed by DNR. In addition to muskie, Kinkaid Lake has nice populations of largemouth bass, bluegill, crappie, walleye and catfish. There is a 48-inch minimum length limit for muskies in the lake and tailwater, including the portion of Kinkaid Creek below the dam to the Route 149 bridge. The limit is one fish per day. There also is a 16-inch minimum on largemouth bass and a three-per-day creel limit.
The lake has four boat ramps, plus a full-service marina located on the southeast side of the lake off Route 149. There is no horsepower restriction on the lake, but there are no wake areas. Boat rental is available at the marina. Water skiing and personal watercraft are permitted, and a swimming beach is located near Ava.
Hunting of deer, turkey, squirrel, quail, rabbit, dove and waterfowl is permitted at the site.
More information about Kinkaid Lake is available by writing: Lake Murphysboro State Park, 52 Cinder Hill Drive, Murphysboro, Ill. 62966, or calling (618) 684-2867. A Kinkaid Lake brochure is available from the DNR Clearinghouse by calling (217) 782-7498 or by emailing: clearing@dnrmail.state.il.us.
18 OutdoorIllinois
---
"Muskie are an ambush predator, just like the largemouth bass," he says. "If you know where bass will be at different times of the year, you'll find muskie living in the same areas and using the same habitat, but usually in deeper water. They will respond to the same instincts as bass."
During the spring, Nutty fishes two distinct patterns depending on whether he's looking for size or quantity.
For large fish, he casts large shallow running, twitch baits shallow shorelines.
"The average fish you'll catch with this method will be 40-plus inches and usually be a female," Nutty says. "However, don't expect to catch many fish. Using this method you'll be looking to catch two fish in about three days of fishing, although two or three fish per day is possible."
If you're looking for abundance, Nutty recommends trolling with lures like the Jake, Ernie or Believer in the upper creek channels. He says you can get three to five fish on a good day. The size will almost always be under 38 inches, and 90 percent of the fish will be males.
During the summer months, Nutty moves to the main lake points and over green weed beds, and casts large minnow baits and diving crankbaits.
During the fall Nutty uses jerkbaits in standing timber and bucktail spinners over weedbeds. He also uses topwater lures near weed beds early in the morning and evenings, and will troll smaller
Illinois Muskie Opportunities
If Kinkaid Lake is too far away, there are more than a dozen other places you can fish for muskie in Illinois, plus a half-dozen spots where you'll find tiger muskie.
Muskie: Fox River, from the Wisconsin line to the Illinois River; Banner Marsh Lake, Peoria and Fulton counties; Evergreen Lake, McLean County; Fox Chain O'Lakes, McHenry and Lake counties: Carlton Lake, Whiteside County; Lake George, Rock Island County; Lake Shelbyville, Shelby and Moultrie counties; Otter Lake, Macoupin County; Pierce Lake, Winnebago County; Shabbona Lake, DeKalb County;
Spring Lake North, Tazewell County; Lake Sule, Ogle County; and Snakeden Hollow, Knox County.
Tiger muskie: Clinton Lake, DeWitt County; Glenn Shoals Lake, Montgomery County; Heidecke Lake, Grundy County; Argyle Lake, McDonough County; Springfield Lake, Sangamon County; and Wolf Lake, Cook County. Ernies, Believers and Risto Raps.
"You need to make the same presentation changes on muskie as you would with bass," Nutty says. "Downsize your lures during cold fronts, fish tighter to cover on sunny days and use smaller baits and move your lure faster in clearer water. And don't worry about reeling your lure too fast. Muskies are capable of doing short bursts of speed at 25 miles per hour. If they want your lure, they'll catch it."
Although fishing for muskie is best in late-March and April, Nutty says you will see good activity in May and June. He says muskie are most aggressive in early fall. Best time of day is during the low light periods (early morning and late evening), but fishing can be good throughout the day on overcast days.
"A guide is just a collection of facts, techniques and tricks shared with and gathered from other anglers," Nutty says. "I'm not necessarily a better muskie fisherman than anyone else fishing for this species. I just have more experience and a good idea where I should be looking."
| | |
| --- | --- |
| Most muskie anglers are fanatics about catch-and-release fishing. After putting the fish back into the water, the fish is moved backward and forward to get water flowing through the gills again. | |
April 2000 19
---