Camping Made Easy
---
Illinois offers a wealth of camping opportunities for the novice or expert.
BY JOHN ALLEN
PHOTOS BY ADELE HODDE
If by now you don't have your reservation for camping in the National Parks system this summer, you can pretty much forget that trip to Yosemite, the Grand Canyon or the Great Smoky Mountains. More than 10 million people have already beaten you to the punch at each of America's most popular destinations.
But you don't have to go that far to enjoy beauty or to camp. Illinois has an abundance of camping facilities run by the Department of Natural Resources. In fact, 77 state parks and recreation areas with a total of 8,490 sites are available for campers in the Prairie State.
Illinois' campgrounds range from the primitive, where one walks in carrying a backpack, to the glamorous with concrete vehicle pads, electricity and showers. Most are open year-round, though occasionally they're closed due to flooding or frozen roads, so it's always best to call ahead of your planned stay.
Whether you're a novice or an old pro, camping offers a chance to get away from the hurly-burly of everyday life; to enjoy the peace and quiet of a natural setting; and to test your skills against the forces of Mother Nature.
Mike Eymann and Mike Boyd tote their gear at Sangchris Lake State Park, one of many Illinois parks offering tent camping.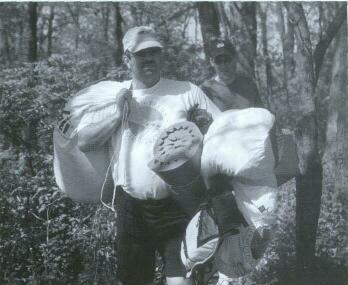 Where To Go
Your choice of a campground depends upon several factors:
• Equipment: If you have a motor home, you'll want a campground with vehicular access, electricity and sanitary dump station. If you're towing a pop-up camper, you'll need a site with vehicular access and electricity. A tent camper can choose between walk-in and vehicular access sites. If you have no equipment whatsoever, consider Illinois' rent-a-camp program in which fully-equipped tents and cabins are available at 18 parks.
• Time and distance: If you only have a day or two to camp, choose a site close to home so less time is spent traveling and more time is spent camping. If you have a week or more, consider traveling farther afield. You'll be pleasantly surprised at the diversity of Illinois' landscape.
• Crowds: Campgrounds are always more crowded on weekends. If you're planning a weekend trip, especially on a holiday weekend, choose a less-frequented site that's still close to home. For example, you have a better chance to camp at Illini State Park on Labor Day weekend than you do at nearby Starved Rock State Park.
• Activities: If you plan to swim, fish, water ski, hunt, hike, bike or ride a horse, pick a site that offers the activity you desire. The Illinois Camping Guide brochure, available free of charge by calling (217) 782-7498 or (312) 814-2070, lists all
6 OutdoorIllinois
---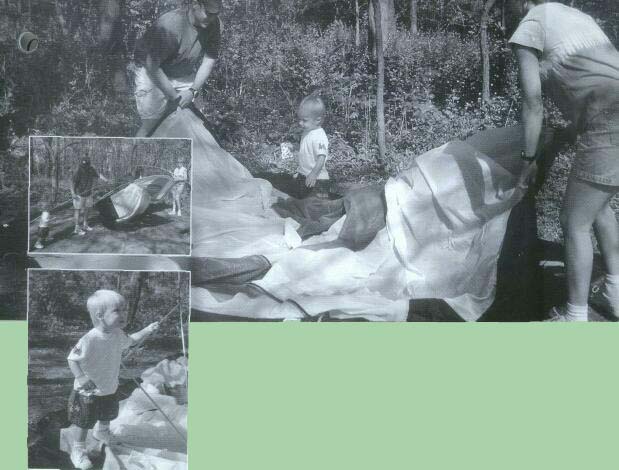 Mike and Barb Boyd get a little help from their son Colin while setting up a tent at Sangchris Lake State Park.
the available DNR campgrounds and what activities and amenities are offered at each. You can also order the publication online from DNR's Clearinghouse. Go to: dnr.state.il.us.
• Finances: To plan your budget, here are the per-night fees for camping in Illinois: Class A campgrounds (showers, electricity and vehicular access), $8 plus a $3 per night utility fee; Class B/E campgrounds (electricity and vehicular access), $7 plus a $3 per night utili¦ty fee; Class B/S campgrounds (showers and vehicular access), $8; Class C campgrounds (vehicular or walk-in access with showers), $7;
Class D campgrounds (primitive sites with walk-in access only), $6.
Illinois residents age 62 or older and persons with Class 2 or 2A disabilities camp free at Class C and D campgrounds and pay half price at Class A, B/E and B/S sites Monday through Thursday, although the $3 utility fee is still required for sites with electricity. Full price is charged Friday, Saturday and Sunday.
Disabled veterans and former prisoners of war can camp free at any site seven days a week, though they must still pay the $3 utility fee when camping at Class A or B/E sites.
In addition to the camping fees, 21 of the state's most popular campgrounds accept reservations. The non-refundable $5 campsite reservation fee may be paid in person or by mail, but must be received by the site a minimum of seven days in advance. Three-night reservations are required for Memorial Day, Fourth of July, Labor Day and Columbus Day weekends.
What To Bring
No matter how long you stay, where you stay or what equipment you have, there are three essentials you cannot live without: food, shelter and clothing.
• Food: Since most campgrounds are miles from the nearest grocery store, it's customary to bring food with you. But, since that side-by-side refrigerator and the kitchen cupboards presumably won't be making the trip (unless you're in an RV), food storage can be a problem. The solution is lots of individually packaged dry foods and canned goods, and a minimum of items that need refrigeration.
For breakfast, consider those variety-pack cereals that come eight or 10 boxes to the package. Pre-mixed pancake batter takes up
June 2000 7
---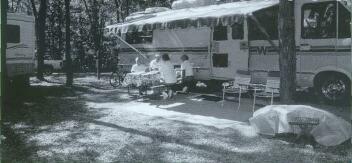 Some campgrounds, like this one at Sam Dale Lake State Park, make it possible to enjoy all the comforts of home.
less space than the individual ingredients needed to make them from scratch. Bacon and eggs are a camping tradition, but the need for refrigeration to prevent spoilage means they should be eaten early in your stay. Orange juice also needs refrigeration, as does milk. These should be in plastic or cardboard containers-not glass. Buy the small can of coffee or bring some from home in a sealed container. Same for sugar, or buy the individual packets. Coffee creamer also comes in individual packets.
Lunch can be cold or hot, depending on preference. Cold lunches might include peanut butter and jelly or cold cuts, chips, fruit, cookies, juice boxes or canned soda. Hot lunches include hot dogs, hamburgers, macaroni and cheese or maybe canned soup or beef stew.
Supper is usually a hot meal. If you've been lucky fishing, grill your catch of the day and serve it alongside potatoes baked in a campfire and either boiled com-on-the-cob or canned vegetables. If you caught no fish, it's canned beef stew. Steaks, chicken and shishkebabs are also good eating while camping but, like other perishables, they need to be used quickly.
Unless you're dieting, you'll also want to bring along snacks to get you from one meal to the next. Granola bars, individual-sized cheese and crackers, chips and pretzels take up little space and, more importantly, require no refrigeration. If you're bringing children, "smores" are a necessity. A box of graham crackers, a box of plain Hershey bars and a package of large marshmallows are all that's needed for this tasty treat.
To store and prepare all this food, you'll need a large cooler filled (and frequently refilled) with ice; a camp stove or a grill; frying pan; two sauce pans; coffee percolator; manual can opener; sharp knife; spatula; tongs; knives, forks and spoons; plastic cereal bowls; aluminum foil; and paper towels, plates, cups and napkins.
• Clothing: Consider the weather when packing for a camping tripis it predicted to be hot, cold, sunny, rainy? Choose your clothes accordingly. Err on the safe side by bringing along a light jacket for cool evenings and shorts and T-shirts for hot days.
• Shelter: An interesting thing about camping is the variety of shelters people choose to make their home away from home. From the minimalist pup tent to the RV as big as a bus, shelters come in all shapes, sizes and price ranges.
Motor homes, literally self-propelled homes on wheels, range in price from about $40,000 to $700,000, depending on size and how they're equipped. A cousin is the fifth-wheeler, usually towed on the back of a pick-up truck and ranging in price from $14,000 to $80,000. These campers contain all the comforts of home, including full kitchens, bathrooms, living rooms and bedrooms.
Travel trailers also feature bathrooms, but the kitchen area usually doubles as a living room and the bedrooms fold out when the trailer is parked. These sell for $11,000 to $30,000, again depending on accessories.
Pop-up trailers sell for $3,500 to $11,000. As the name implies, the living space pops up and folds out
| | |
| --- | --- |
| During their stay at Sangchris Lake, (from left) Jenni and Tyler Nelson, Patrick Leka and Steven Tuning swap ghost stories, a favorite nighttime activity among campers. | |
8 OutdoorIllinois
---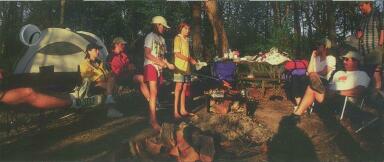 Marshmallows, graham crackers and chocolate bars are all that's necessary to make the treat known as "s'mores" (as In "I want some more"),
from a trailer small enough to be pulled by a mid-size car. They usually have a sink and refrigerator, with sleeping quarters folding down on both ends.
Tents ranee in price from about $30 for a two-person igloo to $300 for deluxe models with room dividers, sewn-in floors, screened windows and sleeping space for eight adults.
Alternatives
Illinois offers another option for those who don't have their own shelters. Nine parks offer the rent-a-tent program, and 14 offer the rent-a-cabin program.
The rent-a-tent program includes a tent. with a; wooden floor, cots, charcoal grill, picnic table, trash barrel or bags, fire ring, camp light, fire extinguisher and broom and dust pan. Tents rent for $19 (small tent that sleeps four adults) or $23 (large tent sleeps eight adults) per night, in addition there is a non-refundable $5 reservation fee.
The rent-a-cabin program includes two sets of bunk beds, a full bed, table and chairs, electric heater, charcoal grill, picnic table, trash barrel or bags, fire ring, camp light, fire extinguisher and broom and dust pan. Cabins rent for $35 per night, in addition to a non-refundable $5 reservation fee.
Information about the rent-a-camp program is available by calling (217) 782-6752.
Other Necessities
In addition to the items mentioned above, there are a variety of other things you'll need to make your camping trip successful,
If you're a tent camper, sleeping bags are a must. Air mattresses are a nice luxury if you can, find some that don't leak.
Other necessities include: first-aid kit; flashlight with extra batteries; suntan lotion; insect repellant; water jug; clothesline; lantern; charcoal and charcoal lighter fluid (if bringing a grill), or propane (if bringing a camp stove and lantern); stick matches; dish soap and scouring pad; bar soap; face cloth and towels; toilet paper; hatchet for driving in tent stakes and chopping firewood; and rain gear.
Since you'll have plenty of time on your hands while camping, consider also bringing a deck of cards and/or board games, lawn games, fishing gear and any other outdoor recreation equipment you might enjoy.
Enjoy Your Stay
While camping, remember what brought you here in the first place: peace, quiet and the beauty of nature.
Gathering around a campfire is always a favorite pastime for young and old alike.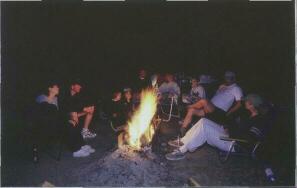 It's not only bad form to throw big parties or blast stereos that disrupt the quiet expected by other campers; it's cause to get you ejected from Illinois parks, where quiet hours are 10 p.m. to 7 a.m.
Campfires are a favorite part of the tradition. Huge bonfires are not. To make that campfire, either buy firewood en route to the campground or scour the woods for downed trees. Do not use your hatchet or axe to cut down live trees. If you do, you'll needlessly destroy the beauty of the woods because freshly cut trees won't burn. You'll also receive a citation. You may bring along your dog or cat, provided it is kept at all times on a leash no longer than 10 feet and that you clean up its messes. Pets are not allowed in the rent-a-camp units.
Finally, the maximum stay at DNR campgrounds is 14 nights. Check-in times are 7 a.m. to 10 p.m. and check-out time is 3 p.m. Camp fees are due as soon as the camp is established.
June 2000 9
---